Buy, Borrow, Bypass: March 14, 2013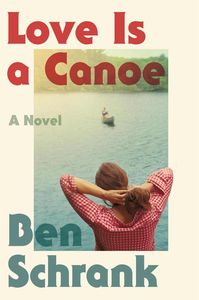 Love is a Canoe by Ben Schrank
You know those really simplistic tropes about love and marriage that seem far too easy to be true? Like, "Find time to be together every day — just the two of you — in your canoe." In this book about a book by the same name, Ben Schrank turns these tropes on their collective head. The book within the book is a self-help guide by Peter Herman, who wrote this nauseatingly perfect book about the lessons he'd learned from his still-married grandparents, in the 70s when he was 12. And then he never wrote again. Peter's publisher decides to reinvigorate sales of the book on the 50th anniversary of Peter's 12th year (confusing, I know), and convinces newly-widowed Peter to do a full-day session with a couple who wins an essay contest asking for help with their marriage. The problem is, Peter knows that the tropes that fill his old book are not nearly as simple as that, and real marriage takes a lot more work than that. So the couple who wins (a charming Brooklynite couple who scream Williamsburg stereotype) is in for a tutor who's far more conflicted than the 40-year-old book would suggest. Written in snippets alternating from the points of view of Peter, his editor, Emily – wife-half of Brooklyn couple, and excerpts from the original book, it's unclear how these all connect until a third of the way through. Though the pacing of Schrank's novel is sometimes slow – the winning couple doesn't even meet Peter until midway through – the tone blessedly stays away from the syrupy sweetness it could easily fall into. I was expecting it to veer into Nicholas Sparks territory, but Schrank gracefully avoided that sandtrap. However, the most interesting part of the novel is when the couple meets Peter, and it does take quite a while to get there. And the side story about the politics of the publishing house feels unnecessary.
Verdict: Borrow if you like epistolary-type novels and are more language-driven, but otherwise, Bypass.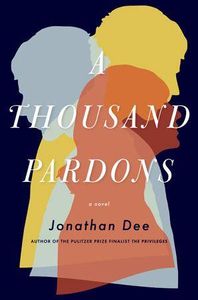 A Thousand Pardons by Jonathan Dee
Talk about your midlife crisis gone terribly awry. Jonathan Dee's novel starts with Ben Armstead, who is so disconnected from his life, his wife, Helen, and his daughter, Sara, that he rebels. And rebels big. Ben develops an obsession with a much younger summer intern at his legal firm, which quickly spirals out of control. The life that Ben, Helen, and Sara inhabit is turned upside down, and Helen and Sara are forced to confront the world under drastically different circumstances. They move from the suburbs to Manhattan and Helen – who has not worked in a decade – tries to find any kind of job she can. Somehow she lands in crisis management PR, helping to keep a struggling firm afloat, but these new circumstances mean she drifts even further away from Sara. While on the surface Dee's book is about a midlife crisis and the aftermath, I thought it was much more about a family in crisis and their individual paths back to each other. Each of the three Armsteads has to go through a drastic change in order to come to terms with themselves and each other, and to me, this character growth is the mark of a highly successful story. When all three main characters go through such growth, I cannot ask for more from a book. Dee manages to write all three as complete and complex people and I was rooting for each of them individually and for them as a family unit. And though the ending is ambiguous, so is life. Life doesn't have a neatly tied bow, and Dee doesn't stoop to assume the reader needs one.
Verdict: Buy. This is a keeper, up there with Richard Ford, Kent Haruf and Richard Russo.
The finale in Beth Revis' Across the Universe trilogy, Shades of Earth is a far different book than its two predecessors. If you haven't read the first two, there are SPOILERS AHEAD. Where Across the Universe and A Million Suns were entirely about the ship, GodSpeed, Shades takes place after they've landed on Centuri-Earth and have unfrozen the rest of the Earth-borns. Elder and Amy are pulled apart in a myriad of ways, to the point that it starts to feel ridiculous. For example, the introduction of a third person to create a love triangle? Unnecessary, but for a YA novel, not entirely unexpected, though I'd hoped that Revis would avoid that cliche. SPOILERS OVER. While the story is unlike most (if not any) other YA trilogies on the market, I was disappointed to find that I was less and less engaged with each subsequent book. I was happy to have finished it and glad for a resolution, though that was a little to neat for my taste, but I wasn't dying over it the way I have over other similar YA trilogies.
Verdict: Borrow, if you've read the first two in the series – it's worth finishing. If not, Bypass.
By signing up you agree to our Terms of Service