Buy, Borrow, Bypass: March 7, 2013
It probably doesn't take a genius to realize why I like reading books about my favorite authors, but I really do nonetheless, and I thought I'd talk about four of them: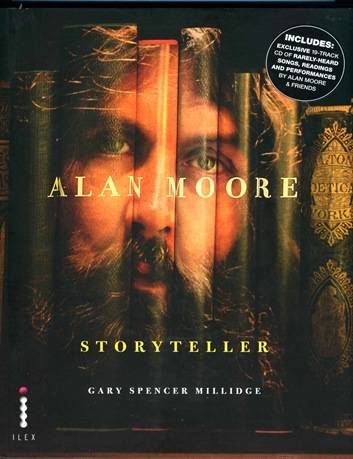 Alan Moore: Storyteller — by Gary Spencer Millidge
A massive and extremely heavy oversized hardcover book, Storyteller looms above the rest of my nonfiction shelves, the glowering face of Alan Moore peering out cross all the other books. I love it. I love it for other things besides that, though. Inside is an excellent biography of Alan Moore, assembled out of his publishing history and his interviews, and new interviews conducted for the book if I'm not mistaken. The biography takes us chapter by chapter from his earliest days drawing a tiny gag-strip for a music newspaper, all the way up through powerhouse works like Lost Girls and From Hell and his upcoming Jerusalem. Along the way, we explore some perhaps lesser-known works (D.R. & Quinch, for example, or The Bojeffries Saga). The book is packed with other treats, too. A million billion photographs of Alan Moore (some of them are beardless; we could call it the evolution of a beard) and pieces of artwork from a host of his comics. There's also a giant fold-out sheet listing in minutae all of the plots and plans for his aborted Big Numbers series, and if you squint and read it grid-square by grid-square than you don't leave the house enough. Hello. I don't leave the house enough.
Also, it comes with a CD full of weird and cool spoken-word performances like The Birth Caul which is a dark and heavy piece, sure, but it also has upon it such wonderful songs as Me & Dorothy Parker (about the time they went on a crime spree and were gunned down in a blaze of bullets) and The March of the Sinister Ducks which is how my kids know Alan Moore.
Verdict: Buy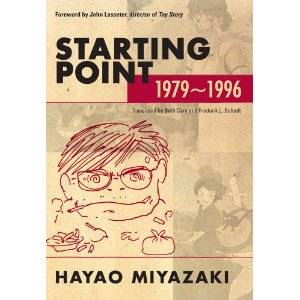 Starting Point: 1979 – 1996 — by Hayao Miyazaki (translated by Beth Cary and Frederik L. Schodt)
This is the closest we have come to an autobiographical piece by legendary filmmaker Hayao Miyazaki, and the closest we have come to a "book about the craft" by him as well. Covering the very beginnings of his animation career all the way up through the making of Princess Mononoke, the book is a grab-bag in both the best and worst senses of the term. It features an incredible wealth of articles by Miyazaki throughout the years, as well as interviews and letters and what have you, all assembled in roughly chronological order. It is a wonderful book that I've poured over several times now, and I take immense pleasure in it (and would very much like the next volume to hurry up and be translated, please)…but it is very important to understand, when coming to it, that it is not a work of biography, nor is it a concise study of the craft in the manner of something like Stephen King's "On Writing." As such, while it can be very useful and a pleasure, it might not be much of either for someone who isn't a very devout Miyazaki fan.
Verdict: Borrow
The Life of Charles Dickens: The Illustrated Edition — by John Forster
First published in 1872, only two years after the death of Charles Dickens, this biography is as close as we can get to an actual autobiography of Dickens himself. John Forster was a very close friend and confidant of Dickens' for a great part of his working life, and was also subservient to him in a great many matters. As such, I view the biography less as the work of a man interpreting the life of someone he knew, and more the work and wishes of Dickens channeled through Forster. It is an excellent work of biography, but it is very unreliable for just this reason.
The real draw of this particular edition, however, is not the biography itself, but the package in which it comes assembled. Another oversized monster of a book, this Illustrated Edition is jam-packed with everything one could hope for, from paintings of London and its people throughout Dickens life, to a wealth of illustrations from Dickens books…to reproductions of manuscript pages, and letters, and even the marriage certificate from the marriage of Charles and Catherine Dickens. It is a work of art, this book, and a treasure trove. It is also so unbelievably heavy that if you wish to buy it just to read the biography, you are probably out of luck. Happily, the biography itself has been out since 1872 and is thus in the public domain. So you can gush over this masterpiece of a book (so gorgeous that when I first received it, I took photos and videos for things as minor as removing the dust jackets) and then grab your ereader of choice and read the biography itself. A perfect storm of gorgeous book and technology, if you ask me.
Verdict: Buy, Then Display Prominently, Thus Becoming The Envy of Your Neighborhood Probably
Prince of Stories: The Man Worlds of Neil Gaiman — by Hank Wagner, Christopher Golden & Stephen R Bissette
This volume is very much along the lines of the Alan Moore book I mentioned above, in that it is a very detailed career overview which doubles somewhat as a biography (that's the blessing and curse about hardworking authors: the bibliography is the biography). The authors of this book go very carefully through each work by Neil Gaiman and summarize and detail them exhaustively and occasionally discuss them a little bit. Along the way, there are interviews with Neil Gaiman and also his collaborators throughout the years, as well as a handful of photos scattered here and there. It isn't as lavish a collection as the Alan Moore or Charles Dickens books I mentioned above, but for a Neil Gaiman fan it is a pleasurable study and summation of a long and wonderful career. The book itself doesn't have much of a narrative drive to it, thus resembling the Miyazaki book above, and thus it might not enthrall someone who is not already a very passionate Gaiman fan.
Verdict: Borrow

Sign up for our newsletter to have the best of Book Riot delivered straight to your inbox every two weeks. No spam. We promise.
By signing up you agree to our Terms of Service
We have 5 copies of
My Sister, the Serial Killer
by Oyinkan Braithwaite to give away to Book Riot readers!
Go here
to enter for a chance to win, or just click the image below. Good luck!