Buy, Borrow, Bypass: February 21, 2013
I want to preface this edition of Buy, Borrow, Bypass by saying that astute Book Riot readers may have noticed that most of the recommendations in these columns are, indeed, of the "Buy" variety. I assume this is because we Book Riot people, like you yourself probably do, carefully select the books we read. Very rarely do I pick up a book I know nothing about on a whim. We all select books we already think we will like. And most of the time, we are right. I certainly was this time around. Maybe I'll do an all-Bypass one next time.
Railsea by China Miéville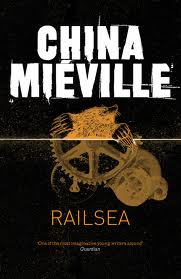 China Miéville, if nothing else, has an imagination full of the strange. His prose is good (if not great), & he can craft a story. Railsea puts us in a world without oceans, where there is instead a sea of rails, traversed by rail-faring engines of various makes. The earth itself is full of dangerous burrowing beasts–giant moles called moldywarpes. It reads like an homage to Moby-Dick, as we follow the story of Sham al Soorap (Sham as in Ishmael) aboard the Medes, captained by Napthi, who is on the hunt for an elusive giant white moldywarpe. Sham gets caught up in the search for the end of the railsea itself & is followed by a host of unsavory characters who want to see it as well. It is an example of genius world-building & adventure. If you like fantasy or just want to see the best the genre has to offer in terms of novelty, this is it. Not an elf or a sword-wielding hero in sight. Also, all instances of the word "and" are replaced with "&". Gives the whole experience of reading the book a certain ambiance. I usually find Miéville's books dense, dark, and hard to get into, but Railsea is the exact opposite of all that. Also, my bet is that it will very likely win the next Hugo Award for best novel.
Verdict: Buy
Moscow but Dreaming by Ekaterina Sedia

I forget where I first encountered Ekaterina Sedia's writing. It somehow sailed in under the radar, and for the longest time I thought everyone knew who she was. Anyhow, I've been reading this great collection of short stories the last few weeks as I ride on the bus to work, and the stories are just about a bus-ride long. They are varied in subject matter and tone, but my favorites are the dark ones that take part in her native Moscow (though Sedia now lives in beautiful New Jersey). These are stories of desperate love, of memories better kept in the dark, and of odd people in odder situations. There are ghost stories and some of pure (and very well-done) horror. There is, in fact, a story in this collection for almost every taste of fantastic fiction. The only fault the book has is that it is a little on the long side, which is perhaps not really a fault for a short story collection, but a good thing. My favorite is "There is a Monster Under Helen's Bed," which tells the tale of an adopted girl who can't speak to her parents due to language barriers, and so desperately needs to tell them about the monster under her bed.
Verdict: Buy. Savor like a large box of dark chocolate.
Howard Zinn Speaks, edited by Anthony Arnove
This is the first nonfiction book I read in a long while. I read Howard Zinn's A People's History of the United States a while back and was amazed by it. I am a liberal lefty type so I was already likely to be a fan of this book. The thing is, however, that I was not sure about reading a book of speeches. I got lucky; the book is better than I dared hope. Whether you agree with him or not, the thing that makes Howard Zinn such an important historian, and this book so good, is the way he makes us challenge our preconceived notions, including questioning a number of things the Obama administration, so popular now, has done, and challenging the way we view the "good" wars: the Revolutionary War, the Civil War, and World War II. His speeches touch on issues of class, racism, the death penalty and wars.
Just an example of the way Howard Zinn gets us to think is the following sentence (which all Americans should keep in mind at all times):
"It starts with an incident, one of those incidents which start wars, incidents which have a certain amount of deceit attached to them, in which an attack is fabricated or exaggerated or distorted and suddenly there's a cause for war."
Now think of the Gulf of Tonkin, Pearl Harbor or, indeed, the attack on the Twin Towers, after which Iraq (having nothing to do with the attack on the Towers) was invaded. Disagree with him all you want, Howard Zinn makes a compelling case and this is a powerful book.
Verdict: buy this book. Give your head a workout. 
White Horse, by Alex Adams

I originally saw this book on Chuck Wendig's Terribleminds, when he was interviewing Adams about her book. I was on a post-apocalyptic binge at the time, and this book seemed the perfect follow-up to Alden Bell's The Reapers are the Angels and Colson Whitehead's Zone One. But for some reason, it dropped off the radar (maybe it's the lack of zombies in White Horse) and I didn't hear it mentioned for the longest time. Then Mr. Wendig mentions it again in his best stories of 2012 post. Add to that my seeing the book at the bookstore next to Douglas Adams, and I realized that it was meant to be. So I bought the book. In it, a virus has killed almost all the people in the world and turned a good bit of the survivors into monsters. Also, it is always raining. Enter Zoe, a strong female protagonist on a mission to find her lover, and a great load of wonderful metaphors and you have a winner, a nail-biter and a page-turner. And one guy from Switzerland that you just want to choke to death.
It is told in mixed chapters of "Before" and "After" and we get to see Zoe as the world breaks down around her, and as she tries to make sense of it afterwards.
Verdict: Buy, (unless you are squeamish). 
By signing up you agree to our Terms of Service
We're giving away five copies of Leslie Jamison's new essay collection
Make it Scream, Make it Burn
.
Click here to enter
, or click the image below!