Name Those Authors!: February 7, 2013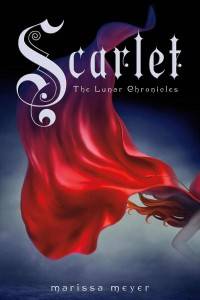 This round of Name Those Authors! is sponsored by Scarlet by Marissa Meyer.
In Book Two of the New York Times-bestselling The Lunar Chronicles, Cinder is back and we are introduced to Scarlet. An inventive take on Little Red Riding Hood, get ready for romance, adventure, and high suspense!
Cinder is trying to break out of prison—even though she'll be the Commonwealth's most wanted fugitive if she does.
Halfway around the world, Scarlet Benoit's grandmother is missing. It turns out there are many things Scarlet doesn't know about her grandmother, or the grave danger she has lived in her whole life. When Scarlet encounters Wolf, a street fighter who may have information as to her grandmother's whereabouts, she is loath to trust this stranger, but is inexplicably drawn to him, and he to her. As Scarlet and Wolf unravel one mystery, they encounter another when they meet Cinder. Now, all of them must stay one step ahead of the vicious Lunar Queen Levana.
_________________________
We've revamped the game! We'll give you a requirement, and you name an author who fits it. Ready?
Requirement: Authors who have written a book based on/inspired by another literary work.
Submit your guess using the form below after any clue, but if you're wrong, you're out for the week. This week, five correct responders will receive a copy of Scarlet by Marissa Meyer. Good luck!
**Be warned: if you Tweet your guess or leave a comment with your guess, you're not only disqualified for this week, but for the rest of the month.**
Here we go:
Oops! We could not locate your form.
When you participate, you agree to the following: I acknowledge that should I be a lucky soul who wins free swag, my free swag should arrive in a couple of weeks. The sponsor will fulfill the free swag in their preferred format. The format may be a scroll or a hardback, an ebook or an audiobook, or a download directly into my brain. Regardless, I acknowledge that it is free swag, and I'll be happy because life is too short to be sad about free swag.
We have 10 copies of
A Gentleman in Moscow
by Amor Towles to give away to Book Riot readers!
Go here to enter for a chance to win
, or just click the image below. Good luck!