Inbox/Outbox: February 1, 2013
I'm all over the place this week!
Inbox (Books Acquired)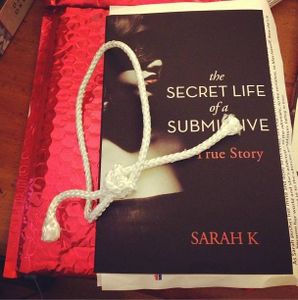 The Secret Life of a Submissive by Sarah K (HarperCollins, March 26)–Billed as a "real-life Fifty Shades of Grey" (you know that was coming, right?), this is officially the most interesting book mail I've received so far in 2013 (yes, the rope was included). I have to admit that I'm intrigued by the idea of a candid memoir addressing The Hottest Literary Topic of the Last Year, particularly in seeing the differences between the fictionalized depictions of BDSM relationships and an actual person's real experiences. I don't know when I'll get to this one, but I'm going to enjoy leaving it lying around the house to raise eyebrows in the meantime.
When Women Were Birds: Fifty-four Variations on Voice by Terry Tempest Williams (Picador, February 26)–Terry Tempest Williams' mother left her her journals and made her promise not to read them until after she died, so imagine Williams' reaction when she discovered that all of the journals–three shelves' worth–were blank. Williams was 54 when her mother died. This collection is a contemplation of writing, memory, and voice, and I cannot wait to read it.
Outbox (Books Finished)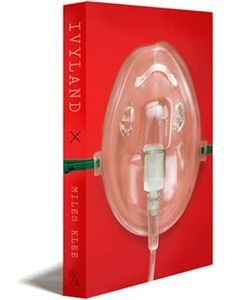 Fobbit by David Abrams–A good war novel is a thing of beauty, and 2012 gave rise to three of them about the Iraq War (the other two being Billy Lynn's Long Halftime Walk and The Yellow Birds). This one, by Book Riot's own David Abrams, was the only one I hadn't read when the Tournament of Books finalists were announced, and now that I've devoured it, I'm really pleased to have ended with it. Funny, biting, and informed by Abrams' own experiences in the war, Fobbit is a terrific read and a sort of modern Catch-22. (All the blurbs that say that are right.) Highly recommended.
Ivyland by Miles Klee–Look at that cover and tell me you really see a nose under a respirator. Can't do it, can you? I've been struggling through Ivyland–also for the Tournament of Books–all week and really hope I'm finished by the time this piece runs. And it's not just that the cover is distracting! I don't want to get to into my thoughts about it here because I'm writing up a TOB discussion with a fellow Rioter. Suffice it to say that this book is not my jam, at least not yet.
In the Queue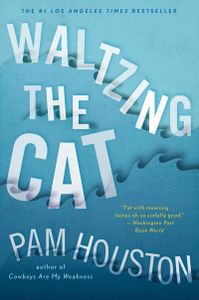 Waltzing the Cat by Pam Houston–I hope y'all aren't tired of hearing about how much I love Pam Houston yet because I'm not nearly ready to stop saying it. Houston is in my top 3 favorite short story writers (Laura van den Berg and Karen Russell are presently the other two), so I was thrilled to discover that her publisher W.W. Norton just reissued this collection on Tuesday. I bought it same day and have it on the pile for an upcoming 4-day weekend trip. So excited!
May We Be Forgiven by A.M. Homes–Another Tournament of Books finalist, this one was all over the bookternet last year, but I have somehow managed not wind up not really knowing what it's about. That's great sometimes, you know? I've never read Homes before, and I'm looking forward to meeting her work alongside fellow Rioter Greg, who is incidentally one of the best reading partners a girl could ask for.
That's it for me. How was your week in books? Finish anything you're dying to recommend?
By signing up you agree to our Terms of Service
We have 10 copies of
A Gentleman in Moscow
by Amor Towles to give away to Book Riot readers!
Go here to enter for a chance to win
, or just click the image below. Good luck!