The Week's Most Popular Posts: January 12-18, 2013
What if one day some shady government agency/corporation decides we're no longer allowed to read X, and deletes them from our readers? No squirreling copies away in nooks and crannies in our homes a la Ray Bradbury–we won't have any physical copies.
from The Largely Irrational Reasons I'm Not Ready to Go All-Digital by Amanda Nelson
______________________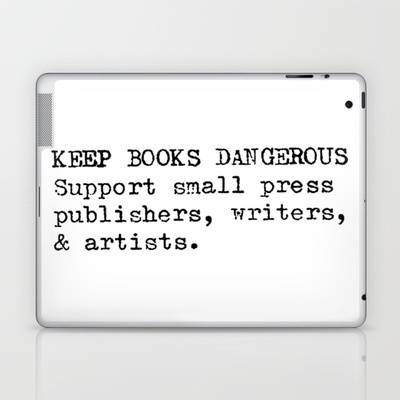 Keep Books Dangerous Skin: Promote the importance of the printed word with this skin for laptops or iPads.
from Book Fetish: Volume LXI by Brenna
______________________
There are still bookstores. We still have bookstores. But just because we have bookstores doesn't mean we don't still mourn the bookstores we have lost along the way.
from When Bookstores Become Container Stores by Kit Steinkellner
______________________
The residents of the community have complained before that they don't have a bookstore–not an ebook buying hub. A bookstore. Will they use this service enough to justify the cost?
from Uncollected Thoughts About the Upcoming Bookless Library by Amanda Nelson
By signing up you agree to our Terms of Service
Follow Book Riot on Instagram
for books. Obviously.