Buy, Borrow, Bypass: January 16, 2013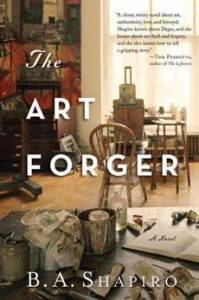 The Art Forger by Barbara Shapiro
I know very little about the process of making art. Let's be clear about that up front. About art itself? I know a bit more. But my interest is pretty pedestrian in that I like going to museums. Can I tell you anything at all about how one piece connects to another? Not hardly. But did I enjoy the hell out of The Art Forger? Damn right, I did. Barbara Shapiro's fictional account tells the story of one Edward Degas painting that was stolen during a real-life heist from Boston's Isabella Stewart Gardner Museum in 1990. One of 13 stolen paintings, the Degas – in Shapiro's fiction – takes on a life of its own, as told by Claire Roth, struggling artist and professional reproductionist who is hired by an art dealer to forge the Degas, which he just happens to have in his possession. The story gets even more twisty-turny with intrigue, historical interjection, and manipulation. And Shapiro somehow manages to keep it all from falling down the rabbit hole of ridiculousness by keeping it firmly planted in the science and process of making art. Claire is a multi-dimensional character in a genre that rarely features them, and even though the book is solidly a mystery, there's plenty of literary handholds to grab onto as well.
Verdict: Buy, especially if you like scandal that smells like oil paint and turpentine.
By his own admission Grisham's best book was A Time to Kill. Which was his first book. That doesn't speak very highly of the level of creativity in any of his subsequent books, but there's a reason he's one of the most successful crime/legal fiction authors – and really one of the most successful authors in general – in the world. The formula works. When the formula works well, it's even better. His latest novel, The Racketeer, is by all intents and purposes right out of the Grisham playbook, with a few notable tweaks thrown in. This kind of novel is a guilty pleasure for me – quick and dirty breaks between more brain-straining fiction – so I enjoyed it. It is a well-done entry into the genre, but if this is not your thing, don't go out of your way for it. If you like this kind of thing, you'll like this kind of thing.
Verdict: Borrow (if you're a Grisham devotee, add it to your digital shelf; if you couldn't care less, skip it entirely)
Days of Blood and Starlight by Laini Taylor
I'm a sucker for good YA fantasy and dystopian – I'm continually impressed by the imagination that comes out of these authors. Laini Taylor's novel Daughter of Smoke and Bone was a revelation of such imagination. The story of angels and chimera battling in another world, aided by Karou, a Prague-dwelling art student who disappears on mysterious errands, was so captivating that I was giddy for the sequel to be released. That sequel is Days of Blood and Starlight, and while the imagination is still fiercely at work, the two books are dynamically different in setting, in goal, and in tone. Whereas the first in the planned trilogy was centered around a supernatural romance, the second is a book of supernatural war and loyalty. The books are equally as amazing, but if you read the first, expecting the second to be more of the same, prepare yourself and forge ahead. It's well worth the departure and the final book in the trilogy should tie all the disparate ends together. (It also wouldn't be a bad idea to re-read Daughter for a refresh of the mythology.)
Verdict: Buy (If you haven't read Daughter of Smoke and Bone, buy that first, read it voraciously, and then buy book #2, and consume in equally voracious fashion)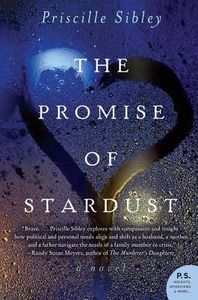 The Promise of Stardust by Priscille Sibley (William Morrow Paperbacks, February 5)
Normally I am wary of novels that play on a hot-button issue for narrative motivation. The ripped-from-the-headlines sensibility is great for some people and some authors – Jodi Picoult's novels come to mind first – but for me, the political undercurrent can be tedious. Which is why I was hesitant to pick up The Promise of Stardust. Matt Beaulieu, a neurosurgeon, is faced with the most agonizing of decisions when his wife Elle ends up brain dead after an accident, kept alive only by machines. Matt and Elle have a life-long relationship, tested by her mother's agonizing death; Elle's greatest fear is a similar decent into death, so Matt quickly decides to end life-support. That is until he finds out that Elle – who struggles with sustaining pregnancy to term – is 8 weeks pregnant. And thus the rub: does Matt keep Elle alive until the baby is healthy enough to deliver, or does he pull the plug? To complicate matters, Matt's mother holds a living will, signed by Elle when she was 18, stating she doesn't want such measures to keep her alive. The novel pits son against mother in a legal fight to decide Elle and the baby's fates. Sibley does a tremendous job of both acknowledging the political implications and balancing them with the characters' individual concerns, as they deal with medicine, religion, fertility, and law. While the story is compelling and it's a fast read, in the end, the characters are a little flat and the ending is a bit predictable.
Verdict: Borrow (especially if you enjoy a good cry with your courtroom drama)
By signing up you agree to our Terms of Service
We have a $100 e-gift card to the country's only romance-only bookstore, The Ripped Bodice!
Go here to enter for a chance to win
, or just click the image below. Good luck!