Inbox/Outbox: January 11, 2012
I've emerged from my Thanksgiving-to-New-Year's backlist cave, and much to my delight, I've remembered that oh, right, there's a metric shitload of good books coming out this spring! This discovery coincides with a 3-week period during which I have no living room, thanks to renovations in progress, and I'm doing my best to ditch the TV and spend more time between covers. Here's my week in reading.
Inbox (Books Acquired)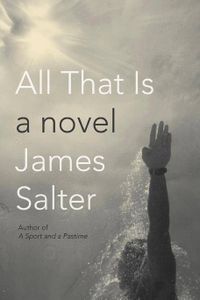 All That Is by James Salter (April 2, Knopf)–Oh, y'all. I am so excited about this. I first read Salter five years ago, after a very smart friend recommended that I take A Sport and a Pastime on my honeymoon, and we've been going hot and heavy ever since. This is Salter's first work of fiction in seven years, and I'm not gonna lie. I totally did a happy dance when I snagged the e-galley.
Elders by Ryan McIlvain (March 5, Hogarth)–The jacket copy for this rings so many of my bells, it's like it was written for me. McIlvain, an ex-Mormon, presents a humorous but thoughtful novel about young Mormon missionaries and the complexities of faith. Sign. Me. Up.
Dear Life by Alice Munro–I'm ashamed to admit that I've never read Alice Munro. It really is ridiculous, given her reputation and my deep, deep love of short fiction. I've been trying to figure out where to start with her oeuvre forever, and now the question's been answered for me, thanks to the Tournament of Books read-along project we've undertaken here at the Riot. I'm both really excited to finally read Munro and a little sorry I'm not starting with something older. Any advice for a Munro newbie?
Outbox (Books Finished)
Building Stories by Chris Ware–I opened this the day it arrived, discovered that it's not the giant graphic novel I expected but is rather 14 different pieces of content, got paralyzed by "WHAT DO I DO WITH THIS?" fear, and left it in the box for a week. Then fellow Rioter Jenn told me to just go for it, so I shook all the pieces out onto my desk and took a deep dive. And it's so cool! I don't totally know how to describe it, but it's one of the most interest reading experiences I've had. Well worth the high ticket price.
She Matters by Susanna Sonnenberg–I wrote about this new memoir-in-friendships in my Fresh Ink column earlier this week, so I'll aim for concision here. I feel like there's a remarkable dearth of realistic portrayals of female friendships in literature–fiction, in particular, but memoir as well. Here, Sonnenberg recalls the friendships with other women–one per chapter–that have defined her life, and she does it with incredible grace and humor. This is one of the best contemplations of the bonds between women I've ever read.
In the Queue
Gulp: Adventures in the Alimentary Canal by Mary Roach (April, W.W. Norton)–Let's be real. Mary Roach could write an investigation into how we do our laundry, and it would be fascinating and hilarious. Happily, this isn't nearly as domestic or mundane. The alimentary canal, in case you're wondering, is also known as the digestive tract, and this is a look at how we eat and what happens when stuff goes down the hatch. You can try to tell me you're not interested in a book that asks the question, "Can constipation kill you? Did it kill Elvis?" but I will know you're lying.
What about you? How's your week in books going?
By signing up you agree to our Terms of Service
Do you like podcasts like
This American Life, RadioLab, or Planet Money
?
Annotated
is kinda like those, but for books. Go
here to find out more
, or click the image below: