Buy, Borrow, Bypass: January 10, 2013 [Marvel Comics Edition]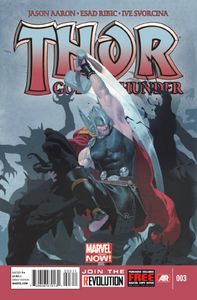 Thor: God of Thunder by Jason Aaron and Esad Ribic
OK, full disclosure: I often refer to Marvel's take on the Norse God of Thunder as "My Boyfriend Thor." It started with a short-running comic series called Thor: The Mighty Avenger, and Chris Hemsworth only exacerbated things. That said, I wasn't really digging Marvel's main Thor comic until the recent Marvel NOW! relaunch.
Jason Aaron is probably Marvel's most talented and versatile writer. And he's off to an absolutely brilliant start on Thor: God of Thunder. The story follows Thor in the past, the present, and very distant future as he battles a being called the God Butcher, who (unsurprisingly) has been brutally murdering gods from all the various pantheons. We get to see a young, arrogant, and swashbuckling Thor fight alongside Icelandic vikings, the current Mighty Avenger following the God Butcher's bloody trail, and the future, ancient and grizzled King of Asgard defending what little is left of his kingdom. The comic gets pretty cosmic, but it mostly reads like Silence of the Lambs. And Esad Ribic's artwork is TOTALLY METAL!
Verdict: Buy.
Hawkeye by Matt Fraction and David Aja
You may remember Hawkeye as the dude with the bow and arrow from The Avengers, or maybe as just another random archer in recent movies (seriously, people with bows and arrows are like the new emo vampires). Anyway. Even if you don't really know who Hawkeye is, you should check out this comic.
Writer Matt Fraction is really great with snappy, witty dialog, and his take on the titular character is a guy that's just trying to get through the day in a world full of super-powered villains and neighborhood thugs. It's very Whedon-esque. But what makes this book so very spectacular is how all the elements come together in the kind of visual storytelling that's only found in comics. The art by David Aja (as well as the coloring and lettering by Matt Hollingsworth and Chris Eliopoulos) is brilliant and unique. This comic is just so freaking cool. And it gets better every issue.
Verdict: Buy. No seriously, go and read this comic right now so we can gush about how awesome it is. It's cool, I'll wait.
All-New X-Men by Brian Michael Bendis and Stuart Immonen
I wasn't supposed to love this book. In fact, I wasn't even planning on liking it. Brian Michael Bendis is a consistently great writer and one of the most prolific in recent years. He has built a lot of the Marvel Universe as it exists today (well, until the recent relaunch/reboot thingy). But to be totally honest, his writing was starting to feel a bit stale to me, and I had stopped reading almost all of his books. So I wasn't particularly excited about him coming in and taking over my favorite dysfunctional superhero team.
I could not have been more wrong. Bendis is really knocking this one out of the park. Mutantkind has fallen on hard times lately: Cyclops has killed Professor X and is a fugitive on the run with Magneto; Wolverine is the headmaster of the Jean Grey School for Higher Learning; and after years of no new mutants, kids are sprouting powers left, right, and center. And in a passive-aggressive effort to get Cyclops to see just how far he's fallen, Beast goes back in time to bring Professor X's original students and X-Men into the future… er, our present and their future. It's very Back to the Future-y.
There's a lot going on, but Bendis does a great job balancing all the various story threads. He's brilliant at quickly and fully developing the large cast of characters. And his dialog is comfortably conversational. It's a damn good comic, and it's pushing all the right X-Men buttons for me.
Verdict: Borrow. This is a great comic, but it spins directly out of the Avengers versus X-Men event from this summer and is pretty heavy on continuity. So if you're only familiar with the X-Men movies or old cartoons, you may have questions like: "Why'd they change the name of the school?" "Since when is Cyclops BFF with Magneto?" "Wait, how many times did Jean Grey die?/Jean Grey is dead?!" I think you should be able to get past these questions as a new reader and enjoy the story. But you may want to check out the first couple issues to see how you like it before you dive in the deep end.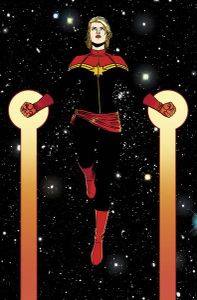 Captain Marvel by Kelly Sue DeConnick and Dexter Soy
It's possible you have no idea who this lady is. But she's awesome and you should. Carol Danvers, previously know as Ms. Marvel, has been part of the Avengers for a long time. If you read comics as a kid, she may have been flying around as "Binary" at the time. But the former Air Force pilot with alien superpowers recently got a promotion in title, an updated costume, and a new haircut.
I've come to really love this comic. It has a lot of awesome stuff in it, like World War II lady pilots and flying in space and giant robots in need of serious punching. It's a hell of a lot of fun. On top of that, there's this kind of Gilmore Girls vibe to the book–a lot of fantastic fast-talking dialog and some great friendships between a variety of female characters. Captain Marvel is very much in my wheel house.
Verdict: Buy. The book is a bit inconsistent but there are so many little bits of awesome that you can't help but lurve it.
By signing up you agree to our Terms of Service
Do you like podcasts like
This American Life, RadioLab, or Planet Money
?
Annotated
is kinda like those, but for books. Go
here to find out more
, or click the image below: