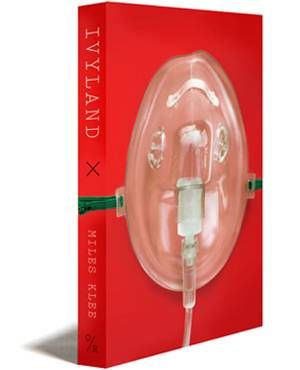 Fiction
2013 Tournament of Books Discussion: IVYLAND by Miles Klee
We here at Book Riot are huge Tournament of Books fans, so this year we're going to discuss each of the finalists in the weeks before the Tournament gets underway, in alphabetical order. You can find the schedule of our discussions here. Read along with us!
_________________________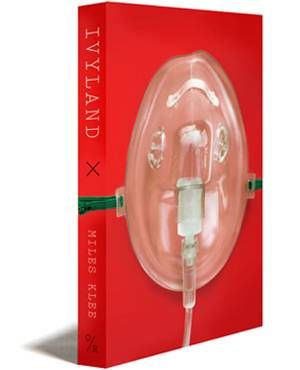 Miles Klee's Ivyland is the story of a loose group of friends, family and acquaintances who all live in the title town, a place vaguely located in northern New Jersey near New York city in an alternate history (or perhaps near future) where a pharmaceutical company dominates the landscape of the entire country after perfecting an operation that, due to the emergence of a new disease, everyone must undergo in childhood. Not that everyone can afford it.
That operation works because of a new anaesthetic, Hallaxor, which has a few minor side effects. For one, it's highly addictive, and though expensive it's far from impossible to get ahold of for recreational purposes. But it also induces severe allergic reactions in 2% of the male population–rending a large chunk of the people in Ivyland and the rest of the US disabled, often horrifically so.
Rebecca and I both had some doubts as we got through the novel, so what do we think of its tournament chances?
Nicole Perrin: Though I wasn't sure initially whether I'd really want to read a book "where Big Pharma has become Big Brother," as one Amazon reviewer put it, I quickly became pretty intrigued by what, exactly, Endless Pharmaceuticals was up to; how, exactly, the VV procedure worked; what, exactly, the disease H12 was; and how, by the way, these folks seem to have the same president for at least 20 years or so. Like in many dystopian or otherwise alternate-universe stories, hints and details were dropped throughout–but somehow I never felt like enough information came together to tell me how the citizens of Ivyland got from where we are to where they are. What did you think of the setting, and do you think it was clearly significant to the story's broader themes or more of a backdrop?
Rebecca Joines Schinsky: I didn't know anything about the book going in. I hadn't heard of it until it made the TOB list, and I didn't read any jacket copy or any of the reviews before I started in on it. It's nice sometimes to go into a read totally blind, especially since social media often makes it near impossible. Unfortunately, I felt relatively blind throughout–that unsettling feeling when, as a reader, you're not quite sure if the story is missing something, or if you are. I was intrigued by the concept (and I loved Margaret Atwood's take on Big Business as Big Brother in Oryx and Crake), but like you, I thought the pieces never came together to really, you know, tell the story.
I tend to be a fan of disjointed and nonlinear narratives, but I think in this case, the story would have benefited from some more Point A to Point B stuff. I hadn't thought about the significance (or not) of the setting, so let me ask you instead: did you have any favorite characters or moments?
NP: My favorite moments were all "reveals"; I'll give a spoiler-free example here. It turns out the father of one major character, subject and/or narrator of several sections of the book, is not the unimportant, unglamorous man we were initially led to believe, but in fact a powerful, historically relevant and possibly villainous person. It is exciting: we stand the chance to learn something about this world, and we are gratified to see some puzzle pieces falling together. But the revelation goes nowhere–unless, as you suggest, we are the ones missing something.
As for characters, there were a few I took a shine to, but thinking about it now I'm struck by how likeable virtually every major character was. There were some violent gang members serving basically as props in dive bars, but other than that there was no one really despicable–other than Endless Pharmaceuticals, that is, and whatever other shadowy forces of corruption have created the world of Ivyland.
The character I've mused the most about since reading it was not one of my particular favorites: Henri Acton. What did you think of him, and what did you make of the song he sang at open mic night? He never narrates any sections, and there's always a fair distance between him and the reader, but he seems increasingly important to the novel as it goes on.
RJS: I was really intrigued by Henri too, more and more as the book went on, and especially when he started giving off sparks. I totally missed the open mic song in my first reading–there are some ebook formatting issues at work here–and I missed the pages that described Henri going on stage. So I first read the song as a poem or stream-of-consciousness thing coming from Aidan. Upon a second reading, that is some weeeeeird stuff. Who's Henri talking about in the song, is what I want to know.
What you say about most of the characters being likeable is very interesting, given their generally bad behavior, but I agree. And I don't know why, really, but I was drawn to Hecuba the bus driver. What do you suppose is up with her name? Intentionally symbolic, or meant to tease us?
NP: Great question. It's something I was on the fence about, but it seems possible that it's a reference to the incident I mentioned above. Does Hecuba turn out to have been married to a sort of king? Perhaps.
I'll close by saying that while I'm not so sure how good Ivyland was, I'll look out for a next novel by Miles Klee. There was a lot I did like here: many of the characters, the overall tone, style and structure.
What are your final thoughts on the book, and how do you think it might do in the tournament?
RJS: I liked it a lot more by the end than I did at the halfway mark (where I probably would have abandoned it if not for the commitment to this readalong), and I'll also look out for Klee's next offering. There are some great pieces here, and the glimmer of a voice I want to see develop more.
As for Ivyland's chances at the Rooster, signs are pointing to no. Klee is arguably the least-known author in the field, meaning we're not likely to see him resurrected in the zombie round, and the book doesn't deliver near the impact of some of its competitors, so I'm pretty confident in saying it's not going all the way to the Big Dance. But Klee does take some interesting risks here, and I wouldn't be surprised to see this one whallop a safer or less ambitious novel in the first round. Gonna be a fun one to watch!