Buy, Borrow, Bypass: December 17, 2012
Listening In: The Secret White House Recordings of John F. Kennedy (Ted Widmer, Caroline Kennedy)
Though interesting for politicos and Kennedy fans to hear these recorded conversations, many of them have poor audio. One minute you will have the volume cranked as high as it can go only to have your ear blasted out the next. With an accompanying book, this is a worthy read (if not listen), but all of these conversations, and more, are available for free from the Kennedy library, which makes buying this not essential. Not nearly as well done as the Jacqueline Kennedy conversations that Caroline Kennedy released in the fall of last year, these are a bit of a let-down after such a juicy romp through those memories.
Verdict: Borrow. Worth a listen, but not permanent space on your shelf.
Give me Paris, and give me a protagonist who is independent enough to go on their own adventure and create a life on purpose, and you usually have me hooked. That's not to say I wasn't hooked, at points, with this one; just not hooked all the way through. Obviously this is going to be a book about sweets (hello, the title), but I'm not a foodie, so my eyes glazed over a bit in those paragraphs (and there are plenty). The first few times I read about the exquisite treats that the author tried, I was ready to hit the bakery, but after awhile I had a hard time relating serious life dilemmas (and/or their solutions) to a baked good or a piece of chocolate. However, some of the topics that the author tackled were quite deep, and had she steadily continued on that path it would have been all the more interesting. Deciding where to live, whether or not she wanted children, whether or not she actually wanted to get married or devote herself to her career (along with other serious topics) are all discussed in this book – and quite frankly at that. Those are issues that, to some, seem like navel gazing, but to others are real options, so are worth delving into. Unfortunately there were missed opportunities to really bring this book home, but it was still worth a read.
Verdict: Borrow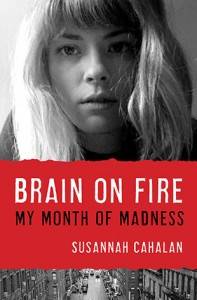 Brain on Fire by Susannah Cahalan
This scary account of what happens to a young woman whose brain is affected by a germ that is able to bypass the Blood Brain Barrier is a true story. Susannah Cahalan, a young journalist for the New York Post, presents her terrifying  story in Brain on Fire, her memoir from her short period of mental descent. Not understanding what is happening to this young woman, friends, family, colleagues, and doctors all wrestle with the idea that she is possibly going crazy. Fortunately for Cahalan, she lived in New York City and was receiving care from the country's top doctors. After others had given up on her case, her last doctor, Dr. Souhel Najjar, made an important medical discovery in figuring out that Cahalan's brain was being attacked by a disease. With this information he was able to help Susannah step back into the world and give her a second chance at a normal life. While the subject is interesting, and often quite scary, it is easy to start skimming parts that feel redundant. If the editing would have been a bit tighter with the story line, this book would have had the edge-of-your-seat feel that I so wanted it to have. All in all, a good read, but not necessarily one that needs a place on your shelf.
Verdict: Borrow
Is Everyone Hanging Out Without Me? by Mindy Kaling
Fans of Mindy Kaling's will not be disappointed with this laugh out loud book full of short essays. Kaling's voice is so honest that you can't help but be amused at her confessions. Written in bite-sized pieces with sharp wit, this book is full of engaging anecdotes. It's the perfect book to carry with you for commuting, appointments, and solo mealtimes. You'll be entertained the entire time you're reading.
Verdict: Buy, and buy some copies for your girlfriends while you're at it – this would make a great gift! 
By signing up you agree to our Terms of Service
We have 10 copies of
An Anonymous Girl by Greer Hendricks & Sarah Pekkanen
to give away to Book Riot readers! Go
here
to enter for a chance to win, or just click the image below. Good luck!