The Week's Most Popular Posts: November 17-23, 2012
The most popular posts from the week that was..
Eat this during NaNoWriMo.
from Eat This: Book Cakes! by Wallace Yovetich
______________________________
 Coloring for Grown-Ups includes more than 50 fun activities, such as:
* 6 Steps for Compromising Your Integrity and Goals!
* "Hipster or Homeless?"
* Color the Potential Terrorists!
* Draw the person you thought you'd grow up to be before you abandoned all your hopes and dreams!
from 5 Questionable Coloring Books for Grown-ups by Cassandra Neace
______________________________
Pretty much all the parents in Grimms' Fairy Tales. Cinderella's step-mother forces her into slave labor, Snow White's step-mother tries to murder her and serve her heart for dinner, Hansel and Gretel's parents leave them to die in the forrest, Rapuzel's parents give her up to a witch who locks her away. Even Little Red Riding Hood's mother sends her on a dangerous journey through a dark wood. Better to avoid dinner with these sociopaths and celebrate Friendsgiving instead.
from 10 Worst Fictional Families to Spend Thanksgiving With by Rachel
______________________________
Most helpful reviews might be best for when you're actually shopping, but when you want to fall into the internet and lose your last shreds of faith in humanity? There's nothing better than Least Helpful.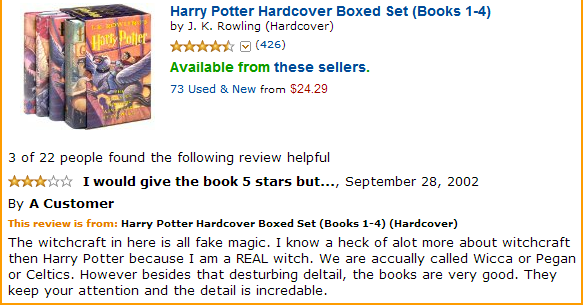 from Sites We Like: Least Helpful by Rebecca Joines Schinsky
By signing up you agree to our Terms of Service
In a book lover's life, there's nothing as magical as a perfect, surprising recommendation from someone who just
gets
you. But finding those people can be tough! That's where
TBR
comes in. Go here to find out more, or just click the image below: