Inbox/Outbox: November 23, 2012
Today on Wild Kingdom: the reader-beast emerges from her carb-induced coma, pokes her head out of her burrow, and wishes you a happy holiday weekend. Here's a look at the reading highlights.
Inbox (Books Acquired)
It's anybody's guess!
I've made a trek to the motherland (Kansas City) for the Thanksgiving festivities, so I have absolutely no idea what's waiting on my doorstep. And I haven't gone book shopping on this trip yet! That's what today is for–my only Black Friday purchases are going down at Rainy Day Books later today. Any recommendations I should pick up?
Outbox (Books Finished)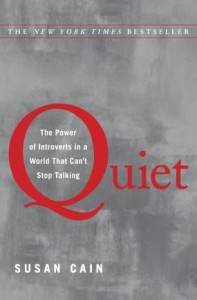 Quiet by Susan Cain–American education, business, and culture in general prize the extrovert, the "hail-fellow-well-met," the person who is so confident in the delivery of her ideas that you can't help but figure she's right. We encourage kids and workers to speak up in class. We build open-plan offices to foster collaboration and group work. And we fail to recognize that many people actually need the opposte–quiet, solitude, time inside their own heads–to thrive.
"We're told that to be great is to be bold, to be happy is to be sociable. We see ourselves as a nation of extroverts—which means we've lost sight of who we really are."
In Quiet, Susan Cain examines the upside of introversion and the contributions introverts have made to society in service of a powerful case for rethinking our assumptions about what it means to be introverted or extroverted and the value judgments we attach to individuals with these temperaments. There's validation for those of us who'd rather spend Saturday night on the couch with our loved ones than out at a party and would prefer to work at home or in a private office than in a loud-and-rowdy shared space. There are helpful suggestions for better managing friendships, relationships, and working partnerships with people of the opposite temperament. There's a description of Tony Robbins' voice as "half Muppet, half bedroom-sexy" (the best!). And there's a whole lot of awesome. My highest recommendations.
In the Queue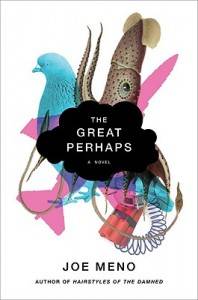 The Great Perhaps by Joe Meno–I've had this on my TBR since just after its original release in 2009, but I didn't know what it was about until Greg mentioned it in his Genre Kryptonite piece about dysfunctional families earlier this week. I confess: this was a case in which I absolutely, positively judged a book by its (totally rad) cover and bought it for that reason alone. I have an annual tradition of putting aside galleys and ARCs and reading nothing but backlist from Thanksgiving through New Year's. It gives me a chance to read like a reader instead of like a reviewer and simply immerse myself without any analysis, and for my money, there's no better way to start than with a novel about a dysfunctional family read during a big family holiday. I'll be digging into this just as soon as I dig myself out of this pile of snuggly blankets.
What about you? How was your reading week? Any exciting Black Friday acquisitions?
By signing up you agree to our Terms of Service
In a book lover's life, there's nothing as magical as a perfect, surprising recommendation from someone who just
gets
you. But finding those people can be tough! That's where
TBR
comes in. Go here to find out more, or just click the image below: