Buy, Borrow, Bypass: November 14, 2012
Have You Seen Marie? by Sandra Cisneros, illustrated by Ester Hernandez: This is a sort of grown-up children's story, for lack of a better description. It finds Cisneros mourning her mother and welcoming a friend who has come to visit. On the day of her arrival, the friend's cat, Marie, runs away, and the story follows the two women searching the neighborhood for Marie. The book reads a little like that song "Who are the people in your neighborhood?" accompanied by delicate color-pencil sketches.
Verdict: Borrow. You'll only get about 20 minutes of reading out of this one, and while the afterward is beautiful, the story feels a little lacking.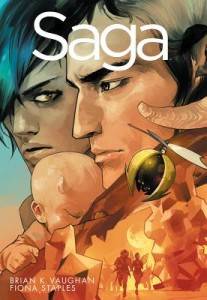 Saga Volume 1 by Brian K Vaughan, illustrated by Fiona Staples:
Holy cats is this a good'un. Not only is the art absolutely beautiful, the story is engaging from page one, which finds Alana giving birth in the back of a garage while her husband Marko assists. The two renegade soldiers from opposite sides of a galactic battle have about 90 seconds to rejoice in the birth of their daughter before they're on the run. It seems the couple are wanted by quite a few people. This first volume follows the duo as they search for a way off the planet Cleave. Along the way, we meet the freelancers out to kill Alana & Marko, the Robot Prince who is after them, and the ghostly babysitter they pick up along the way. This one is so good that you'll be totally bummed when it ends and immediately start looking for the next single issue (which as far as I can tell isn't out yet).
Verdict: Buy it. Buy it now!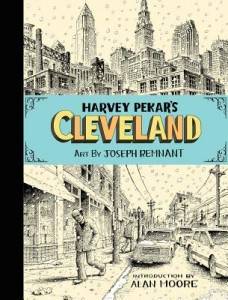 Harvey Pekar's Cleveland by Harvey Pekar, illustrated by Joseph Remnant:
There are two things you need to know about me before I tell you about this one. First, I am incredibly, freakishly tall (6'5″). Second, I have a super short couch and I can only lie down on it for about 20 minutes until my folded up body gets achy and crampy. Now, back to Harvey. The first two times I tried to read 'Cleveland' I fell into a deep, deep boredom-induced slumber that found me snoozing on my super short couch for nearly two hours. This happened on two separate occasions. The third time I tried to read 'Cleveland' I sat up in a chair, and it was still utterly boring, and so I quit half-way through. I just didn't care enough about the minutiae of Cleveland's or Harvey Pekar's history.
Verdict: Bypass, unless you're suffering from chronic insomnia.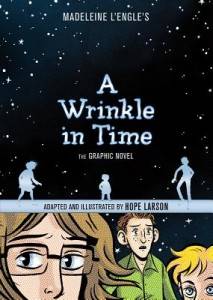 A Wrinkle in Time: The Graphic Novel by Madeleine L'Engle, illustrated by Hope Larson: Confession. I have never read A Wrinkle in Time before now. I always thought I had, but in fact I had read The Watcher in the Woods. These are not the same book. So all those book memes where I bolded 'Wrinkle' as one that I had read, they are nothing but lies! I gotta say based on my reading biases and age, the graphic novel was probably the best way to go for this one. I fear I'd have no patience, now, for spaghetti-haired Aunt Beasts, tesseracts, otherworldly witches, and weird little brothers. But with Hope Larson's splendid art in all its blue and white and blackness? I loved it. This is a sweet coming of age story wrapped up in a Sci-Fi space travel rescue plot. It also includes a nice little theme about thinking for yourself and love.
Verdict: Buy if you dig graphic novels and are open to reinterpretations of beloved childhood lit.
By signing up you agree to our Terms of Service
We have 10 copies of
A Gentleman in Moscow
by Amor Towles to give away to Book Riot readers!
Go here to enter for a chance to win
, or just click the image below. Good luck!