The Week's Most Popular Posts: November 3-9, 2012
The most popular posts from the week that was…
JSO: You can only find puns based on Steinbeck titles funny for so long. I liked about the first 987023452 hashtag games, but I think the genre is pretty well strip-mined at this point. If I have to see someone make the "Tequila Mockingbird" joke one more time, I'm going to have to revoke someone's cool card.
from Over It: Bookish Conversations We Never Want to Have Again by Jeff O'Neal
_________________________
CAUTION: The following may cause blushes, gasps, and embarrassment if opened on a publicly displayed computer. The author of this article still cannot believe she did the research for, and compiling of, this article… but someone had to do it, and she wanted to help her fellow citizens in ridding the bestseller lists of crappy fake-erotica.
from Baby, It's Cold Outside: 6 Books About Naughty Librarians to Keep You Hot and Bothered [NSFW] by Wallace Yovetich
_________________________
7. Winston Smith, from 1984 — A good sense of history (he is in charge of rewriting it!) and willingness to subvert totalitarianism for love. We'll try to forget about his "flip flop" at the end. Julia would, of course, be his VEEP.
from Top 10 Literary Characters We'd Vote For by Greg Zimmerman
_________________________
We'll start out with our cats, because (let's face it) there are just above and beyond the number of pictures of reading cats than any other animal. Is it because cats are more bookish or because The Bookish own more cats? Hmmm. Regardless, squeal away.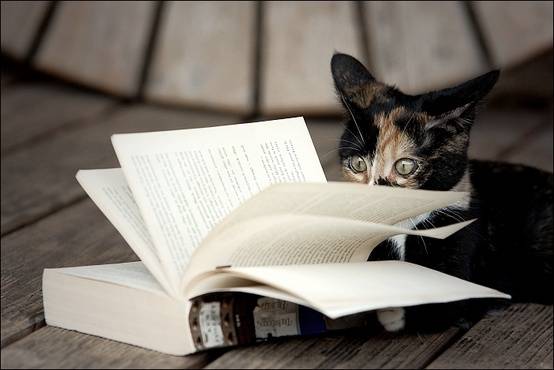 from Post-Election Decompression: Cute Bookish Animals! by Wallace Yovetich
By signing up you agree to our Terms of Service
Do you like podcasts like
This American Life, RadioLab, or Planet Money
?
Annotated
is kinda like those, but for books. Go
here to find out more
, or click the image below: