Riot Reading Day Giveaway: SLAUGHTERHOUSE-FIVE T-Shirt
This post is part of our Kurt Vonnegut Reading Day: a celebration of one of our favorite authors on the occasion of the publication of his letters. Check out the full line-up here.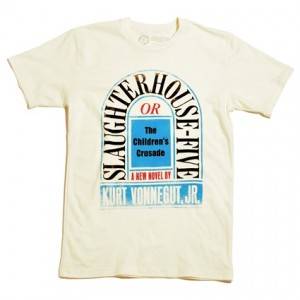 What's your favorite line from a Kurt Vonnegut book? Don't say, "so it goes." Everybody knows that one. I've never even read Kurt Vonnegut (I know, I know), and I know that one.
Our pals at Out of Print have given us one of these beauties to give away, and if you want it, you're gonna have to do better than "so it goes."
To enter, leave a comment on this post with your favorite Kurt Vonnegut quote by midnight Eastern TONIGHT! Good luck!
By signing up you agree to our Terms of Service
We have 10 copies of
A Gentleman in Moscow
by Amor Towles to give away to Book Riot readers!
Go here to enter for a chance to win
, or just click the image below. Good luck!