The Week's Most Popular Posts: October 20-26, 2012
Our most popular posts from the week that was…
If this were mine…
I'd place books on the appropriate state shelf in which they are set. Because I'm dorky like that.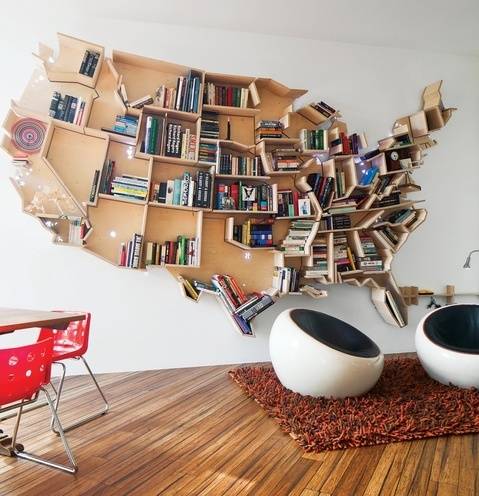 from Coolest Bookshelves EVER: Part Uno by Wallace Yovetich
_____________________
The Eagle and Child – Oxford, England
Dating from the 17th century, one of the oldest watering holes on this list. JRR Tolkien and CS Lewis could be found in the back, known as the Rabbit Room, with their writers group, The Inklings. Under its low ceilings and over room-temperature ale, Lewis shared the first drafts of The Lion, The Witch and The Wardrobe here in 1950. Reactions were as tepid as the beer.
from Pub Scrawl: The Eight Best (Actual) Literary Bars by Edd McCracken
_____________________
This painting from Alisa Burke is a poem from e.e. cummings and is made with…wait for it…shoe polish. Just buy a piece of regular canvas in whatever size you want, prime it with white house paint, and write the quote using the shoe polish. Once it dries, stretch the canvas over stretcher bars (available at a craft store, or use scrap lumber) or frame it.
from 5 Creative Ways to Display Your Favorite Book Quotes by Amanda Nelson
_____________________
Does an author's work define him? The prevailing opinion these days seems to be that the work exists outside of the author- that the writer is in actuality a first reader. I prefer to think of books as an irremovable part of an author, like their bones or blood.  Artist John Sokol has translated this into visual art, creating portraits of authors using words from their work.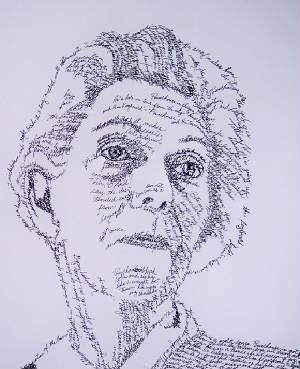 from 5 Artistic Renderings of Authors in Their Own Worlds by Amanda Nelson
By signing up you agree to our Terms of Service
Follow Book Riot on Instagram
for books. Obviously.