Inbox/Outbox: October 26, 2012
Since CLOUD ATLAS, I've had a hard time getting into fiction. You know how that is? You read a novel that has a lot to unpack, and then you're spent. Now I want to think about life stuff. And learn some things. And read something really addictive. Any recommendations?
Here's a look at my reading week. I'd love to know about yours!
Inbox (Books Acquired)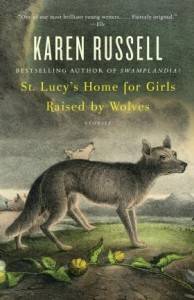 St. Lucy's Home for Girls Raised by Wolves by Karen Russell (bought)–I didn't all-out love Russell's novel Swamplandia!, but it did make me feel ALL THE FEELINGS. I'm looking forward to her forthcoming story collection Vampires in the Lemon Grove (February 2013), but first I want to go back to where it all began. And that's this collection! (I'm keeping my local bookstore in business ordering backlist titles I want to devour before I get to new books.)
How to Stay Sane by Philippa Perry (Picador, December)–Part of Picador's "School of Life" series, this is "a template for how not to lose your mind in the modern age." If it's as good as it looks, I'm going to download it directly into my brain.
Dwarf by Tiffanie DiDonato (Plume, November 27)–A memoir by a woman who was born with dwarfism and underwent several surgeries that added 14 inches to her height and gave her the ability to drive, live in the dorm during college, live a typical life. I'm intrigued by this one for several reasons.
Outbox (Books Finished)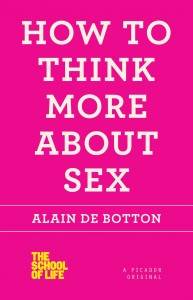 How to Think More About Sex by Alain de Botton (Picador, December)–I know, I know. I saw the title and had the, "Wait, is it even possible to think more about sex?" moment too. Even if you can't think about sex *more*, you can probably think about it differently, or better. And that's what this one's really about.
De Botton takes apart the ways we conceptualize sex and attraction and puts them back together to suggest healthier, more satisfying attitudes. If you're into sex and philosophy, you'll dig this one. I'll be writing more about it soon.
(What? If you'd been reading a book about sex, you wouldn't have finished anything else, either.)
In the Queue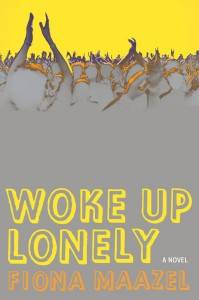 Woke Up Lonely by Fiona Maazel (Graywolf Press, April 2013)–I don't usually read advance copies so far out from publication, but I've been thinking about this one ever since it showed up in the inbox last week, and my curiosity has gotten the better of me. I mean, a novel about a guy who leads a cult that promises to cure loneliness, but can't seem to shake his own emptiness? YES, please!
How was your reading week? What's on tap for you this weekend?
By signing up you agree to our Terms of Service
In a book lover's life, there's nothing as magical as a perfect, surprising recommendation from someone who just
gets
you. But finding those people can be tough! That's where
TBR
comes in. Go here to find out more, or just click the image below: