Name That Author!: October 18th, 2012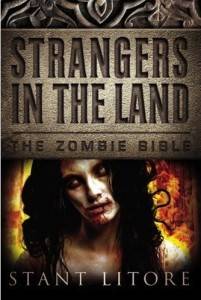 This round of Name That Author! is sponsored by Strangers in the Land (The Zombie Bible) by Stant Litore.
The aging prophet Devora bolts awake in terror, gasping for air. In her dream she heard her mother's shrieks as the ravenous dead pulled her from the tent. Devora had been only a girl then, crying as she listened to her mother's screams and the tearing of her flesh.
And in the morning, when her mother rose—undead and hungering—Devora slew her.
This third volume of The Zombie Bible takes you to 1160 BC Israel as the walking corpses devour the tents and homesteads of the People. Four will stand against the dead: Devora, who sees what God sees. The slave girl Hurriya. Zadok, a legend among warriors. And the widower Barak, fighting to keep his vineyard free of this new peril. But can they stand together? For the living fear each other—fear the strangers in the land— as much as they fear the hungry dead.
_________________________
You can submit your guess using the form below after any clue, but if you're wrong, you're out for the week. So you've got to pick your spot. Too early and you might be wrong; wait until you're sure, and you might get scooped.
**Be warned: if you Tweet your guess or leave a comment with your guess, you're not only disqualified for this week, but for the rest of the month.**
Here we go:
1. I was born in Harlem.
2. I testified before the House Un-American Activities Committee, but I was not blacklisted. 
3. My most frequently produced work, though, was inspired by the House Un-American activities Committee. 
4. I wrote one of my most famous plays in just six weeks, so attention must have been paid to it.
5. I was married to the same woman as Joe DiMaggio.
Oops! We could not locate your form.
When you participate, you agree to the following: I acknowledge that should I be a lucky soul who wins free swag, my free swag should arrive in a couple of weeks. The sponsor will fulfill the free swag in their preferred format. The format may be a scroll or a hardback, an ebook or an audiobook, or a download directly into my brain. Regardless, I acknowledge that it is free swag, and I'll be happy because life is too short to be sad about free swag.
Enter to win
a $100 Amazon gift card when you sign up for our sci-fi/fantasy newsletter!
Enter here
: