Buy, Borrow, Bypass: October 10, 2012
River Thieves by Michael Crummey: Not a recent release but one I am rereading this week because I'm teaching it soon. This is Michael Crummey's first novel. It's an exquisitely beautiful work of historical fiction detailing the settlement of Newfoundland in the 1800s and the consequential extinction of the Beothuk people, the First Nation that originally inhabited the island. Crummey's depiction of these tragic historic events is clear-eyed and empathetic, honest and deliberate, and occasionally achingly difficult to work through. A poet to the core, Crummey's prose is gorgeous and evocative, but plot fanciers beware: the narrative arc does occasionally slow in order to allow for rich imagery and description to fill in the gaps. It's a slow-moving novel but an altogether worthwhile one that, if you let it, will consume your week and your thoughts.
Verdict: Buy (and consume with warm tea and a soft blanket).
The End of Men by Hanna Rosin: Have you escaped the hype of this book? I read it over the summer but found myself rereading it this week in response to a number of discussions of it in the media recently. For those who have luckily missed all the frenzy, Rosin sets herself the task of exploring how men got so unmanly-like and women got so successful. I found this book enormously frustrating. My reactions wavered between yawns of "oh thank goodness someone stated the obvious" to teeth-gritting "lady, do you have a source for that?" You can get as much out of the book as you can out of the hype, and since the hype has been pretty vacuous, that's saying something.
Verdict: Bypass (you can get just as annoyed about social constructions of gender by watching laugh-tracked sitcoms)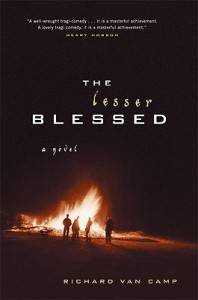 The Lesser Blessed by Richard Van Camp: Set in the Northwest Territories, this novel tells the story of a Dogrib boy, Larry, coming of age and coping with major family trauma. The novel is a difficult and demanding read, because Larry seems to be suffering from PTSD and repeated blackouts, and the narrative is from his perspective, so as readers, we receive his story slowly and disjointedly. It's an older novel but a timely reread now that a much-buzzed film based on the book recently premiered at the Toronto International Film Festival; the film looks like a great adaptation, but you should definitely read the novel first. And, as my students tell me, be ready to ugly-cry.
Verdict: Buy (and pick up a box of tissues while you're at it)
By signing up you agree to our Terms of Service
We have 10 copies of
A Gentleman in Moscow
by Amor Towles to give away to Book Riot readers!
Go here to enter for a chance to win
, or just click the image below. Good luck!