Beyond the Books: October 2012
In Beyond the Books, Book Riot contributors recommend stuff that isn't about books. From apps to zines, our recommendations are as wide-ranging and idiosyncratic as we are–and as we know you are too. 
____________________________
MUSIC
Whiskey Shivers: When Anthony Bourdain featured this bluegrass/roots music/awesomely bearded and banjoed group on the first episode of the Final Tour season of No Reservations last week, I stopped my bye-bye Bourdain boo-hooing just long enough to fall in love. We're in the heady throes of new infatuation, Whiskey Shivers and I, and let me tell you, it's a toe tappin' good time. Check out their latest on Spotify. -Rebecca
"Sex Without Stress" by the Au Pairs. It's too bad that the post-punk, radical, early 80s British music collective Au Pairs only recorded two albums. This track is the strongest off of their second. Their first, and more highly critically regarded album, is heavy on the punk, but their second, ""Sense and Sensuality," has funkier beats and seems less cynical. I've always thought that the late 70s/early 80s experimentation that happened in underground music isn't appreciated enough, and this song makes the strong case that those experiments were successful. -Scott
Gossamer by Passion Pit. Holy crow! People of Earth, I cannot believe how good this record is. Like I thought for sure the best, most fun record of the year was going to be The Japandroids' Celebration Rock. I was wrong. Passion Pit's Gossamer is all the best that rock and roll offers us– poppy, feel-good sounding music accompanied with deep, sometimes depressing lyrics. Well, it's the best if you like that kind of tension in your music. It's surprising and fun and utterly delightful at every turn. I am not a music writer, sadly, so words often fail me when I write about music. But this record is so fun I have a hard time not pressing caps lock and just having at it with exclamations and acronyms. -Jodi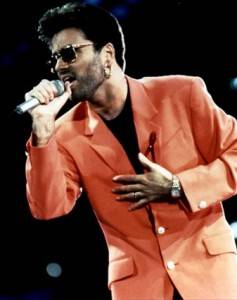 "Somebody to Love" performed by George Michael. I have a pretty serious streak of Queen listening going, so much so that I'm now tracing ancilliary channels, like the Freddie Mercury Tribute Concert. A motley band of early 90s British pop stars performs, to greater and lesser success, Freddie's great numbers. The highlight is a truly astonishing George Michael singing the most heart-breaking, in hindsight, Mercury blaster. It never occurred to me what a hero Mercury must have been to Michael, and I'd also forgotten just how charismatic Michael was in his prime. Sadly, he's a punchline now, but in these five minutes, he's an immortal (that is if you can see past the melon blazer) –Jeff
Blanck Mass by Blanck Mass. This is for those of you who like your music like you like your clouds: diffuse, massive, awe inspiring, and able to fill your horizon with wonder. This is a culumo nimbus of a record. At dawn. With the northern lights dancing on the fringes of vision. No words. No verse, chorus, verse chorus structure. Just the loveliest of sounds, moving very slowly. Put the song "Sundowner" on your headphones. Take a walk. At a stroke, the world and everyone in it will be transfigured. -Edd
The soundtrack to Inception has been in my headphones recently, along with Florence + The Machine's Ceremonials. And, when I am sure no one can see and hear, I listen to KORN and Skrillex mix it up in "Path of Totality." My favorite recent song, however, is Jack White's cover of U2's "Love is Blindness," the song that is playing in the second part of the Great Gatsby movie trailer.
 -Johann
I'm not sure how I missed the original theater release of the film Janie Jones considering that, as a small indie feature with a great soundtrack, it's right in my wheelhouse. But miss it I did, so I was happy to find it streaming on Netflix. This great movie features a decidedly teenage Abigail Breslin, with Alessandro Nivola, whom I know from the films Junebug and Face/Off, and Elisabeth Shue, who plays a drug addict so well. The synopsis of the film is here, and the story is fantastic, as is the acting. But the music is as much a star as any of the actors. Both Breslin and Nivola do their own singing, and I've been listening to the soundtrack on repeat since I found it. I've also branched out into downloading the music of both Gemma Hayes, who wrote the music for Breslin's character, and Clem Snide's Eef Barzelay, who did all of the music for Nivola's. Such a quiet little film and perfect music that I can't get enough of. Definitely worth checking out. -Rachel
Amanda Palmer — musician, queen of the indie/goth interwebs, and spouse of Neil Gaiman — has a new album out with her new band The Grand Theft Orchestra, and I can attest that It. Is. Good. Theatre is Evil is well worth your dollars, and you don't even have to pay: there's a free version available! Number 2, "The Killing Type," is one of the rawest break-up songs I've heard in a long time; "Do It With a Rockstar" and "Want It Back" are incredibly catchy and danceable; and some of the slower songs deliver on the melancholy big-time ("Bottomfeeder" and "The Bed Song" being my favorites). –Jenn Northington
Azealia Banks is equal parts super dirty and super adorable. I have rewatched her music video 212 … probably 212 times, no lies. -Kit
File this under "No Duh": Bruce Springsteen. While I've always thought he was great, I never had a real appreciation for him until a few years ago when I dated a Boss fanatic. Wisely, I got rid of the boy, and kept the newfound love for The Boss. A few weeks ago, I had the opportunity to see him live, and he was INCREDIBLE. I've seen hundreds of concerts, but I've never seen a performer show as much unbridled joy as Bruce did. I left that show a better person. If Bruce asked me, I'd get a tattoo of a bald eagle flying out of my ass, holding a banner that says 'Born in the U.S.A.' I love him that much now. –Liberty
"Boys & Girls" by Alabama Shakes. When I first heard the title track off this album, I did a double-take; I'd never before heard a song about platonic boy/girl friends getting estranged just because of social pressure. Lead singer Brittany Howard howls at the injustice of losing someone dear over mere social convention: "They say a friend ain't to be between a girl and a boy / I don't know why they said it, or why it gotta be so wrong… They say it's just the way it's gotta be, but how so?" Is this a first in rock? High freakin' time someone tapped into that particular sting. –Jennifer Paull
M.C. Yogi. Yeah I heard him on NPR's Fresh Air with Terri Gross which makes me a card carrying Democratic demographic in this election year, but M.C. Yogi is yoga music for Beastie Boy lovers. Downward dog, y'all; it's finger lickin' good. -Elizabeth
Sufjan Stevens' EP All Delighted People…oh, Lord…it's so good *faints.* You can always depend on Sufjan to be melodic, haunting, and totally weird. My favorite track is "Djohariah," a 17-minute epic named after his sister that his website describes as a "guitar-jam-for-single-mothers." It has ominous-but-lovely chanting set over a jazzy drum. This is really all you need to know. -Amanda
FOOD
Coco-nutty energy bites from Brit + Co: I've always been a girl who never misses a feed, but working from home (and not having lunch-break-as-escape to look forward to) has resulted in my regularly forgetting to eat lunch until it's like, three o'clock and the resident basset hound starts to look frighteningly tasty. I lamented this to new Riot team member Yan over lunch last month (I can be lured away from work with the promise of tacos), and he told me about this recipe. It satisfies all my requirements: quick, easy, delicious (almond butter, chocolate chips, coconut flakes, yes please), and healthy. And they're superfun to make because you get to smoosh all the ingredients together and get messy. Make a bunch of these on Sunday, and nibble through the week in happiness.
-Rebecca 
Popcorners. It's popcorn compressed into the shape of a chip. They're amazing. My favorite flavors are Caramel (sweet), and Cheesy Jalapeno (savory). If you haven't tried this snack yet you need to go to the grocery store and pick up a bag right now. -Scott
Milk Tea by Gino. I have no idea what this stuff is. It is a complete and total mystery. Everything on the label is in Chinese except for the words "Milk Tea" and the logo of the manufacturer. All I know is that I pour a packet of this powdery stuff into my mug, pour hot water over it, and voila! I have a tasty beverage that tastes almost but not entirely unlike hot tea with milk. I'm pretty sure it's the exact substance Arthur Dent gets when he asks for tea on the Heart of Gold in The Hitchhiker's Guide to the Galaxy. Anyway, I can't stop drinking this stuff. In a week, I've moved off coffee and onto Milk Tea. I don't know what's happening, but if I turn into an enormous green rage monster, I'll stop. -Ali
I just back got from a beer festival in the cold north of the small volcanic island I live on, and the clear winner, for me, was San Francisco's brewer Anchor Steam's Liberty Ale. Considering that the festival centered around beers not from the US, the fact that this was the best one should be all the more compelling. Go San Francisco brewing! –Johann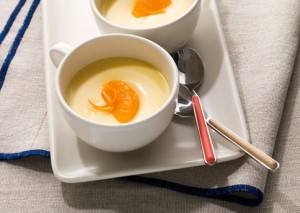 Posset. Say the word a few times and just try to resist imitating a British accent. (If you go full Coogan, I won't tell.) Posset. Possetpossetposset. Don't you feel like you're wearing a bonnet now? But this old-school, custardy dessert tastes freshly fabulous. It's basically chilled, pudding-thick, sweetened heavy cream, often flavored with citrus. There's a terrific lemon posset at Brooklyn's Iris Café: On the tongue it feels richly indulgent; then the lemon sparks up and the mouthful vanishes, prompting you to grab a buckwheat cookie to scrape the ramekin clean. -Jennifer Paull
They're orange. They're in the shape of fish. Salty, crunchy, with a hint of superiority over other cheesy snack crackers. You know what I'm talking about. Pepperidge Farm Goldfish.
       -Elizabeth
FILM & TV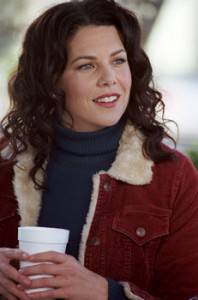 Gilmore Girls. Fellow Rioter (and roommate) Jenn Northington and I have been watching Gilmore Girls from the beginning on DVD. It's mostly a re-watch for me, although I haven't really seen the show since I watched it on TV. I'd be lying if I said I forgot how much I loved this show, because I didn't. I'm just so ridiculously happy to be back in the world of Stars Hollow again. And I'm reminded how adorably insane some of the smaller characters are, like Babette and Morey, Mrs. Kim, and Kirk. It's also having me rethink my stance on the whole Dean/Rory/Jess thing. Because as "boring" as Dean was, Jess treats Rory like total crap. I mean, I love him to death and he's the first one to actually grow up, but he makes Logan look like a good guy with the way he's acting in these early seasons. Lorelai Gilmore remains my spirit animal. -Ali
Doctor Who. He's back. It's TV at its finest. The kind that hasn't lost the wonder of childhood, but instead has added wit and intelligence to its arsenal. And tweed. -Edd
I recently watched Take Shelter, where the actor Michael Shannon rips the best actor Oscar statue right out of the Academy's hands. No need for that category this year. The movie centers around his character's slow slip into schizophrenia, where he keeps seeing and hearing an approaching storm, and the impact this has on his work and family. Must-see for those of you who like more actual acting than bombs and car-chases in your movies. -Johann
With 2012 being an election year, I figured it was finally time to watch The West Wing. No, I've never seen it; yes, I should be ashamed of myself. Five episodes into Season One, my feelings are as follows: CJ, awesome; Sam, meh; Toby, awesome; Charlie, awesome; Josh, meh with a "we shall see" caveat; Bartlett, better when on pain meds. If, like me, you have not already watched the show, I can assure you it's an excellent antidote to the awfulness of the IRL political process.
-Jenn Northington
The LA Complex is about comedians who are so unfunny it's funny again, rappers with what-the-flip secrets, self-destructive medical soap actors, child stars washed up at 30, and the porn industry. It's all on Hulu and I stayed up til 4 in the morning watching the first season. J'adore ca! -Kit
This summer Safety Not Guaranteed and Frank and Robot made the subgenre "Low Concept Science Fiction" a thing, and not just a thing, a GREAT thing. Highly-times recommend. -Kit
I'm surely not the last person to watch Arrested Development, but I'm probably in the last few hundred. With new episodes filming now to air in early 2013, and continued rumors of a movie, I've begun watching (on Netflix streaming) the 53 back episodes of the Jason Bateman (one of my favorite actors) comedy that ran on Fox between 2003 and 2005. It. Is. AWESOME — a perfect mix of high- and low-brow humor. I'm sad it's existed in the world for this long, and I'm just now watching. Remember, there's always money in the banana stand. -Greg
I have a habit of finding old episodes of a current show on Netflix and then mainlining every available episode over the course of a few weeks. My most recent obsession was the first two seasons of Nikita, a surprisingly enjoyable CW show about a female assassin targeting the secret government organization that trained her but has since gone rogue. Star Maggie Q does all her own stunts, which is totally awesome. I'm currently finishing The Glades, an A&E crime procedural about an abrasive yet effective Chicago detective who has defected to Florida. Watching the episodes back-to-back can make Matt Passmore's Detective Jim Longworth character a little predictable, but he's so easy on the eyes it's worth it. –Kim
AROUND THE WEB
The Omni Magazine Online Digitization Project. Fans of the long running science/science fiction magazine Omni (1978-1995) don't need it to be explained how awesome it is that all the back issues are slowly being put online. For n00bs, Omni was basically Wired, if Wired had been run by people still living in the multi-colored shadow of the turbulent 60s. There were hard science articles about space exploration alongside stuff about immortality. And the fiction. Wow. Asimov, Burroughs, George R. R. Martin, King, Bradbury….  -Scott
The other weekend, my friend and I got together with our laptops and spent 3 hours on Pottermore. They've tried really hard to balance the elements of a traditional RPG/video game (collecting items, competing against other players, completing timed tasks to advance to the next level) with building a community for the fans and supplying extra content for the obsessed. I'm proud to say that I was the best of the two of us at Potions, but how I got sorted into Slytherin I cannot for the life of me figure out. Also of note: Minerva McGonnagal has an incredibly tragic backstory, which goes a long way to explaining the depth of her awesome. I'd say that in the right mood on the right lazy day I'd head back for more, but if I never end up "finishing" it, my world will keep on turning.  -Jenn Northington
For the last couple months, my sister, mom, and I have been competing in what we call the "Healthy Lifestyle Challenge" — a project to eat less and move more towards better health. Over my years of dieting, I've tried a number of calorie counting programs, but the one we're using now, LoseIt, is my favorite. The website interface is clean and easy to use, the Android app is a breeze, and the reports you can run about calorie intake, exercise, and food groups are nice. It's probably not the most comprehensive program out there, but it's working well for us. -Kim
To The Best Of Our Knowledge, a podcast from Wisconsin Public Radio. Their show on memes, and culture-matics knocked me out out of my tree. -Elizabeth
I'm not sure that illustrations should be as transfixing as Phil Noto's sketches and drawings of pop culture figures are, but his pool of subjects hits me square–from Roger Sterling to Kitty Pryde. Only quibble….not enough Star Wars. -Jeff
OUT AND ABOUT
BodyPump: I'll just say it–I really don't like to exercise. But! I do like the outcomes of exercise, namely that feeling physically competent makes me feel more intellectually and emotionally competent (like, "Yeah, come at me world! I just did a million lunges. I can take you!"), and nothing does that for me quite like the choreographed cardio-weight lifting in this class. Each major muscle group gets its own track, and the routine changes every couple months, so there's never time for boredom to set in. For the hour I'm at Pump, I can't afford to think about anything at all beyond what my body is doing, and that, a break from my brain, makes all the pain totally worth it. Use the Les Mills class locator to find a BodyPump near you. -Rebecca
For my birthday this year, I wanted to do something fun that was a little bit out of the ordinary. Enter: The Color Run. Tagged as the "Happiest 5K on the Planet," the run leads a throng of people wearing white through several color stations where you're doused with color (cornstarch-based). It culminates in a giant color party where everyone releases their own packets of color in a big cloud of rainbow awesome. My race in DC sold out early, but there are a bunch of these Color Runs all over the country. -Rachel
Zumba makes me feel like the baddest bitch around. I know I'm not, I KNOW this, but it makes me FEEL it. -Kit
There's nothing better than September baseball when your team is in the playoff hunt. I've been spending an inordinate amount of time following my beloved team Cincinnati Reds, as they put the finishing touches on their second NL Central Division title in the last three years. In 2010, the Reds Team clinched the division on a dramatic Jay Bruce walk-off home run that I still have on my DVR, and watch nearly weekly (still getting a bit misty each time). But, then, they were promptly swept out of the playoffs in three games, including a first-game no-hitter by Roy Halladay. I'm hoping for much different October results this year! -Greg
Go Eagles! McDonogh Girls Varsity Soccer. What's better than eating cheesy snack crackers and watching much better, much younger, women rule the pitch? -Elizabeth
As soon as I see the first faintly yellowing leaves of fall, I get a particular thirst. It'll be grape harvesting time out in Sonoma, California, and if you have any possible way of getting there, GO! Amazing vineyards unfurl along every back road, but people are resolutely unpretentious. Noses stay in the glass, not snootily up in the air. If you're new to the area, head to the mountaintop tasting at the Kunde Estate; from this vantage point, you can look along the valley and get a good idea of the various terrains and climates that shape the region's appellations. Better yet, sign up for the annual Grape Camp weekend, during which you can try nicking grape bunches off the vines, practice blending, and eat and sip your way into a happy daze. I will call your boss and use my Pretend Periodontist Voice so you can take off. -Jennifer Paull
THIS AND THAT
My twins are only a year and a half old, so they have the attention spans of newly-spawned goldfish. This makes it difficult to get them to sit still long enough for a story- BUT! The Llama Llama board books are doing the trick. If you're familiar with the Llama Llama picture books for slightly older kids, then you already love this slightly neurotic, definitely dramatic young llama and his various shenanigans. The board books have lots of onomatopoeia that my kids love. Nothing makes them sit still like several repetitions of "Llama llama ZIP! Llama llama ZOOM! Llama llama red pajama VROOM VROOM VROOM!" –Amanda
In the spirit of preparation for winter (when we spend a lot more time at home), I've gone on a simplification/organization frenzy. We're decluttering, scheduling, rearranging, labelling, throwing out- whatever we have to do to make life a little less crazy. I'm finding the book Organized Simplicity by blogger Tsh Oxenreider to be a good guideline for simplifying family life in general and organizing/cleaning each room in your home. I also love her recipes for homemade house cleaners. -Amanda
We have 10 copies of
A Gentleman in Moscow
by Amor Towles to give away to Book Riot readers!
Go here to enter for a chance to win
, or just click the image below. Good luck!