Name That Author!: October 4, 2012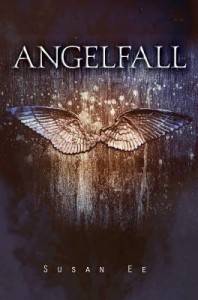 This round of Name That Author! is sponsored by Angelfall by Susan Ee. 
It's been six weeks since angels of the apocalypse descended to demolish the modern world. Street gangs rule the day while fear and superstition rule the night. When warrior angels fly away with a helpless little girl, her seventeen-year-old sister Penryn will do anything to get her back.
Anything, including making a deal with an enemy angel.
Raffe is a warrior who lies broken and wingless on the street. After eons of fighting his own battles, he finds himself being rescued from a desperate situation by a half-starved teenage girl.
Traveling through a dark and twisted Northern California, they have only each other to rely on for survival. Together, they journey toward the angels' stronghold in San Francisco where she'll risk everything to rescue her sister and he'll put himself at the mercy of his greatest enemies for the chance to be made whole again.
_________________________
You can submit your guess using the form below after any clue, but if you're wrong, you're out for the week. So you've got to pick your spot. Too early and you might be wrong; wait until you're sure, and you might get scooped. We have 5 copies of Angelfall by Susan Ee to give away–the first player who buzzes in correctly will win one, along with four other randomly-selected correct guessers. Submit your guess by 1:30pm Eastern, Monday, October 8 to be eligible.
**Be warned: if you Tweet your guess or leave a comment with your guess, you're not only disqualified for this week, but for the rest of the month.**
Here we go:
1. Two of my most influential friends were Buddhist psychologists. 
2. The film adaptation of my most famous-work is generally regarded as a fascinating disaster. 
3. I died before I could finish the full  seven-novel series I imagined, but my son and another author have used my notes to complete it. 
4. I wrote the best selling science fiction novel of all time.
Oops! We could not locate your form.
When you participate, you agree to the following: I acknowledge that should I be a lucky soul who wins free swag, my free swag should arrive in a couple of weeks. The sponsor will fulfill the free swag in their preferred format. The format may be a scroll or a hardback, an ebook or an audiobook, or a download directly into my brain. Regardless, I acknowledge that it is free swag, and I'll be happy because life is too short to be sad about free swag.
By signing up you agree to our Terms of Service
We are giving away a stack of 11 of our favorite Beach Reads for Summer 2018!
Go here to enter for a chance to win
, or just click on the image below. Good luck!