Buy, Borrow, Bypass: September 24, 2012
In the Shadow of the Banyan by Vaddey Ratner (Simon & Schuster): Though debut author Vaddey Ratner's novel is technically fiction, Banyan has already garnered much praise for its poetic and horrifying glimpse into the rule of the Khmer Rouge in 1970s Cambodia. Told from the point of view of Raami – seven years old and impressively observant, the forced journey of her family away from the capital of Phnom Penh to the countryside where they fracture and separate seems too excruciating and violent to be real. But Raami's story is actually Ratner's fictionalized account of her own survival through the Khmer Rouge regime, which is accentuated not only by stunning language and wisdom but also by authenticity.
VERDICT: Buy (so you can loan it to friends who will surely keep it, and then buy another)
How to Be a Woman by Caitlin Moran (Harper Perennial): Originally published in Moran's native UK, this unapologetic collection of essays is as much battle cry as it a fist-pumping celebration of being a chick. Moran's manifesto on modern feminism is less of a bra-burning rant than it is an entreaty to women to stop screwing around already and rather than making it harder on each other, we really should be owning those vaginas and stop being embarrassed by them. Moran's blend of feminism is snort-inducingly funny and searingly genuine, and it acknowledges that sometimes its difficult to be a "strident feminist" when you're surrounded by a lot of societal crap telling you otherwise.
VERDICT: Buy (because the library does not look kindly on underlined passages and notes reading "SO MUCH YES!" scribbled in the margins)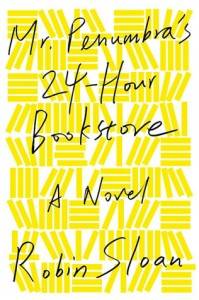 Mr. Penumbra's 24-Hour Bookstore by Robin Sloan (Farrar, Straus, and Giroux): Sloan's book about books is as Liberty so aptly called it "an epic nerdpurr!" Particularly for those readers who revolve within the dueling worlds of books and the internet, Sloan's novel about centuries-old code-breaking, fantasy quests, the beauty and artistry of typography, and Google is indeed an epic nerdpurr. And all of this adventure mostly comes about because of and within the dusty spacial anomaly of a bookstore that bears Mr. Penumbra's name. There are many hidden gems within this book (much like within the title bookstore itself). Like the fact that the word "penumbra" refers to the "part of a shadow where the light source is only partially blocked" (Thanks, Wikipedia!). What that means in the text of book, I have no idea, but there seem to be lots of similar Easter Eggs hidden within the pages. And because this is a book about the confluence of books and the internet, this book comes equipped with a Twitter handle (@Penumbra) and some very progressive ideas about copyright in the digital age. Oh and the cover glows in the dark!
VERDICT: Borrow (unless you have a particular geeky affinity for books-about-books, typography, or Google, then Buy) 
By signing up you agree to our Terms of Service
As part of Season 2 of our podcast series Annotated, we are giving away 10 of the best books about books of 2017. Go
here to enter for a chance to win
, or just click the image below: