The Week's Most Popular Posts: September 16-21, 2012
Our most popular posts from the week that was…
This is, alas, not a proper office. This is a windowless writing cave in an apartment I moved into last year and I will be vacating by the time 2013 rolls around. It is a temporary space, teeny but functional and thanks to Black Phoenix Trading Post it smells like mahogany and teakwood with swirls of cigar smoke, patchouli, tonka, cardamom, Spanish moss, and bourbon vanilla.
from Write Place, Write Time: Erin Morgenstern by Liberty Hardy
_________________________
Housed in a glass "bell jar" designed to look like a traditional Dutch barn, this new library in Spijkenissse, the Netherlands has terraced open stacks that look like a "book mountain."
from Behold the BOOK MOUNTAIN by Jeff O'Neal
_________________________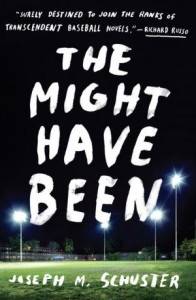 The Might Have Been, by Joseph Schuster (Ballantine Books):  Baseball season is wrapping up, and if you're wondering what might have been for your team this season, there's no better time to pick up this fantastic novel about regret — both in baseball and in life. Back in the 70s, Edward Everett Yates blew out his knee before he was able to record an official at-bat with the Cardinals. Now, aging and socially inept, Edward Everett is managing a financially failing minor league team, and has strung a decades-long trail of women and bad decisions in his past. Despite that, Edward Everett is a likable fellow, and this story hits all the right baseball book buttons.
VERDICT: Buy (and read before the playoffs)
from Buy, Borrow, Bypass: September 17, 2012 by Greg Zimmerman

_________________________
Famous Trains (Dover History Coloring Book) by Bruce LaFontaine
Dylan has been known to write a train song or two, playing up on their mythic strength as stand-ins for the mystery of change and motion or machines that transport us into a shared sense of national nostalgia. But he's almost always FUN about it, so why not a coloring book?
from The Bob Dylan Reading List by Scott Beauchamp
_________________________
By signing up you agree to our Terms of Service
Follow Book Riot on Instagram
for books. Obviously.