Buy, Borrow, Bypass: September 17, 2012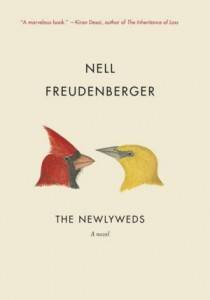 The Newlyweds by Nell Freudenberger (Knopf): One of The New Yorker's 20 under 40, Freudenberger can certainly craft a sentence. And while this tale of a Bangladeshi woman named Amina, who comes to America to marry a nerdy engineer (is that redundant?) named George, whom she met online, is fairly entertaining, it also almost bends too far under its own weight. Freudenberger gives us a lot to consider here — and while she's good at forcing us to think about culture-crossing without explicitly yelling at us ("Hey jerks, I'm writing about the immigrant experience here"), the central idea of whether George and Amina's marriage can work gets a bit snowed under in the end.
VERDICT: Borrow, or wait for paperback, and then buy.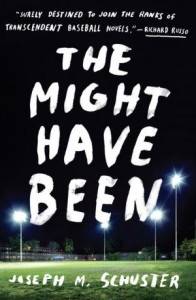 The Might Have Been, by Joseph Schuster (Ballantine Books):  Baseball season is wrapping up, and if you're wondering what might have been for your team this season, there's no better time to pick up this fantastic novel about regret — both in baseball and in life. Back in the 70s, Edward Everett Yates blew out his knee before he was able to record an official at-bat with the Cardinals. Now, aging and socially inept, Edward Everett is managing a financially failing minor league team, and has strung a decades-long trail of women and bad decisions in his past. Despite that, Edward Everett is a likable fellow, and this story hits all the right baseball book buttons.
VERDICT: Buy (and read before the playoffs)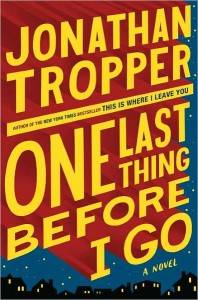 One Last Thing Before I Go, by Jonathan Tropper (Dutton Adult): Silver, a former borderline rock star with a one-hit wonder band called The Bent Daisies, has settled poorly into middle age. A simple surgery will save him from a recently detected heart condition, but Silver, who lives in a dumpy one-bedroom apartment and spends his time lusting after a singer in a bookstore, decides he's got nothing to live for and elects not to have the surgery. Hilarity ensues? While this book, unlike most of Tropper's other work (and I'm the biggest Tropper fan I know), won't leave you howling and running into the other room to read Tropper's one-liners out loud to your significant other, it's still a solid effort, and plenty witty.
VERDICT: Borrow / Buy (if you're a die-hard Tropperite)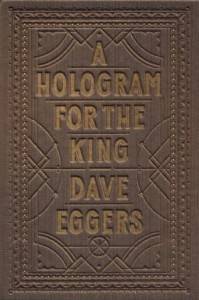 A Hologram For The King, by Dave Eggers (McSweeney's): Man, this hurts. I love Dave Eggers, but this parable/satire/(other word for a story that's not really the story) of a mid-50s consultant trying to sell IT equipment (including a Go-To-Meeting-like system that beams holograms of your meeting's participants directly into your conference room), just fell flat on its face. As Alan Clay kills time (drinking, hooking up with a strange Scandinavian woman) in Saudi Arabia waiting to give a presentation to the King, he also reflects on his relationship with his daughter, his ex-wife, and America's diminishing influence (and affluence) in the world, relative to China. There's a reason why there aren't too many novels about business consulting, and this illustrates that reas……zzzzzzzzz. (On the plus side, this is far and away the most attractive book of 2012 so far.)
VERDICT: Bypass
By signing up you agree to our Terms of Service
We have 10 copies of
A Gentleman in Moscow
by Amor Towles to give away to Book Riot readers!
Go here to enter for a chance to win
, or just click the image below. Good luck!