Name That Author!: The Answer for August 16, 2012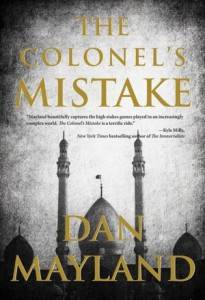 This installment of Name That Author! is sponsored by The Colonel's Mistake by Dan Mayland.
Mark Sava, former CIA station chief of Azerbaijan, lives a quiet life as a professor at Western University in the city of Baku. But his peace is shattered by both the assassination of a high-level American during an international oil conference and the arrest of CIA operations officer Daria Buckingham for the crime.
Sava knows the Iranian American Buckingham well—he personally trained her—and doesn't believe she had anything to do with the murder, so he visits a CIA control center to discuss the situation with the new station chief. When no one answers the outside intercom, Sava overrides the security code and stumbles upon the grisliest scene of his career. Now, he can't help but wonder if he really knows Buckingham as well as he thought…
_________________________
It's time to reveal the answer (a bit belatedly) to the Name That Author! from August 16, 2012. But first, a recap of the clues:
1. I failed a psychological exam and so was classified as unfit for service in World War II.
2. I married my first wife without having met her.
3. I published two stories in a two-year period, but then nothing for more than a decade.
4. My writing career got a foothold in small presses, underground zines, and alternative newspapers in the late 1960s.
By signing up you agree to our Terms of Service
Follow Book Riot on Instagram
for books. Obviously.