The Week's Most Popular Posts: July 23 – 27, 2012
Our most popular posts from the week that was…
Any Victorian novel ever
Have you ever met a girl that you're tryin' to date, but a year to make love she wanted you to wait?
("Just A Friend" by Biz Markie)
From If Hip-Hop Lyrics Were Book Blurbs by Rebecca Joines-Schinsky
____________________________
2. Joseph Gordon-Levitt
Gordon-Levitt gives me everything Bentley does, minus the vaguely creepy factor. Also, JGL is just damn likable, and I think most readers are drawn to Carraway as well. This would also give us a Gatsby/Carraway pairing of child stars who got famous on mediocre sitcoms. (What's the greatest movie ever featuring former child stars? Comments below, please).
From Recasting Nick Carraway by Jeff O'Neal
____________________________
Murder on the Orient Express by Agatha Christie– This might be my Platonic ideal of a summer read: a nice, classic, breezy mystery set in a freezing cold landscape. The famous Hercule Poirot is stranded on the Orient Express train when it becomes snowbound on the track. Of course, someone dies in a rather gruesome way, and our favorite little Belgian is on the case. There's a rather unexpected twist that may raise the eyebrows of even the most seasoned mystery readers.
From Cold Reads for a Hot Summer by Amanda Nelson
____________________________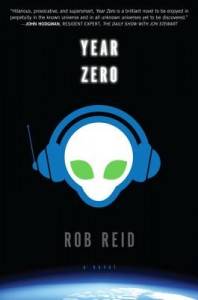 Sci Fi for the Comedian/Music Lover/Anarchist: Year Zero by Rob Reid. Rob Reid, its important to note, is the founder of Listen.com, which created Rhapsody. Which as you might know was completely eclipsed by iTunes in the world of legal music downloads. This is relevant because the premise ofYear Zero is such: Aliens all over the universe LOVE Earth music. Year Zero refers to 1977 when the first snippet of music (the Welcome Back, Kottertheme song) reached alien ears and they were so awe-inspired (to put it mildly) that they reset their clocks. Under a crazy galactic law that requires that the rest of the universe to follow the law of each artistic race – which means that the universe has just committed the largest copyright violation of all time. The resulting penalties will bankrupt the universe, and to prevent such a bankruptcy, the universe seeks out the best copyright lawyer on Earth. This explanation is covered in literally the first 20 pages of the book. The remaining 337 pages only serve to increase the absurdity and the utter hilarity. Excellent for fans of Douglas Adams and Christopher Moore.
From Sci-Fi for Non-Sci-Fi Readers by Rachel Manwill
By signing up you agree to our Terms of Service
We have a $250 Barnes & Noble gift card to give away!
Go here to enter
, or just click the snazzy image below. Good luck!