The List List #17
Our weekly round-up of the best bookish lists floating around the internet.
at Vogue, Required Reading: 30+ Best Bets to Pick Up This Summer
at Flavorwire, 10 Stories of Famous Literary Exiles
at Terrible Minds, 25 Things You Should Know About Antagonists
at LitReactor, 5 Ways Your Brain Sabotages Your Writing…And What to Do About It
at The Guardian, Shehan Karunatilaka's Top 10 Cricket Books
at BlogHer, 7 Nonfiction Books to Read By the Pool
at OnlineDegree, 10 Truly Unique Bookstores in America
at The Millions, Rules for Writing Classes
at ShortList, 30 Coolest Alternative Book Covers
at NPR, 5 Books to Keep You Up At Night
at LitReactor, Top 10 Character Clichés
at The Huffington Post, The Best Movie Adaptations of Graphic Novels
at Flavorwire, Reading Lists of Your Favorite Fictional Characters
at The Electric Typewriter, 150 Essential Essays and Short Non-Fiction 
at The Guardian, Top 10 Homes in Literature
at The Daily Beast, 5 Unconventional Beach Reads
at Bon Apetit, Photographs of 5 Fictitious Dishes
at Kirkus, 10 Ten Books on The Rolling Stones
at Mental Floss, 25 Fictional Characters Posing with Mental Floss Magazine
at Publisher's Weekly, Top 5 Picaresque Novels
at NPR, 5 Novels for the Science-Attuned Brain
at Barnes & Noble, 3 Books To Remind Readers of the Darker Side of Life
and…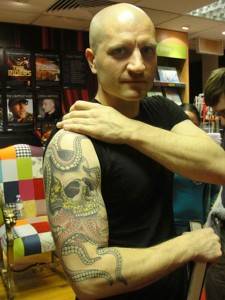 at Flavorwire, 10 Famous Authors and Their Tattoos
We have 5 copies of 
the
Forbidden Hearts series
by Alisha Rai to give away to Book Riot readers!
Go here to enter for a chance to win
, or just click the image below. Good luck!