Name That Author!: The Answer for June 14, 2012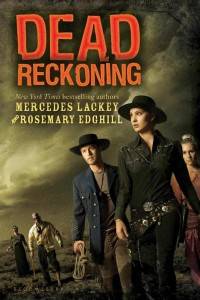 Today's installment of Name That Author! is sponsored by Dead Reckoning by Mercedes Lackey and Rosemary Edghill.
The sun rises in the east . . . but the dead rise in the West
Jett is a girl disguised as a boy, living as a gambler in the old West as she searches for her long-lost brother. Honoria Gibbons is a smart, self-sufficient young woman who also happens to be a fabulous inventor. Both young women travel the prairie alone – until they are brought together by a zombie invasion! As Jett and Honoria investigate, they soon learn that these zombies aren't rising from the dead of their own accord … but who would want an undead army? And why?
_________________________
Time now to reveal the answer to last week's Name That Author!. But first, a quick recap of the clues:
1. Thought I wrote more than fifteen books, you probably can only name one of them
2. I was compelled to published a short follow-up to my most famous work to refute claims that I had exaggerated and misrepresented my topic. 
3. I did once meet Abraham Lincoln, though the content of our conversation is unknown, save that it was funny.
4. One of my former homes now holds both exhibits on both my life and the history of the Underground Railroad.
Alright, time to check your guess.
As part of Season 2 of our podcast series Annotated, we are giving away 10 of the best books about books of 2017. Go
here to enter for a chance to win
, or just click the image below: