The Week's Most Popular Posts: June 4 – June 9, 2012
Our most popular posts from the week that was…
Atlas Shrugged:
It's never too early to learn that the government is a greedy piglet that suckles on a taxpayer's teet until they have sore, chapped nipples.
From If Ron Swanson Wrote Book Blurbs by Amanda Nelson
____________________________
6. If you find yourself waiting an hour for an autographed copy of some C-list celebrity's ghostwritten memoir, then it's time to reconsider your station in life and your prospects for future happiness. Also, wave to me.
From A Loner's Guide to Book Expo America by Jeff O'Neal
____________________________
 According to even the most conservative estimates, English contains at least 250,000 words, with more appearing and evolving every day. Despite its depth and breadth and perpetual growth, the language has unfillable gaps when it comes to describing and explicating the human experience. I'm as guilty as anyone as falling back on that old rhetorical crutch, "For lack of a better word…"
From There's Got to Be a Word for That by Victor Wishna
____________________________
3. Recycled Magazine Bangle: These bangles are made from scraps of old magazines and wrapped around a wooden base. Eco-friendly and fun from Etsy.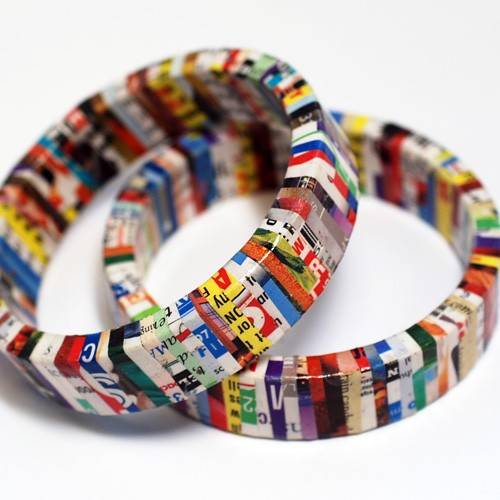 From Book Fetish, Volume XXXII by Brenna Kalmer
By signing up you agree to our Terms of Service
Follow Book Riot on Instagram
for books. Obviously.