Name That Author!: June 7, 2012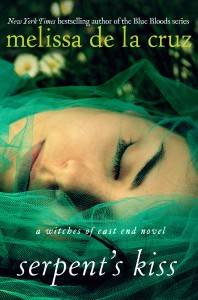 This installment of Name That Author! is sponsored by Serpent's Kiss by Melissa de la Cruz.
Joanna and her daughters, bookish Ingrid and wild-child Freya, are just settling into the newfound peace that has been cast over their small, off-the map town of North Hampton. With the centuries-old restriction against practicing magic lifted, casting spells, mixing potions, and curing troubled souls has never felt so good for the three witches. That is, until everything gets turned upside down—from Joanna's organized kitchen to Ingrid's previously nonexistent love life to Freya's once unshakeable faith in her sexy soul mate, Killian Gardiner.
When Freya's twin brother, Freddie, suddenly returns, escaped from Limbo and professing innocence on a long-ago crime, Freya should be ecstatic. The golden boy can do no wrong. Or can he? Freddie blames no other than her fiancé Killian for his downfall, and enlists Freya's help to prove it. Now Freya doesn't know who to believe or trust.
And for the first time in—well, forever, really—Ingrid is also busy in love. Matt Noble, the handsome and charming police detective, has won her heart. But can romance work between a virgin witch and a mortal who doesn't believe in magic? Things get even more complicated when it appears Ingrid is harboring the prime suspects in Matt's police investigation.
To add to the chaos, a dead spirit is attempting to make contact with Joanna—but does it mean to bring harm or help? Joanna asks her sort-of ex-husband Norman to help figure it out, only to accidentally invite him to a Thanksgiving dinner with a dapper gentleman she's recently begun dating.
As the witches pull together to discover the serpent within their midst and the culprit behind Freddie's imprisonment, everything is thrown into peril. Will the discovery come too late to save those they love most?
_________________________
You can submit your guess using the form below after any clue, but if you're wrong, you're out for the week. So you've got to pick your spot. Too early and you might be wrong; wait until you're sure, and you might get scooped.This week, we're giving away five copies of Serpent's Kiss by Melissa de la Cruz. The first correct guess wins a copy and four other correct guesses will be randomly chosen to win a copy. So even if you don't know what it is until later on, take a shot! [Guesses must be submitted by 1:30pm Eastern Monday June 11th to be entered.]
**Be warned: if you Tweet your guess or leave a comment with your guess, you're not only disqualified for this week, but for the rest of the month.**
Here we go:
1. My career path was heavily influenced by watching Disney's Fantasia at age 12.
2. I illustrated a children's book by Isaac Bashevis Singer.
3. The film adaptation of my most famous book came out more than 40 years after it was originally published.
4. My most famous book only has 388 words in it.
[contact-form-7 id="4365″ title="Name That Author!"]
As part of Season 2 of our podcast series Annotated, we are giving away 10 of the best books about books of 2017. Go
here to enter for a chance to win
, or just click the image below: