Our Favorite Comments: May 21-27, 2012
We love our readers, and we love what they have to say just as much. Here are some of our favorite comments from the week that was.
"I have a serious self-loathing problem with Dan Brown going on. I battle with myself for a while about reading the next one, trying to be too cool to pick it up. Alas, it usually ends in me eating Ben & Jerrys from the carton while reading the mass market edition and rooting for Langdon to die. It's a shame cycle."
by thefranklynn on Hate Reads
_________________________
"HERE YOU GO JEFF! DRUNK HULK MAKE THIS SPECIAL FOR YOU!" 
http://www.puffchrissy.com/on-…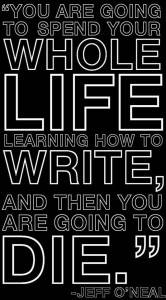 by DRUNK HULK on 9 Things I've Learned About Writing by Teaching Freshmen to Write
_________________________
"I love the creative exuberance Baz brings to his projects. I may not always like them, and they may not be to my taste, but I find them fascinating. If he can fan an interest in "Gatsby" in the high school set by icing it with over the top bright-colored frosting and sprinkles, I welcome it.  What's important is that we keep talking about it."
by Terry Nebeker on What Do You Think of the GREAT GATSBY Trailer?
_________________________
"Episotolary. 
Protean. 
Quotidian. 
Tautological. 
Luminescent. 
Searing.
Eliding. 
Soporific.
BILDUNGSROMAN."
by Jim Thomsen on My Least-Favorite Book Critic-ish Words and Phrases
_________________________
"I leave my book 'all-dressed'.  I am a lady!"
by Maxine on What's On Your Nightstand?: Stripping Down
_________________________
"It's preferable to live in a world where we pass by treasures as if they were ordinary, than in one where the banal is tyrant."
by Rachelrobarts on What if Richard Wright Had an iPad?
By signing up you agree to our Terms of Service
Get up to 80% off books you actually want to read with our
Book Deals newsletter
!