The Week's Most Popular Posts: April 23-27, 2012
Our most popular posts from the week that was…
You are not the books you hate.
You are not the books you dismiss.
You are not the books you like.
You are not the books you love.
From You Are Not Your Bookshelf by Jeff O'Neal
____________________________
The odd evening began with this eight (or so)-year-old boy who came in with his mother and father. The parents proceeded to ignore the boy, so he decided to follow me around the store and talk to me while I shelved. That's pretty normal and wasn't noteworthy until he started talking about the lack of depth in the themes of The Hunger Games, and about how he found The Lightning Thief full of too many factual inaccuracies in regards to its mythology and Just. Couldn't. Continue the series. This was no child- this was an imp, Stewie Griffin all grown up, a miniature Frasier Crane. Eventually he moved on to inspecting the cheese papers in the cooking section. When he left, he wished me a "Good evening."
From Confessions of a Newbie Independent Bookseller: A Weird Night by Amanda Nelson
____________________________
USB typewriter: The typewriter is back. Just plug in your ipad and write away, Hemingway style.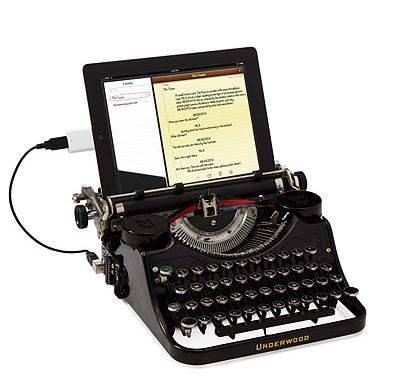 From Book Fetish: Volume XVII by Brenna Kalmer
____________________________
Things are changing at an exceedingly rapid rate. While the future is exciting, it is also interesting to think of how (and if) we are preserving our current culture in a way that the coming generations will be able to experience in a tactile way (as opposed to reading articles on some sort of robotic system).
From A Noah's Ark for Books? By Wallace Yovetich
By signing up you agree to our Terms of Service
Follow Book Riot on Instagram
for books. Obviously.