Name That Author!: April 26, 2012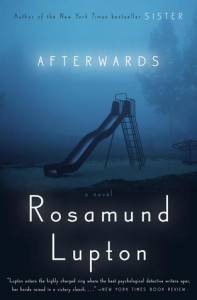 This week, Name That Author! is sponsored by Afterwards by Rosamund Lupton.
About Afterwards: In the aftermath of the devastating fire which tears her family apart, Grace embarks on a mission to find the person responsible and protect her children from further harm.  This fire was not an accident, and her daughter Jenny may still be in grave danger. Grace is the only one who can discover the culprit, and she will do whatever it takes to save her family and find out who committed the crime that rocked their lives.  While unearthing truths about her life that may help her find answers, Grace learns more about everyone around her — and finds she has courage she never knew she possessed.
____________________________
You can submit your guess using the form below after any clue, but if you're wrong, you're out for the week. So you've got to pick your spot. Too early and you might be wrong; wait until you're sure, and you might get scooped.  This week, we're giving away ten copies of Afterwards by Rosamund Lupton. The first correct guess wins a copy and nine other correct guesses will be randomly chosen to win a copy. So even if you don't know what it is until later on, take a shot! [Guesses must be submitted by 1:30pm Eastern Monday April 30th to be entered.]
**Be warned: if you Tweet your guess or leave a comment with your guess, you're not only disqualified for this week, but for the rest of the month.**
Here we go:
1. My grandmother emigrated from the South to Pennsylvania….on foot.
2. When a movie studio wanted to adapt my most famous work, I insisted on a black director. The movie was never made.
3.I dropped out of high school but educated myself at the library, reading Ellison, Wright, Hughes, and many others.
4. My principal work was a series of ten plays–one set in each decade of the 20th Century.
5. I won two Pulitzer Prizes for Drama.
[contact-form-7 id="4365″ title="Name That Author!"]
Start your 14-day free trial
and enjoy the perks of exclusive podcasts and emails, the New Release Index, and behind-the-scenes access.