The Week's Most Popular Posts: April 2 – April 6, 2012
Our most popular posts from the week that was…

I'd always expected that when I learned of my dad's death, I'd cry, rage, and scream. I thought I'd have this amazing emotive experience, expelling all my pain in one great explosion, like an erupting volcano. Instead, when Ray died, my anguish found no voice. I didn't cry. I didn't rage. In fact, it felt like nothing special had happened at all. That day, I discovered the meaning of meaningless itself, finding myself suspended beneath a hammer stroke that never fell.
From Loss, Memory, and The Fault in Our Stars by Michael Strand
____________________________
Book rug: Artist Pamela Paulsurd has crafted a rug made out of recycled book spines. (via Recyclart)
From Book Fetish Volume XXIV by Brenna Kalmer
____________________________
Welcome to Skywalker Ranch – a residence of director and producer George Lucas. "A filmmaker's retreat." Lucas conducts a large portion of his business on his land. The home also boasts man-made Lake Ewok, a 300-seat theater, and its own fire station. The ranch is not open to the public, so we'll all just have to hold our breath until we garner an invitation to read.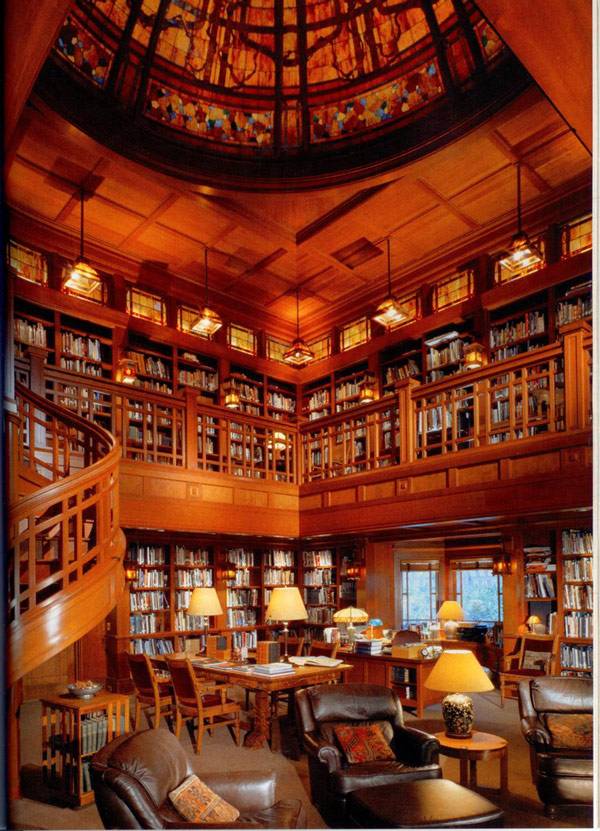 From Libraries of the Rich and Famous Part 3 by Wallace Yovetich
____________________________
My point is that we should think about being less prescriptive and more encouraging when it comes to books and reading in this age of media change. Kelly is wrong when she says that "a television show isn't likely to stay with you too long after the night you watch it." There is a lot of great television, and many excellent movies, that stay with us long after we watch them. That is the problem we need to combat in reading–getting people to pick up books instead of sitting in front of screens. If we order them to read every night and digest only the most fiber-filled fare, will they do so? Or will they allow their books to gather dust along with their meat grinders (mostly plants!) and click on over to Netflix?
From The Bookavore's Dilemma by Bethanne Patrick
____________________________
"It's Great if You Like Downton Abbey: It's set in England during a war. I think there's a maid in it."
From Confessions of an Independent Bookseller Part 2: Bookish Euphemisms by Amanda Nelson
By signing up you agree to our Terms of Service
We have 5 copies of
My Sister, the Serial Killer
by Oyinkan Braithwaite to give away to Book Riot readers!
Go here
to enter for a chance to win, or just click the image below. Good luck!