The Week's Most Popular Posts: March 3 – 9, 2012
Our most popular posts from the week that was…
"The bound manuscript pictured top row, right is about as nondescript as it gets. Is it a book? A boring graduate school thesis? An even-more-boring report you're reading for your snooze-inducing corporate retreat? It's impossible to tell, and that's a beautiful thing. No manuscripts lying around the house? Pick the most obscure title off your tottering TBR pile, use a plain book cover to "protect" your tome from dirt (and prying eyes), or if you're reading a hardcover and the thought of removing the dust jacket gives you hives, switch the dust jacket for one less likely to spark conversation."
From The Misanthrope's Guide to Reading While Traveling (or How to Be Left Alone) by Rebecca Joines Schinsky
____________________________
" debut novel has never won The Rooster, but this year two debuts have excellent shots. The Art of Fielding is one of them (The Tiger's Wife is the other). This is nominally a baseball book, but really it's more of a campus novel with a Melville fetish. The book has several strong characters and some quite compelling prose, but there are three serious weaknesses. First, the ending is a mess (Rooster winners tend to have very good endings). Second, the scope is small (Rooster winners tend to have more range). Third, it's pretty dang conventional (Rooster winners tend to do something a little different)."
From The 2012 Tournament of Books: The Odds by Jeff O'Neal
____________________________
"Still, one thing remains consistent in these new Snow Whites. They are all badasses. Lily Collins' Snow White sword fights her own Prince Charming. Ginnifer Goodwin's Snow White fistfights her own Prince and wears battle-gear with fur epaulets to boot. Kristen Stewart's Snow White rides horses like a grand champion and jumps through fire wearing Joan of Arc armor. It's a far cry from bluebirds and wishing wells."
From Is Snow White a Badass? By Kit Steinkellner
____________________________
Newspaper nails: Create this look with regular nail polish, rubbing alcohol and a newspaper.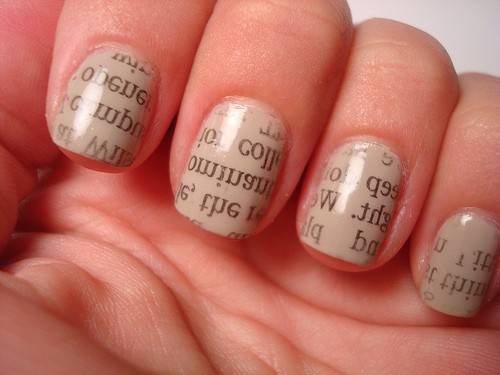 From Book Fetish: Volume XX by Brenna Kalmer
____________________________
"Milo
I loved the ordinary boy who goes through the Phantom Tollbooth at the novel's start and his awakened sense of purpose and appreciation at the end. I like to think that a kid named Milo would have a sense of adventure, while still having empathy for more tentative folks. And be good behind the wheel."
From Literary Names You WOULD Give Your Children by Jennifer Paull
____________________________
 "Ah, imagination. True enough. But I maintain it is possible to have it all—to be a bit wonkish and Wonka-ish at once, happily immersed in the minutiae of (current) grammar rules while still appreciating the true joy of language: all of those "scrumdidilyumptious" possibilities."
From American English: A Language of Pure Imagination by Victor Wishna
By signing up you agree to our Terms of Service
We have 5 copies of
My Sister, the Serial Killer
by Oyinkan Braithwaite to give away to Book Riot readers!
Go here
to enter for a chance to win, or just click the image below. Good luck!