Review GPA: SALVAGE THE BONES by Jesmyn Ward
In Review GPA, we translate reviews of notable new books into letter grades and determine a grade point average. Check out previous report cards.
__________________________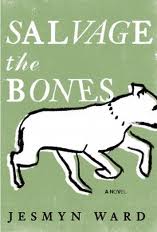 Jesmyn Ward was the surprise winner of this year's National Book Award for fiction, so much so that only a handful of major publications had reviews up at the time of the announcement. Since then, though, the critical world has caught up…sorta (come on, New York Times. Just review it already). Let's see what folks are saying.
__________________________
From The Washington Post review by Ron Charles:
Gold Star: "Salvage the Bones has the aura of a classic about it."
Demerit: None.
Grade: A
__________________________
From The Los Angeles Times review by Jesmyn Ward:
Gold Star: "Salvage the Bones is an intense book, with powerful, direct prose that dips into poetic metaphor."
Demerit: None.
Grade: A
__________________________
From The San Francisco Gate review by Joan Frank:
Gold Star: "It is also often strikingly beautiful, taut, relentless and, by its end, indelible."
Demerit: "It can also feel, as it hemorrhages with intense suffering, airless, and very occasionally overwritten."
Grade: A-
__________________________
From The Atlanta Journal-Constitution review by Gina Webb:
Gold Star:  "By the time the storm hits and the water rises, we're in a more universal place, where reality and myth meet, creating a timeless tale of a family that regains its humanity in the face of incalculable loss."
Demerit: "The figurative language Ward employs suffers from overkill at times; overrich metaphors stall the narrative and undermine the strong characterization."
Grade: A-
__________________________
Review GPA: 3.85 
By signing up you agree to our Terms of Service
We have 10 copies of
A Gentleman in Moscow
by Amor Towles to give away to Book Riot readers!
Go here to enter for a chance to win
, or just click the image below. Good luck!