REVIEW GPA: 11/22/63 by Stephen King
In Review GPA, we translate reviews of notable new books into letter grades and determine a grade point average. Check out previous report cards.
__________________________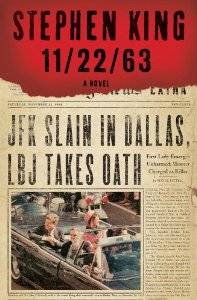 From The Guardian Review by Rachel Cooke:
Gold Star: None.
Demerit: "he has written a time-travel story in which a man can move between 2011 and 1958 at will – King has delivered a self-indulgent book that is too long (a whopping 740 pages), too complicated and too barmy for words. Narrative tension, ordinarily his greatest skill, has been ruthlessly sacrificed on the altar of pedantry."
Grade: D

__________________________
From The New York Times review by Janet Maslin:
Gold Star: "It takes great brazenness to go anywhere near this subject matter. But it takes great skill to make this story even remotely credible. Mr. King makes it all look easy, which is surely his book's fanciest trick."
Demerit: none
Grade: A-

__________________________
From the Time review by Lev Grossman:
Gold Star: "It's hard to say what it is, exactly. But whatever it is, it's obviously the work of a master craftsman."
Demerit: "The big question, of course, is will-he-won't-he stop Oswald, but it's a long haul to the fateful day, and the wires go slack from time to time."
Grade: B+

__________________________
From The Washington Post review by Jeff Greenfield:
Gold Star:  "a tale richly layered with the pleasures we've come to expect: characters of good heart and wounded lives, whose adventures into the fantastic are made plausible because they are anchored in reality, in the conversations and sense of place that take us effortlessly into the story."
Demerit: "But the piling on of detail after detail slows the pace and the pull of the story. In contrast to very long books like "The Stand" and "Under the Dome," this work could have benefited from some serious paring."
Grade: A-

__________________________
From the USA Today review by Don Oldenburg:
Gold Star: "Readers will be reminded of the suspenseful tension of King's horror tales. But 11/22/63 is no nightmare. It is not typical Stephen King. It is extraordinary Stephen King."
Demerit: None.
Grade: A
__________________________
Review GPA: 3.14 (B/B+)

By signing up you agree to our Terms of Service
We have 10 copies of
A Gentleman in Moscow
by Amor Towles to give away to Book Riot readers!
Go here to enter for a chance to win
, or just click the image below. Good luck!