Review: The Blue Dragon by Robert Lepage, Marie Michaud, and Fred Jourdain
House of Anansi Press sent me this book for review.  My perspective on it, however, is completely my own.  See our Review Policy for more information.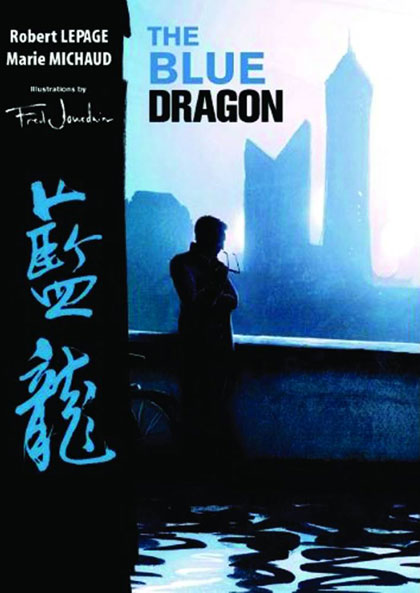 The Blue Dragon is one of those books that makes me remember that, while I may have turned to eBooks primarily for my book consumption, some books need to be paper.  Graphic novels particularly lend themselves to this sentiment — and this more than any graphic novel I've held in a long time.
It's such an appealingly presented text. It's huge, for starters — it's paperback, but it's about 9×12 and the illustrations fill each page from edge-to-edge.  The impact on the reader is overwhelming, which is essential to the tone of the novel.  Set among ex-pat Canadians in China, the space and place subsume the characters throughout the text, so the visual signal from the creators of the text that image and location are paramount is both fitting and orienting for the reader.
This story began life as a play by Lepage and Michaud; Jourdain added his cinematic and sweeping images to the text, and it became a graphic novel.  Typically, as a reader, I seek out simpler images for my graphic novels (the previous examples I refer to in this post give a sense).  But it's hard not to be compelled by Jourdain's visuals, which are inspired clearly by the conventions of written Chinese characters and the breathy pace of the narrative.
The story, in a nutshell, is as follows: Claire, a Québécoise business woman arrives in China to secure and adopted child.  In her mid-forties and no longer feeling like her work in advertising fulfils her, she is trying to change the direction of her life.  In China, she stays briefly with Pierre, a gallery owner in China who she knew and loved when they were students at art school in Quebec.  But Pierre no longer fits in China and is wondering about his own next steps.  And between them is a young and beautiful Chinese artist with conflicted plans about her own future.
The text is hard not to fall in love with.  The images are expansive and gorgeous, the pacing effective, and the and the existential anxiety of each of the central characters is compelling, if often infuriating.  Claire casts a colonizer's eye over China, put off by the cramped conditions and sketchy tap water.  Pierre, conversely, is as much captivated by China as he is disgusted by Quebec; he expresses distaste for the provincial people he once associated with, with their narrow worldview and limited scope.  But their faults make them more honest and less caricature-like; it would be easy for Claire and Pierre to be uncomplicated representations of white, middle class, middle age, but they aren't.  Claire is tragic in her repeated failures to make meaning in her life; Pierre's disconnect from home is not as willful as he wishes it to appear.  They are full, rounded, and engaged characters.
Most exciting, from my perspective as a reader, is the creators' choice to offer three equally-weighted endings to the text.  The final scene is represented three times, and in reading each version one can't help but be presented with a mirror of one's own values.  I was surprised to find myself questioning my own notions of family, cultural relativism, and identity as I weighed my feelings of elation and disappointment at the various endings.
This is certainly a worthwhile read, particularly for fans of graphic narratives that move beyond the comic shoppe distinction of "slice of life" and into texts that could be as much coffee table art book as graphic novel.  But even people who don't traditionally find themselves reaching for graphic novels may find the compelling story and engaging imagery make this a worthwhile first dip into the pool of graphic narratives.
By signing up you agree to our Terms of Service
We have 10 copies of
A Gentleman in Moscow
by Amor Towles to give away to Book Riot readers!
Go here to enter for a chance to win
, or just click the image below. Good luck!