BOOK FETISH: Volume V
Bookish things for those with a fetish for books. See previous entries here.
1. It Was A Dark and Stormy Night, the Board Game: This one sounds just as fun as Trivial Pursuit Book Lover's Edition. The rules are simple; listen to the opening line or two from a book and identify its title or author. With twelve categories ranging from poetry to children's books, mysteries to Shakespeare's plays, I'm thinking this game will be fun for casual readers and voracious bookworms alike.
2. Kate Spade Mugs: She does more than handbags, people. Kate Spade's "home" collection offers, among other things, painted porcelain mugs and tea cups. She had me with her library book mug.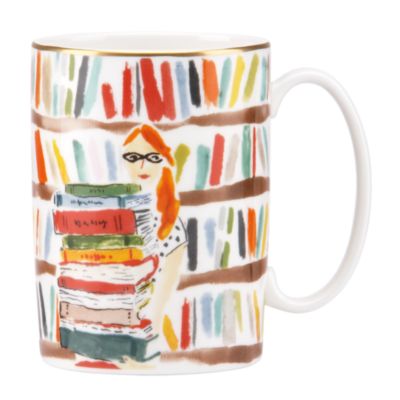 3. Book Nerd Charm Necklace: Book Fiend makes an array of bookish charm necklaces, making it easy for you to proclaim your love of books.
4. Echo Touch Gloves: Cold weather is quickly approaching and if you'd like to use your touchscreen ereader outside, you'll benefit from these winter gloves by Echo that offer an index finger and thumb lined with eLink fabric. The fabric acts just as your warm hand would on touchscreen devices.
5. Ideal Bookshelf Paintings: Artist Jane Mount paints your favorite books. Send her a list of your favorites (or someone else's for a sweet, sweet gift) and she will paint your ideal shelf in an 8×10 or 11×14 fame.
By signing up you agree to our Terms of Service
We have 10 copies of
A Gentleman in Moscow
by Amor Towles to give away to Book Riot readers!
Go here to enter for a chance to win
, or just click the image below. Good luck!