Review GPA: RIN TIN TIN: THE LIFE, THE LEGEND by Susan Orlean
In Review GPA, we translate reviews of notable new books into letter grades and determine a grade point average. Check out previous report cards of ZONE ONE and THE MARRIAGE PLOT.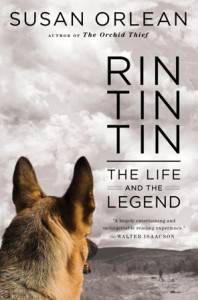 __________________________
From The New Republic review by David Thomson
Gold Star:
"This dog's eye history of Hollywood in the 1920s is exuberant and told with as much energy as love."
Demerit:
"But at the end, in a chapter called 'The Leap,' she goes a little far, I think. She feels compelled to see her story as an example of love, heroes, bonding, and all good things."
Grade: A-
__________________________
From The New York Times review by Jennifer Schuessler
Gold Star:
"Do dogs deserve biographies? In "Rin Tin Tin: The Life and the Legend," Susan Orlean answers that question resoundingly in the affirmative"
Demerit:
"Orlean wants to see the Rin Tin Tin obsessives she meets mainly as dreamers looking for some lost wholeness rather than hangers-on with a stake in a valuable piece of intellectual property."
Grade: A-
__________________________
From the Kirkus review:
Gold Star…and Demerit:
"Although occasionally excessive in its claims for the ultimate significance of it all, a terrific dog's tale that will make readers sit up and beg for more."
Grade: A-
__________________________
From The Washington Post review by Jonathan Yardley
Gold Star:
"It's a touching and revealing story, not merely on its own merits but because it parallels the changing place of dogs in American life, from outdoor workers to indoor pets."
Demerit:
"She has, as I noted two decades ago while reviewing her book about Saturday nights in America, a talent for choosing interesting subjects but then making them far less interesting by using 'the first-person singular to grating excess.' Over the years this tendency has, if anything, gotten worse."
Grade: C+
__________________________
From the Barnes and Noble review by Melissa H. Pierson
Gold Star:
"Neither heavy nor scholarly but trustworthy and true, she makes us want to follow wherever she leads."
Demerit:
"Susan Orlean can be forgiven for repeating her central thesis a few times too many"
Grade: A
__________________________
Review GPA: 3.48 (B+/A-)
By signing up you agree to our Terms of Service
We have 10 copies of
A Gentleman in Moscow
by Amor Towles to give away to Book Riot readers!
Go here to enter for a chance to win
, or just click the image below. Good luck!