The White Male F*ck-Up Novel: A Guest Post by John Warner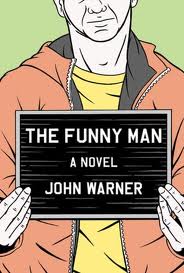 This is a guest post by John Warner , whose novel The Funny Man was published last week. (To see the full might of John's recommendation chops, check out his work as The Biblioracle). I read and really enjoyed the book, especially its take on the whole modern genre of ineffectual white dudes. If you're the kind of person who likes Jonathan Tropper or Sam Lipsyte or Gary Shteyngart, I think you're going to get a wry kick out of it. 
Anyway, John and I corresponded a bit about the book, and I asked if he'd share his favorite examples of the genre, which he has subtly (and accurately) dubbed "The White Male F*ck-up Novel." So here they are.
__________________________
You know the story: white male protagonist, comes from a privileged background, should have the world by the short hairs, but manages to screw up his life at every turn. Depression, extra-marital affairs, other methods of self-sabotage. Bellow made a career of them, Updike, Roth has written his share. More recently, we think of Sam Lipsyte, or Gary Shteyngart, who adds an immigrant twist to the genre.
The world is probably full-up on White Male F*ck-up Novels, (WMFuNs) and yet they continue to get written and purchased and praised. They are the vampires and zombies of literary fiction. We should rightly be wary (or weary) of this phenomenon, and encourage the publishing world to open itself to new and different voices. I support this notion wholeheartedly, without reservation.
And yet, I love the WMFuN, maybe because I'm white, male, and prone to fucking-up, maybe because I recognize the capacity for everyone to fuck-up, regardless of gender, race, or socioeconomic background. I would say that the WMFuN is a guilty pleasure, except that I don't feel all that much guilt about reading them. Readers don't need to apologize for the books that speak to them, and there's plenty of books to go around.
This list could be 20 books long. I'm sticking with five.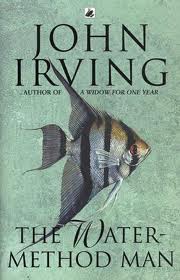 The Water Method Man by John Irving
This was released before the WMFuN that put Irving in the zeitgeist, The World According to Garp. Garp is a personal favorite, but I still prefer TWMM, the tale of Fred "Bogus" Trumper who tells both the story of how he fucked up his past of a starter marriage (with child) to Olympian-level skier, Sue "Biggie Kunft, and is potentially fucking up his present with pregnant girlfriend Tulpen. I also have a soft spot for it because I "borrowed" its alternating first and third person structure for my own novel.
The novel spans years, flashing forward and back, juxtaposing Bogus and Biggie's meeting, and their subsequent time in Iowa City as Bogus pursues his PhD in the nearly dead language of "Old Low Norse" with Trumper's lost period following the dissolution of his marriage and his fragile recovery with Tulpen. Funny throughout, there are a couple of set pieces – Bogus trying to learn to ski, and the Old Low Norse epic of Akthelt and Gunnell (that Trumper is translating) – that will make your sides hurt. The other notable thing about the novel, (and indeed most of Irving's work in the WMFuN genre), is that Trumper is not going to be saved by the love of a good woman. If he is to be saved it is because the good woman has forced him to save himself.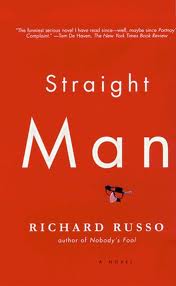 Straight Man by Richard Russo and Blue Angel by Francine Prose
I said I was sticking to five novels. I lied, but I'm justifying this because both of these books are campus satires, set in English departments, and each of them manages to skewer the pretensions of academia, while putting their protagonists, William Devereaux Jr. (Straight Man) and Ted Swenson (Blue Angel) in increasingly dire straits. They are both at career and relationship crossroads. They are beset by lunatic colleagues and students. They make bad decisions. (Devereaux threatens the life of a goose in order to secure his departmental budget. Swenson has an unfortunate near coupling with an undergraduate.) The books are highly similar and yet somehow totally different, perhaps illustrating there's more than meets the eye when you get into the particulars of any WMFuN.
A Fan's Notes by Frederick Exley
This fictional memoir opens with Fred Exley having what he thinks is a heart attack in his favorite bar while watching his favorite team, the New York Giants. He lives and dies with the exploits of Frank Gifford, his fandom fueled by the kind of alcoholism you want to look away from. He watches the game two towns over from where he teaches prep school so he can drown himself in the bottle. It's clear from the opening sentences that things have not and will not be going well. Yet, somehow the book is funny and even as Exley digs a deeper and deeper hole for himself at his work, and in his life, our affection for the man grows. We want something better for him, even as we doubt his ability to achieve it.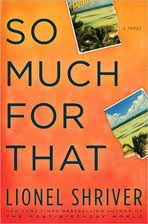 So Much for That by Lionel Shriver
Some who are familiar with this book may take issue to my including it in the WMFuN category. First is that, unlike the others, the novel focuses on an array of characters, rather than a single fucking-up protagonist, like we see in the traditional WMFuN. But in So Much for That, Shriver actually provides us with two halves a whole, the yin and yang that together combine into a portrait of a WMFU. Shep Knacker is the "good guy" who got "rich" through hard work, building his handy man business from the ground up before selling out for seven figures. He believes in doing the right thing because it's the right thing. Jackson Burdina, Shep's best friend, is the cynic who thinks Shep's good nature makes him a sucker. Both of them are burdened with dependents, Jackson with his daughter Flicka who suffers from an extremely rare genetic anomaly, and Shep with his wife Glynis, who has been diagnosed with terminal cancer. Shriver puts Shep and Jackson through the wringer, both due to their own poor decisions, as well as the heavy hand of fate, and in doing so, she shows that the WMFU isn't always a consequence of self-inflicted wounds. It's a polarizing book, but if you like it, you're going to love it.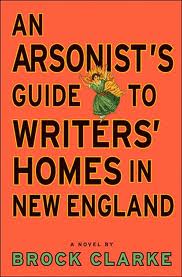 An Arsonist's Guide to Writer's Homes in New England by Brock Clarke
I just looked at the Amazon page for this book, and saw there's more 1-star than 5-star reviews, a not uncommon fate for the average WMFuN since there's always the risk of reader frustration over, rather than enjoyment of the WM's fucking-up. It's easy to see why Sam Pulsifer, Clarke's protagonist, is polarizing. He's served ten years for accidentally torching Emily Dickinson's home, killing two people in the process, an accident that was itself, highly preventable. Out after ten years, he manages to rebuild a life for himself, only to mess it up in increasingly unfortunate ways. I can see how it might be hard for some readers to feel sympathy towards Sam, except that I loved him and felt for him, and rooted for him on every page. Clarke's amazingly sharp prose doesn't hurt.
Honorable mentions: Next by James Hynes, The Frank Bascombe Trilogy (The Sportswriter, Independence Day, The Lay of the Land), Home Land by Sam Lipsyte, Freedom by Jonathon Franzen. 
__________________________

You can find out more about The Funny Man here and follow John on Twitter here.
By signing up you agree to our Terms of Service
We have 5 copies of
The Library Book by Susan Orlean
to give away!
Go here to enter for a chance to win
, or just click the image below. Good luck!