This Riot Recommendation is sponsored by Alice Feeney's Sometimes I Lie, out from Flatiron Books.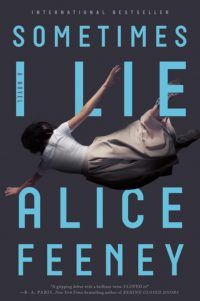 My name is Amber Reynolds. There are three things you should know about me:
1. I'm in a coma.
2. My husband doesn't love me anymore.
3. Sometimes I lie.
---
We asked our readers to give us the Most. Thrilling. Thriller. Below are the titles they humbly suggested. Agree? Disagree? Get back to us after your goosebumps go calm down?
Night Film by Marisha Pessl
The Kind Worth Killing by Peter Swanson
Sphere by Michael Crichton
The Woman in the Window by A. J. Finn
The Haunting of Hill House by Shirley Jackson
Heart-Shaped Box by Joe Hill
Ill Will by Dan Chaon
The Fourth Monkey by J. D. Baker
House of Leaves by Mark Z. Danielewski
The Rats trilogy by James Herbert
Intensity by Dean Koontz
Let the Right One In by John Ajvide Lindqvist
Ghost Story by Peter Straub
Behind Her Eyes by Sarah Pinborough
The Devil of Nanking by Mo Hayder
Patient Zero by Jonathan Maberry
A Simple Plan by Scott Smith
Afraid by Jack Kilborn
The Coffin Dancer by Jeffery Deaver
The Beast House by Richard Laymon
…and of course y'all love your Stephen King.