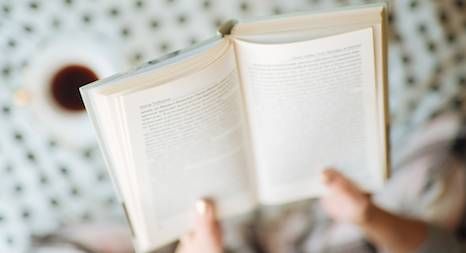 Lists
20 Reading Challenges for 2017
Reading Challenges are a fun, interactive way of reading more books and stretching your reading comfort zones. Many challenges allow you to share your adventure with other participants through social media, blogs, Goodreads, and more. We put together a list of 20 Reading Challenges of all shapes and sizes, some with thousands of participants and some with a handful.
Read Harder Challenge, hosted by Book Riot
24 tasks to help you explore topics or formats or genres you wouldn't normally try, including six tasks chosen by authros Daniel José Older, Sarah MacLean, Roxane Gay, Celeste Ng, Ausma Zehanat Khan, and Jacqueline Koyanagi. More info & use #ReadHarder on social media.
2017 POPSUGAR Reading Challenge, hosted by POPSUGAR
40 book promps to help diversify and expand your reading, plus an advanced section with 12 more books. Includes a printable checklist with items like "a book by or about a person who has a disability" and "a book from a nonhuman perspective." More info & use #popsugarreadingchallenge on social media.
Sirens Reading Challenge, hosted by Sirens Conference
Read books from authors attending the conference, with some required and some chosen from a list, focusing on reading new-to-you authors. More info.
The Seasonal Reading Challenge, hosted by Cynthia of The Next Best Book Club on Goodreads
A new challenge is presented each season with a series of reading tasks, each with a point level. The goal is to stretch your reading radius and discover new books, author, and genres. More info.
Beat the Backlist, hosted by novelknight book blog
Set your own goal and read books published prior to 2017. There is an optional Hogwarts House Cup Mini Challenge with points given for reading, posting your goals, and writing reviews. More info & use #beatthebacklist on social media.
#LitsyAtoZ, hosted by @BookishMarginalia at Litsy
Read a book for every letter in the alphabet; either the title starts with the letter or the author's last name does. More info & use #LitsyAtoZ on social media
2017 Diverse Reads Book Challenge, hosted by Mishma of Chasing Faerytales and Shelly of Read.Sleep.Repeat
Create your own personal goals to read more diverse books, with optional monthly themes. The bloggers have put together a recommended reading list, encourage #ownvoices, and encourage participants to leave reviews. More info & use #DiverseReads2017 on social media.
Retellings Reading Challenge, hosted by Once Upon a Bookcase
Read and review a chosen number of books featuring reimaginings or retellings of classics, fairy tales, myths, legends, folk tales, or well-known people's lives. More info & use #RetellingsRC2017 on social media.
Contemporary Romance Reading Challenge 2017, hosted by Andi's ABCs book blog
Read contemporary romances (YA, NA, or adult), with different levels. There is a monthly link up with a giveaway, as well as optional monthly topics. More info & use #ContRom2017 on social media.
Russian Literature Reading Challenge 2017, hosted by we went outside and saw the stars
Read one or more classic or modern Russian novels, short stories, poems, novellas, plays, or nonfiction books. Four different levels named after the host's favorite Russian writers. More info.
Read all the Youth Media Award Books in 2017, hosted by Head Full of Books
The basics: Read all of the YA books that win a Youth Media ALA Award, which will be announced January 23rd. More info.
Newbery Reading Challenge 2017, hosted by Smiling Shelves
Read previous Newbery Medal Winners, Newbery Honor Books, and Caledcott Books to earn points named after YA giants: L'Engle, Spinelli, Avi, Lowry, and Konigsburg. Reviews are encouraged, but not required. More info.
Memoir Bingo Reading Challenge 2017, hosted by Whatever I Think Of!
Read memoirs in such categories as "food" or "made into a movie" to fill your bingo card. More info.
Picture Book Reading Challenge, hosted by Becky's Book Reviews
A choose-your-own-format challenge to encourage adults to read more picture books. Choose from a Bingo, a checklist, or an ABC challenge with a minimum of 6 books for the year. More info.
Around the Year in 52 Books, a Goodreads Group
52 books for 52 weeks! Each week, members read the book of their choice for that week's challenge topic. More info.
The Well Read Pagan Reading Challenge, hosted by The Domestic Witch
Read a self-determined number of nonfiction books (ebooks & audiobooks count) about paganism, Wicca, witchracft, gods and goddesses, spells, tarot, etc. More info and use #WellReadPagan on social media.
Banned/Challenged Books Reading Challenge, hosted by Book Dragon's Lair
Read one or more books that have been banned or challenged, with different levels set up. Reviews are optional. More info.
Back to the Classics Challenge, hosted by Books and Chocolate
Read 12 books in categories such as "A 19th Century Classic," "a classic by a woman author," "a romance classic," and more with a gift card for one lucky winner. More info.
2017 Pages of Starlight Speculative Fiction Reading Challenge, hosted by Pages of Starlight
A checklist of 24 topics within the "speculative fiction" umbrella genre, such as "published before 2000," "has a f/f romance," "a comic book," and more. More info.
Are you participating in a 2017 Reading Challenge or maybe making up one of your own? Tell us in the comments!
Editor's Note: The ReReadIt Challenge was removed from this list per the owner's request.