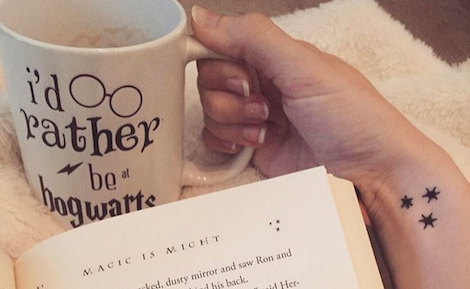 Children's
20 Magical Tattoos for 20 Years of Harry Potter
It would be very hard to argue that Harry Potter has not had a hugely significant impact on the world in the 20 years since the first book was released. That story so captured the imagination of readers that people attended midnight release parties for each new title. They lined up up to see all eight movies. They cosplayed their favorite characters. They grew up and had Harry Potter-themed weddings. Their kids have nurseries that are obviously designed to prepare them for their eventual admission to Hogwarts.
And there are more than a few of us that have been so affected by the story that we carry a permanent reminder of it wherever we go. I got my Deathly Hallows tattoo in January 2016, many years after I had read the last book in the series (for the first time), and now I always have a reminder of what it meant to me. I'm not the only one.
In honor of 20 years of Harry Potter, here are 20 Potter-esque tattoos from the Instagram archives. If you've got #HPInk we want to see it! Post it on social media with the #HPInk tag.
https://www.instagram.com/p/BQgXoyaj_ID/?taken-by=tattooyauu
https://www.instagram.com/p/BC1QUh-CH82/?taken-by=hptats