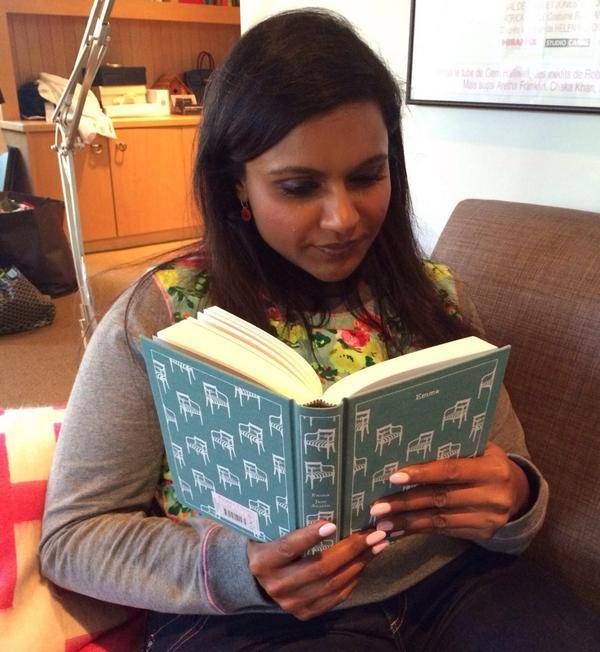 Pop Culture
20 Books Recommended by Mindy Kaling on Twitter and Instagram
This content contains affiliate links. When you buy through these links, we may earn an affiliate commission.
While we at the Riot take some time off to rest and catch up on our reading, we're re-running some of our favorite posts from the last several months. Enjoy our highlight reel, and we'll be back with new stuff on Monday, July 11th.
This post originally ran Feb. 17, 2016.
---
Mindy Kaling is one of my favorite people to follow on social media. She's witty, and she's charming, and she's also a reader. She regularly let's us peek over her shoulder by posting pictures of the books she's been reading. So here, for your viewing pleasure, are just a few of the many books she has recommended over the last few years.
1. In Other Words by Jhumpa Lahiri
Literary mic drop from my favorite writer, Jhumpa Lahiri. #inotherwords pic.twitter.com/Ea4Q445a8b

— Mindy Kaling (@mindykaling) February 4, 2016
2. The Best American Mystery Stories edited by Laura Lippman
Hey @LauraMLippman! Thanks for making present buying so much easier! pic.twitter.com/AbwJ8Jy0W4

— Mindy Kaling (@mindykaling) December 20, 2015
3. Germany: Memories of a Nation by Neil MacGregor
This cool book came in the mail today with a ribbon but no note. Mystery gift! In my mind it's from Christoph Walz. pic.twitter.com/4rr4axC4ko

— Mindy Kaling (@mindykaling) December 19, 2015
4. Pride and Prejudice by Jane Austen

5. Emma by Jane Austen
In between slayin dudes and eating BBQ, #ireadeverywhere. Where do you read? @nypl pic.twitter.com/Pas0dyEBXW

— Mindy Kaling (@mindykaling) August 5, 2014
6. The Girl on the Train by Paula Hawkins

7. The Year of Yes by Shonda Rhimes

8. Modern Romance by Aziz Ansari

9. Bridget Jones's Diary by Helen Fielding

10. What I Talk About When I Talk About Running by Haruki Murakami
A photo posted by Mindy Kaling (@mindykaling) on

11. Lean In: Women, Work, and the Will to Lead by Sheryl Sandberg

12. Yes Please by Amy Poehler
Getting treated to some major truths and funniness in Yes Please. I love you Amy Poehler. pic.twitter.com/cAtz2Xz3QI

— Mindy Kaling (@mindykaling) November 1, 2014

13. In Color by Tory Burch

14. The Lowland by Jhumpa Lahiri
A photo posted by Mindy Kaling (@mindykaling) on

15. What Falls Away by Mia Farrow

16. I Was Told There'd Be Cake by Sloane Crosley

17. The Bassoon King: My Life in Art, Faith, and Idiocy by Rainn Wilson

18. It's All Good by Gwyneth Paltrow

19. Michael Lewis

20. One More Thing: Stories and Other Stories by B.J. Novak

And of course, I would be remiss if I didn't mention Mindy's own books: Why Not Me?…

And my personal favorite, Is Everyone Hanging Out Without Me? (And Other Concerns)