19 Times The English Language Made No Sense Whatsoever: List List #346
This week's List List is sponsored by Libby, the one-tap reading app from your library and OverDrive.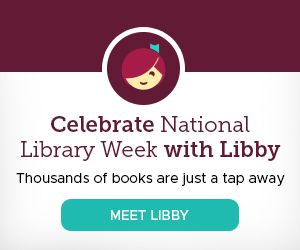 Meet Libby. The award-winning reading app that makes sure you always have something to read. It's like having your entire library right in your pocket. Download the app today and get instant access to thousands of ebooks and audiobooks for free thanks to your public library and OverDrive.
---
at BuzzFeed, 19 Times The English Language Made Absolutely No Sense Whatsoever
at Huffington Post, 5 Lessons From Elizabeth Warren's Personal Finance Book
at The Guardian, Top 10 Thrillers about Siblings
at Electric Literature, 7 Books About Women Searching For Home
at the Goodreads Blog, The Top 24 Books of Poetry on Goodreads
at io9, Our 15 Favorite Moments From the Marvel Cinematic Universe Films (Before Avengers: Endgame)
at Entertainment Weekly, The 25 Best New Paperbacks to Check Out This Spring
at Bookmarks, 5 Novels with Interracial Love
at the Lee & Low Blog, Social Activism Books for Kids
at LitReactor, The 10 Worst Things About Shakespeare
at Off the Shelf, Your Reading Guide to the Must-See Films of Spring
at Read it Forward, Must-Read Black Poets You Need to Know