19 Obscure Children's Books Your Child Should Have: List List #317
The List List is sponsored by Tragedy Plus Time by Adam Cayton-Holland.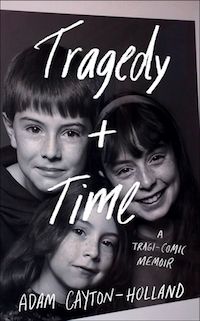 Unsentimental, unexpectedly funny, and incredibly honest, Tragedy Plus Time is a love letter to every family that has ever felt messy, complicated, or (even momentarily) magnificent. The Cayton-Holland siblings were a trio of brilliant, acerbic teenagers from Denver who were taught the injustice of the world from an early age. Adam chose to meet life's cruel realities with comedy, his older sister chose law, while their youngest sister struggled with depression and ultimately died by suicide. An unforgettable tribute to a lost sibling, this extraordinary memoir will have you reaching for the phone to call your brother or sister.
---
at NBCNews, 17 Books That Will Teach You Everything You Need to Know About Space
at Paste, The 10 Best Books of August 2018
at Redbook, 15 Nonfiction Books for Kids That They Won't Mind Reading
at Off the Shelf, 11 Novels With Older Characters You're Sure To Love
at Popsugar, 19 Books You Need to Read Before They Hit the Big Screen This Fall
at Vogue, 8 of the Most Swoon-Worthy Interior Design Books Arriving This Fall
at Buzzfeed, 26 Behind-The-Scenes Facts About "Crazy Rich Asians" THat'll Make You Want To Rewatch It
at Entertainment Weekly, 11 Essential, Beautiful Coffee Table Books to Collect (Or Gift) This Year
at Romper, 19 Obscure Children's Books Your Child Should Have On Their Shelf
at Vulture, Quiara Alegría Hudes's 10 Favorite Books
at Good Housekeeping, 20 Books All Students Should Read Before They Turn 18
at Bustle, 11 Alternate History Books That Answer All Your Biggest "What If?" Questions