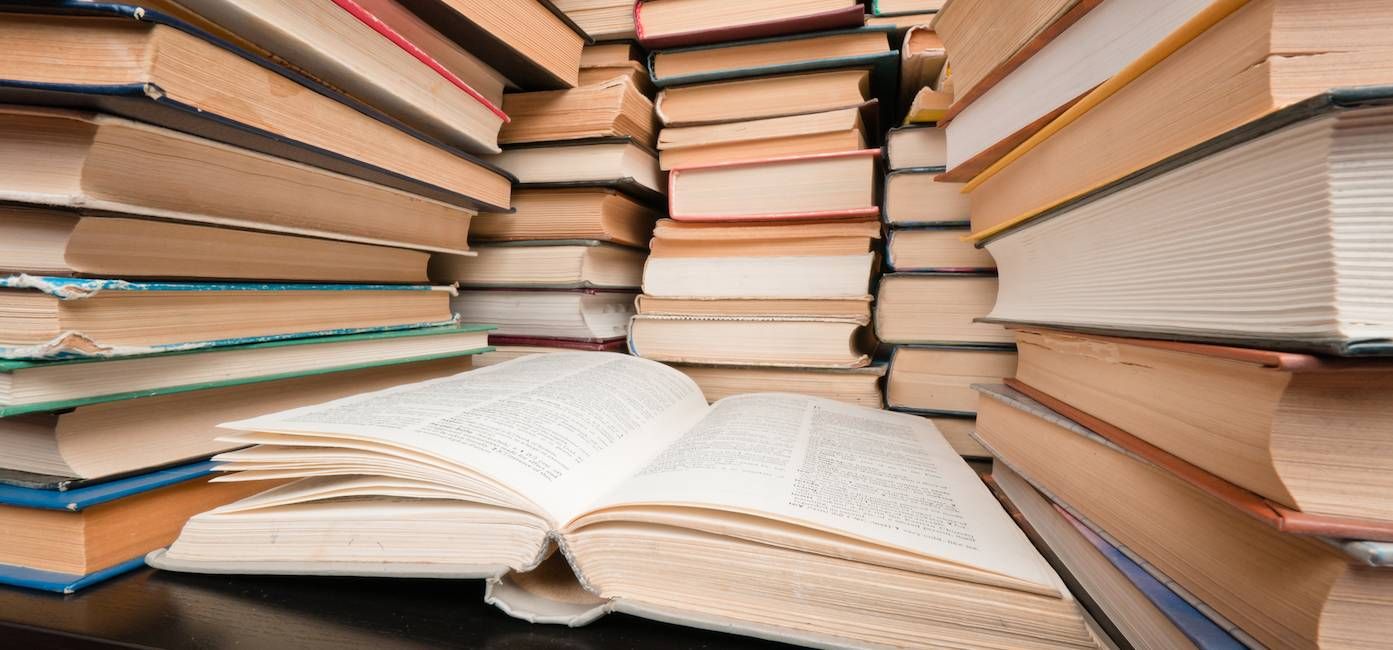 Newsletter 1
175+ YA Books Hitting Shelves January – March 2016
This content contains affiliate links. When you buy through these links, we may earn an affiliate commission.
It's a whole new year of books!
I love staying on top of what's hitting shelves as much as I can, and part of that is spending time perusing catalogs and previews of upcoming YA titles. As usual, I've collected my findings into one giant list.
This year, like last, I'll be breaking this up into four quarterly installments. Unlike last year, though, I'm including series continuations in these lists as well. Those will be marked with a * beside them.
The lists aren't comprehensive, but they're pretty close, and the focus is on YA fiction only. As always, sometimes publication dates or covers change.
Grab your TBR list and a pen because you're about to do a lot of writing.
January
Firsts by Laurie Elizabeth Flynn
Seventeen-year-old Mercedes Ayres has an open-door policy when it comes to her bedroom, but only if the guy fulfills a specific criteria: he has to be a virgin. Mercedes lets the boys get their awkward, fumbling first times over with, and all she asks in return is that they give their girlfriends the perfect first time- the kind Mercedes never had herself.
Keeping what goes on in her bedroom a secret has been easy- so far. Her absentee mother isn't home nearly enough to know about Mercedes' extracurricular activities, and her uber-religious best friend, Angela, won't even say the word "sex" until she gets married. But Mercedes doesn't bank on Angela's boyfriend finding out about her services and wanting a turn- or on Zach, who likes her for who she is instead of what she can do in bed.
When Mercedes' perfect system falls apart, she has to find a way to salvage her reputation and figure out where her heart really belongs in the process.
My Name Is Not Friday by Jon Walter
Well-mannered Samuel and his mischievous younger brother Joshua are free black boys living in an orphanage during the end of the Civil War. Samuel takes the blame for Joshua's latest prank, and the consequence is worse than he could ever imagine. He's taken from the orphanage to the South, given a new name — Friday — and sold into slavery. What follows is a heartbreaking but hopeful account of Samuel's journey from freedom, to captivity, and back again.
* Nothing Bad Is Going To Happen by Kathleen Hale
After catching her best friend's murderer a few months ago, Kippy thought the worst was over. Then she found her boyfriend at home, barely breathing and clinging to life. The sheriff insists it was a suicide attempt, but Kippy refuses to believe it. Given everything that's happened to her, she wonders if something more sinister is going on. Without any evidence, no one will listen to her—except maybe her former nemesis. But in a town where everyone has their secrets and a next-door neighbor could be a serial killer, you take all the help you can get.
Passenger by Alexandra Bracken
In one devastating night, violin prodigy Etta Spencer loses everything she knows and loves. Thrust into an unfamiliar world by a stranger with a dangerous agenda, Etta is certain of only one thing: she has traveled not just miles but years from home. And she's inherited a legacy she knows nothing about from a family whose existence she's never heard of. Until now.
Nicholas Carter is content with his life at sea, free from the Ironwoods—a powerful family in the colonies—and the servitude he's known at their hands. But with the arrival of an unusual passenger on his ship comes the insistent pull of the past that he can't escape and the family that won't let him go so easily. Now the Ironwoods are searching for a stolen object of untold value, one they believe only Etta, Nicholas' passenger, can find. In order to protect her, he must ensure she brings it back to them— whether she wants to or not.
Together, Etta and Nicholas embark on a perilous journey across centuries and continents, piecing together clues left behind by the traveler who will do anything to keep the object out of the Ironwoods' grasp. But as they get closer to the truth of their search, and the deadly game the Ironwoods are play­ing, treacherous forces threaten to sep­arate Etta not only from Nicholas but from her path home . . . forever.
* The Impostor Queen by Sarah Fine
Sixteen-year-old Elli was a small child when the Elders of Kupari chose her to succeed the Valtia, the queen who wields infinitely powerful ice and fire magic. Since then, Elli has lived in the temple, surrounded by luxury and tutored by magical priests, as she prepares for the day when the Valtia perishes and the magic finds a new home in her. Elli is destined to be the most powerful Valtia to ever rule.
But when the queen dies defending the kingdom from invading warriors, the magic doesn't enter Elli. It's nowhere to be found.
Disgraced, Elli flees to the outlands, the home of banished criminals—some who would love to see the temple burn with all its priests inside. As she finds her footing in this new world, Elli uncovers devastating new information about the Kupari magic, those who wield it, and the prophecy that foretold her destiny. Torn between the love she has for her people and her growing loyalty to the banished, Elli struggles to understand the true role she was meant to play. But as war looms, she must align with the right side—before the kingdom and its magic are completely destroyed.
Thicker Than Water by Kelly Fiore
Cecelia Price killed her brother. At least, that's what the police and the district attorney are saying. And although Cecelia is now locked up and forced into treatment, she knows the real story is much more complicated.
Cyrus wasn't always the drug-addled monster he'd become. He was a successful athlete, but when an injury forced him off the soccer field and onto pain medication, his life became a blur of anger, addiction, and violence. All CeCe could do was stand by and watch, until she realized one effective way to take away her brother's drugs while earning the money she needed for college: selling the pills.
Soon, CeCe becomes part drug dealer, part honor student. But even when all she wants is to make things right, she learns that sometimes the best intentions lead to the worst possible outcome.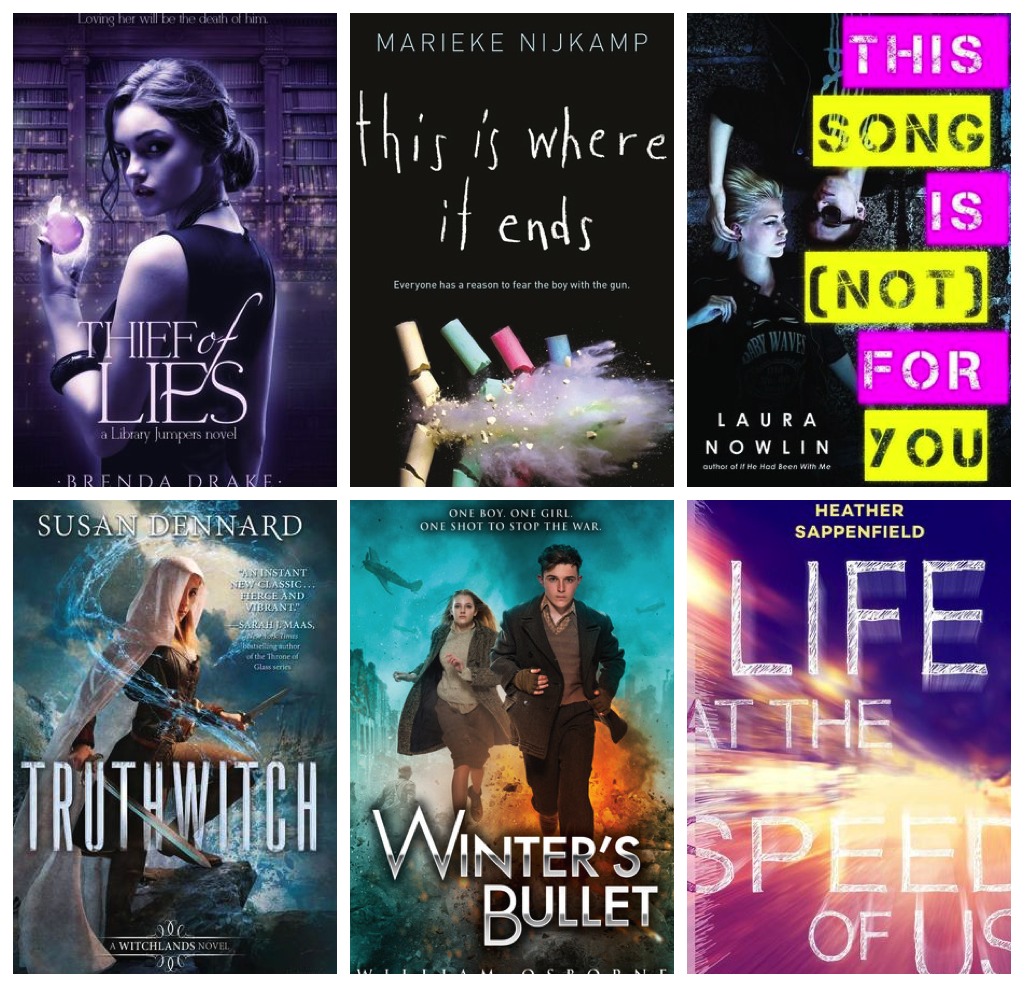 * Thief of Lies by Brenda Drake
Gia Kearns would rather fight with boys than kiss them. That is, until Arik, a leather clad hottie in the Boston Athenaeum, suddenly disappears. While examining the book of world libraries he abandoned, Gia unwittingly speaks the key that sucks her and her friends into a photograph and transports them into a Paris library, where Arik and his Sentinels—magical knights charged with protecting humans from the creatures traveling across the gateway books—rescue them from a demonic hound.
Jumping into some of the world's most beautiful libraries would be a dream come true for Gia, if she weren't busy resisting her heart or dodging an exiled wizard seeking revenge on both the Mystik and human worlds. Add a French flirt obsessed with Arik and a fling with a young wizard, and Gia must choose between her heart and her head, between Arik's world and her own, before both are destroyed.
This is Where It Ends by Marieke Nijkamp
10:00 a.m. The principal of Opportunity, Alabama's high school finishes her speech, welcoming the entire student body to a new semester and encouraging them to excel and achieve.
10:02 a.m. The students get up to leave the auditorium for their next class.
10:03 The auditorium doors won't open.
10:05 Someone starts shooting.
Told over the span of 54 harrowing minutes from four different perspectives, terror reigns as one student's calculated revenge turns into the ultimate game of survival.
This Song Is (Not) For You by Laura Nowlin
Bandmate, best friend or boyfriend? For Ramona, one choice could mean losing them all.
Ramona and Sam are best friends. She fell for him the moment they met, but their friendship is just too important for her to mess up. Sam loves April, but he would never expect her to feel the same way–she's too quirky and cool for someone like him. Together, they have a band, and put all of their feelings for each other into music.
Then Ramona and Sam meet Tom. He's their band's missing piece, and before Ramona knows it, she's falling for him. But she hasn't fallen out of love with Sam either.
How can she be true to her feelings without breaking up the band?
* Truthwitch by Susan Dennard
On a continent ruled by three empires, some are born with a "witchery", a magical skill that sets them apart from others.
In the Witchlands, there are almost as many types of magic as there are ways to get in trouble—as two desperate young women know all too well.
Safiya is a Truthwitch, able to discern truth from lie. It's a powerful magic that many would kill to have on their side, especially amongst the nobility to which Safi was born. So Safi must keep her gift hidden, lest she be used as a pawn in the struggle between empires.
Iseult, a Threadwitch, can see the invisible ties that bind and entangle the lives around her—but she cannot see the bonds that touch her own heart. Her unlikely friendship with Safi has taken her from life as an outcast into one of reckless adventure, where she is a cool, wary balance to Safi's hotheaded impulsiveness.
Winter's Bullet by William Osborne
Tygo, a locksmith's son, is forced by the Nazis to loot abandoned Dutch homes for valuables. Known as "The Ferret," everyone despises him, but helping the Germans is the only way he can stay alive. When he discovers a girl with a diamond in a chimney, he refuses to give her up. Instead, he turns spy and uses the jewel to find out information about Hitler's ultimate weapon. He has one shot to stop the war. Can a ferret become a hero?
Life at the Speed of Us by Heather Sappenfield
When Sovern Briggs survives a car crash, she stops talking to seal in the memory of the final sounds from her mother's life. As conflict with her father builds and failure in school looms, Sovern seeks relief in a dangerous boyfriend and in speed's adrenaline edge. These needs collide, leading Sovern to a snowboarding accident that changes her future and perhaps that of our universe.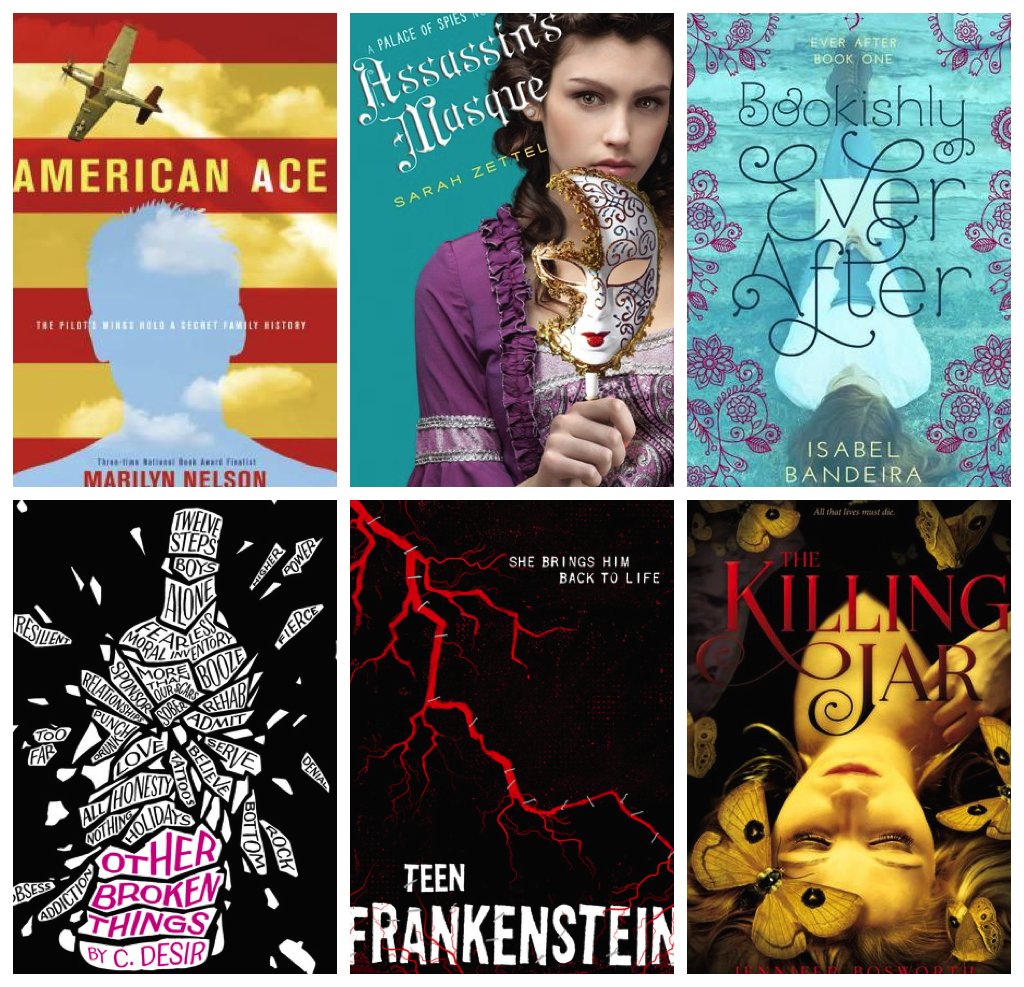 American Ace by Marilyn Nelson
Connor's grandmother leaves his dad a letter when she dies, and the letter's confession shakes their tight-knit Italian-American family: The man who raised Dad is not his birth father.
But the only clues to this birth father's identity are a class ring and a pair of pilot's wings. And so Connor takes it upon himself to investigate—a pursuit that becomes even more pressing when Dad is hospitalized after a stroke. What Connor discovers will lead him and his father to a new, richer understanding of race, identity, and each other.
*Assassin's Masque by Sara Zettel
Things are turning around for seventeen-year-old Peggy Fitzroy, a once-orphaned spy. Her father is back from the dead, and her unwanted engagement has been called off for good. But when a mysterious veiled woman shows up, Peggy uncovers a fresh slew of questions about her past, present, and future.
Bookishly Ever After by Isabel Bandeira
In a perfect world, sixteen-year-old Phoebe Martins' life would be a book. Preferably a YA novel with magic and a hot paranormal love interest. Unfortunately, her life probably wouldn't even qualify for a quiet contemporary. But when Phoebe finds out that Dev, the hottest guy in the clarinet section, might actually have a crush on her, she turns to her favorite books for advice. Phoebe overhauls her personality to become as awesome as her favorite heroines and win Dev's heart. But if her plan fails, can she go back to her happy world of fictional boys after falling for the real thing?
Other Broken Things by C. Desir
Nat's not an alcoholic. She doesn't have a problem. Everybody parties, everybody does stupid things, like get in their car when they can barely see. Still, with six months of court-ordered AA meetings required, her days of vodka-filled water bottles are over.
Unfortunately her old friends want the party girl or nothing. Even her up-for-anything ex seems more interested in rehashing the past than actually helping Nat.
But then a recovering alcoholic named Joe inserts himself into Nat's life and things start looking up. Joe is funny, smart, and calls her out in a way no one ever has.
He's also older. A lot older.
Nat's connection to Joe is overwhelming but so are her attempts to fit back into her old world, all while battling the constant urge to crack a bottle and blur that one thing she's been desperate to forget.
Now in order to make a different kind of life, Natalie must pull together her broken parts and learn to fight for herself.
* Teen Frankenstein: High School Horror by Chandler Baker
It was a dark and stormy night when Tor Frankenstein accidentally hit someone with her car. And killed him. But all is not lost–Tor, being the scientific genius she is, brings him back to life…
Thus begins a twisty, turn-y take on a familiar tale, set in the town of Hollow Pines, Texas, where high school is truly horrifying.
The Killing Jar by Jennifer Bosworth
Seventeen-year-old Kenna Marsden has a secret.
On the heels of the assault, Kenna is exiled to a nearby commune, known as Eclipse, to live with a relative she never knew she had. There, she discovers an extraordinary new way of life as she learns who she really is, and the wonders she's capable of. For the first time, she starts to feel like she belongs somewhere. That her terrible secret makes her beautiful and strong, not dangerous. But the longer she stays at Eclipse, the more she senses there is something malignant lurking underneath it all. And she begins to suspect that her new family has sinister plans for her.
* Traveler by Arwen Elys Dayton
Quin Kincaid is a Seeker. Her legacy is an honor, an ancient role passed down for generations. But what she learned on her Oath night changed her world forever.
Quin pledged her life to deception. Her legacy as a Seeker is not noble but savage. Her father, a killer. Her uncle, a liar. Her mother, a casualty. And the boy she once loved is out for vengeance, with her family in his sights.
Yet Quin is not alone. Shinobu, her oldest companion, might now be the only person she can trust. The only one who wants answers as desperately as she does.
But the deeper they dig into the past, the darker things become. There are long-vanished Seeker families, shadowy alliances, and something else: a sinister plan begun generations ago, with the power to destroy them all.
The past is close. And it will destroy them all.
Underwater by Marisa Reichardt
Morgan didn't mean to do anything wrong that day. Actually, she meant to do something right. But her kind act inadvertently played a role in a deadly tragedy. In order to move on, Morgan must learn to forgive—first someone who did something that might be unforgivable, and then, herself.
But Morgan can't move on. She can't even move beyond the front door of the apartment she shares with her mother and little brother. Morgan feels like she's underwater, unable to surface. Unable to see her friends. Unable to go to school.
When it seems Morgan can't hold her breath any longer, a new boy moves in next door. Evan reminds her of the salty ocean air and the rush she used to get from swimming. He might be just what she needs to help her reconnect with the world outside.
Up From The Sea by Leza Lowitz
On that fateful day, Kai loses nearly everyone and everything he cares about in the storm. When he's offered a trip to New York to meet kids whose lives were changed by 9/11, Kai realizes he also has a chance to look for his estranged American father. Visiting Ground Zero on its tenth anniversary, Kai learns that the only way to make something good come out of the disaster back home is to return there and help rebuild his town.
Zero Day by Jan Gangsei
Eight years ago, Addie Webster was the victim of the most notorious kidnapping case of the decade. Addie vanished—and her high-profile parents were forced to move on.
Mark Webster is now president of the United States, fighting to keep the oval office after a tumultuous first term. Then, the unthinkable happens: the president's daughter resurfaces. Addie is brought back into her family's fold, but who is this sixteen-year-old girl with a quiet, burning intelligence now living in the White House? There are those in the president's political circle who find her timely return suspicious.
When the NSA approaches Darrow Fergusson, Addie's childhood best friend and the son of the president's chief of staff, he doesn't know what to think. How could this slip of a girl be a threat to national security? But at the risk of having his own secrets exposed by the powerful government agency, Darrow agrees to spy on Addie.
It soon becomes apparent that Addie is much more than the traumatized victim of a sick political fringe group. Addie has come with a mission. Will she choose to complete it? And what will happen if she does?
The Heir and the Spare by Emily Albright (Merit Press, 1/18)
In this modern day fairytale, Evie is on a path to figure out who her mom really was, while discovering for herself what the future will hold. Charged with her late mother's letters, Evie embarks on a quest into her past. The first item on the list is to attend Oxford, her mom's alma mater. There, Evie stumbles upon a real life prince charming, Edmund Stuart the second Prince of England, who is all too happy to be the counterpart to her damsel in distress.
Evie can't resist her growing attraction to Edmund as they spend more time together trying to unravel the clues her mother left behind. But, when doubts arise as to whether or not Edmund could ever be with an untitled American, what really ends up unraveling is Evie's heart. When Evie uncovers all the facts about her mom's former life, she realizes her mom's past can open doors she never dreamed possible, doors that can help her be with Edmund. But, with everything now unveiled, Evie starts to crack under the pressure of new family responsibilities and the realization that her perfect prince may want her for all the wrong reasons.
* Burn by Elissa Sussman (Greenwillow, 1/19)
After helping to rescue Princess Aislynn, Elanor has finally rejoined the rebel camp she calls home. Stolen from her parents at a young age and forced into service by the Wicked Queen, Elanor now wants nothing more than to see the queen removed from power. But Elanor has secrets, mistakes she's spent years trying to forget, and the closer the rebels get to the throne, the harder it is for Elanor to keep her past hidden away.
With fellow rebels on her side—including Princess Aislynn, Thackery, and the handsome and mysterious Matthias—it is time for Elanor to make a decision. Will she protect her secrets? Or risk everything to save the people she loves?
Concentr8 by William Sutcliffe (Bloomsbury, 1/19)
In a future London, Concentr8 is a prescription drug intended to help kids with ADD. Soon every troubled teen is on it. It makes sense, doesn't it? Keep the undesirable elements in line. Keep people like us safe from people like them. What's good for society is good for everyone. Troy, Femi, Lee, Karen and Blaze have been taking Concentr8 as long as they can remember. They're not exactly a gang, but Blaze is their leader, and Troy has always been his quiet, watchful sidekick – the only one Blaze really trusts. They're not looking for trouble, but one hot summer day, when riots break out across the city, they find it. What makes five kids pick a man seemingly at random – a nobody, he works in the housing department, doesn't even have a good phone – hold a knife to his side, take him to a warehouse and chain him to a radiator? They've got a hostage, but don't really know what they want, or why they've done it. And across the course of five tense days, with a journalist, a floppy-haired mayor, a police negotiator, and the sinister face of the pharmaceutical industry, they – and we – begin to understand why …This is a book about what how we label children. It's about how kids get lost and failed by the system. It's about how politicians manipulate them.
My Second Life by Faye Bird (FSG, 1/19)
Fifteen-year-old Ana has a good life–she has friends and a boy she likes and a kind mother–but still, she's haunted by her past; she knows that she lived once before as a girl named Emma, and she still misses her old family. When, by chance in her life now, Ana meets a woman she knew in her previous life, a terrifying memory flashes through her mind of a young girl drowning. Was Emma responsible? And should Ana pay the price? Consumed by guilt, Ana sets out to find out as much as possible about the person she was before and what she had done, only to discover that the family she misses so deeply had dark secrets of its own. To come to terms with her life now, Ana must figure out how to let go of the past.
Sanctuary Bay by Laura Burns and Melinda Metz (St Martins Griffin, 1/19)
When Sarah Merson receives the opportunity of a lifetime to attend the most elite prep school in the country-Sanctuary Bay Academy-it seems almost too good to be true. But, after years of bouncing from foster home to foster home, escaping to its tranquil setting, nestled deep in Swans Island, couldn't sound more appealing. Swiftly thrown into a world of privilege and secrets, Sarah quickly realizes finding herself noticed by class charmer, Nate, as well as her roommate's dangerously attentive boyfriend, Ethan, are the least of her worries. When her roommate suddenly goes missing, she finds herself in a race against time, not only to find her, but to save herself and discover the dark truth behind Sanctuary Bay's glossy reputation.
* Shade Me by Jennifer Brown (Katherine Tegan, 1/19)
Nikki Kill does not see the world like everyone else. In her eyes, happiness is pink, sadness is a mixture of brown and green, and lies are gray. Thanks to a rare phenomenon called synesthesia, Nikki's senses overlap, in a way that both comforts and overwhelms her.
Always an outsider, just one 'D' shy of flunking out, Nikki's life is on the fast track to nowhere until the night a mysterious call lights her phone up bright orange—the color of emergencies. It's the local hospital. They need Nikki to identify a Jane Doe who is barely hanging on to life after a horrible attack.
The victim is Peyton Hollis, a popular girl from Nikki's school who Nikki hardly knows. One thing is clear: Someone wants Peyton dead. But why? And why was Nikki's cell the only number in Peyton's phone?
As she tries to decipher the strange kaleidoscope of clues, Nikki finds herself thrust into the dark, glittering world of the ultra-rich Hollis family, and drawn towards Peyton's handsome, never-do-well older brother Dru. While Nikki's colors seem to help her unravel the puzzle, what she can't see is that she may be falling into a trap. The only truth she can be sure of is that death is a deep, pulsing crimson.
Sword and Verse by Kathy MacMillan (HarperTeen, 1/19)
Raisa was just a child when she was sold to work as a slave in the kingdom of Qilara. Despite her young age, her father was teaching her to read and write, grooming her to take his place as a Learned One. In Qilara, the Arnathim, like Raisa, are the lowest class, and literacy is a capital offense. What's more, only the king, prince, tutor, and tutor-in-training are allowed to learn the very highest order language, the language of the gods. So when the tutor-in-training is executed for teaching slaves this sacred language, and Raisa is selected to replace her, Raisa knows any slipup on her part could mean death.
Keeping her secret is hard enough, but the romance that's been growing between her and Prince Mati isn't helping matters. Then Raisa is approached by the Resistance—an underground army of slave rebels—to help liberate Arnath slaves. She wants to free her people, but that would mean aiding a war against Mati. As Raisa struggles with what to do, she discovers a secret that the Qilarites have been hiding for centuries—one that, if uncovered, could bring the kingdom to its knees.
* The Capture by Tom Isbell (HarperTeen, 1/19)
Every night it was the same: dreaming of those Less Thans shackled in the bunker beneath the tennis court. I couldn't let it go. As bad as the memory was, my dreams only made it worse…
It was why we had to get back to Camp Liberty. Why we had to free those Less Thans.
Book, Hope, and Cat cannot live with themselves—they cannot settle into a new free life knowing the rest of their fellow Less Thans and Sisters are still imprisoned. Now the teens must retrace their steps to save the others, destroy the compound, and thwart the evil plans of the Republic.
With new enemies lurking—deranged Crazies and ominous Skull People among them—the group must put their fate in the hands of unexpected allies, including the woman with the long black hair and Miranda, the daughter of the Skull People's Chief Justice, who is drawn to Book. Both may come to their aid, but at what cost? As the teens race toward Camp Liberty, they must ask themselves what they're willing to do to free their friends, for the path back is filled with even more danger as motives are questioned and relationships tested.
* The Isle by Jordana Frankel (Katherine Tegan, 1/19)
The Ward is in trouble—its streets filled with seawater after a devastating flood and its impoverished inhabitants suffering from a deadly disease called the Blight.
Ren, with the help of her scientist friend, Callum, and her racing buddy, Derek, has discovered a cure—miraculous spring water—administering it to her sick sister, Aven. But when Aven is kidnapped by Governor Voss, the malevolent dictator of the United Metro Isles (UMI), Ren must go on a dangerous mission to save her sister, again.
The mysterious healing water is the only source of freshwater throughout the entire UMI—water that Ren had been tasked by the government to discover. Although she refuses to give up the water's location, Governor Voss has his own selfish reasons for wanting it. And he will do anything to satisfy his thirst for unquenchable power.
But Ren and Aven have more enemies than the governor. An ancient order, the Tètai, has been guarding the magical water for hundreds of years. And they will kill to protect it. With the Ward in desperate need of freshwater and wracked by disease—and deadly enemies at every turn—the sisters face a dangerous journey, marred by mysterious secrets and horrifying truths, to save their friends and neighbors, and a city.
The Radiant Road by Katherine Catmull (Dutton, 1/19)
After years of living in America, Clare Macleod and her father are returning to Ireland, where they'll inhabit the house Clare was born in—a house built into a green hillside with a tree for a wall. For Clare, the house is not only full of memories of her mother, but also of a mysterious boy with raven-dark hair and dreamlike nights filled with stars and magic. Clare soon discovers that the boy is as real as the fairy-making magic, and that they're both in great danger from an ancient foe.
The Rule of Three by Eric Walters (FSG, 1/19)
One shocking afternoon, computers around the globe shut down in a viral catastrophe. At sixteen-year-old Adam Daley's high school, the problem first seems to be a typical electrical outage, until students discover that cell phones are down, municipal utilities are failing, and a few computer-free cars like Adam's are the only vehicles that function. Driving home, Adam encounters a storm tide of anger and fear as the region becomes paralyzed. Soon—as resources dwindle, crises mount, and chaos descends—he will see his suburban neighborhood band together for protection. And Adam will understand that having a police captain for a mother and a retired government spy living next door are not just the facts of his life but the keys to his survival.
Up To This Pointe by Jennifer Longo (Random House, 1/19)
Harper is a dancer. She and her best friend, Kate, have one goal: becoming professional ballerinas. And Harper won't let anything—or anyone—get in the way of The Plan, not even the boy she and Kate are both drawn to.
Harper is a Scott. She's related to Robert Falcon Scott, the explorer who died racing to the South Pole. So when Harper's life takes an unexpected turn, she finagles (read: lies) her way to the icy dark of McMurdo Station . . . in Antarctica. Extreme, but somehow fitting—apparently she has always been in the dark, dancing on ice this whole time. And no one warned her. Not her family, not her best friend, not even the boy who has somehow found a way into her heart.
We Are The Ants by Shaun David Hutchinson (Simon Pulse, 1/19)
Henry Denton doesn't know why the aliens chose to abduct him when he was thirteen, and he doesn't know why they continue to steal him from his bed and take him aboard their ship. He doesn't know why the world is going to end or why the aliens have offered him the opportunity to avert the impending disaster by pressing a big red button.
But they have. And they've only given him 144 days to make up his mind.
Since the suicide of his boyfriend, Jesse, Henry has been adrift. He's become estranged from his best friend, started hooking up with his sworn enemy, and his family is oblivious to everything that's going on around them. As far as Henry is concerned, a world without Jesse is a world he isn't sure is worth saving. Until he meets Diego Vega, an artist with a secret past who forces Henry to question his beliefs, his place in the universe, and whether any of it really matters. But before Henry can save the world, he's got to figure out how to save himself, and the aliens haven't given him a button for that.
Anna and the Swallow Man by Gavriel Savit (Knopf, 1/26)
Kraków, 1939. A million marching soldiers and a thousand barking dogs. This is no place to grow up. Anna Łania is just seven years old when the Germans take her father, a linguistics professor, during their purge of intellectuals in Poland. She's alone.
And then Anna meets the Swallow Man. He is a mystery, strange and tall, a skilled deceiver with more than a little magic up his sleeve. And when the soldiers in the streets look at him, they see what he wants them to see.
The Swallow Man is not Anna's father—she knows that very well—but she also knows that, like her father, he's in danger of being taken, and like her father, he has a gift for languages: Polish, Russian, German, Yiddish, even Bird. When he summons a bright, beautiful swallow down to his hand to stop her from crying, Anna is entranced. She follows him into the wilderness.
Over the course of their travels together, Anna and the Swallow Man will dodge bombs, tame soldiers, and even, despite their better judgment, make a friend. But in a world gone mad, everything can prove dangerous. Even the Swallow Man.
Arrows by Melissa Gorzelanczyk (Delacorte, 1/26)
People don't understand love. If they did, they'd get why dance prodigy Karma Clark just can't say goodbye to her boyfriend, Danny. No matter what he says or does or how he hurts her, she can't stay angry with him . . . and can't stop loving him. But there's a reason why Karma is helpless to break things off: she's been shot with a love arrow.
Aaryn, son of Cupid, was supposed to shoot both Karma andDanny but found out too late that the other arrow in his pack was useless. And with that, Karma's life changed forever. One pregnancy confirmed. One ballet scholarship lost. And dream after dream tossed to the wind.
A clueless Karma doesn't know that her toxic relationship is Aaryn's fault . . . but he's going to get a chance to make things right. He's here to convince Danny to man up and be there for Karma. But what if this god from Mount Olympus finds himself falling in love with a beautiful dancer from Wisconsin who can never love him in return?
The Dark Days Club by Alison Goodman (Viking, 1/26)
London, April 1812. On the eve of eighteen-year-old Lady Helen Wrexhall's presentation to the queen, one of her family's housemaids disappears-and Helen is drawn into the shadows of Regency London. There, she meets Lord Carlston, one of the few who can stop the perpetrators: a cabal of demons infiltrating every level of society. Dare she ask for his help, when his reputation is almost as black as his lingering eyes? And will her intelligence and headstrong curiosity wind up leading them into a death trap?
Front Lines by Michael Grant (Katherine Tegan 1/26)
World War II, 1942. A court decision makes women subject to the draft and eligible for service. The unproven American army is going up against the greatest fighting force ever assembled, the armed forces of Nazi Germany.
Three girls sign up to fight. Rio Richlin, Frangie Marr, and Rainy Schulterman are average girls, girls with dreams and aspirations, at the start of their lives, at the start of their loves. Each has her own reasons for volunteering: Rio fights to honor her sister; Frangie needs money for her family; Rainy wants to kill Germans. For the first time they leave behind their homes and families—to go to war.
These three daring young women will play their parts in the war to defeat evil and save the human race. As the fate of the world hangs in the balance, they will discover the roles that define them on the front lines. They will fight the greatest war the world has ever known.
I See Reality (FSG, 1/26)
Through prose and comics alike, these heart-pounding short stories ask hard questions about a range of topics from sexuality and addiction to violence and immigration. Here is the perfect tool for starting tough discussions or simply as an introduction to realistic literary fiction. In turns funny, thought-provoking, and heartbreaking, I See Reality will resonate with today's teens long after the last page has been turned.
I'm From Nowhere by Suzanne Myers (Soho Teen, 1/26)
A few weeks into her sophomore year at Ventura High School in California, everything is about to change for Wren Verlaine. It's always been just Wren and her mother, Hannah, but when Hannah receives a reporting assignment that sends her to Greenland for six months, Wren is shipped off to Hardwick Hall, an old, prestigious boarding school back East.
For every ice queen like her suitemate Honor, who looks right through Wren like she doesn't exist, there's also a rower with adorably crinkly eyes (that would be Nick) or a friendly and funny fellow musician (like Chazzy). But just as Wren finally starts to settle in at Hardwick, clues begin appearing about the one secret her mother has ever kept from her—the identity of her father—and what Wren ultimately discovers threatens to turn her and her new world upside down.
It's All Your Fault by Paul Rudnick (Scholastic, 1/26)
My name is Caitlin and up until forty-eight hours ago I had never:
Tasted alcohol, kissed a boy, sang in public at the top of my lungs, kidnapped anyone or–WHAT? STOLEN A CONVERTIBLE?
Now I'm in jail and I have no idea what I'm going to tell:
The police, my parents, the mayor, all of those camera crews and everyone on Twitter.
I have just noticed that:
My nose is pierced and I have-WAIT? IS THAT A TATTOO?
I blame one person for this entire insane weekend:
My famous cousin.
Who is also my former best friend.
Who I have HATED for the past four years.
Who I miss like crazy. NO I DON'T!!!!
IT'S ALL YOUR FAULT, HELLER HARRIGAN!
Shallow Graves by Kali Wallace (Katherine Tegan, 1/26)
When seventeen-year-old Breezy Lin wakes up in a shallow grave one year after her death, she doesn't remember who killed her or why. All she knows is that she's somehow conscious—and not only that, she's able to sense who around her is hiding a murderous past. In life, Breezy was always drawn to the elegance of the universe and the mystery of the stars. Now she must set out to find answers and discover what is to become of her in the gritty, dangerous world to which she now belongs—where killers hide in plain sight and a sinister cult is hunting for strange creatures like her. What she finds is at once empowering, redemptive, and dangerous.
The Love That Spilt The World by Emily Henry (Razorbill, 1/26)
Natalie Cleary must risk her future and leap blindly into a vast unknown for the chance to build a new world with the boy she loves.
Natalie's last summer in her small Kentucky hometown is off to a magical start… until she starts seeing the "wrong things." They're just momentary glimpses at first—her front door is red instead of its usual green, there's a pre-school where the garden store should be. But then her whole town disappears for hours, fading away into rolling hills and grazing buffalo, and Nat knows something isn't right.
That's when she gets a visit from the kind but mysterious apparition she calls "Grandmother," who tells her: "You have three months to save him." The next night, under the stadium lights of the high school football field, she meets a beautiful boy named Beau, and it's as if time just stops and nothing exists. Nothing, except Natalie and Beau.
The Memory of Light by Francisco X. Stork (Arthur A Levine 1/26)
When Vicky Cruz wakes up in the Lakeview Hospital Mental Disorders ward, she knows one thing: She can't even commit suicide right. But for once, a mistake works out well for her, as she meets Mona, the live wire; Gabriel, the saint; E.M., always angry; and Dr. Desai, a quiet force. With stories and honesty, kindness and hard work, they push her to reconsider her life before Lakeview, and offer her an acceptance she's never had.
But Vicky's newfound peace is as fragile as the roses that grow around the hospital. And when a crisis forces the group to split up, sending her back to the life that drove her to suicide, Vicky must try to find the strength to carry on. She may not have it. She doesn't know.
The Mystery of Hollow Places by Rebecca Podos (Balzer + Bray, 1/26)
All Imogene Scott knows of her mother is the bedtime story her father told her as a child. It's the story of how her parents met: he, a forensic pathologist, she, a mysterious woman who came to identify a body. A woman who left Imogene and her father when she was a baby, a woman who was always possessed by a powerful loneliness, a woman who many referred to as troubled waters.
When Imogene is seventeen, her father, now a famous author of medical mysteries, strikes out in the middle of the night and doesn't come back. Neither Imogene's stepmother nor the police know where he could've gone, but Imogene is convinced he's looking for her mother. She decides to put to use the skills she's gleaned from a lifetime of her father's books to track down a woman she's never known, in order to find him and, perhaps, the answer to the question she's carried with her for her entire life.
The Possibility of Now by Kim Culbertson (Point, 1/26)
Mara James has always been a perfectionist with a plan. But despite years of overachieving at her elite school, Mara didn't plan on having a total meltdown during her calculus exam. Like a rip-up-the-test-and-walk-out kind of meltdown. And she didn't plan on a video of it going viral. And she definitely didn't plan on never wanting to show her face again.
Mara knows she should go back, but suddenly she doesn't know why she's been overachieving all these years. Impulsively, she tells her mom she wants to go live with her estranged dad in Tahoe. Maybe in a place like Tahoe, where people go to get away from everyday life, and with a dad like Trick McHale, a ski bum avoiding the real world, Mara can figure things out.
Only Tahoe is nothing like she thought. There are awesome new friends and hot boys and a chance to finally get to know Trick, but there are also still massive amounts of schoolwork. Can Mara stopping planning long enough to see the life that's happening right now?
The Year We Fell Apart by Emily Martin (Simon Pulse, 1/26)
Few things come as naturally to Harper as epic mistakes. In the past year she was kicked off the swim team, earned a reputation as Carson High's easiest hook-up, and officially became the black sheep of her family. But her worst mistake was destroying her relationship with her best friend, Declan.
Now, after two semesters of silence, Declan is home from boarding school for the summer. Everything about him is different—he's taller, stronger…more handsome. Harper has changed, too, especially in the wake of her mom's cancer diagnosis.
While Declan wants nothing to do with Harper, he's still Declan, her Declan, and the only person she wants to talk to about what's really going on. But he's also the one person she's lost the right to seek comfort from.
As their mutual friends and shared histories draw them together again, Harper and Declan must decide which parts of their past are still salvageable, and which parts they'll have to let go of once and for all.
February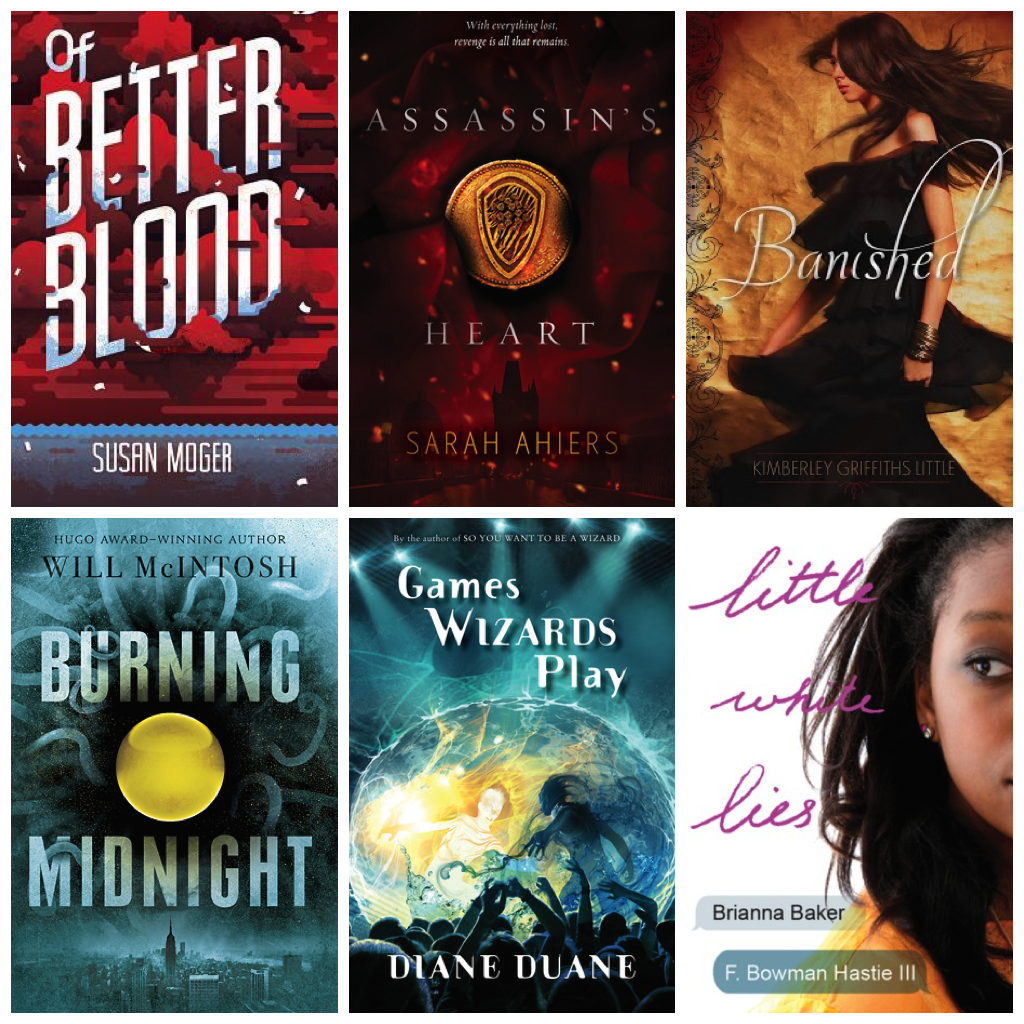 Of Better Blood by Susan Moger (AW Teen, 2/2)
Teenage polio survivor Rowan Collier is caught in the crossfire of a secret war against "the unfit." It's 1922, and eugenics–the movement dedicated to racial purity and good breeding–has taken hold in America. State laws allow institutions to sterilize minorities, the "feeble-minded," and the poor, while local eugenics councils set up exhibits at county fairs with "fitter family" contests and propaganda. After years of being confined to hospitals, Rowan is recruited at sixteen to play a born cripple in a county fair eugenics exhibit. But gutsy, outspoken Dorchy befriends Rowan and helps her realize her own inner strength and bravery. The two escape the fair and end up at a summer camp on a desolate island run by the New England Eugenics Council. There they discover something is happening to the children. Rowan must find a way to stop the horrors on the island if she can escape them herself.
Assassin's Heart by Sarah Ahiers (HarperTeen, 2/2)
In the kingdom of Lovero, nine rival Families of assassins lawfully kill people for a price. As a highly skilled member of one of these powerful clans, seventeen-year-old Lea Saldana has always trusted in the strength of her Family. Until she awakens to find them murdered and her home in flames. The Da Vias, the Saldanas' biggest enemy, must be responsible—and Lea should have seen it coming. But her secret relationship with the Da Vias' son, Val, has clouded her otherwise killer instinct—and given the Da Vias more reason than ever to take her Family down.
Racked with guilt and shattered over Val's probable betrayal, Lea sets out to even the score, with her heart set on retaliation and only one thought clear in her mind: make the Da Vias pay.
* Banished by Kimberley Griffiths Little (HarperCollins 2/2)
After spending months traveling the harsh, unforgiving Mesopotamian desert, Jayden reunites with a broken, injured Kadesh. Although everyone was convinced the violent and unpredictable Horeb, Jayden's betrothed, killed the handsome prince, Jayden knew in her heart that her love was alive and safe. But their reunion is short-lived, as they learn Horeb is on their trail and determined to take back the girl he has claimed. Soon, the two star-crossed lovers are on the run toward Sariba, Kadesh's homeland, where, as heir to the Kingdom, he plans to make Jayden his princess.
But the trek to Sariba is fraught with heartache and danger. After narrowly escaping being stoned to death for a crime she didn't commit, and learning that her sister has disappeared, Jayden's only solace is her love for Kadesh. But even he is keeping secrets from her . . . secrets that will change everything.
Burning Midnight by Will McIntosh (Delacorte, 2/2)
Sully is a sphere dealer at a flea market. It doesn't pay much—Alex Holliday's stores have muscled out most of the independent sellers—but it helps him and his mom make the rent. No one knows where the brilliant-colored spheres came from. One day they were just there, hidden all over the earth like huge gemstones. Burn a pair and they make you a little better: an inch taller, skilled at math, better-looking. The rarer the sphere, the greater the improvement—and the more expensive the sphere.
When Sully meets Hunter, a girl with a natural talent for finding spheres, the two start searching together. One day they find a Gold—a color no one has ever seen. And when Alex Holliday learns what they have, he will go to any lengths, will use all of his wealth and power, to take it from them.
There's no question the Gold is priceless, but what does it actually do? None of them is aware of it yet, but the fate of the world rests on this little golden orb. Because all the world fights over the spheres, but no one knows where they come from, what their powers are, or why they're here.
* Games Wizards Play by Diane Duane (HMH, 2/2)
Every eleven years, Earth's senior wizards hold the Invitational: an intensive three-week event where the planet's newest, sharpest young wizards show off their best and hottest spells. Wizardly partners Kit Rodriguez and Nita Callahan, and Nita's sister, former wizard-prodigy Dairine Callahan, are drafted in to mentor two brilliant and difficult cases: for Nita and Kit, there's Penn Shao-Feng, a would-be sun technician with a dangerous new take on managing solar weather; and for Dairine, there's shy young Mehrnaz Farrahi, an Iranian wizard-girl trying to specialize in defusing earthquakes while struggling with a toxic extended wizardly family that demands she perform to their expectations.
Together they're plunged into a whirlwind of cutthroat competition and ruthless judging. Penn's egotistical attitude toward his mentors complicates matters as the pair tries to negotiate their burgeoning romance. Meanwhile, Dairine struggles to stabilize her hero-worshipping, insecure protégée against the interference of powerful relatives using her to further their own tangled agendas. When both candidates make it through to the finals stage on the dark side of the Moon, they and their mentors are flung into a final conflict that could change the solar system for the better . . .
or damage Earth beyond even wizardly repair.
Little White Lies by Brianna Baker and F. Bowman Hastie (Soho Teen, 2/2)
Seventeen-year-old honors student Coretta White's Tumblr, Little White Lies—her witty thoughts on pretty much . . . everything—has gone viral. She's got hundreds of thousands of followers; she's even been offered a TV deal. But Coretta has a secret. She hasn't been writing all her own posts. Stressed from the demands of the sudden attention, she hired an expert ghostwriter, forty-one-year-old Karl Ristoff, to keep the Tumblr going. Now consumed with guilt, she confesses.
Almost instantly, she suffers a public humiliation. The TV deal disappears. Her boyfriend breaks up with her. Then Karl is thrust into the limelight, only to suffer a dramatic fall himself. Together, they vow to find out who is responsible for ruining both of their lives, and why. But in order to exact justice and a wicked revenge, they must first come clean with each other.
*Raging Sea by Michael Buckley (HMH, 2/2)
In the first book of Michael Buckley's Undertow trilogy, the Alpha arrived and the world was never the same. At the start of the second book, most of south Brooklyn is in ruins and the nation is terrified. Nearly everyone that Lyric Walker loves is either missing or presumed dead, including the mesmerizing prince Fathom. It's up to Lyric to unite the Alpha before the second wave of a cataclysmic invasion wipes out mankind for good.
Revenge and the Wild by Michelle Modesto (Balzer + Bray, 2/2)
The two-bit town of Rogue City is a lawless place, full of dark magic and saloon brawls, monsters and six-shooters. But it's perfect for seventeen-year-old Westie, the notorious adopted daughter of local inventor Nigel Butler.
Westie was only a child when she lost her arm and her family to cannibals on the wagon trail. Nine years later, Westie may seem fearsome with her foul-mouthed tough exterior and the powerful mechanical arm built for her by Nigel, but the memory of her past still haunts her. She's determined to make the killers pay for their crimes—and there's nothing to stop her except her own reckless ways.
But Westie's search ceases when a wealthy family comes to town looking to invest in Nigel's latest invention, a machine that can harvest magic from gold—which Rogue City desperately needs as the magic wards that surround the city start to fail. There's only one problem: the investors look exactly like the family who murdered Westie's kin. With the help of Nigel's handsome but scarred young assistant, Alistair, Westie sets out to prove their guilt. But if she's not careful, her desire for revenge could cost her the family she has now.
Salt to the Sea by Ruta Sepetys (Philomel, 2/2)
In 1945, World War II is drawing to a close in East Prussia, and thousands of refugees are on a desperate trek toward freedom, almost all of them with something to hide. Among them are Joana, Emilia, and Florian, whose paths converge en route to the ship that promises salvation, the Wilhelm Gustloff. Forced by circumstance to unite, the three find their strength, courage, and trust in each other tested with each step closer toward safety.
Just when it seems freedom is within their grasp, tragedy strikes. Not country, nor culture, nor status matter as all ten thousand people aboard must fight for the same thing: survival.
Starflight by Melissa Landers (Disney Hyperion, 2/2)
Life in the outer realm is a lawless, dirty, hard existence, and Solara Brooks is hungry for it. Just out of the orphanage, she needs a fresh start in a place where nobody cares about the engine grease beneath her fingernails or the felony tattoos across her knuckles. She's so desperate to reach the realm that she's willing to indenture herself to Doran Spaulding, the rich and popular quarterback who made her life miserable all through high school, in exchange for passage aboard the spaceliner Zenith.
When a twist of fate lands them instead on the Banshee, a vessel of dubious repute, Doran learns he's been framed on Earth for conspiracy. As he pursues a set of mysterious coordinates rumored to hold the key to clearing his name, he and Solara must get past their enmity to work together and evade those out for their arrest. Life on the Banshee may be tumultuous, but as Solara and Doran are forced to question everything they once believed about their world–and each other–the ship becomes home, and the eccentric crew family. But what Solara and Doran discover on the mysterious Planet X has the power to not only alter their lives, but the existence of everyone in the universe
Symptoms of Being Human by Jeff Garvin (Balzer + Bray, 2/2)
Riley Cavanaugh is many things: Punk rock. Snarky. Rebellious. And gender fluid. Some days Riley identifies as a boy, and others as a girl. The thing is . . . Riley isn't exactly out yet. And between starting a new school and having a congressman father running for reelection in uber-conservative Orange County, the pressure—media and otherwise—is building up in Riley's so-called "normal" life.
On the advice of a therapist, Riley starts an anonymous blog to vent those pent-up feelings and tell the truth of what it's REALLY like to be a gender-fluid teenager. But just as Riley's starting to settle in at school—even developing feelings for a mysterious outcast—the blog goes viral, and an unnamed commenter discovers Riley's real identity, threatening exposure. Riley must make a choice: walk away from what the blog has created—a lifeline, new friends, a cause to believe in—or stand up, come out, and risk everything.
Unhooked by Lisa Maxwell (Simon Pulse, 2/2)
For as long as she can remember, Gwendolyn Allister has never had a place to call home—all because her mother believes that monsters are hunting them. Now these delusions have brought them to London, far from the life Gwen had finally started to build for herself. The only saving grace is her best friend, Olivia, who's coming with them for the summer.
But when Gwen and Olivia are kidnapped by shadowy creatures and taken to a world of flesh-eating sea hags and dangerous Fey, Gwen realizes her mom might have been sane all along.
The world Gwen finds herself in is called Neverland, yet it's nothing like the stories. Here, good and evil lose their meaning and memories slip like water through her fingers. As Gwen struggles to remember where she came from and find a way home, she must choose between trusting the charming fairy-tale hero who says all the right things and the roguish young pirate who promises to keep her safe.
With time running out and her enemies closing in, Gwen is forced to face the truths she's been hiding from all along. But will she be able to save Neverland without losing herself?
* The Shadow's Curse by Emily Skrutskie (Flux, 2/8)
For Cassandra Leung, bossing around sea monsters is just the family business. She's been a Reckoner trainer-in-training ever since she could walk, raising the genetically-engineered beasts to defend ships as they cross the pirate-infested NeoPacific. But when the pirate queen Santa Elena swoops in on Cas's first solo mission and snatches her from the bloodstained decks, Cas's dream of being a full-time trainer seems dead in the water.
There's no time to mourn. Waiting for her on the pirate ship is an unhatched Reckoner pup. Santa Elena wants to take back the seas with a monster of her own, and she needs a proper trainer to do it. She orders Cas to raise the pup, make sure he imprints on her ship, and, when the time comes, teach him to fight for the pirates. If Cas fails, her blood will be the next to paint the sea.
But Cas has fought pirates her entire life. And she's not about to stop.
* The Shadow's Curse by Amy McCulloch (Flux, 2/8)
For Raim, the threat of battle means first mastering the powers he and Draikh possess, seeking out the maker of the oath that caused his exile, and rescuing Wadi, the girl he loves, from his former best friend Khareh, the tyrannical Khan holding her prisoner.
For Wadi, it means choosing sides in a way she never dreamed. The more she learns about the upcoming power struggle in Darhan, the more she finds her opposition to Khareh softening. Is it possible that the safety of the Northern tribes lies with a madman?
Lines are drawn in the sand. No one can escape the coming conflict. They can only hope to survive it.
Blackhearts by Nicole Castroman (Simon Pulse, 2/8)
Blackbeard the pirate was known for striking fear in the hearts of the bravest of sailors. But once he was just a young man who dreamed of leaving his rigid life behind to chase adventure in faraway lands. Nothing could stop him—until he met the one girl who would change everything.
Edward "Teach" Drummond, son of one of Bristol's richest merchants, has just returned from a year-long journey on the high seas to find his life in shambles. Betrothed to a girl he doesn't love and sick of the high society he was born into, Teach dreams only of returning to the vast ocean he'd begun to call home. There's just one problem: convincing his father to let him leave and never come back.
Following her parents' deaths, Anne Barrett is left penniless and soon to be homeless. Though she's barely worked a day in her life, Anne is forced to take a job as a maid in the home of Master Drummond. Lonely days stretch into weeks, and Anne longs for escape. How will she ever realize her dream of sailing to Curaçao—where her mother was born—when she's stuck in England?
From the moment Teach and Anne meet, they set the world ablaze. Drawn to each other, they're trapped by society and their own circumstances. Faced with an impossible choice, they must decide to chase their dreams and go, or follow their hearts and stay.
* * Glass Sword by Victoria Aveyard (HarperTeen, 2/9)
Mare Barrow's blood is red—the color of common folk—but her Silver ability, the power to control lightning, has turned her into a weapon that the royal court tries to control.
The crown calls her an impossibility, a fake, but as she makes her escape from Maven, the prince—the friend—who betrayed her, Mare uncovers something startling: she is not the only one of her kind.
Pursued by Maven, now a vindictive king, Mare sets out to find and recruit other Red-and-Silver fighters to join in the struggle against her oppressors.
But Mare finds herself on a deadly path, at risk of becoming exactly the kind of monster she is trying to defeat.
Will she shatter under the weight of the lives that are the cost of rebellion? Or have treachery and betrayal hardened her forever?
Peas and Carrots by Tanita S. Davis (Knopf, 2/9)
Dess knows that nothing good in life lasts: her mother's sobriety will inevitably fade, her abusive father's absence is never long enough, and her brother Austin—the one bright spot in their family—was put into foster care when he was still a baby. Disappointment is never far away, and that's a truth that Dess has learned to live with.
Dess's mother's arrest is just the latest in a long line of disappointments, but this one lands the teen with Austin's foster family. Dess doesn't exactly fit in with the Carters. They're so happy, so comfortable, so normal, and Hope, their teenage daughter, is so hopelessly naïve to the harsh realities of the world. Dess and Hope couldn't be more unlike each other, but Austin loves them both like sisters. Over time their differences, insurmountable at first, fall away to reveal two girls who want the same thing: to belong.
Red Ink by Julie Mayhew (Candlewick, 2/9)
When her mother is knocked down and killed by a London bus, fifteen-year-old Melon Fouraki is left with no family worth mentioning. Her mother, Maria, never did introduce her to a living, breathing father. The indomitable Auntie Aphrodite, meanwhile, is hundreds of miles away on a farm in Crete, and she is not likely to jump on a plane to come to East Finchley anytime soon. But at least Melon has The Story. The Story is the Fouraki family fairy tale. A story is something. Balanced with tenderness and humor, this time-shifting novel offers a narrator by turns angry and vulnerable, hurt and defiant as she struggles with sudden grief—and the unfolding process of finding out who she really is.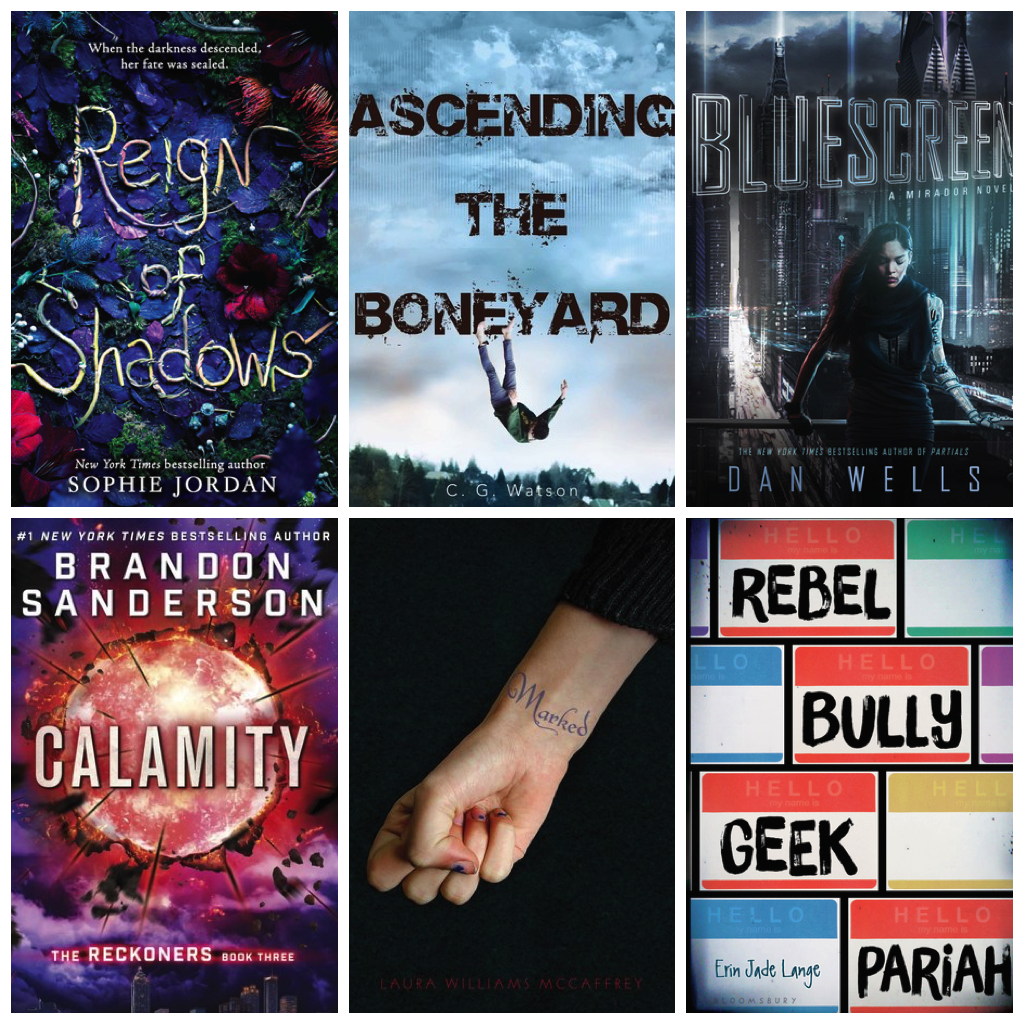 Reign of Shadows by Sophie Jordan (HarperTeen, 2/9)
Seventeen years ago, an eclipse cloaked the kingdom of Relhok in perpetual darkness. In the chaos, an evil chancellor murdered the king and queen and seized their throne. Luna, Relhok's lost princess, has been hiding in a tower ever since. Luna's survival depends on the world believing she is dead.
But that doesn't stop Luna from wanting more. When she meets Fowler, a mysterious archer braving the woods outside her tower, Luna is drawn to him despite the risk. When the tower is attacked, Luna and Fowler escape together. But this world of darkness is more treacherous than Luna ever realized.
With every threat stacked against them, Luna and Fowler find solace in each other. But with secrets still unspoken between them, falling in love might be their most dangerous journey yet.
Ascending the Boneyard by CG Watson (Simon Pulse, 2/16)
Everything's a battle.
Sometimes life gets too real, and Caleb Tosh has taken one hit too many. First, there was the accident that changed everything for Tosh's younger brother. Now his mom has left. All the pain, the grief and loss, have finally pushed Tosh over the edge.
If only he could have a do-over. Wipe his reality. Start fresh. Maybe he could fix all of his mistakes and everything would be different. Tosh immerses himself in the complex missions from the game he obsessively plays, The Boneyard. The game bleeds into the dark nature of his everyday life, folding reality into surreality until it's impossible to separate one from the other. Tosh is desperate to Ascend, to reach the next level, to become Worthy.
* Bluescreen by Dan Wells (Balzer + Bray, 2/16)
Los Angeles in 2050 is a city of open doors, as long as you have the right connections. That connection is a djinni—a smart device implanted right in a person's head. In a world where virtually everyone is online twenty-four hours a day, this connection is like oxygen—and a world like that presents plenty of opportunities for someone who knows how to manipulate it.
Marisa Carneseca is one of those people. She might spend her days in Mirador, the small, vibrant LA neighborhood where her family owns a restaurant, but she lives on the net—going to school, playing games, hanging out, or doing things of more questionable legality with her friends Sahara and Anja. And it's Anja who first gets her hands on Bluescreen—a virtual drug that plugs right into a person's djinni and delivers a massive, non-chemical, completely safe high. But in this city, when something sounds too good to be true, it usually is, and Mari and her friends soon find themselves in the middle of a conspiracy that is much bigger than they ever suspected.
* Calamity by Brandon Sanderson (Delacorte, 2/16)
When Calamity lit up the sky, the Epics were born. David's fate has been tied to their villainy ever since that historic night. Steelheart killed his father. Firefight stole his heart. And now Regalia has turned his closest ally into a dangerous enemy.
David knew Prof's secret, and kept it even when Prof struggled to control the effects of his Epic powers. But facing Obliteration in Babilar was too much. Once the Reckoners' leader, Prof has now embraced his Epic destiny. He's disappeared into those murky shadows of menace Epics are infamous for the world over, and everyone knows there's no turning back.
But everyone is wrong. Redemption is possible for Epics—Megan proved it. They're not lost. Not completely. And David is just about crazy enough to face down the most powerful High Epic of all to get his friend back. Or die trying.
Marked by Laura Williams McCaffrey (HMH, 2/16)
Sixteen-year-old Lyla lives in a bleak, controlling society where only the brightest and most favored students succeed. When she is caught buying cheats in an underground shadow market, she is tattooed—marked—as a criminal. Then she is offered redemption and she jumps at the chance . . . but it comes at a cost. Doing what is right means betraying the boy she has come to love, and, perhaps, losing even more than she thought possible. Graphic novel–style vignettes revealing the history of this world provide Lyla with guidance and clues to a possible way out of the double bind she finds herself in.
Rebel, Bully, Geek, Pariah by Erin Jade Lange (Bloomsbury, 2/16)
The Rebel: Once popular, Andi is now a dreadlocked, tattooed wild child.
The Bully: York torments everyone who crosses his path, especially his younger brother.
The Geek: Tired of being bullied, Boston is obsessed with getting into an Ivy League college.
The Pariah: Choosing to be invisible has always worked for Sam . . . until tonight.
When Andi, York, Boston, and Sam find themselves hiding in the woods after a party gets busted by the cops, they hop into the nearest car they see and take off—the first decision of many in a night that will change their lives forever. By the light of day, these four would never be caught dead together, but when their getaway takes a dangerously unpredictable turn, sticking together could be the only way to survive.
Riders by Veronica Rossi (Tor, 2/16)
For eighteen-year-old Gideon Blake, nothing but death can keep him from achieving his goal of becoming a U.S. Army Ranger. As it turns out, it does.
Recovering from the accident that most definitely killed him, Gideon finds himself with strange new powers and a bizarre cuff he can't remove. His death has brought to life his real destiny. He has become War, one of the legendary four horsemen of the apocalypse.
Over the coming weeks, he and the other horsemen–Conquest, Famine, and Death–are brought together by a beautiful but frustratingly secretive girl to help save humanity from an ancient evil on the emergence.
They fail.
Now–bound, bloodied, and drugged–Gideon is interrogated by the authorities about his role in a battle that has become an international incident. If he stands any chance of saving his friends and the girl he's fallen for–not to mention all of humankind–he needs to convince the skeptical government officials the world is in imminent danger.
Some of the Parts by Hannah Barnaby (Knopf, 2/16)
For months, Tallie McGovern has been coping with the death of her older brother the only way she knows how: by smiling bravely and pretending that she's okay. She's managed to fool her friends, her parents, and her teachers so far, yet she can't even say his name out loud: "N—" is as far as she can go. But when Tallie comes across a letter in the mail, it only takes two words to crack the careful façade she's built around herself:
ORGAN DONOR.
Two words that had apparently been checked off on her brother's driver's license; two words that her parents knew about—and never confided to her. All at once, everything Tallie thought she understood about her brother's death feels like a lie. And although a part of her knows he's gone forever, another part of her wonders if finding the letter might be a sign. That if she can just track down the people on the other end of those two words, it might somehow bring him back.
Take The Fall by Emily Hainsworth (Balzer + Bray, 2/16)
Fear grips the residents of Hidden Falls the night Sonia Feldman and her best friend, Gretchen Meyer, are attacked in the woods. Sonia was lucky to escape with her life, but Gretchen's body is discovered at the bottom of a waterfall. Beautiful, popular, and seemingly untouchable, Gretchen can't be gone. Even as Sonia struggles with guilt and confusion over having survived, the whole town is looking to her for information…could she have seen something that will lead the police to the killer?
At the top of the list of suspects is Gretchen's ex-boyfriend—and Sonia's longtime enemy—Marcus Perez. So when Marcus comes to Sonia for help clearing his name, she agrees, hoping to find evidence the police need to prove he's the killer. But as Gretchen's many secrets emerge and the suspects add up, Sonia feels less sure of Marcus's involvement, and more afraid for herself. Could Marcus, the artist, the screwup, the boy she might be falling for have attacked her? Killed her best friend? And if it wasn't him in the woods that night…who could it have been?
The Girl From Everywhere by Heidi Heilig (Greenwillow, 2/16)
Nix's life began in Honolulu in 1868. Since then she has traveled to mythic Scandinavia, a land from the tales of One Thousand and One Nights, modern-day New York City, and many more places both real and imagined. As long as he has a map, Nix's father can sail his ship, The Temptation, to any place, any time. But now he's uncovered the one map he's always sought—1868 Honolulu, before Nix's mother died in childbirth. Nix's life—her entire existence—is at stake. No one knows what will happen if her father changes the past. It could erase Nix's future, her dreams, her adventures . . . her connection with the charming Persian thief, Kash, who's been part of their crew for two years. If Nix helps her father reunite with the love of his life, it will cost her her own.
* The Rule of Mirrors by Caragh M. O'Brien (Roaring Brook Press, 2/16)
The entire country was watching when Rosie Sinclair was expelled from Forge, the prestigious arts school that doubles as a reality TV show. But few know how Dean Berg was mining students' dreams in laboratories deep below the school. And no one, least of all the Dean himself, knows that when Rosie's dreams were seeded into the mind of another patient, Rosie's consciousness woke up in that body–a girl far from Forge, a girl with a completely different life from Rosie, a girl who is pregnant.
The Shadow Queen by CJ Redwine (Balzer + Bray, 2/16)
Lorelai Diederich, crown princess and fugitive at large, has one mission: kill the wicked queen who took both the Ravenspire throne and the life of her father. To do that, Lorelai needs to use the one weapon she and Queen Irina have in common—magic. She'll have to be stronger, faster, and more powerful than Irina, the most dangerous sorceress Ravenspire has ever seen.
In the neighboring kingdom of Eldr, when Prince Kol's father and older brother are killed by an invading army of magic-wielding ogres, the second-born prince is suddenly given the responsibility of saving his kingdom. To do that, Kol needs magic—and the only way to get it is to make a deal with the queen of Ravenspire, promise to become her personal huntsman…and bring her Lorelai's heart.
But Lorelai is nothing like Kol expected—beautiful, fierce, and unstoppable—and despite dark magic, Lorelai is drawn in by the passionate and troubled king. Fighting to stay one step ahead of the dragon huntsman—who she likes far more than she should—Lorelai does everything in her power to ruin the wicked queen. But Irina isn't going down without a fight, and her final move may cost the princess the one thing she still has left to lose.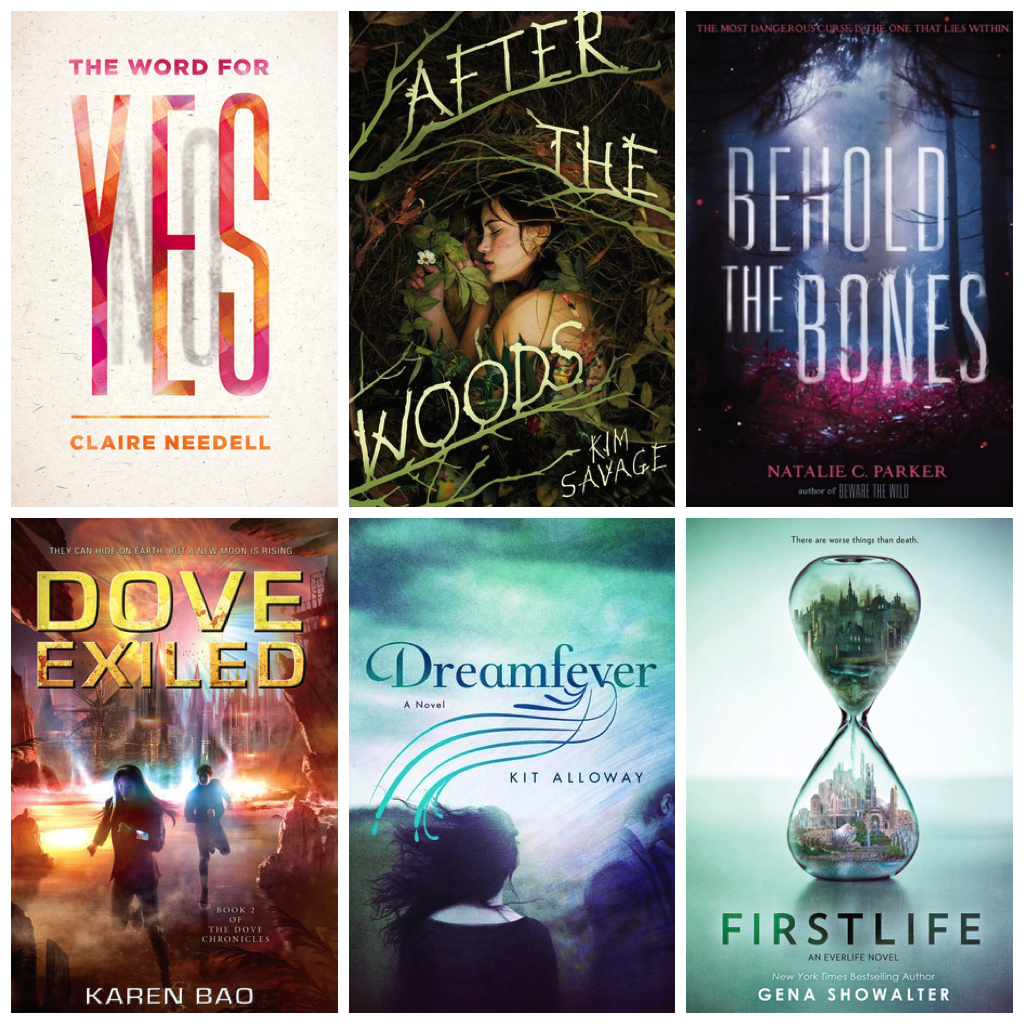 The Word for Yes by Claire Needle (HarperTeen, 2/16)
After their parents' divorce, Jan, Erika, and Melanie have to get used to the new world order: a father who's moved to another continent and a mother who throws herself into moving on. Jan, off at her first semester of college, has plenty to worry about, including an outspoken roommate who's kind of "out there" and an increasingly depressed and troubled long-distance boyfriend. Her younger sisters, left at home in New York City, and dealing with all the pressures of life in high school, aren't exactly close. Erika is serious and feels awkward and uncomfortable in crowds, though her beauty tends to attract attention. Melanie is socially savvy and just wants to go out—to concerts, to parties, wherever—with her friends. The gap between all three girls widens as each day passes.
Then, at a party full of blurred lines and blurred memories, everything changes. Starting that night, where there should be words, there is only angry, scared silence.
And in the aftermath, Jan, Erika, and Melanie will have to work hard to reconnect and help one another heal.
After The Woods by Kim Savage (Henry Holt, 2/23)
Would you risk your life to save your best friend?
Julia did. When a paroled predator attacked Liv in the woods, Julia fought back and got caught. Liv ran, leaving Julia in the woods for a terrifying 48 hours that she remembers only in flashbacks. One year later, Liv seems bent on self-destruction, starving herself, doing drugs, and hooking up with a violent new boyfriend. A dead girl turns up in those same woods, and Julia's memories resurface alongside clues unearthed by an ambitious reporter that link the girl to Julia's abductor. As the devastating truth becomes clear, Julia realizes that after the woods was just the beginning.
* Behold the Bones by Natalie C. Parker (HarperTeen, 2/23)
Candace "Candy" Pickens has been obsessed with the swamp lore of her tiny Louisiana town for . . . forever. Name any ghostly swamp figure and Candy will recite the entire tale in a way that will curl your toes and send chills up your spine.
That doesn't mean Candy's a believer, however. Even though she and her friends entered the swamp at the start of summer and left it changed, Candy's the only one who can't see or feel the magical swamp Shine. She's also the only one who can't see the ghosts that have been showing up and spooking everyone in town ever since. So Candy concentrates on other things—real things. Like fighting with her mother and plotting her escape from her crazy town.
But ghosts aren't the only newcomers in Sticks, Louisiana. The King family arrives like a hurricane: in a blur and unwanted—at least by Candy. Mr. King is intent on filming the rumored ghostly activity for his hit TV show, Local Haunts. And while Candy can't ignore how attracted she is to eighteen-year-old Gage King and how much his sister, Nova, wants to be friends, she's still suspicious of the King family.
As Candy tries to figure out why the Kings are really in town and why the swamp that had previously cast her aside now seems to be invading every crack in her logical, cynical mind, she stumbles across the one piece of swamp lore she didn't know. It's a tale that's more truth than myth, and may have all the answers . . . and its roots are in Candy's own family tree.
* Dove Exiled by Karen Bao (Viking, 2/23)
Phaet Theta fled the Moon and has been hiding on Earth with her friend Wes and his family. But Phaet's past catches up with her when the Lunar Bases attack the community and reveal that Phaet is a fugitive. She's torn between staying on Earth with Wes—whom she's just discovered her feelings for—and stowing away on a Moon-bound ship to rescue her siblings from the wrath of the government who killed their mother. But when Phaet makes the agonizing decision to return to the Moon, she finds the rebel movement there has turned her into their "Girl Sage," a symbol of their struggle. She's the biggest celebrity on the Moon: half the people worship her, and the other half want her dead.
* Dreamfever by Kit Alloway (St Martins Press, 2/23)
Finding out that she is the True Dream Walker hasn't gone at all the Joshlyn Weaver would have expected it to. The only special gift she seems to have is an ability to create archways, which really isn't that special. In addition to her inability to connect with the Dream, she has also started having nightmares that are so terrible she can't tell anyone about them. Not even Will.
Just when Josh thought her life couldn't get any more complicated, the lost dream walker princess returns to claim her parents' right to the throne, right as the Lodestone party threatens to take control of the government during the upcoming Accordance Conclave.
With the clock running down, Josh must rely on not only her friends, but also her enemies, to stop the radicals from taking power and controlling the Dream. But how can she expect to save everyone else when she's struggling to pick up the pieces of her own shattered life?
* Firstlife by Gena Showalter (Harlequin Teen, 2/23)
Tenley "Ten" Lockwood is an average seventeen-year-old girl…who has spent the past thirteen months locked inside the Prynne Asylum. The reason? Not her obsession with numbers, but her refusal to let her parents choose where she'll live—after she dies.
There is an eternal truth most of the world has come to accept: Firstlife is merely a dress rehearsal, and real life begins after death.
In the Everlife, two realms are in power: Troika and Myriad, longtime enemies and deadly rivals. Both will do anything to recruit Ten, including sending their top Laborers to lure her to their side. Soon, Ten finds herself on the run, caught in a wild tug-of-war between the two realms who will do anything to win the right to her soul. Who can she trust? And what if the realm she's drawn to isn't home to the boy she's falling for? She just has to stay alive long enough to make a decision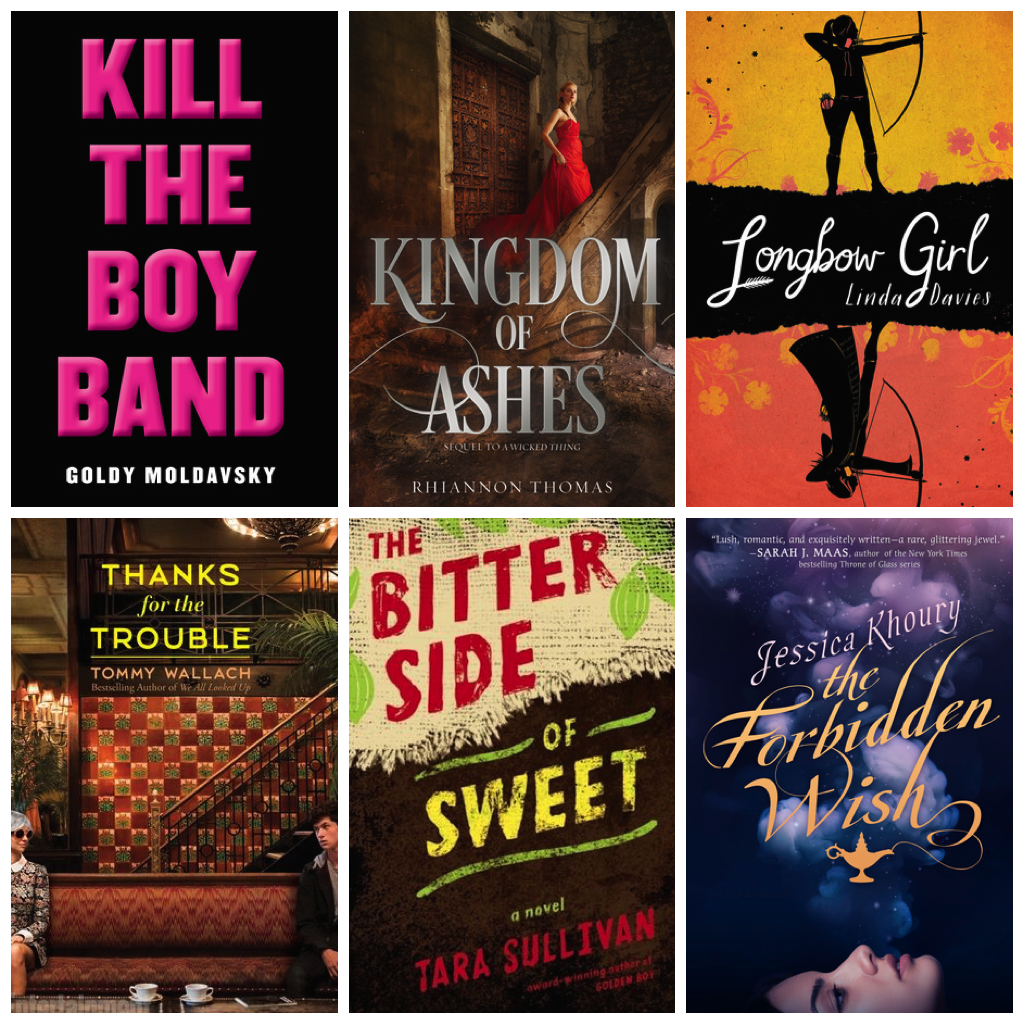 Kill The Boy Band by Goldy Moldavsky (Point, 2/23)
Okay, so just know from the start that it wasn't supposed to go like this. All we wanted was to get near The Ruperts, our favorite boy band.
We didn't mean to kidnap one of the guys. It kind of, sort of happened that way. But now he's tied up in our hotel room. And the worst part of all, it's Rupert P. All four members of The Ruperts might have the same first name, but they couldn't be more different. And Rupert P. is the biggest flop out of the whole group.
We didn't mean to hold hostage a member of The Ruperts, I swear. At least, I didn't. We are fans. Okay, superfans who spend all of our free time tweeting about the boys and updating our fan tumblrs. But so what, that's what you do when you love a group so much it hurts.
How did it get this far? Who knows. I mean midterms are coming up. I really do not have time to go to hell.
* Kingdom of Ashes by Rhiannon Thomas (HarperTeen, 2/23)
Asleep for a hundred years, awoken by a kiss, Aurora's life was supposed to be a fairytale. But since discovering that loyalty to the crown and loyalty to her country are two very different things, Aurora knows she can only dream of happily ever after. Once the enchanted princess, savior of her people, she is now branded a traitor.
Aurora is determined to free her home from the king's tyrannical rule, even if it means traveling across the sea to the kingdom of the handsome and devious Prince Finnegan—someone who seems to know far more about her magic than he should. However, Finnegan's kingdom has perils of its own, and any help he gives Aurora will come at a price.
As Aurora and Finnegan work together to harness her power—something so fiery and dangerous that is as likely to destroy those close to Aurora as it is to save them—she begins to unravel the mysteries surrounding the curse that was placed on her over a century before…and uncover the truth about the destiny she was always meant to fulfill.
Longbow Girl by Linda Davies (Chicken House, 2/23)
Steeped in history, ancient lore and crackling with tension between the central characters Merry and James, Longbow Girlexplores the themes of who we are and who we can become when fighting for those we love and for our very lives. Are we prisoners of our history or can we break free? Can we become all that we need to be to meet the ultimate challenge of life and death in the King's Tournament and in the dungeons of the Black Castle?
Thanks for the Trouble by Tommy Wallach (Simon Pulse, 2/23)
Parker Santé hasn't spoken a word in five years. While his classmates plan for bright futures, he skips school to hang out in hotels, killing time by watching the guests. But when he meets a silver-haired girl named Zelda Toth, a girl who claims to be quite a bit older than she looks, he'll discover there just might be a few things left worth living for.
The Bitter Side of Sweet by Tara Sullivan (Putnam, 2/23)
Fifteen-year-old Amadou counts the things that matter. For two years what has mattered are the number of cacao pods he and his younger brother, Seydou, can chop down in a day. This number is very important. The higher the number the safer they are because the bosses won't beat them. The higher the number the closer they are to paying off their debt and returning home to Baba and Auntie. Maybe. The problem is Amadou doesn't know how much he and Seydou owe, and the bosses won't tell him. The boys only wanted to make some money during the dry season to help their impoverished family. Instead they were tricked into forced labor on a plantation in the Ivory Coast; they spend day after day living on little food and harvesting beans in the hot sun—dangerous, backbreaking work. With no hope of escape, all they can do is try their best to stay alive—until Khadija comes into their lives.
She's the first girl who's ever come to camp, and she's a wild thing. She fights bravely every day, attempting escape again and again, reminding Amadou what it means to be free. But finally, the bosses break her, and what happens next to the brother he has always tried to protect almost breaks Amadou. The old impulse to run is suddenly awakened. The three band together as family and try just once more to escape.
The Forbidden Wish by Jessica Khoury (Razorbill, 2/23)
When Aladdin discovers Zahra's jinni lamp, Zahra is thrust back into a world she hasn't seen in hundreds of years — a world where magic is forbidden and Zahra's very existence is illegal. She must disguise herself to stay alive, using ancient shape-shifting magic, until her new master has selected his three wishes.
But when the King of the Jinn offers Zahra a chance to be free of her lamp forever, she seizes the opportunity—only to discover she is falling in love with Aladdin. When saving herself means betraying him, Zahra must decide once and for all: is winning her freedom worth losing her heart?
As time unravels and her enemies close in, Zahra finds herself suspended between danger and desire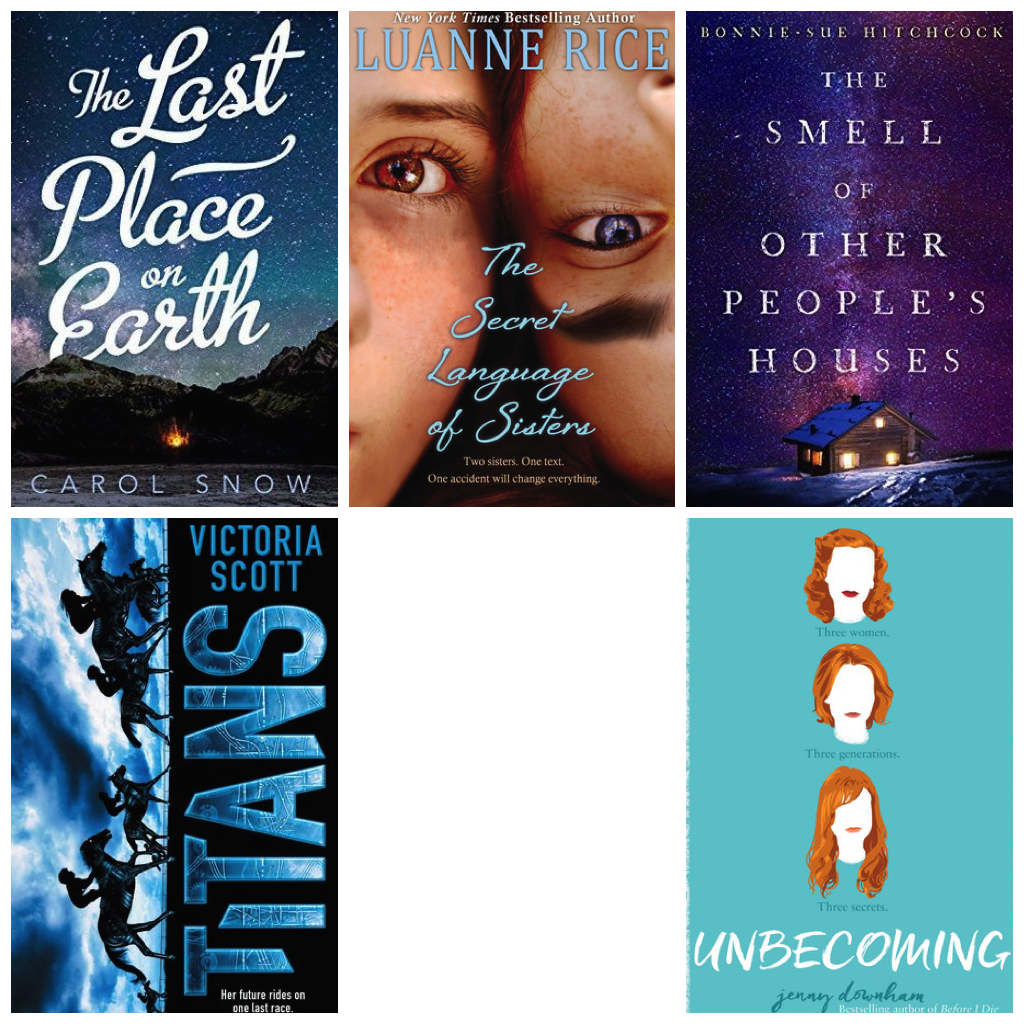 The Last Place on Earth by Carol Snow (Henry Holt, 2/23)
Daisy and Henry are best friends, and they know all each other's secrets. Or, so Daisy thinks, until she wakes up one morning to find that Henry and his family have disappeared without a trace. Daisy suspects Henry's disappearance is connected to their seriously awkward meeting the night before, but then she finds a note from Henry, containing just the words "SAVE ME." Deeply worried, Daisy convinces her unemployed brother to take her on a rescue mission into the California mountains. As they begin to home in on Henry's exact location, they also start to find some disturbing clues… clues that call into question everything Daisy believes she knows about her friend. Why is he so hard to find? What kind of trouble is he in, exactly? And most importantly, who is actually saving who?
The Secret Language of Sisters by Luanne Rice (Point, 2/23)
When Ruth Ann (Roo) McCabe responds to a text message while she's driving, her life as she knows it ends. The car flips, and Roo winds up in a hospital bed, paralyzed. Silent. Everyone thinks she's in a coma, but Roo has locked-in syndrome — she can see and hear and understand everything around her, but no one knows it. She's trapped inside her own body, screaming to be heard.
Mathilda (Tilly) is Roo's sister and best friend. She was the one who texted Roo and inadvertently caused the accident. Now, Tilly must grapple with her overwhelming guilt and her growing feelings for Roo's boyfriend, Newton — the only other person who seems to get what Tilly is going through.
But Tilly might be the only person who can solve the mystery of her sister's condition — who can see through Roo's silence to the truth underneath.
Somehow, through medicine or miracles, will both sisters find a way to heal?
The Smell of Other People's Houses by Bonnie-Sue Hitchcock (Wendy Lamb, 2/23)
Ruth has a secret that she can't hide forever. Dora wonders if she can ever truly escape where she comes from, even when good luck strikes. Alyce is trying to reconcile her desire to dance, with the life she's always known on her family's fishing boat. Hank and his brothers decide it's safer to run away than to stay home—until one of them ends up in terrible danger.
Four very different lives are about to become entangled. This unforgettable book is about people who try to save each other—and how sometimes, when they least expect it, they succeed.
Titans by Victoria Scott (Scholastic Press, 2/23)
Ever since the Titans first appeared in her Detroit neighborhood, Astrid Sullivan's world has revolved around the mechanical horses. She and her best friend have spent countless hours watching them and their jockeys practice on the track. It's not just the thrill of the race. It's the engineering of the horses and the way they're programmed to seem so lifelike. The Titans are everything that fascinates Astrid, and nothing she'll ever touch.
She hates them a little, too. Her dad lost everything betting on the Titans. And the races are a reminder of the gap between the rich jockeys who can afford the expensive machines to ride, and the working class friends and neighbors of Astrid's who wager on them.
But when Astrid's offered a chance to enter an early model Titan in this year's derby, well, she decides to risk it all. Because for a girl from the wrong side of the tracks, it's more than a chance at fame or money. Betting on herself is the only way she can see to hang on to everyone in the world she cares about.
Unbecoming by Jenny Downham (David Fickling, 2/23)
Katie, seventeen, in love with someone whose identity she can't reveal.Her mother Caroline, uptight, worn out and about to find the past catching up with her.Katie's grandmother, Mary, back with the family after years of mysterious absence and 'capable of anything', despite suffering from Alzheimers.As Katie cares for an elderly woman who brings daily chaos to her life, she finds herself drawn to her. Rules get broken as allegiances shift. Is Mary contagious? Is 'badness' genetic?In confronting the past, Katie is forced to seize the present. As Mary slowly unravels and family secrets are revealed, Katie learns to live and finally dares to love.
March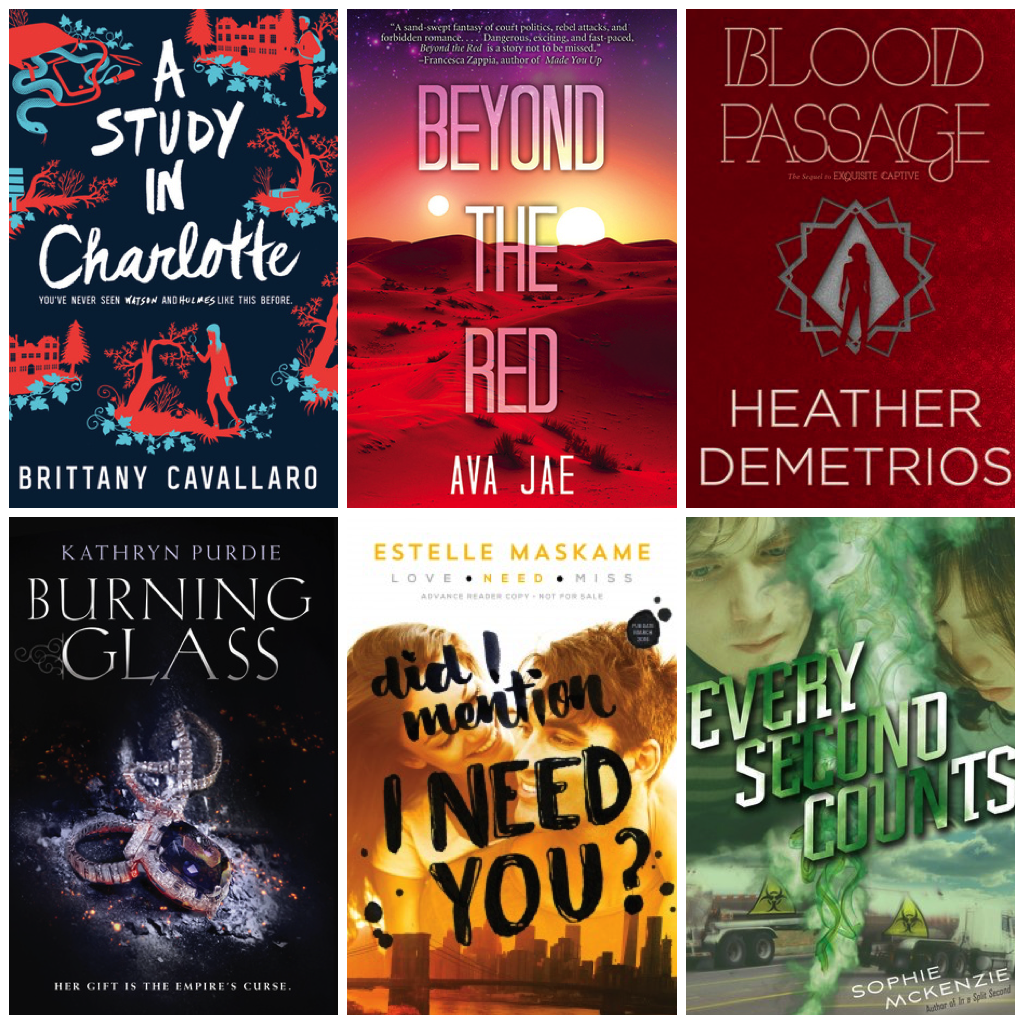 * A Study in Charlotte by Brittany Cavallaro (Katherine Tegan, 3/1)
The last thing sixteen-year-old Jamie Watson–writer and great-great-grandson of the John Watson–wants is a rugby scholarship to Sherringford, a Connecticut prep school just an hour away from his estranged father. But that's not the only complication: Sherringford is also home to Charlotte Holmes, the famous detective's enigmatic, fiercely independent great-great-granddaughter, who's inherited not just his genius but also his vices, volatile temperament, and expertly hidden vulnerability. Charlotte has been the object of his fascination for as long as he can remember–but from the moment they meet, there's a tense energy between them, and they seem more destined to be rivals than anything else.
Then a Sherringford student dies under suspicious circumstances ripped straight from the most terrifying of the Holmes stories, and Jamie and Charlotte become the prime suspects. Convinced they're being framed, they must race against the police to conduct their own investigation. As danger mounts, it becomes clear that nowhere is safe and the only people they can trust are each other.
Beyond the Red by Ava Jae (Sky Pony, 3/1)
Alien queen Kora has a problem as vast as the endless crimson deserts. She's the first female ruler of her territory in generations, but her people are rioting and call for her violent younger twin brother to take the throne. Despite assassination attempts, a mounting uprising of nomadic human rebels, and pressure to find a mate to help her rule, she's determined to protect her people from her brother's would-be tyrannical rule.
Eros is a rebel soldier hated by aliens and human alike for being a half-blood. Yet that doesn't stop him from defending his people, at least until Kora's soldiers raze his camp and take him captive. He's given an ultimatum: be an enslaved bodyguard to Kora, or be executed for his true identity—a secret kept even from him.
When Kora and Eros are framed for the attempted assassination of her betrothed, they flee. Their only chance of survival is to turn themselves in to the high court, where revealing Eros's secret could mean a swift public execution. But when they uncover a violent plot to end the human insurgency, they must find a way to work together to prevent genocide.
* Blood Passageby Heather Demetrios (Balzer + Bray, 3/1)
When Nalia arrives in Morocco to fulfil Malek's third and final wish she's not expecting it to be easy. Though Nalia is free from the shackles that once bound her to Malek as his slave, she's in more danger than ever before.
Meanwhile, Malek's past returns with a vengeance as he confronts the darkness within himself, and Raif must decide what's more important: his love for Nalia, or his devotion to the cause of Arjinnan freedom.
Set upon by powerful forces that threaten to break her, Nalia encounters unexpected allies and discovers that her survival depends on the very things she thought made her weak.
Burning Glass by Kathryn Purdie (Katherine Tegan, 3/1)
Sonya was born with the rare gift to feel what those around her feel—both physically and emotionally—a gift she's kept hidden from the empire for seventeen long years. After a reckless mistake wipes out all the other girls with similar abilities, Sonya is hauled off to the palace and forced to serve the emperor as his sovereign Auraseer.
Tasked with sensing the intentions of would-be assassins, Sonya is under constant pressure to protect the emperor. One mistake, one small failure, will cost her own life and the lives of the few people left in the world who still trust her.
But Sonya's power is untamed and reckless, her feelings easily usurped, and she sometimes can't decipher when other people's impulses end and her own begin. In a palace full of warring emotions and looming darkness, Sonya fears that the biggest danger to the empire may be herself.
As she struggles to wrangle her abilities, Sonya seeks refuge in her tenuous alliances with the volatile Emperor Valko and his idealistic younger brother, Anton, the crown prince. But when threats of revolution pit the two brothers against each other, Sonya must choose which brother to trust—and which to betray.
* Did I Mention I Need You? by Estelle Maskame (Sourcebooks Fire, 3/1)
It's been a year since Eden Munro last saw Tyler Bruce: her stepbrother…and secret love. Although they swore to ignore their feelings and put their family first, Eden can't help but feel excited when Tyler invites her to join him in New York City for the summer.
But it's not like anything is going to happen. Eden is happy with her boyfriend Dean, and she knows gorgeous, green-eyed Tyler must have moved on as well. But as they spend the long, hot summer in the city that never sleeps, it becomes obvious that those old feelings are still there…simmering beneath the surface. Will Tyler and Eden be able to resist temptation?
* Every Second Counts by Sophie McKenzie (S&S Books for Young Readers, 3/1)
Nat and Charlie are on the run and in more danger than ever before. Nowhere is safe and they can't trust anyone but each other. Roman Riley's networks could discover them at any time, so Charlie believes their only option is to go undercover in Riley's team, but Nat doesn't agree. So Charlie sneaks away to pursue her plan alone. Nat is desperate to find Charlie, but his family is relying on him, and he can't leave them behind. Even if Nat and Charlie can find each other again, could being together be even more dangerous than being apart?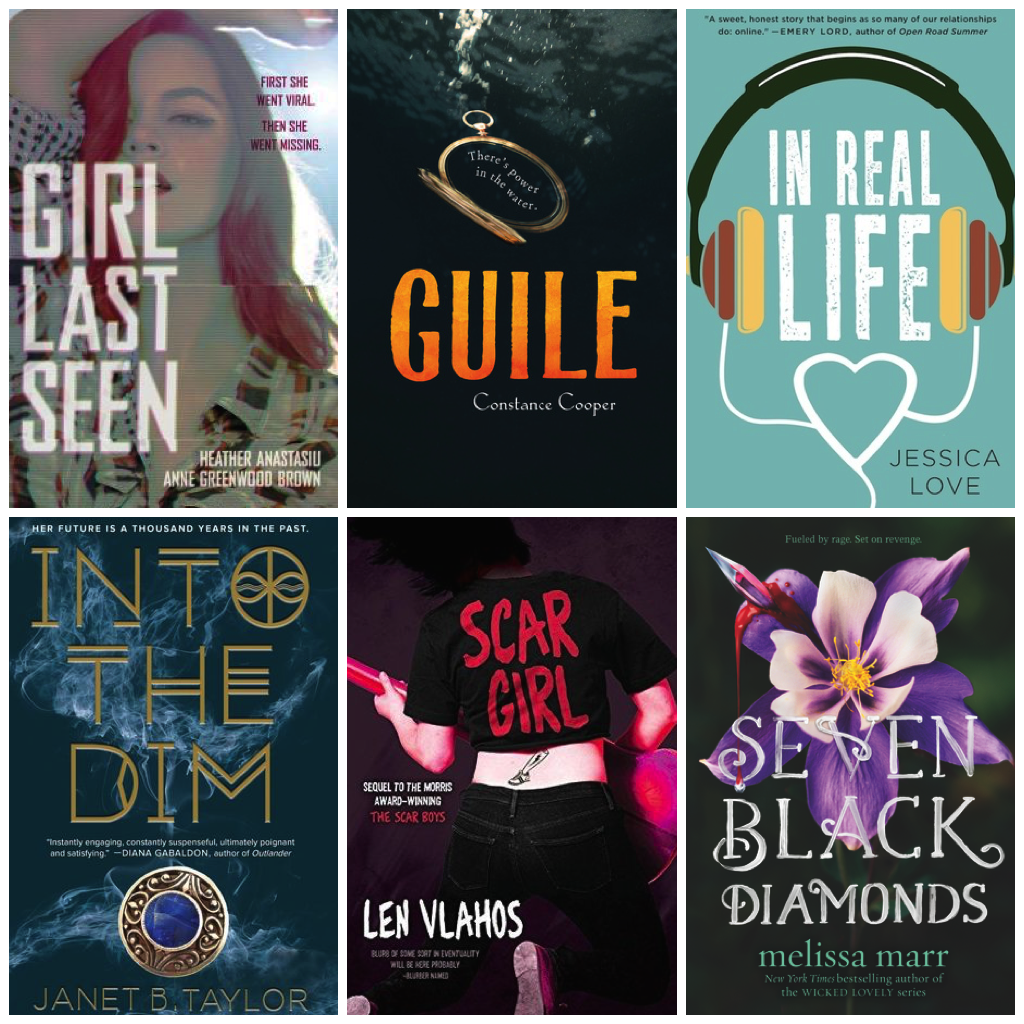 Girl Last Seen by Heather Anastasiu and Anne Greenwood Brown (AW Teen, 3/1)
Kadence Mulligan's star was rising. She and her best friend, Lauren DeSanto, watched their songs go viral on YouTube, then she launched a solo career when a nasty throat infection paralyzed Lauren's vocal chords. Everyone knows Lauren and Kadence had a major falling-out over Kady's boyfriend. But Lauren knows how deceptive Kadence could be sometimes. And nobody believes Lauren when she claims she had nothing to do with the disappearance. Or the blood evidence As the town and local media condemns Lauren, she realizes the only way to clear her name is to discover the truth herself. Lauren slowly unravels the twisted life of Kadence Mulligan and sees that there was more to her than she ever knew. But will she realize she's unknowingly playing a part in an elaborate game to cover up a crime before it's too late?
Guile by Constance Cooper (Clarion, 3/1)
Yonie Watereye lives in the bayou. The water there is full of guile, a power that changes people and objects. Yonie, 16, makes a living investigating objects affected by guile, but in fact it's her talking cat, LaRue, who has the power to see guile.
Yonie becomes aware that someone is sending harmful guile-changed objects to certain people, including herself. Her investigation becomes entwined with her hunt for the secrets of her mother's past and leads her to discover dangers hidden within her own family.
In Real Life by Jessica Love (St Martin's Griffin, 3/1)
Hannah Cho and Nick Cooper have been best friends since 8th grade. They talk for hours on the phone, regularly shower each other with presents, and know everything there is to know about one another.
There's just one problem: Hannah and Nick have never actually met.
Hannah has spent her entire life doing what she's supposed to, but when her senior year spring break plans get ruined by a rule-breaker, she decides to break a rule or two herself. She impulsively decides to road trip to Las Vegas, her older sister and BFF in tow, to surprise Nick and finally declare her more-than-friend feelings for him.
Hannah's surprise romantic gesture backfires when she gets to Vegas and finds out that Nick has been keeping some major secrets. Hannah knows the real Nick can't be that different from the online Nick she knows and loves, but now she only has night in Sin City to figure out what her feelings for Nick really are, all while discovering how life can change when you break the rules every now and then.
Into the Dim by Janet B. Taylor (Clarion, 3/1)
When fragile, sixteen-year-old Hope Walton loses her mom to an earthquake overseas, her secluded world crumbles. Agreeing to spend the summer in Scotland, Hope discovers that her mother was more than a brilliant academic, but also a member of a secret society of time travelers. Trapped in the twelfth century in the age of Eleanor of Aquitaine, Hope has seventy-two hours to rescue her mother and get back to their own time. Along the way, her path collides with that of a mysterious boy who could be vital to her mission . . . or the key to Hope's undoing.
* Scar Girl by Len Vlahos (Carolrhoda LAB, 3/1)
Told as an interview with the band after they reach the pinnacle of success, readers will hear from Cheyenne, Harry, and Richie as they discover the ups and downs of being a rock musician, complete with meltdowns on stage and fights that test the limits of the band.
Seven Black Diamonds by Melissa Marr (HarperCollins, 3/1)
Lilywhite Abernathy is a criminal—she's half human, half fae, and since the time before she was born, a war has been raging between humans and faeries. The Queen of Blood and Rage, ruler of the fae courts, wants to avenge the tragic death of her heir due to the actions of reckless humans.
Lily's father has always shielded her, but when she's sent to the prestigious St. Columba's school, she's delivered straight into the arms of a fae sleeper cell—the Black Diamonds. The Diamonds are planted in the human world as the sons and daughters of the most influential families and tasked with destroying it from within. Against her will, Lilywhite's been chosen to join them…and even the romantic attention of the fae rock singer Creed Morrison isn't enough to keep Lily from wanting to run back to the familiar world she knows.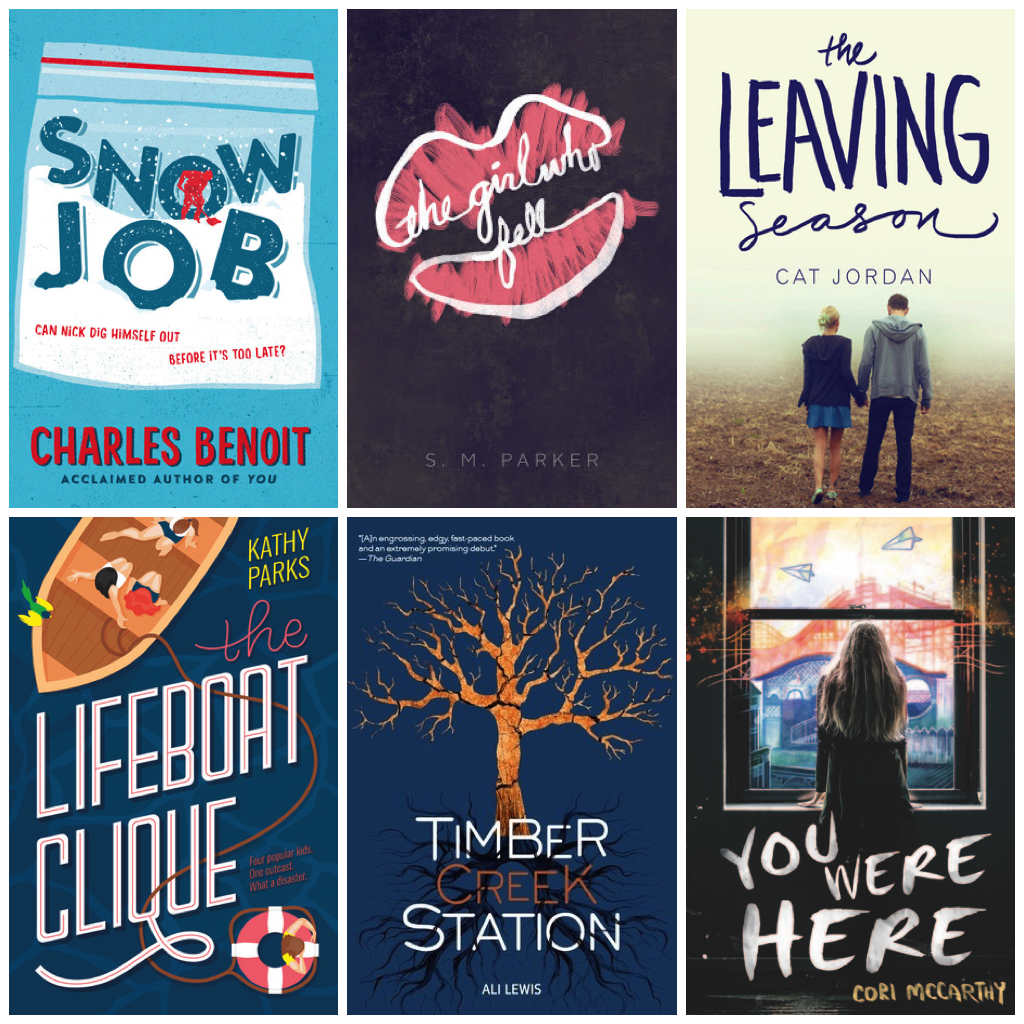 Snow Job by Charles Benoit (Clarion, 3/1)
Does who you are in high school brand you for life? Nick sure hopes not. It's senior year, and he has decided that his loser friends may be going nowhere fast, but he isn't. Instead, Nick has created the perfect list of rules for remaking his life. But meeting dark-eyed Dawn and hanging out with teen thug Zod are nowhere on that list. And making illegal deliveriesdefinitely isn't on it. So why is Nick caught up with these people and their dangerous schemes? Will Nick's list help him to be a hero—or turn him into a fall guy?
The Girl Who Fell by SM Parker (Simon Pulse, 3/1)
High school senior Zephyr Doyle is swept off her feet—and into an intense relationship—by the new boy in school.
Zephyr is focused. Focused on leading her team to the field hockey state championship and leaving her small town for her dream school, Boston College.
But love has a way of changing things.
Enter the new boy in school: the hockey team's starting goaltender, Alec. He's cute, charming, and most important, Alec doesn't judge Zephyr. He understands her fears and insecurities—he even shares them. Soon, their relationship becomes something bigger than Zephyr, something she can't control, something she doesn't want to control.
Zephyr swears it must be love. Because love is powerful, and overwhelming, and…terrifying?
But love shouldn't make you abandon your dreams, or push your friends away. And love shouldn't make you feel guilty—or worse, ashamed.
So when Zephyr finally begins to see Alec for who he really is, she knows it's time to take back control of her life.
If she waits any longer, it may be too late.
The Leaving Season by Cat Jordan (HarperTeen, 3/1)
Middie Daniels calls it the Leaving Season: the time of year when everyone graduates high school, packs up their brand-new suitcases, and leaves home for the first time.
This year Middie's boyfriend Nate is the one leaving. Nate, who's so perfect that she can barely believe it. Nate, who makes her better than she is on her own. Nate, who's promised to come back once he's finished his gap year volunteering in Central America. And when he does, it'll be time for Middie to leave, too. With him.
But when a tragedy strikes, Middie's whole world is set spinning. No one seems to understand just how lost she is… except for Nate's slacker best friend Lee. Middie and Lee have never gotten along. But with the ground ripped out from under her, Middie is finding that up is down—and that Lee Ryan might be just what she needs to find her footing once more.
The Lifeboat Clique by Kathy Parks (Katherine Tegan, 3/1)
Some people might say that Denver had a death wish. Why else would she have dared to sneak into a Malibu beach party where she'd be surrounded by enemies, namely including her ex-BFF Abigail?
Oh yeah. Croix. Denver never thought in a million years he'd ask her out, but who was she to question this miracle of fate? Well, that wasn't the only surprise fate had in store.
During the party a tsunami hit the coast of California, wiping out everything in its path. Denver and a handful of others escaped death by holding onto the roof of the house and were swept out to sea. Of course, one of her fellow castaways was none other than Abigail, who could barely stand the sight of her.
Now that she's floating in the ocean, stuck on a small boat with the most popular kids in school and waiting to be rescued, Denver wonders what might kill her first-dehydration, sunstroke, or the girl she used to think of as a sister?
Timber Creek Station by Ali Lewis (Carllrhoda LAB, 3/1)
Danny Dawson lives on a cattle station in the Australian outback. The whole station is preparing for the annual cattle muster, and normally Danny would be bursting with excitement. But everything is different now. Because Danny's beloved older brother died in an accident last year, and nobody will talk about it. Because his teenage sister is pregnant and won't tell anyone who the father is. Because his mother can't cope with any of it and has hired a house girl-a wide-eyed English backpacker named Liz who has never even seen a cow milked before-to deal with the family. Liz doesn't understand how to cook hearty meals, how to clean laundry, and especially why the station's Aboriginal workers are treated as second-class citizens. Liz helps Danny see that the way things have always been is not the way they should always be.
You Were Here by Cori McCarthy (Sourcebooks Fire, 3//1)
On the anniversary of her dardevil brother's death, Jaycee attempts to break into Jake's favorite hideout—the petrifying ruins of an insane asylum. Joined by four classmates, each with their own brand of disfunction, Jaycee discovers a map detailing her brother's exploration and the unfinished dares he left behind.
As a tribute to Jake, Jaycee vows to complete the dares, no matter how terrifying or dangerous. What she doesn't bargain on is her eccentric band of friends who challenge her to do the unthinkable: reveal the parts of herself that she buried with her brother.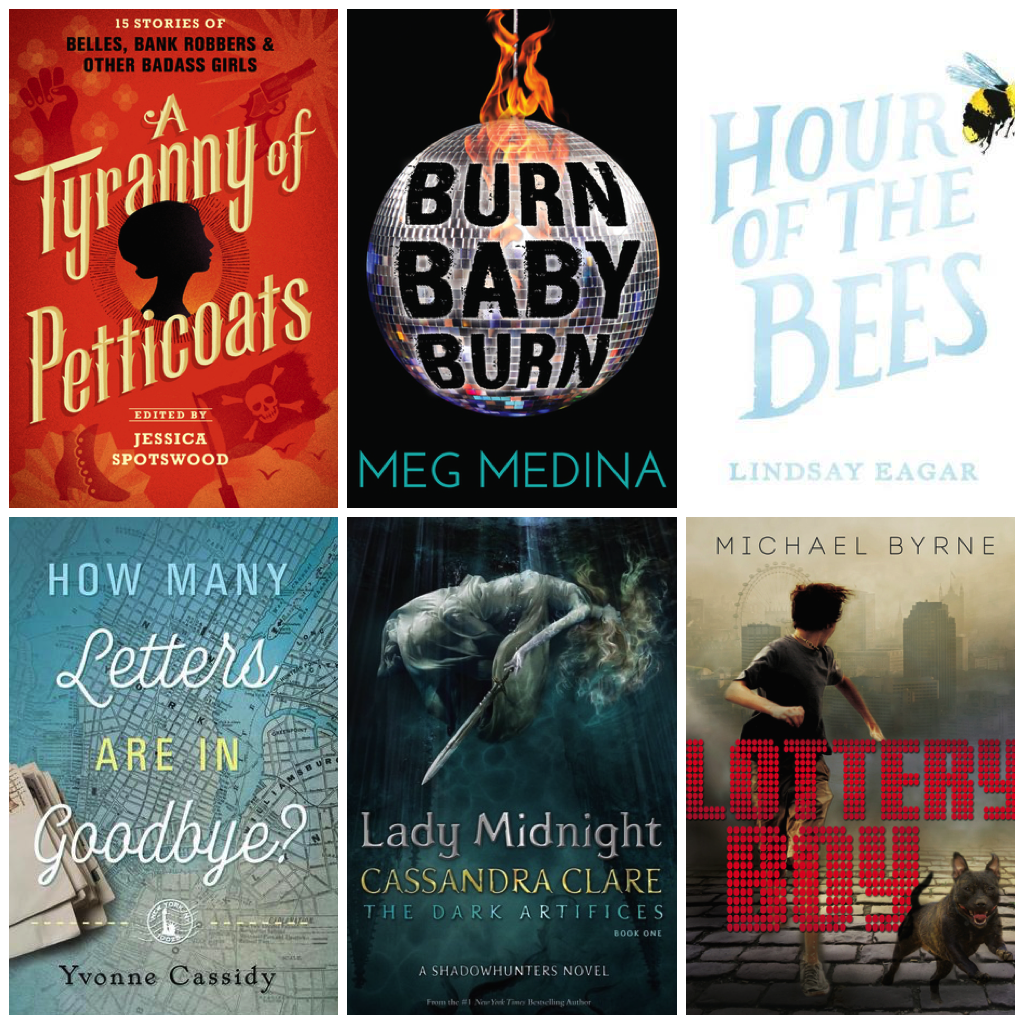 A Tyranny of Petticoats edited by Jessica Spotswood (Candlewick, 3/8)
Criss-cross America — on dogsleds and ships, stagecoaches and trains — from pirate ships off the coast of the Carolinas to the peace, love, and protests of 1960s Chicago. Join fifteen of today's most talented writers of young adult literature on a thrill ride through history with American girls charting their own course. They are monsters and mediums, bodyguards and barkeeps, screenwriters and schoolteachers, heiresses and hobos. They're making their own way in often-hostile lands, using every weapon in their arsenals, facing down murderers and marriage proposals. And they all have a story to tell.
Burn Baby Burn by Meg Medina (Candlewick, 3/8)
Nora Lopez is seventeen during the infamous New York summer of 1977, when the city is besieged by arson, a massive blackout, and a serial killer named Son of Sam who shoots young women on the streets. Nora's family life isn't going so well either: her bullying brother, Hector, is growing more threatening by the day, her mother is helpless and falling behind on the rent, and her father calls only on holidays. All Nora wants is to turn eighteen and be on her own. And while there is a cute new guy who started working with her at the deli, is dating even worth the risk when the killer likes picking off couples who stay out too late? Award-winning author Meg Medina transports us to a time when New York seemed balanced on a knife-edge, with tempers and temperatures running high, to share the story of a young woman who discovers that the greatest dangers are often closer than we like to admit — and the hardest to accept.
Hour of the Bees by Lindsay Eager (Candlewick, 3/8)
While her friends are spending their summers having pool parties and sleepovers, twelve-year-old Carolina — Carol — is spending hers in the middle of the New Mexico desert, helping her parents move the grandfather she's never met into a home for people with dementia. At first, Carol avoids prickly Grandpa Serge. But as the summer wears on and the heat bears down, Carol finds herself drawn to him, fascinated by the crazy stories he tells her about a healing tree, a green-glass lake, and the bees that will bring back the rain and end a hundred years of drought. As the thin line between magic and reality starts to blur, Carol must decide for herself what is possible — and what it means to be true to her roots. Readers who dream that there's something more out there will be enchanted by this captivating novel of family, renewal, and discovering the wonder of the world.
How Many Letters Are In Goodbye? by Yvonne Cassidy (Flux, 3/8)
Seventeen-year-old Rhea Farrell carries the scars of a childhood accident in which she lost her arm. But she also carries scars that aren't so visible–the loss of a mother she hardly remembers, the impact of her father's drinking, and her confusion and pain around accepting her sexuality.
When Rhea runs away, she turns to the person she always wished she could confide in–her mother. And just like she used to do as a little girl, Rhea starts to write her letters–to tell her things she can't tell anyone else, to share her fears, to ask for help. Rhea's journey on the streets of New York brings her deeper into her mother's past where she uncovers buried family secrets. And as she finds out more about the woman her mother truly was, Rhea also discovers just what kind of woman she wants to be.
* Lady Midnight by Cassandra Clare (Margaret A McElderry, 3/8)
Los Angeles. It's been five years since the events of the Mortal Instruments when Nephilim stood poised on the brink of oblivion and Shadowhunter Emma Carstairs lost her parents. After the blood and violence she witnessed as a child, Emma has dedicated her life to to discovering exactly what it was that killed her parents and getting her revenge.
Raised in the Los Angeles Institute with the Blackthorn family, Emma is paired as a parabatai with her best friend, Julian Blackthorn. A series of murders in the city catch her attention — they seem to have the same characteristics as the deaths of her parents. Could the murderer be the same person? And her attention isn't the only one caught: someone has been murdering Downworlders as well. The Fair Folk make a deal with the Institute: if the Blackthorns and Emma will investigate the killings, they'll return Mark Blackthorn to his home. The catch: they have only two weeks to find the killers. Otherwise it's open war between faeries and Nephilim.
The Shadowhunters of the Institute must race against time to catch the killers, even as they begin to suspect the involvement of those closest to them. At the same time, Emma is falling in love with the one person in the world she's absolutely forbidden by Shadowhunter Law to love. Set against the glittering backdrop of present-day Los Angeles, Emma must learn to trust her head and her heart as she investigates a demonic plot that stretches from the warlock-run nightclubs of the Sunset Strip to the enchanted sea that pounds the beaches of Santa Monica.
Lottery Boy by Michael Byrne (Candlewick, 3/8)
Twelve-year-old Bully has lost his mum and his old life. Living rough on the streets of London with his dog, Jack, he can't imagine a future. But one day he finds, tucked inside his most cherished possession—the last birthday card his mother ever gave him—a lottery ticket he bought her. And it's a winner. Abig winner. Suddenly there's hope, if only he can get to his prize on time! But just as Bully's prospects open up, peril closes in. Now ruthless gangsters are in hot pursuit, and everyone wants a piece of him. Whom can he trust to help him retrieve what's his? And even if Bully does claim all that money, will he really be winning what he needs most? Michael Byrne's thrill-packed debut delivers the emotionally charged story of a boy whose luck has changed for the better, if only he can survive long enough to claim it.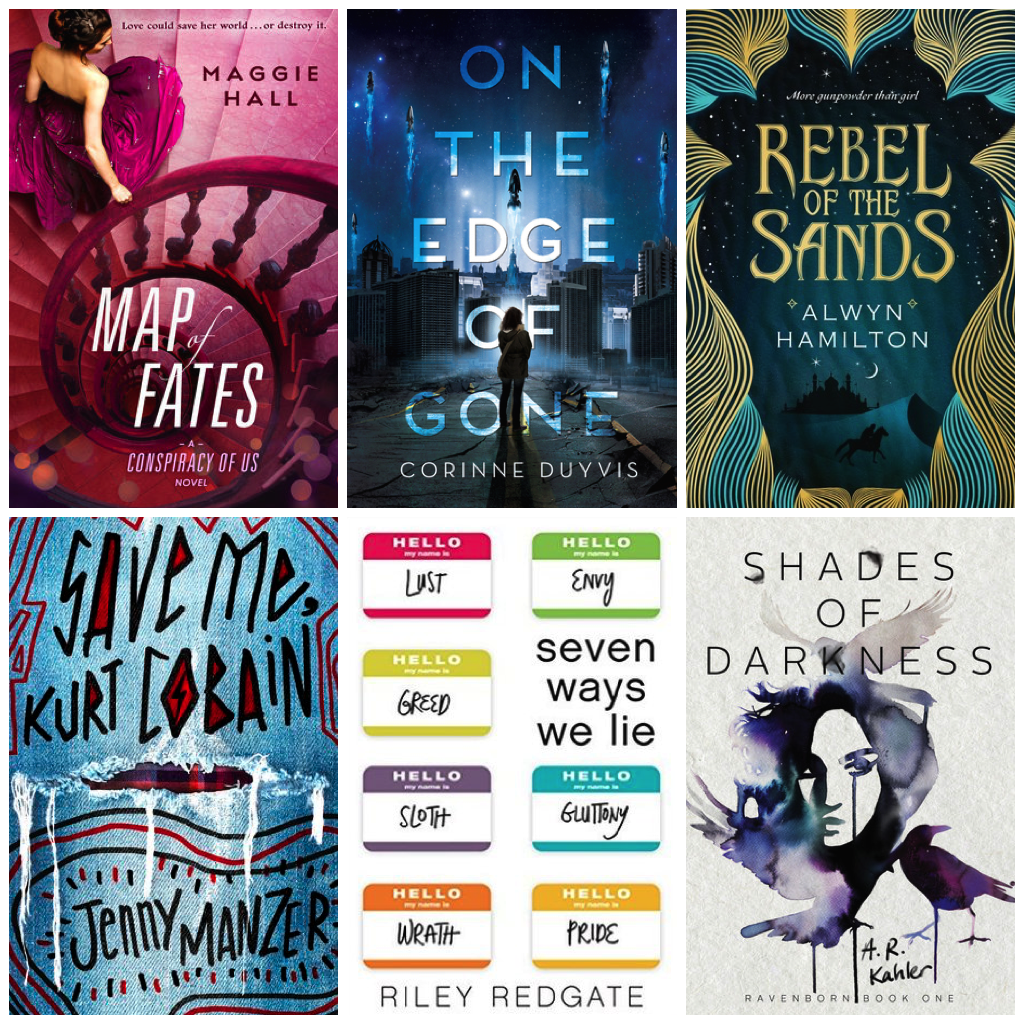 * Map of Fates by Maggie Hall (Putnam, 3/8)
Two weeks.
That's how long it took for Avery West's ordinary life to change forever: In two weeks, she discovered she was heiress to a powerful secret society known as the Circle, learned her mother was taken hostage by the Circle's enemies, and fell for a boy she's not allowed to love, just as she found out another was her unwelcome destiny.
Now, Avery crosses oceans in private jets to hunt for clues that will uncover the truth about the Circle, setting her mom and herself free before it's too late. By her side are both the boys: Jack—steady, loyal, and determined to help her even at the expense of his own duty—and Stellan, whose connection to Avery grows stronger by the day despite her best intentions, making her question what she believes at every turn.
But at the end of a desperate hunt from the islands of Greece to the red carpet at Cannes comes a discovery that not only changes everything, but could bring the whole world to its knees. And now Avery is forced to face the truth: in the world of the Circle, no one is what they seem.
On the Edge of Gone by Corinne Duyvis (Amulet, 3/8)
January 29, 2035. That's the day the comet is scheduled to hit—the big one.
Denise and her mother and sister, Iris, have been assigned to a temporary shelter outside their hometown of Amsterdam to wait out the blast, but Iris is nowhere to be found, and at the rate Denise's drug-addicted mother is going, they'll never reach the shelter in time.
A last-minute meeting leads them to something better than a temporary shelter: a generation ship, scheduled to leave Earth behind to colonize new worlds after the comet hits. But everyone on the ship has been chosen because of their usefulness. Denise is autistic and fears that she'll never be allowed to stay. Can she obtain a spot before the ship takes flight? What about her mother and sister?
When the future of the human race is at stake, whose lives matter most?
Rebel of the Sands by Alwyn Hamilton (Viking, 3/8)
Mortals rule the desert nation of Miraji, but mystical beasts still roam the wild and barren wastes, and rumor has it that somewhere, djinni still practice their magic. But there's nothing mystical or magical about Dustwalk, the dead-end town that Amani can't wait to escape from.
Destined to wind up "wed or dead," Amani's counting on her sharpshooting skills to get her out of Dustwalk. When she meets Jin, a mysterious and devastatingly handsome foreigner, in a shooting contest, she figures he's the perfect escape route. But in all her years spent dreaming of leaving home, she never imagined she'd gallop away on a mythical horse, fleeing the murderous Sultan's army, with a fugitive who's wanted for treason. And she'd never have predicted she'd fall in love with him…or that he'd help her unlock the powerful truth of who she really is.
Save Me Kurt Cobain by Jenny Manzer (Delacorte, 3/8)
Nicola Cavan has been an outsider since age four when her mother vanished from their home in Victoria, British Columbia. Now 15, Nico is determined to find her beautiful, music-obsessed mother. After glimpsing "Cobain" on a ferry from Seattle, Nico follows the man with the blazing blue eyes to a remote Vancouver Island cabin—and her life will never be the same.
Seven Ways We Lie by Riley Redgate (Amulet, 3/8)
Paloma High School is ordinary by anyone's standards. It's got the same cliques, the same prejudices, the same suspect cafeteria food. And like every high school, every student has something to hide—whether it's Kat, the thespian who conceals her trust issues onstage; or Valentine, the neurotic genius who's planted the seed of a school scandal. When that scandal bubbles over, and rumors of a teacher-student affair surface, everyone starts hunting for someone to blame. For the unlikely allies at the heart of it all, the collision of their seven ordinary-seeming lives results in extraordinary change.
* Shades of Darkness by AR Kahler (Simon Pulse, 3/8)
When Kaira Winters decided to go to Islington—a boarding school deep in the woods of Michigan—she thought she could finally get away from everything she has tried so hard to forget, including some things from her past that she refuses to believe ever actually happened.
Everything seemed great until the bodies of murdered students started appearing all over campus. The victims seem to have been killed in some sort of ritual sacrifice. And even worse, Kaira's dreams are giving her clues to the killer's identity.
Though she tries to resist, Kaira quickly realizes that she is the only one who can stop the violence, but to do so she must come to terms with her past. She's going to have to listen to the voice that is buried deep within her…the one that claims to have unimaginable power…the one that claims to be an actual goddess.
But even if Kaira can harness the power within her, will it be enough to stop the darkness that has fallen over her school? And if it is strong enough, then what's to stop the goddess from wreaking her own havoc once she's released?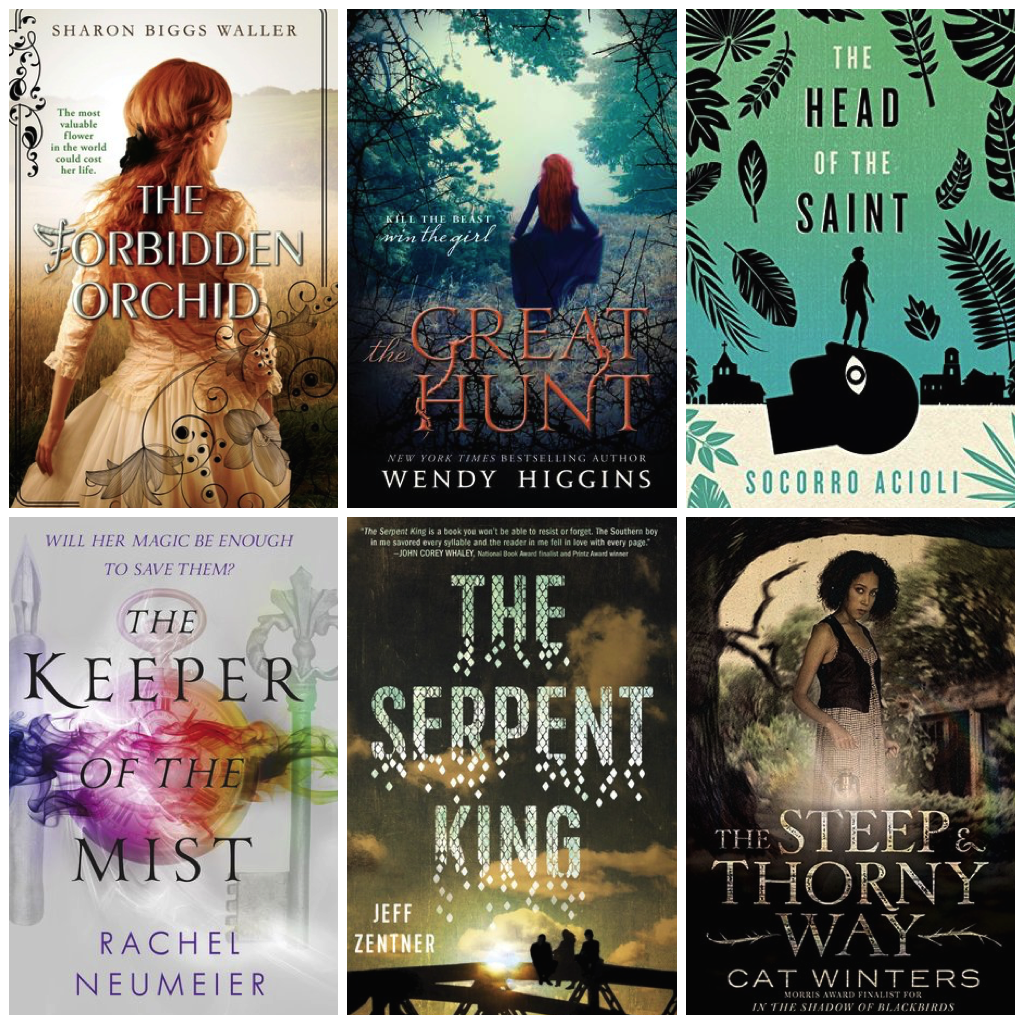 The Forbidden Orchid by Sharon Biggs Waller (Viking, 3/8)
Staid, responsible Elodie Buchanan is the eldest of ten sisters living in a small English market town in 1861. The girls' father is a plant hunter, usually off adventuring through the jungles of China.
Then disaster strikes: Mr. Buchanan fails to collect an extremely rare and valuable orchid, meaning that he will be thrown into debtors' prison and the girls will be sent to the orphanage or the poorhouse. Elodie's father has one last chance to return to China, find the orchid, and save the family—and this time, thanks to an unforeseen twist of fate, Elodie is going with him. Elodie has never before left her village, but what starts as fear turns to wonder as she adapts to seafaring life aboard the tea clipper The Osprey, and later to the new sights, dangers, and romance of China.
But even if she can find the orchid, how can she find herself now that staid, responsible Elodie has seen how much the world has to offer?
The Great Hunt by Wendy Higgins (HarperTeen, 3/8)
A strange beast stirs fear in the kingdom of Lochlanach, terrorizing towns with its brutality and hunger. In an act of desperation, a proclamation is sent to all of Eurona—kill the creature and win the ultimate prize: the daughter of King Lochson's hand in marriage.
Princess Aerity understands her duty to the kingdom though it pains her to imagine marrying a stranger. It would be foolish to set her sights on any particular man in the great hunt, but when a brooding local hunter, Paxton Seabolt, catches her attention, there's no denying the unspoken lure between them…or his mysterious resentment.
Paxton is not keen on marriage. Nor does he care much for spoiled royals and their arcane laws. He's determined to keep his focus on the task at hand—ridding the kingdom of the beast and protecting his family—yet Princess Aerity continues to challenge his notions with her unpredictability and charm. But as past secrets collide with present desires, dire choices threaten everything Paxton holds dear.
The Head of the Saint by Socorror Acioli (Delacorte, 3/8)
Fourteen-year-old Samuel is newly orphaned and homeless in a small town in Brazil. He lives in a giant, hollow, concrete head of St. Anthony, the lingering evidence of the village's inept and failed attempt to build a monolith over a decade ago. He didn't know what it was when he crawled into it, seeking shelter during a storm, but since coming there, he hears beautiful singing, echoing like magic in the head twice a day. So he stays.Miraculously, he can also hear the private prayers and longings of the villagers. Feeling mischievous, Samuel begins to help answer these prayers, hoping that if he does, their noise will quiet down and he can listen to the beautiful singing in peace. Ironically, his miracles gain him so many fans that he starts to worry he will never fulfill his own true longing and find the source of the singing.
The Keeper of the Mist by Rachel Neumeier (Knopf, 3/8)
Keri has been struggling to run her family bakery since her mother passed away. Now the father she barely knew—the Lord of Nimmira—has died, and ancient magic has decreed that she will take his place as the new Lady. The position has never been so dangerous: the mists that hide Nimmira from its vicious, land-hungry neighbors have failed, and Keri's people are visible to strangers for the first time since the mists were put in place generations ago. At the same time, three half-brothers will their own eyes on the crown make life within the House just as dangerous as the world outside.
But Keri has three people to guide her: her mysterious Timekeeper, clever Bookkeeper, and steadfast Doorkeeper. Together they must find a way to repair the boundary before her neighbors realize just how vulnerable Nimmira is.
The Serpent King by Jeff Zentner (Crown, 3/8)
Dill has had to wrestle with vipers his whole life—at home, as the only son of a Pentecostal minister who urges him to handle poisonous rattlesnakes, and at school, where he faces down bullies who target him for his father's extreme faith and very public fall from grace.
He and his fellow outcast friends must try to make it through their senior year of high school without letting the small-town culture destroy their creative spirits and sense of self. Graduation will lead to new beginnings for Lydia, whose edgy fashion blog is her ticket out of their rural Tennessee town. And Travis is content where he is thanks to his obsession with an epic book series and the fangirl turning his reality into real-life fantasy.
Their diverging paths could mean the end of their friendship. But not before Dill confronts his dark legacy to attempt to find a way into the light of a future worth living.
The Steep and Thorny Way by Cat Winters (Amulet, 3/8)
1920s Oregon is not a welcoming place for Hanalee Denney, the daughter of a white woman and an African-American man. She has almost no rights by law, and the Ku Klux Klan breeds fear and hatred in even Hanalee's oldest friendships. Plus, her father, Hank Denney, died a year ago, hit by a drunk-driving teenager. Now her father's killer is out of jail and back in town, and he claims that Hanalee's father wasn't killed by the accident at all but, instead, was poisoned by the doctor who looked after him—who happens to be Hanalee's new stepfather.
The only way for Hanalee to get the answers she needs is to ask Hank himself, a "haint" wandering the roads at night.
Where You'll Find Me by Natasha Friend (FSG, 3/8)
The beginning of the eighth grade is not what Anna thought it would be. Her lifelong best friend has ditched her for the cool kids, and her mom is in the hospital after a suicide attempt. Anna finds herself where she least expects to: living with her dad, his young new wife, and their baby, and starting a new year at school without a best friend. With help from some unlikely sources, including a crazy girl-band talent show act, Anna learns that sometimes you find what you need to pull you through in the most unlikely places.
Where Futures End by Parker Peevyhouse (Kathy Dawson, 3/9)
One year from now, Dylan develops a sixth sense that allows him to glimpse another world.
Ten years from now, Brixney must get more hits on her social media feed or risk being stuck in a debtors' colony.
Thirty years from now, Epony scrubs her entire online profile from the web and goes "High Concept."
Sixty years from now, Reef struggles to survive in a city turned virtual gameboard.
And more than a hundred years from now, Quinn uncovers the alarming secret that links them all.
Five people, divided by time, will determine the fate of us all. These are stories of a world bent on destroying itself, and of the alternate world that might be its savior–unless it's too late.
A Drop of Night by Stefan Bachmann (Greenwillow, 3/15)
Seventeen-year-old Anouk has finally caught the break she's been looking for—she's been selected out of hundreds of other candidates to fly to France and help with the excavation of a vast, underground palace buried a hundred feet below the suburbs of Paris. Built in the 1780's to hide an aristocratic family and a mad duke during the French Revolution, the palace has lain hidden and forgotten ever since. Anouk, along with several other gifted teenagers, will be the first to set foot in it in over two centuries.
Or so she thought.
But nothing is as it seems, and the teens soon find themselves embroiled in a game far more sinister, and dangerous, than they could possibly have imagined. An evil spanning centuries is waiting for them in the depths. . .
Divah by Susannah Appelbaum (Sky Pony, 3/15)
Seventeen-year-old Itzy Nash is spending the summer at the exclusive Carlyle hotel in New York City. But the hotel harbors more than the rich and privileged; it is host to a gorgeous fallen angel, reclusive movie stars, and—Itzy soon learns—demons of the worst sort. When the Queen of the Damned checks in, all Hell breaks loose. Itzy is called upon to save herself—and all of humanity—from the ravages of the Underworld. There's only one problem: Itzy's possessed.
Part gothic thriller, part historical fiction, the novel straddles the Upper East Side and the lush trappings of the Carlyle hotel, and Paris during the Reign of Terror in 1789. Marie Antoinette is the Queen of the Damned. Marilyn Monroe is an expert demon hunter. To kill a demon, Hermès scarves, Evian water, and a guillotine are the weapons of choice.
Exit, Pursued By A Bear by EK Johnston (Dutton, 3/15)
Hermione Winters is captain of her cheerleading team, and in tiny Palermo Heights, this doesn't mean what you think it means. At PHHS, the cheerleaders don't cheer for the sports teams; they are the sports team—the pride and joy of a tiny town. The team's summer training camp is Hermione's last and marks the beginning of the end of…she's not sure what. She does know this season could make her a legend. But during a camp party, someone slips something in her drink. And it all goes black.
In every class, there's a star cheerleader and pariah pregnant girl. They're never supposed to be the same person. Hermione struggles to regain the control she's always had and faces a wrenching decision about how to move on. The assault wasn't the beginning of Hermione Winter's story and she's not going to let it be the end. She won't be anyone's cautionary tale.
Liars and Losers Like Us by Ami Allen-Vath (Sky Pony, 3/15)
For seventeen-year-old Bree Hughes, it's easier said than done when gossip, grief, and the opportunity to fail at love are practically high-fiving her in the hallways of Belmont High.
When Bree's crush, Sean Mills, gives her his phone number, she can't even leave a voicemail without sounding like a freak. Then she's asked to be on Prom Court because Maisey Morgan, the school outcast nominated as a joke, declined. She apologizes to Maisey, but it's too late. After years of torment and an ugly secret shared with their class's cruel Pageant Queen, Maisey commits suicide. Bree is left with a lot of regret…and a revealing letter with a final request.
With Sean by her side, Bree navigates through her guilt, her parents' divorce, and all the Prom Court drama. But when a cheating-love-triangle secret hits the fan after a night of sex, drinks, and video games, she's left with new information about Sean and the class Pageant Queen. Bree must now speak up or stay silent. If she lets fear be her guide, she'll lose her first love, and head to prom to avenge the death of the school outcast—as a party of one.
The First Time She Drowned by Kerry Kletter (Philomel, 3/15)
Cassie O'Malley has spent the past two and a half years in a mental institution—dumped there by her mother, against her will. Now, at 18, Cassie emancipates herself, determined to start over. She attends college, forms new friendships, and even attempts to start fresh with her mother. But before long, their unhealthy relationship threatens to pull Cassie under once again. As Cassie struggles to reclaim her life, childhood memories persist and confuse, and Cassie must consider whose version of history is real, and more important, whose life she must save.
* Yellow Brick War by Danielle Paige (HarperCollins, 3/15)
Amy Gumm's mission to take down Dorothy Gale is not going according to plan. Dorothy has found a way to bridge the worlds of Oz and Kansas, and if the power-hungry dictator of Oz has her way, Kansas will be destroyed forever. Now, Amy has to team up with the Revolutionary Order of the Wicked to save her home, restore the balance between the magic and nonmagic worlds, maybe get the guy—and kill that not-so-sweet Kansas farm girl once and for all.
* Broken Crowns by Lauren DeStefano (S&S Books for Young Readers, 3/22)
The city is falling out of the sky…
Morgan always thought it was just a saying. A metaphor. The words of the dying. But as they look up at the floating island that was their home, Pen and Morgan make a horrible discovery—Internment is sinking.
And it's all Morgan's fault.
Corrupted from the inside by one terrible king and assailed from the outside for precious resources by another, Internment could be destroyed because Morgan couldn't keep a secret. As two wars become one, Morgan must find a way to bring her two worlds together to stop the kings that wage them…
Or face the furthest fall yet.
Harmony House by Nic Sheff (HarperTeen, 3/22)
Jen Noonan's father thinks a move to Harmony House is the key to salvation, but to everyone who has lived there before, it is a portal to pure horror.
After Jen's alcoholic mother's death, her father cracked. He dragged Jen to this dilapidated old manor on the shore of New Jersey to "start their new lives"—but Harmony House is more than just a creepy old estate. It's got a chilling past—and the more Jen discovers its secrets, the more the house awakens. Strange visions follow Jen wherever she goes, and her father's already-fragile sanity disintegrates before her eyes. As the forces in the house join together to terrorize Jen, she must find a way to escape the past she didn't know was haunting her—and the mysterious and terrible power she didn't realize she had.
Hot Pterodactyl Boyfriend by Alan Cumyn (Atheneum, 3/22)
Sheils is very pleased with her perfectly controlled life (controlling others while she's at it). She's smart, powerful, the Student Body Chair, and she even has a loving boyfriend. What more could a girl ask for?
But everything changes when the first-ever interspecies transfer student, a pterodactyl named Pyke, enrolls at her school. There's something about him—something primal—that causes the students to lose control whenever he's around. Even Sheils, the seemingly perfect self-confident girl that she is, can't keep her mind off of him, despite her doting boyfriend and despite the fact that Pyke immediately starts dating Jocelyn, the school's fastest runner who Sheils has always discounted as a nobody.
Pyke, hugely popular in a school whose motto is to embrace differences, is asked to join a band, and when his band plays at the Autumn Whirl dance, his preternatural shrieking music sends everyone into a literal frenzy. No one can remember what happened the next day, but Shiels learns that she danced far too long with Pyke, her nose has turned purple, and she may have done something with her boyfriend that she shouldn't have. Who's in control now?
I Woke Up Dead at the Mall by Judy Sheehan (Delacorte, 3/22)
When you're sixteen, you have your whole life ahead of you. Unless you're Sarah. Not to give anything away, but . . . she's dead. Murdered, in fact. Sarah's murder is shocking because she couldn't be any more average. No enemies. No risky behavior. She's just the girl on the sidelines.
It looks like her afterlife, on the other hand, will be pretty exciting. Sarah has woken up dead at the Mall of America—where the universe sends teens who are murdered—and with the help of her death coach, she must learn to move on or she could meet a fate totally worse than death: becoming a mall walker.
As she tries to finish her unfinished business alongside her fellow dead teens, Sarah falls hard for a cute boy named Nick. And she discovers an uncanny ability to haunt the living. While she has no idea who killed her, or why, someone she loves is in grave danger. Sarah can't lose focus or she'll be doomed to relive her final moments again and again forever. But can she live with herself if she doesn't make her death matter?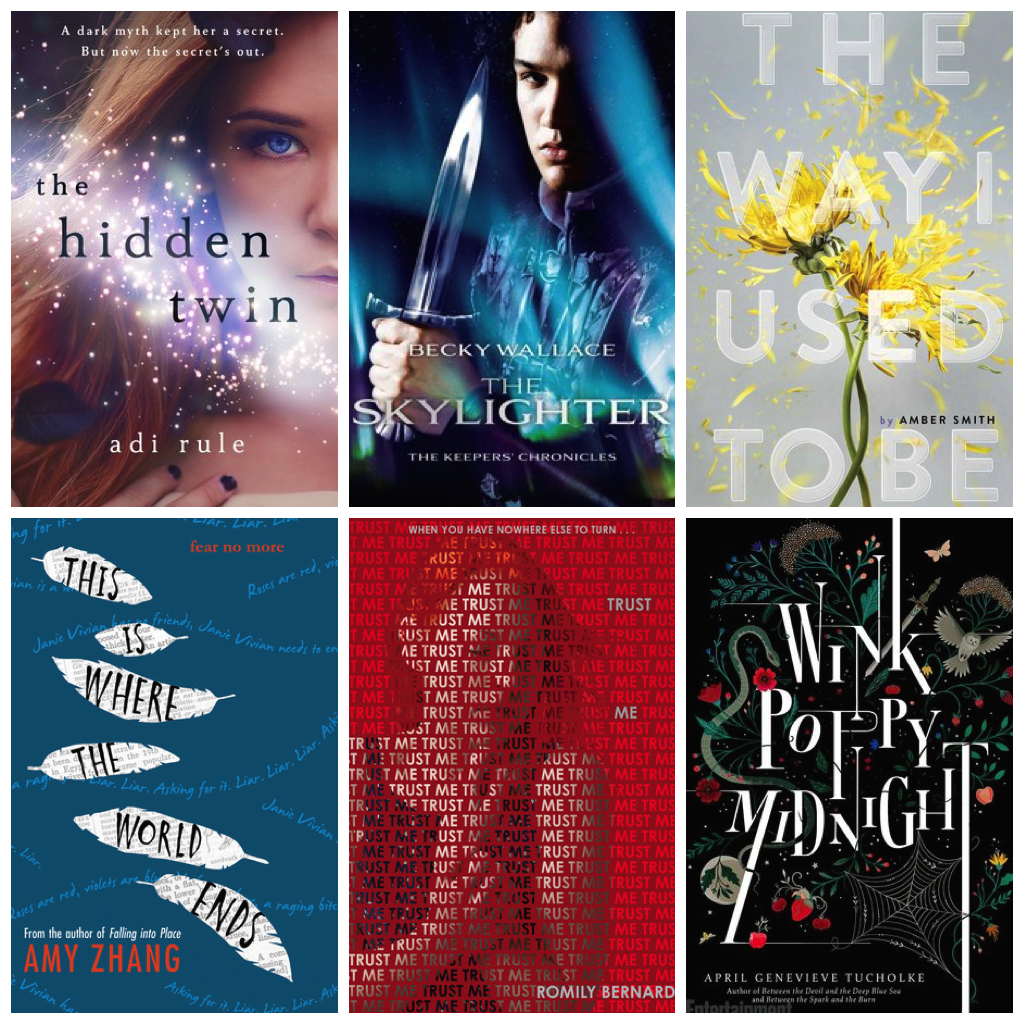 The Hidden Twin by Adi Rule (St Martin's Griffin, 3/22)
For eighteen years a girl with no name, a Redwing, has been hidden away in a small attic room within a city of hissing pipes and curving temples perched on the side of the great volcano, Mol, while her sister, Jey-identical except for her eyes-has lived her life in public as an only child. Their father had hoped the hidden girl would one day grow up to be a normal human girl and not the wicked creature mythology has promised, so he secretly spared her life as an infant.
But when she switches places with her sister, striking up a flirtation with the son of the Empress while working in the royal gardens and gets attacks by two suspicious priests on her journey home, she is forced to call forth fire to protect herself, unleashing her previously dormant powers and letting her secret out. She soon catches the attention of a cult with a thousand year old grudge as well as a group of underground rebels, both seeking her for their own gain. But when her sister goes missing and the Redwing uncovers a great plot to awaken Mol and bring fiery destruction upon them all, she is forced to embrace her powers.
* The Skylighter by Becky Wallace (Margaret A McElderry, 3/22)
As the last of the royal line, Johanna is the only person who can heal a magical breach in the wall that separates her kingdom of Santarem from the land of the Keepers, legendary men and women who wield elemental magic. The barrier protects Santarem from those Keepers who might try to take power over mere humans…Keepers who are determined to stop Johanna and seize the wall's power for themselves.
And they're not the only ones. As the duchys of Santarem descend into war over the throne, Johanna relies more than ever on the advice of her handsome companion, Lord Rafael DeSilva. But Rafi is a duke too, and his people come first. As their friendship progresses into the beginnings of a tender relationship, Johanna must wonder: is Rafi looking out for her happiness, or does he want the throne for himself?
With war on the horizon, Johanna and Rafi dodge treacherous dukes and Keeper assassins as they race to through the countryside, determined to strengthen the wall before it's too late…even if it means sacrificing their happiness for the sake of their world.
The Way I Used To Be by Amber Smith (Margaret A. McElderry, 3/22)
Eden was always good at being good. Starting high school didn't change who she was. But the night her brother's best friend rapes her, Eden's world capsizes.
What was once simple, is now complex. What Eden once loved—who she once loved—she now hates. What she thought she knew to be true, is now lies. Nothing makes sense anymore, and she knows she's supposed to tell someone what happened but she can't. So she buries it instead. And she buries the way she used to be.
Told in four parts—freshman, sophomore, junior, and senior year—this provocative debut reveals the deep cuts of trauma.
This Is Where The World Ends by Amy Zhang (Greenwillow, 3/22)
Janie and Micah, Micah and Janie. That's how it's been ever since elementary school, when Janie Vivian moved next door. Janie says Micah is everything she is not. Where Micah is shy, Janie is outgoing. Where Micah loves music, Janie loves art. It's the perfect friendship, as long as no one finds out about it.
But when Janie is date-raped by the most popular guy in school—a guy she's had a crush on for years—she finds herself ostracized by all the people she thought were her friends. Now only Micah seems to believe she's telling the truth. But when even Micah expresses doubt about whether or not she was "asking for it," it leads to disastrous consequences, and Janie Vivian goes missing.
* Trust Me by Romily Bernard (HarperTeen, 3/22)
Wick Tate's never heard these words so much in her life. And with all her secrets, who can she really trust?
There's Milo, her new hacker boyfriend, who's keeping a dark secret of his own. Griff, the ex who's always had her best interests at heart but who mostly wants to stay out of Wick's mess. There's Looking Glass, an organization that can supposedly offer Wick protection…and a future.
And then there's her family. They should be easy to trust, right? Not if you're Wick. Not when "family" means so many different things, including a criminal father who may not stay locked up for long.
Wick is used to relying on herself…and only herself. But she's going to have to learn to trust someone if she's going to finally escape her demons.
Wink Poppy Midnight by April Genevieve Tucholke (Dial, 3/22)
Wink is the odd, mysterious neighbor girl, wild red hair and freckles. Poppy is the blond bully and the beautiful, manipulative high school queen bee. Midnight is the sweet, uncertain boy caught between them. Wink. Poppy. Midnight. Two girls. One boy. Three voices that burst onto the page in short, sharp, bewitching chapters, and spiral swiftly and inexorably toward something terrible or tricky or tremendous.
* A Tangle of Gold by Jaclyn Moriarty (Arthur A Levine, 3/29)
Cello is in crisis. Princess Ko's deception of her people has emerged and the Kingdom is outraged: The Jagged Edge Elite have taken control, placing the Princess and two members of the Royal Youth Alliance under arrest and ordering their execution; the King's attempts to negotiate their release have failed. Color storms are rampant, and nobody has heard the Cello wind blowing in months.
Meanwhile, Madeleine fears she's about to lose the Kingdom of Cello forever. Plans are in place to bring the remaining Royals home, and after that, all communication between Cello and the World will cease. That means she'll also lose Elliot, now back in Cello and being held captive by a branch of Hostiles. And there's nothing he can do to help his friends unless he can escape the Hostile compound.
Worlds apart and with time running out, Madeleine and Elliot find themselves on a collision course to save the Kingdom they love, and maybe even save each other.
Dark Energy by Robison Wells (HarperTeen, 3/29)
Five days ago, a massive UFO crashed in the Midwest, killing thousands of people. Since then, nothing–or no one–has come out.
If it were up to Alice, she'd be watching all of this on the news from Miami, Florida. Instead, she's the newest student at a boarding school not far from the crash site–because her dad is the director of special projects for NASA, and if anything's a special project, it's this.
A shell-shocked country is waiting, glued to televisions and computer screens, for a sign of what the future holds. But when the aliens emerge, they're nothing like what Alice expected. And only one thing is clear: Nothing will ever be the same again.
Escaping Perfect by Emma Harrison (Simon Pulse, 3/29)
Cecilia Montgomery has been America's sweetheart since the day she was born. A member of the prestigious Montgomery family—the US equivalent of royalty—her childhood was cut short after she was nearly kidnapped. Since then, Cecilia has been hidden away, her adolescence spent at an exclusive boarding school.
Her dreams of becoming a professional violinist—dashed.
Her desire to be a normal teenager—not possible.
Her relationship with her once-loving parents—bitter and strained.
Nothing about Cecilia's life is what she would have planned for herself. So when an opportune moment presents itself, Cecilia seizes the chance to become someone else. To escape. To disappear. To have the life she always dreamed about, far away from her mother's biting remarks and her sheltered upbringing.
Cecilia says goodbye to the Montgomery name and legacy to become Lia Washington: relaxed, wild, in love, free, and living on her own terms for the very first time. But being on your own isn't always as easy as it seems.
* Half Lost by Sally Green (Viking, 3/29)
Nathan Byrn is running again. The Alliance of Free Witches has been all but destroyed. Scattered and demoralized, constantly pursued by the Council's Hunters, only a bold new strategy can save the rebels from total defeat. They need the missing half of Gabriel's amulet—an ancient artifact with the power to render its bearer invincible in battle.
But the amulet's guardian—the reclusive and awesomely powerful witch Ledger – has her own agenda. To win her trust, Nathan must travel to America and persuade her to give him the amulet. Combined with the Gifts he has inherited from Marcus, the amulet might just be enough to turn the tide for the Alliance and end the bloody civil war between Black and White witches once and for all.
Stone Field by Christy Lenzi (Roaring Brook Press, 3/29)
In a small town on the brink of the Civil War, Catrina finds a man making strange patterns in her family's sorghum crop. He's mad with fever, naked, and strikingly beautiful. He has no memory of who he is or what he's done before Catrina found him in Stone Field. But that doesn't bother Catrina because she doesn't like thinking about the things she's done before either.
Catrina and Stonefield fall passionately, dangerously, in love. All they want is to live with each other, in harmony with the land and away from Cat's protective brother, the new fanatical preacher, and the neighbors who are scandalized by their relationship. But Stonefield can't escape the truth about who he is, and the conflict tearing apart the country demands that everyone take a side before the bloodbath reaches their doorstep.
The Great American Whatever by Tim Federle (S&S Books For Young Readers, 3/29)
Quinn Roberts is a sixteen-year-old smart aleck and Hollywood hopeful whose only worry used to be writing convincing dialogue for the movies he made with his sister Annabeth. Of course, that was all before—before Quinn stopped going to school, before his mom started sleeping on the sofa…and before Annabeth was killed in a car accident.
Enter Geoff, Quinn's best friend who insists it's time that Quinn came out—at least from hibernation. One haircut later, Geoff drags Quinn to his first college party, where instead of nursing his pain, he meets a guy—a hot one—and falls hard. What follows is an upside-down week in which Quinn begins imagining his future as a screenplay that might actually have a happily-ever-after ending—if, that is, he can finally step back into the starring role of his own life story.
* The Winner's Kiss by Marie Rutkoski (FSG, 3/29)
War has begun. Arin is in the thick of it, with the East as his ally and the empire as his enemy. He's finally managed to dismiss the memory of Kestrel, even if he can't quite forget her. Kestrel turned into someone he could no longer recognize: someone who cared more for the empire than for the lives of innocent people—and certainly more than she cared for him. At least, that's what he thinks.
But far north lies a work camp where Kestrel is a prisoner. Can she manage to escape before she loses herself? As the war intensifies, both Kestrel and Arin discover unexpected roles in battle, terrible secrets, and a fragile hope. The world is changing. The East is pitted against the West, and Kestrel and Arin are caught between. In a game like this, can anybody really win?
* Sisters of Iron and Salt by Kady Cross (Harlequin Teen, 3/30)
As Halloween approaches, twin sisters Lark, who is alive, and Wren, a tethered spirit, find themselves drifting apart. While Lark is happy with new boyfriend Ben, Wren is still hurting over her own still-alive-and-kicking love-interest, Kevin, who may or may not have kissed another girl. Spending more time on the Other Side, and less time with her sister in the land of the living, Lark becomes close with the spirit of a young man, Noah, who was killed years ago. But Noah is not as nice as he seems, and his thirst for vengeance has a dark and sudden influence on Wren. With the veil between the worlds thinning for Halloween, the spirits are getting stronger and it will be up to Lark and her friends to stop Noah and save Wren from becoming a monster. But the only way to do that could be to kill the boy that Wren is falling in love with.
* Walk the Edge Katie McGarry (Harlequin Teen, 3/30)
Smart. Responsible. That's seventeen-year-old Breanna's role in her large family, and heaven forbid she put a toe out of line. Until one night of shockingly un-Breanna-like behavior puts her into a vicious cyber-bully's line of fire—and brings fellow senior Thomas "Razor" Turner into her life.
Razor lives for the Reign of Terror motorcycle club, and good girls like Breanna just don't belong. But when he learns she's being blackmailed over a compromising picture of the two of them—a picture that turns one unexpected and beautiful moment into ugliness—he knows it's time to step outside the rules.
And so they make a pact: he'll help her track down her blackmailer, and in return she'll help him seek answers to the mystery that's haunted him—one that not even his club brothers have been willing to discuss. But the more time they spend together, the more their feelings grow. And suddenly they're both walking the edge of discovering who they really are, what they want, and where they're going from here.