Newsletter 1
175+ YA Books For Your April – June 2017 TBR List
This content contains affiliate links. When you buy through these links, we may earn an affiliate commission.
Tis the season to bulk up your to-read lists! Spring is one of the biggest periods in publishing for new books to hit shelves, so while this list looks daunting, it's likely not even close to a complete look at what young adult books are hitting shelves over the next three months.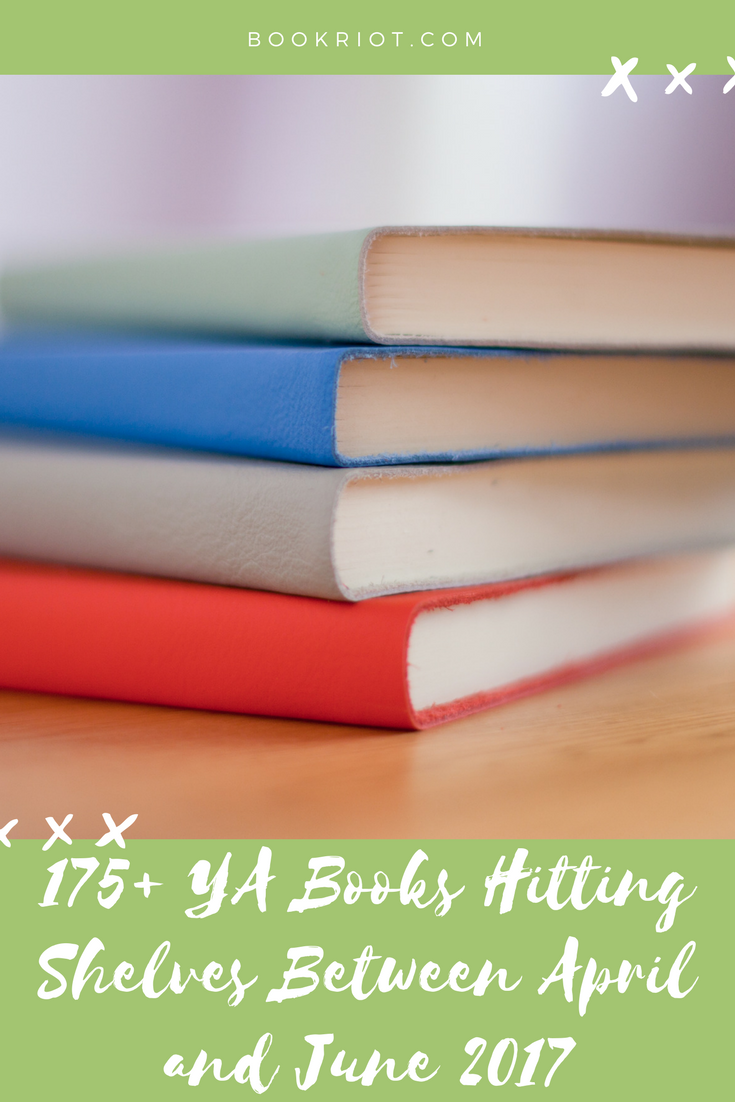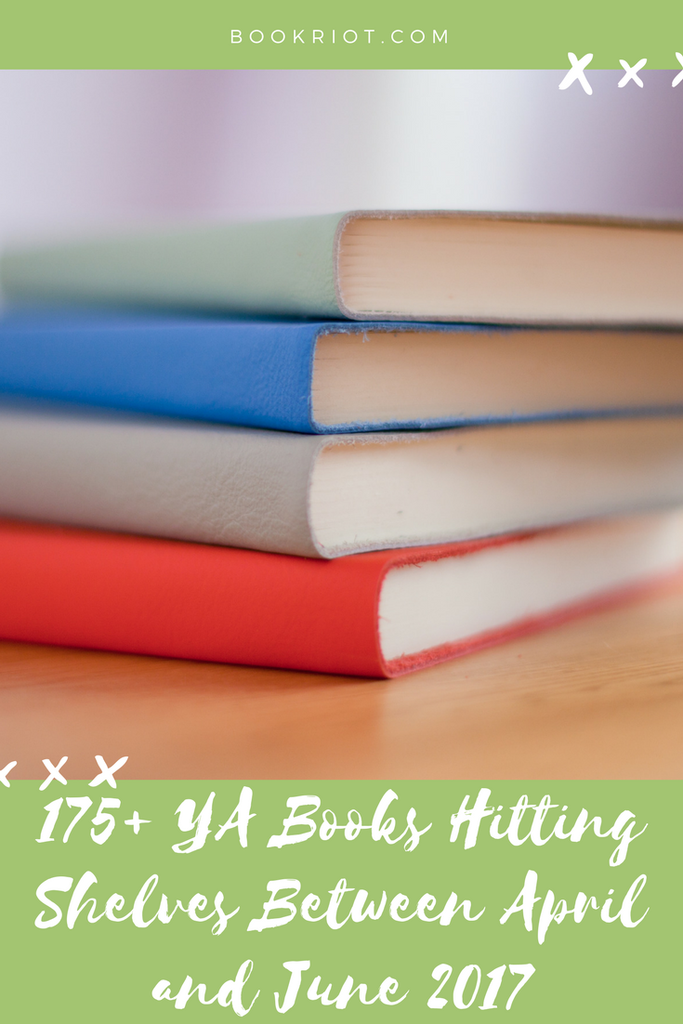 Find below a pile of YA fiction titles and rest assured that there is something for every type of reader included. Every genre is represented. To keep things a little clearer this time around, I've ordered all titles by month of publication, then the date of publication in that month, with respective titles beneath those numbers. Books which are part of a series — either midway, the final installment, or the first in a new series — are indicated with a * in front of them.
As always, keep in mind publication dates can change, so some of these may not be 100% accurate; chances are, though, most are and you'll be able to snag the books that interest you when you're ready for them. Descriptions all come from Goodreads, as those tend to give the most information about a title.
Ready? Let's dig in!
April
1
All The Forever Things by Jolene Perry: Nothing is forever. Gabe knows that more than most girls. After all, she lives in a funeral home (it's the family business), and she gets that everything in the world dies eventually – people, rumors, fashion trends, the nickname "Graveyard Gabe." But her best friend, Bree, has been a constant in her life; it's always been the two of them together. Until Bree starts seeing a guy who stands for everything Gabe thought they were against. How could Bree change her mind and go for someone like Bryce Johnson?
Now Gabe doesn't know who her friend is anymore. And the only person who seems to have time for her is Hartman, the new guy, who is somehow not weirded out by the funeral home stuff (well, a little). Still, Gabe doesn't want to lose her mind over a guy the way Bree has, so she holds back.
But a very strange prom night (driving the family hearse instead of a limo) will change what Gabe knows about friendship, love, life, and everything that comes after – forever and otherwise.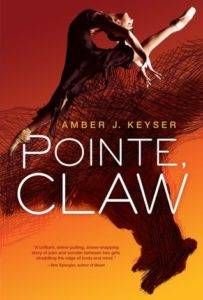 Pointe, Claw by Amber J Keyser: Jessie Vale dances in an elite ballet program that requires perfection to land a spot with the professional company. When she is cast in an animalistic avant garde production, her careful composure cracks wide open. Nothing has felt more dangerous.
What Girls Are Made Of by Elana K Arnold
When Nina Faye was fourteen, her mother told her there was no such thing as unconditional love. Nina believed her. Now Nina is sixteen. And she'll do anything for the boy she loves, just to prove she's worthy of him. But when he breaks up with her, Nina is lost. What is she if not a girlfriend? What is she made of?
Broken-hearted, Nina tries to figure out what the conditions of love are. She's been volunteering at a high-kill animal shelter where she realizes that for dogs waiting to be adopted, love comes only to those with youth, symmetry, and quietness. She also ruminates on the strange, dark time her mother took her to Italy to see statues of saints who endured unspeakable torture because of their unquestioning devotion to the divine. Is this what love is?
4
Alex, Approximately by Jenn Bennett: Classic movie buff Bailey "Mink" Rydell has spent months crushing on a witty film geek she only knows online by "Alex." Two coasts separate the teens until Bailey moves in with her dad, who lives in the same California surfing town as her online crush.
Faced with doubts (what if he's a creep in real life—or worse?), Bailey doesn't tell Alex she's moved to his hometown. Or that she's landed a job at the local tourist-trap museum. Or that she's being heckled daily by the irritatingly hot museum security guard, Porter Roth—a.k.a. her new arch-nemesis. But life is whole lot messier than the movies, especially when Bailey discovers that tricky fine line between hate, love, and whatever-it-is she's starting to feel for Porter.
And as the summer months go by, Bailey must choose whether to cling to a dreamy online fantasy in Alex or take a risk on an imperfect reality with Porter. The choice is both simpler and more complicated than she realizes, because Porter Roth is hiding a secret of his own: Porter is Alex…Approximately.
*Blacklist by Alyson Noel: Layla Harrison has finally found herself in the middle of a celebrity story worth reporting. Aster Amirpour's name is in every tabloid—even if it isn't the good kind of publicity she hoped for. Tommy Phillips is inches away from getting the girl of his dreams, which may be harder than scoring a VIP ticket to an Unrivaled nightclub.
But Layla, Aster and Tommy never imagined it would be because they're entangled in the disappearance of Madison Brooks—a story that's blinded the world like a starlet blinded by the flash of a paparazzi camera.
Now, Layla is receiving mysterious messages from an anonymous source, Aster's looming murder trial is so huge even her parents' lawyer can't save her, Tommy is retracing his steps as the last person Madison saw alive, and Layla's ex Mateo finds himself lured into the fold.
You can dig up dirt about celebrities that the tabloids miss if you search long enough. But when Layla, Aster, and Tommy team up with an unsuspecting insider to unearth the truth, they'll find that some secrets are best kept in the grave.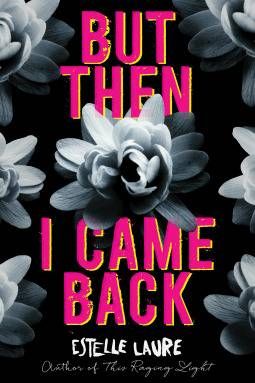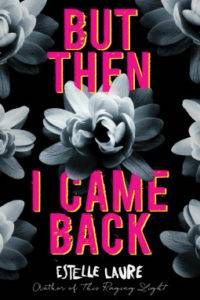 But Then I Came Back by Estelle Laure: Eden: As far as coma patients go, Eden's lucky. She woke up. But still, she can't shake the feeling that she might have dragged something back from the near-afterlife.
Joe: Joe visits the hospital every day, hoping that Jaz, his lifelong friend, will wake up. More than anything, he wants to hear her voice again. But he's not sure anyone can reach her.
Eden & Joe: Even though she knows it sounds crazy, Eden tells Joe that they might be able to talk to Jaz. Opening themselves up to the great unknown—and each other—Eden and Joe experience life: mysterious and scary, beautiful and bright.
Definitions of Indefinable Things by Whitney Taylor: Reggie Mason is all too familiar with "the Three Stages of Depression." She believes she's unlocked the secret to keeping herself safe: Nobody can hurt you if you never let them in.
Reggie encounters an unexpected challenge to her misanthropy: a Twizzler-chomping, indie film-making narcissist named Snake. Snake's presence, while reassuring, is not exactly stable—especially since his ex-girlfriend is seven months pregnant. As Reggie falls for Snake, she must decide whether it's time to rewrite the rules that have defined her.
Defy The Stars by Claudia Gray: Noemi Vidal is a teen soldier from the planet Genesis, once a colony of Earth that's now at war for its independence. The humans of Genesis have fought Earth's robotic "mech" armies for decades with no end in sight.
After a surprise attack, Noemi finds herself stranded in space on an abandoned ship where she meets Abel, the most sophisticated mech prototype ever made. One who should be her enemy. But Abel's programming forces him to obey Noemi as his commander, which means he has to help her save Genesis–even though her plan to win the war will kill him.
Together they embark on a daring voyage through the galaxy. Before long, Noemi begins to realize Abel may be more than a machine, and, for his part, Abel's devotion to Noemi is no longer just a matter of programming.
The End of Our Story by Meg Haston: Bridge and Wil have been entangled in each other's lives for years. Under the white-hot Florida sun, they went from kids daring each other to swim past the breakers to teenagers stealing kisses between classes. But when Bridge betrayed Wil during their junior year, she shattered his heart and their relationship along with it.
Then Wil's family suffers a violent loss, and Bridge rushes back to Wil's side. As they struggle to heal old wounds and start falling for each other all over again, Bridge and Wil discover just how much has changed in the past year. As the fierce current of tragedy threatens to pull them under, they must learn how to swim on their own—or risk drowning together.
The Football Girl by Thatcher Heldring: The summer before Caleb and Tessa enter high school, friendship has blossomed into a relationship…and their playful sports days are coming to an end. Caleb is getting ready to try out for the football team, and Tessa is training for cross-country.
But all their structured plans derail in the final flag game when they lose. Tessa doesn't want to end her career as a loser. She really enjoys playing, and if she's being honest, she likes it even more than running cross-country. So what if she decided to play football instead? What would happen between her and Caleb? Or between her two best friends, who are counting on her to try out for cross-country with them? And will her parents be upset that she's decided to take her hobby to the next level? This summer Caleb and Tessa figure out just what it means to be a boyfriend, girlfriend, teammate, best friend, and someone worth cheering for.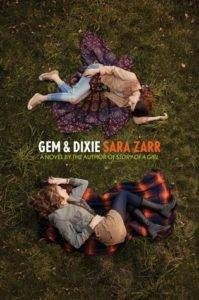 Gem & Dixie by Sara Zarr: Gem has never known what it is to have security. She's never known an adult she can truly rely on. But the one constant in her life has been Dixie. Gem grew up taking care of her sister when no one else could: not their mother, whose issues make it hard for her to keep food on the table; and definitely not their father, whose intermittent presence is the only thing worse than his frequent absence. Even as Gem and Dixie have grown apart, they've always had each other.
When their dad returns for the first time in years and tries to insert himself back into their lives, Gem finds herself with an unexpected opportunity: three days with Dixie, on their own in Seattle and beyond. But this short trip soon becomes something more, as Gem discovers that to save herself, she may have to sever the one bond she's tried so hard to keep.
Get It Together, Delilah by Erin Gough: Seventeen-year-old Delilah Green wouldn't have chosen to do her last year of school this way, but she figures it's working fine. While her dad goes on a trip to fix his broken heart after her mom left him for another man, Del manages the family cafe. Easy, she thinks. But what about homework? Or the nasty posse of mean girls making her life hell? Or her best friend who won't stop guilt-tripping her? Or her other best friend who might go to jail for love if Del doesn't do something? But really, who cares about any of that when all Del can think about is beautiful Rosa who dances every night across the street. . . . Until one day Rosa comes in the cafe door. And if Rosa starts thinking about Del, too, then how in the name of caramel milkshakes will Del get the rest of it together?
Grendel's Guide to Love and War by A. E. Kaplan: Tom Grendel lives a quiet life—writing in his notebooks, mowing lawns for his elderly neighbors, and pining for Willow, a girl next door who rejects the "manic-pixie-dream" label. But when Willow's brother, Rex (the bro-iest bro ever to don a jockstrap), starts throwing wild parties, the idyllic senior citizens' community where they live is transformed into a war zone. Tom is rightfully pissed—his dad is an Iraq vet, and the noise from the parties triggers his PTSD—so he comes up with a plan to end the parties for good. But of course, it's not that simple.
One retaliation leads to another, and things quickly escalate out of control, driving Tom and Willow apart, even as the parties continue unabated. Add to that an angsty existential crisis born of selectively reading his sister's Philosophy 101 coursework, a botched break-in at an artisanal pig farm, and ten years of unresolved baggage stemming from his mother's death…and the question isn't so much whether Tom Grendel will win the day and get the girl, but whether he'll survive intact.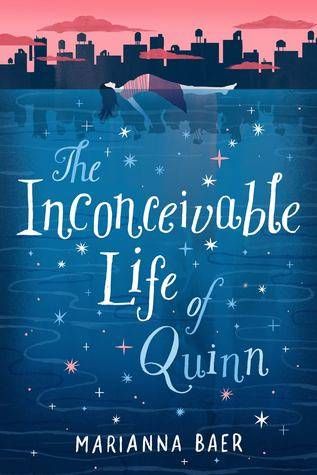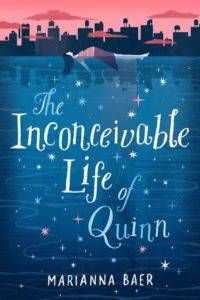 The Inconceivable Life of Quinn by Marianna Baer: Quinn Cutler is sixteen and the daughter of a high-profile Brooklyn politician. She's also pregnant, a crisis made infinitely more shocking by the fact that she has no memory of ever having sex. Before Quinn can solve this deeply troubling mystery, her story becomes public. Rumors spread, jeopardizing her reputation, her relationship with a boyfriend she adores, and her father's campaign for Congress. Religious fanatics gather at the Cutlers' home, believing Quinn is a virgin, pregnant with the next messiah. Quinn's desperate search for answers uncovers lies and family secrets—strange, possibly supernatural ones. Might she, in fact, be a virgin?
The Last Thing You Said by Sara Biren: Last summer, Lucy's and Ben's lives changed in an instant. One moment, they were shyly flirting on a lake raft, finally about to admit their feelings to each other after years of yearning. In the next, Trixie—Lucy's best friend and Ben's sister—was gone, her heart giving out during a routine swim. And just like that, the idyllic world they knew turned upside down, and the would-be couple drifted apart, swallowed up by their grief. Now it's a year later in their small lake town, and as the anniversary of Trixie's death looms, Lucy and Ben's undeniable connection pulls them back together. They can't change what happened the day they lost Trixie, but the summer might finally bring them closer to healing—and to each other.
Letters to the Lost by Brigid Kemmerer: Juliet Young always writes letters to her mother, a world-traveling photojournalist. Even after her mother's death, she leaves letters at her grave. It's the only way Juliet can cope.
Declan Murphy isn't the sort of guy you want to cross. In the midst of his court-ordered community service at the local cemetery, he's trying to escape the demons of his past.
When Declan reads a haunting letter left beside a grave, he can't resist writing back. Soon, he's opening up to a perfect stranger, and their connection is immediate. But neither Declan nor Juliet knows that they're not actually strangers. When life at school interferes with their secret life of letters, sparks will fly as Juliet and Declan discover truths that might tear them apart.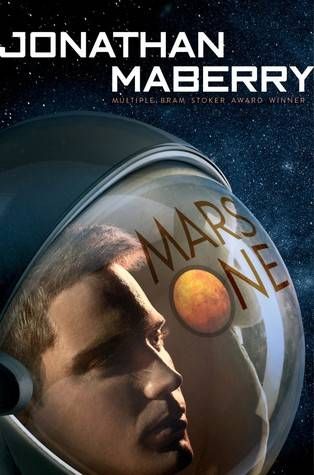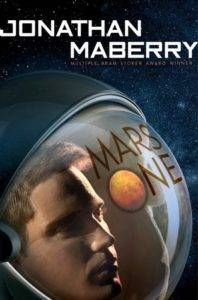 Mars One by Jonathan Maberry: Tristan has known that he and his family were going to be on the first mission to colonize Mars since he was twelve years old, and he has been training ever since. However, knowing that he would be leaving for Mars with no plan to return didn't stop him from falling in love with Izzy.
But now, at sixteen, it's time to leave Earth, and he's forced to face what he must leave behind in exchange for an uncertain future. When the news hits that another ship is already headed to colonize Mars, and the NeoLuddite terrorist group begins threatening the Mars One project, the mission's purpose is called into question. Is this all worth it?
*Perfect by Cecelia Ahern: Celestine North lives in a society that demands perfection. After she was branded Flawed by a morality court, Celestine's life has completely fractured–all her freedoms gone.
Since Judge Crevan has declared her the number one threat to the public, she has been a ghost, on the run with Carrick–the only person she can trust.
But Celestine has a secret–one that could bring the entire Flawed system crumbling to the ground. A secret that has already caused countless people to go missing.
Judge Crevan is gaining the upper hand, and time is running out for Celestine. With tensions building, Celestine must make a choice: save just herself or to risk her life to save all Flawed people.
And, most important of all, can she prove that to be human in itself is to be Flawed?
Royce Rolls by Margaret Stohl: Sixteen-year-old Bentley Royce seems to have it all: an actual Bentley, tuition to a fancy private school, lavish vacations, and everything else that comes along with being an LA starlet. But after five seasons on her family's reality show, Rolling with the Royces, and a lifetime of dealing with her narcissistic sister, Porsche, media-obsessed mother, Mercedes, and somewhat clueless brother, Maybach, Bentley wants out. Luckily for her, without a hook for season six, cancellation is looming and freedom is nigh. With their lifestyle on the brink, however, Bentley's family starts to crumble, and one thing becomes startlingly clear–without the show, there is no family. And since Bentley loves her family, she has to do the unthinkable–save the show. But when her future brother-in-law's car goes over a cliff with both Bentley and her sister's fianc inside-on the day of the big made-for-TV wedding, no less-things get real.
Really real. Like, not reality show real.
*The Sacrifice of Sunshine Girl by Paige McKenzie: Is Sunshine Griffith who she thinks she is? Now that her luiseach powers are fully awakened, and having barely survived an abyss full of demons at the end of Book Two, Sunshine must figure out who—or what—has been organizing the forces of darkness against her.
Thanks to her brainiac boyfriend, Nolan, they not only unearth that Sunshine's death would trigger a calamitous event, but that all civilization depends on her survival. So when an unexpected event unleashes a fierce war between the luiseach and the demon army, Sunshine will learn a shocking truth about herself. Can she bring herself to make the ultimate sacrifice to save humankind?
*Shadowcaster by Cinda Williams Chima: Alyssa ana'Raisa is the reluctant princess heir to the Gray Wolf throne of Fells, a queendom embroiled in a seemingly endless war. Hardened by too many losses, Lyss is more comfortable striking with a sword than maneuvering at court. After a brush with death, she goes on the offensive, meaning to end the war that has raged her whole life. If her gamble doesn't pay off, she could lose her queendom before she even ascends to the throne.
Across enemy lines in Arden, young rising star Captain Halston Matelon has been fighting for his king since he was a lýtling. Lately, though, he finds himself sent on ever more dangerous assignments. Between the terrifying rumors of witches and wolfish warriors to the north and his cruel king at home, Hal is caught in an impossible game of life and death.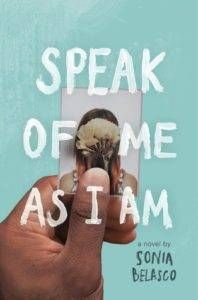 Speak Of Me As I Am by Sonia Belasco: Melanie and Damon are both living in the shadow of loss. For Melanie, it's the loss of her larger-than-life artist mother, taken by cancer well before her time. For Damon, it's the loss of his best friend, Carlos, who took his own life.
As they struggle to fill the empty spaces their loved ones left behind, fate conspires to bring them together. Damon takes pictures with Carlos's camera to try to understand his choices, and Melanie begins painting as a way of feeling closer to her mother. But when the two join their school's production of Othello, the play they both hoped would be a distraction becomes a test of who they truly are, both together and on their own. And more than anything else, they discover that it just might be possible to live their lives without completely letting go of their sadness.
Stranger Things Have Happened by Jeff Strand: At 15, Marcus Millian III, the great-grandson of the famous Zachary the Stupendous, is already a talented illusionist. But when Marcus chokes during a card trick and leaves the audience unimpressed, prideful Zachary promises that he and Marcus are working on an illusion that will shock, stun, and astonish. That night, Zachary dies in his sleep.
To uphold the honor of Marcus's beloved great-grandfather, the show must go on, and Marcus will need to make a shark disappear in front of everybody. It would take a sorcerer to pull this off, but, hey, Marcus is the next best thing…right?
11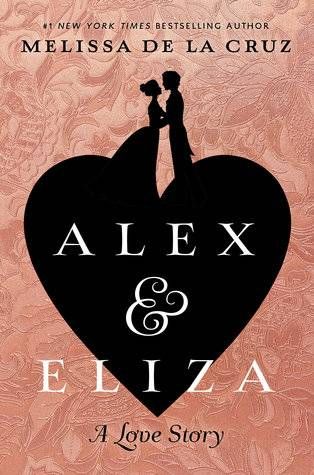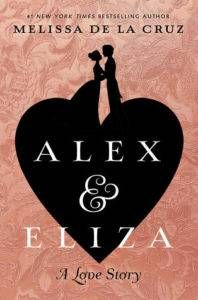 Alex and Eliza by Melissa de la Cruz: 1777. Albany, New York.
As battle cries of the American Revolution echo in the distance, servants flutter about preparing for one of New York society's biggest events: the Schuylers' grand ball. Descended from two of the oldest and most distinguished bloodlines in New York, the Schuylers are proud to be one of their fledgling country's founding families, and even prouder still of their three daughters—Angelica, with her razor-sharp wit; Peggy, with her dazzling looks; and Eliza, whose beauty and charm rival that of both her sisters, though she'd rather be aiding the colonists' cause than dressing up for some silly ball.
Still, she can barely contain her excitement when she hears of the arrival of one Alexander Hamilton, a mysterious, rakish young colonel and General George Washington's right-hand man. Though Alex has arrived as the bearer of bad news for the Schuylers, he can't believe his luck—as an orphan, and a bastard one at that—to be in such esteemed company. And when Alex and Eliza meet that fateful night, so begins an epic love story that would forever change the course of American history.
Beck by Mal Peet, Meg Rosoff: Born from a street liason between a poor young woman and an African soldier in the 1900s, Beck is soon orphaned and sent to the Catholic Brothers in Canada. Shipped to work on a farm, his escape takes him across the continent in a search for belonging. Enduring abuse and many hardships, Beck has times of comfort and encouragement, eventually finding Grace, the woman with whom he can finally forge his life and shape his destiny as a young man. A picturesque novel set during the Depression as experienced by a young black man, it depicts great pain but has an uplifting and inspiring conclusion.
*Blacksouls by Nicole Castroman: Edward "Teach" Drummond is setting sail to the Caribbean as first mate on the most celebrated merchant ship in the British fleet—until he rebels against his captain. Mutiny is a capital offense and Teach knows it could cost him his life, but he believes it worth the risk in order to save his crew from the attacking Spanish ships.
Sailing on the same blue waters, Anne barely avoids the Spanish attack, making it safely to Nassau. But lawless criminals, corrupt politics, and dangerous intentions fill the crowded streets of this Caribbean port. Soon, Anne discovers that the man entrusted to keep the peace is quite possibly the most treacherous of them all—and he just happens to hold Teach's fate in his terrifying hands.
Life and death hang in the balance when Teach and Anne are given a dangerous mission. It's a mission that will test their love, loyalty and devotion, forcing them down a path neither one could have ever imagined.
Dreaming The Bear by Mimi Thebo: Darcy's dad, a naturalist, moves their family from England to the snowy wilderness of Yellowstone National Park. Mum, Dad, and older brother Jem are all thriving, but Darcy misses her friends, and civilization, including WiFi. She's also sick, getting weaker with each day, and having strange dreams—or are they something else?
Then she finds an injured mother bear whose cubs were killed by hunters. The bear is enormous, and powerful, but she doesn't threaten Darcy—she makes Darcy feel alive. The bear needs Darcy just as much as Darcy needs her. Darcy must help her, even though she might not be well enough to take care of the bear, let alone herself.
Fireworks by Katie Cotugno: It was always meant to be Olivia. She was the talented one, the one who had been training to be a star her whole life. Her best friend, Dana, was the level-headed one, always on the sidelines, cheering her best friend along.
But everything changes when Dana tags along with Olivia to Orlando for the weekend, where superproducer Guy Monroe is holding auditions for a new singing group, and Dana is discovered too. Dana, who's never sung more than Olivia's backup. Dana, who wasn't even looking for fame. Next thing she knows, she and Olivia are training to be pop stars, and Dana is falling for Alex, the earnest, endlessly talented boy who's destined to be the next big thing.
It should be a dream come true, but as the days of grueling practice and constant competition take their toll, things between Olivia and Dana start to shift . . . and there's only room at the top for one girl. For Olivia, it's her chance at her dream. For Dana, it's a chance to escape a future that seems to be closing in on her. And for these lifelong best friends, it's the adventure of a lifetime—if they can make it through.
The Freemason's Daughter by Shelley Sackier: Saying good-bye to Scotland is the hardest thing that Jenna MacDuff has had to do—until she meets Lord Pembroke. Jenna's small clan has risked their lives traveling the countryside as masons, secretly drumming up support and arms for the exiled King James Stuart to retake the British throne. But their next job brings them into enemy territory: England.
Jenna's father repeatedly warns her to trust no one, but when the Duke of Keswick hires the clan to build a garrison on his estate, it seems she cannot hide her capable mind from the duke's inquisitive son, Lord Alex Pembroke—nor mask her growing attraction to him. But there's a covert plan behind the building of the garrison, and soon Jenna must struggle not only to keep her newfound friendship with Alex from her father, but also to keep her father's treason from Alex.
Will Jenna decide to keep her family's mutinous secrets and assist her clan's cause, or protect the life of the young noble she's falling for?
*Given To The Sea by Mindy McGinnis: Khosa is Given to the Sea, a girl born to be fed to the water, her flesh preventing a wave like the one that destroyed the Kingdom of Stille in days of old. But before she's allowed to dance – an uncontrollable twitching of the limbs that will carry her to the shore in a frenzy – she must produce an heir. Yet the thought of human touch sends shudders down her spine that not even the sound of the tide can match.
Vincent is third in line to inherit his throne, royalty in a kingdom where the old linger and the young inherit only boredom. When Khosa arrives without an heir he knows his father will ensure she fulfills her duty, at whatever cost. Torn between protecting the throne he will someday fill, and the girl whose fate is tied to its very existence, Vincent's loyalty is at odds with his heart.
Dara and Donil are the last of the Indiri, a native race whose dwindling magic grows weaker as the island country fades. Animals cease to bear young, creatures of the sea take to the land, and the Pietra – fierce fighters who destroyed the Indiri a generation before – are now marching from their stony shores for the twin's adopted homeland, Stille.
Witt leads the Pietra, their army the only family he has ever known. The stone shores harbor a secret, a growing threat that will envelop the entire land – and he will conquer every speck of soil to ensure the survival of his people.
The tides are turning in Stille, where royals scheme, Pietrans march, and the rising sea calls for its Given.
Literally by Lucy Keating: Annabelle's life has always been Perfect with a capital P. Then bestselling young adult author Lucy Keating announces that she's writing a new novel—and Annabelle is the heroine.
It turns out, Annabelle is a character that Lucy Keating created. And Lucy has a plan for her.
But Annabelle doesn't want to live a life where everything she does is already plotted out. Will she find a way to write her own story—or will Lucy Keating have the last word?
Run The Risk by Allison van Diepen: Grace has done her best to move on since her ex-boyfriend, Mateo, chose gang life over her. But even though years have passed, she hasn't forgotten him—especially since she's seen her younger brother, Alex, drawn to a life on the streets. She can't bear to think of Alex making the same mistakes as Mateo, but she feels him slipping away.
So when Mateo suddenly resurfaces, insisting he's left gang life behind him, Grace sees an opportunity. Maybe he could be the one to reach Alex and pull him away from the edge. She tells herself she's only talking to Mateo again because of Alex, but her feelings quickly return. Can she ever trust Mateo again? And is saving her brother worth risking a broken heart? With everyone she loves in danger, Grace must decide how much to sacrifice before it's too late.
*Spindle Fire by Lexa Hillyer: Half sisters Isabelle and Aurora are polar opposites: Isabelle is the king's headstrong illegitimate daughter, whose sight was tithed by faeries; Aurora, beautiful and sheltered, was tithed her sense of touch and her voice on the same day. Despite their differences, the sisters have always been extremely close.
And then everything changes, with a single drop of Aurora's blood–and a sleep so deep it cannot be broken.
As the faerie queen and her army of Vultures prepare to march, Isabelle must race to find a prince who can awaken her sister with the kiss of true love and seal their two kingdoms in an alliance against the queen.
Isabelle crosses land and sea; unearthly, thorny vines rise up the palace walls; and whispers of revolt travel in the ashes on the wind. The kingdom falls to ruin under layers of snow. Meanwhile, Aurora wakes up in a strange and enchanted world, where a mysterious hunter may be the secret to her escape . . . or the reason for her to stay.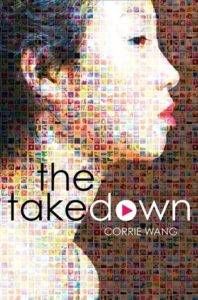 The Takedown by Corrie Wang: Kyla Cheng doesn't expect you to like her. For the record, she doesn't need you to. On track to be valedictorian, she's president of her community club, a debate team champ, plus the yummy Mackenzie Rodriguez has firmly attached himself to her hip. She and her three high-powered best friends don't just own their senior year at their exclusive Park Slope, Brooklyn high school, they practically define the hated species Popular. Kyla's even managed to make it through high school completely unscathed.
Until someone takes issue with this arrangement.
A week before college applications are due, a video of Kyla "doing it" with her crush-worthy English teacher is uploaded to her school's website. It instantly goes viral, but here's the thing: it's not Kyla in the video. With time running out, Kyla delves into a world of hackers, haters and creepy stalkers in an attempt to do the impossible-take something off the internet-all while dealing with the fallout from her own karmic footprint.
Unearthly Things by Michelle Gagnon: After losing her parents in a tragic accident, surfer girl Janie Mason is forced to trade the sunny beaches of Hawaii for the cold fog of San Francisco. She's never even met her new guardians, the Rochesters—an old money family who relish being pillars of high society. Janie feels hopelessly out of place in their world of Napa weekends, fancy prep schools, and cotillions. Nicholas is the only Rochester who treats her with anything resembling kindness—but he's only six. When she strikes up a friendship with Daniel, a fellow surfer, it feels like things might finally be improving.
But something isn't right in the Rochester mansion. There are noises—screams—coming from the attic nearly every night. Noises everyone else claims they can't hear. Then John, the black sheep of the family, returns after getting kicked out of yet another boarding school. Soon Janie finds herself torn between this new "brother" and Daniel, who has secrets of his own. Just when she thinks her life can't get any worse, she learns the truth about the Rochesters: what they're hiding, what they want from Janie, and how far they'll go to get it.
The Upside of Unrequited by Becky Albertalli: Seventeen-year-old Molly Peskin-Suso knows all about unrequited love. No matter how many times her twin sister, Cassie, tells her to woman up, Molly can't stomach the idea of rejection. So she's careful. Fat girls always have to be careful.
Then a cute new girl enters Cassie's orbit, and for the first time ever, Molly's cynical twin is a lovesick mess. Meanwhile, Molly's totally not dying of loneliness—except for the part where she is. Luckily, Cassie's new girlfriend comes with a cute hipster-boy sidekick. If Molly can win him over, she'll get her first kiss and she'll get her twin back.
There's only one problem: Molly's coworker, Reid. He's a chubby Tolkien superfan with a season pass to the Ren Faire, and there's absolutely no way Molly could fall for him.
Right?
18
*The Adjustment by Suzanne Young: Tatum Masterson never went through The Program. She never had her memory stripped, never had to fight to remain herself. But when Weston, her longtime boyfriend and love of her life, was taken by handlers, she hoped he'd remember her somehow—that their love would be strong enough.
It wasn't.
Like all returners, Weston came back a blank canvas. The years he and Tatum spent together were forgotten, as well as the week when he mysteriously disappeared before The Program came for him.
Regardless of his memory loss, Tatum fights to get Weston to remember her. And just as they start to build a new love, they hear about the Adjustment—a new therapy that implants memories from a donor. Despite the risks, Tatum and Weston agree to go through the process. Tatum donates her memories from their time together.
But the problem with memories is that they are all a matter of perspective. So although Weston can now remember dating Tatum, his emotions don't match the experiences. And this discrepancy is slowly starting to unravel him, worse than anything The Program could have done.
And as the truth of their life together becomes clear, Tatum will have to decide if she loves Weston enough to let him go, or to continue to live the lie they'd build together.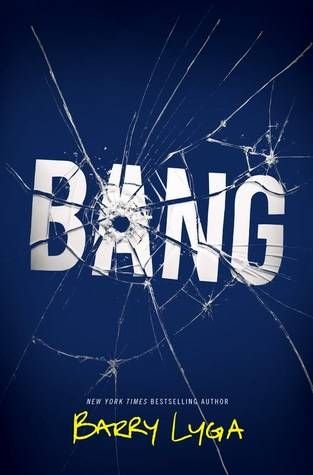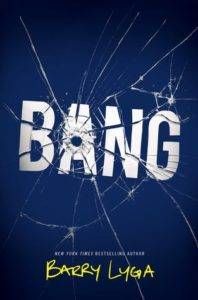 Bang by Barry Lyga: Sebastian Cody did something horrible, something no one–not even Sebastian himself–can forgive. At the age of four, he accidentally shot and killed his infant sister with his father's gun.
Now, ten years later, Sebastian has lived with the guilt and horror for his entire life. With his best friend away for the summer, Sebastian has only a new friend–Aneesa–to distract him from his darkest thoughts. But even this relationship cannot blunt the pain of his past. Because Sebastian knows exactly how to rectify his childhood crime and sanctify his past.
It took a gun to get him into this.
Now he needs a gun to get out.
Meg & Linus by Hanna Nowinski: Meg and Linus are best friends bound by a shared love of school, a coffee obsession, and being queer. It's not always easy to be the nerdy lesbian or gay kid in a suburban town. But they have each other. And a few Star Trek boxed sets. They're pretty happy.
But then Sophia, Meg's longtime girlfriend, breaks up with Meg. Linus starts tutoring the totally dreamy new kid, Danny—and Meg thinks setting them up is the perfect project to distract herself from her own heartbreak. But Linus isn't so sure Danny even likes guys, and maybe Sophia isn't quite as out of the picture as Meg thought she was. . . .
Missing by Kelley Armstrong: The only thing Winter Crane likes about Reeve's End is that soon she'll leave it. Like her best friend did. Like her sister did. Like most of the teens born in town have done. There's nothing for them there but abandoned mines and empty futures. They're better off taking a chance elsewhere.
The only thing Winter will miss is the woods. Her only refuge. At least it was. Until the day she found Lennon left for dead, bleeding in a tree.
But now Lennon is gone too. And he has Winter questioning what she once thought was true. What if nobody left at all? What if they're all missing?
25
Between Two Skies by Joanne O'Sullivan: Hurricane Katrina sets a teenage girl adrift. But a new life — and the promise of love — emerges in this rich, highly readable debut.
Bayou Perdu, a tiny fishing town way, way down in Louisiana, is home to sixteen-year-old Evangeline Riley. She has her best friends, Kendra and Danielle; her wise, beloved Mamere; and back-to-back titles in the under-sixteen fishing rodeo. But, dearest to her heart, she has the peace that only comes when she takes her skiff out to where there is nothing but sky and air and water and wings. It's a small life, but it is Evangeline's. And then the storm comes, and everything changes. Amid the chaos and pain and destruction comes Tru — a fellow refugee, a budding bluesman, a balm for Evangeline's aching heart. Told in a strong, steady voice, with a keen sense of place and a vivid cast of characters, here is a novel that asks compelling questions about class and politics, exile and belonging, and the pain of being cast out of your home. But above all, this remarkable debut tells a gently woven love story, difficult to put down, impossible to forget.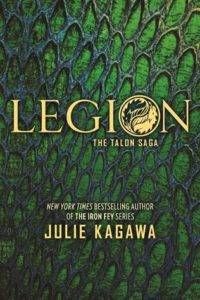 *Legion by Julie Kagawa: Dragon hatchling Ember Hill was never prepared to find love at all–dragons do not suffer human emotions–let alone the love of a human and a former dragonslayer, at that. With ex-soldier Garret dying at her feet after sacrificing his freedom and his life to expose the deepest of betrayals, Ember knows only that nothing she was taught by dragon organization Talon is true. About humans, about rogue dragons, about herself and what she's capable of doing and feeling.
In the face of great loss, Ember vows to stand with rogue dragon Riley against the dragon-slaying Order of St. George and her own twin brother Dante–the heir apparent to all of Talon, and the boy who will soon unleash the greatest threat and terror dragonkind has ever known.
Talon is poised to take over the world, and the abominations they have created will soon take to the skies, darkening the world with the promise of blood and death to those who refuse to yield.
Looking For Group by Rory Harrison: Dylan doesn't have a lot of experience with comfort. His room in the falling-down Village Estates can generously be categorized as "squalid," and he sure as hell isn't getting any love from his mother, who seemed to—no, definitely did—enjoy the perks that went along with being the parent of a "cancer kid."
His only escape has been in the form of his favorite video game—World of Warcraft—and the one true friend who makes him feel understood, even if it is just online: Nuba. And now that Dylan is suddenly in remission, he wants to take Nuba on a real mission, one he never thought he'd live to set out on: a journey to a mysterious ship in the middle of the Salton Sea.
But Nuba—real-life name Arden—is fighting her own battles, ones that Dylan can't always help her win. As they navigate their way west, they grapple with Nuba's father (who refuses to recognize his daughter's true gender), Dylan's addiction, and the messy, complicated romance fighting so hard to blossom through the cracks of their battle-hardened hearts.
Lucky Girl by Amanda Maciel: Being a pretty girl is who Rosie is, but it's the start of a new school year and she wants to be more. Namely, she's determined to be better to her best friend, Maddie, who's just back from a summer program abroad having totally blossomed into her own looks. Rosie isn't thrilled when Maddie connects with a football player who Rosie was hooking up with—but if it makes her friend happy, she's prepared to move on. Plus someone even more interesting has moved to town: Alex, who recently garnered public attention after he stopped a classmate from carrying out a shooting rampage at his old high school. Rosie is drawn to Alex in a way she's never really experienced for a boy before—and she is surprised to discover that, unlike every other guy, he seems to see more to her than her beauty.
Then one night, in the midst of a devastating storm, Rosie suffers an assault that tears apart her life and friendship with Maddie. Forced to face uncomfortable truths about beauty, reputation, and what it really means to be a friend, Rosie realizes that change doesn't always happen the way you want it to—every disaster has consequences. But with a lot of help and the right people around you, there might also be a way forward.
Maud by Melanie Fishbane: Fourteen-year-old Lucy Maud Montgomery — Maud to her friends — has a dream: to go to college and become a writer, just like her idol, Louisa May Alcott. But living with her grandparents on Prince Edward Island, she worries that this dream will never come true. Her grandfather has strong opinions about a woman's place in the world, and they do not include spending good money on college. Luckily, she has a teacher to believe in her, and good friends to support her, including Nate, the Baptist minister's stepson and the smartest boy in the class. If only he weren't a Baptist; her Presbyterian grandparents would never approve. Then again, Maud isn't sure she wants to settle down with a boy — her dreams of being a writer are much more important.
But life changes for Maud when she goes out West to live with her father and his new wife and daughter. Her new home offers her another chance at love, as well as attending school, but tensions increase as Maud discovers her stepmother's plans for her, which threaten Maud's future — and her happiness forever.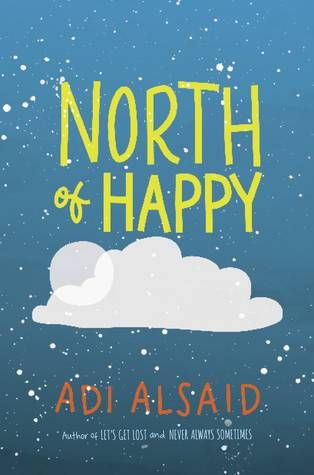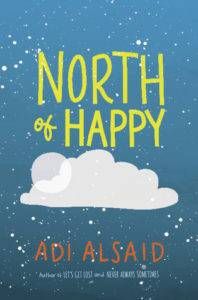 North of Happy by Adi Alsaid: Carlos Portillo has always led a privileged and sheltered life. A dual citizen of Mexico and the US, he lives in Mexico City with his wealthy family where he attends an elite international school. His friends and peers-fellow rich kids-have plans to attend college somewhere in the US or Europe and someday take over their parents' businesses. Always a rule follower and a parent pleaser, Carlos is more than happy to tread the well-worn path in front of him. He has always loved food and cooking, but his parents see it as just a hobby.
When his older brother, Felix–who has dropped out of college to live a life of travel–is tragically killed, Carlos begins hearing his brother's voice, giving him advice and pushing him to rebel against his father's plan for him. Worrying about his mental health, but knowing the voice is right, Carlos runs away to the US and manages to secure a job with his favorite celebrity chef. As he works to improve his skills in the kitchen and pursue his dream, he begins to fall for his boss's daughter–a fact that could end his career before it begins. Finally living for himself, Carlos must decide what's most important to him and where his true path really lies.
Saint Death by Marcus Sedgwick:On the outskirts of Juarez, Arturo scrapes together a living working odd jobs and staying out of sight. But his friend Faustino is in trouble: he's stolen money from the narcos to smuggle his girlfriend and her baby into the US, and needs Arturo's help to get it back. To help his friend, Arturo must face the remorseless world of drug and human traffickers that surrounds him, and contend with a murky past.
Hovering over his story is the unsparing divinity Santa Muerte, Saint Death–and the relentless economic and social inequalities that haunt the border between Mexico and its rich northern neighbor.
The Whole Thing Together by Ann Brashares: Summer for Sasha and Ray means the sprawling old house on Long Island. Since they were children, they've shared almost everything—reading the same books, running down the same sandy footpaths to the beach, eating peaches from the same market, laughing around the same sun-soaked dining table. Even sleeping in the same bed, on the very same worn cotton sheets. But they've never met.
Sasha's dad was once married to Ray's mom, and together they had three daughters: Emma, the perfectionist; Mattie, the beauty; and Quinn, the favorite. But the marriage crumbled and the bitterness lingered. Now there are two new families—and neither one will give up the beach house that holds the memories, happy and sad, of summers past.
The choices we make come back to haunt us; the effect on our destinies ripples out of our control…or does it? This summer, the lives of Sasha, Ray, and their siblings intersect in ways none of them ever dreamed, in a novel about family relationships, keeping secrets, and most of all, love.
The Wonder of Us by Kim Culbertson: Riya and Abby are:
Best friends.
Complete opposites.
Living on different continents.
Currently mad at each other.
About to travel around Europe.
Riya moved to Berlin, Germany, with her family for junior year, while Abby stayed behind in their small California town. They thought it would be easy to keep up their friendship-it's only a year and they've been best friends since preschool. But instead, they ended up fighting and not being there for the other. So Riya proposes an epic adventure to fix their friendship. Two weeks, six countries, unimaginable fun. But two small catches:
They haven't talked in weeks.
They've both been keeping secrets.
Can Riya and Abby find their way back to each other among lush countrysides and dazzling cities, or does growing up mean growing apart?
May
1
Stealing Candy by Stewart Lewis: Candy hates boarding school. As a junior, graduation is still eons away, and making films is the only way to survive the boredom. Until she is kidnapped.
Candy panics. Along Came a Spider, Ransom, Taken, Cellular… Candy knows how these movies end. The only reason anyone would abduct her is to get a payout from her rock star father. Except Candy and her father are estranged. There's no way he's going to pay.
But with every hour that passes, Candy's fear slowly recedes. Being on the road is freeing, not to mention great material for a new documentary. And the more time she spends with her handsome captor Levon, the more she learns the whole scheme is not just about ransom. It's about revenge. What began as a kidnapping is spiraling into a crazy road trip adventure as Candy and Levon find a lot of wrong ways to do the right thing.
2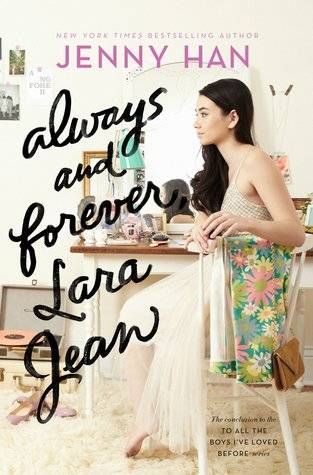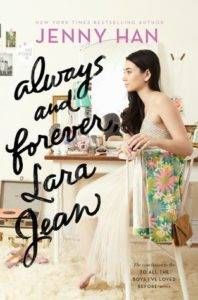 *Always And Forever Lara Jean by Jenny Han: Lara Jean is having the best senior year a girl could ever hope for. She is head over heels in love with her boyfriend, Peter; her dad's finally getting remarried to their next door neighbor, Ms. Rothschild; and Margot's coming home for the summer just in time for the wedding.
But change is looming on the horizon. And while Lara Jean is having fun and keeping busy helping plan her father's wedding, she can't ignore the big life decisions she has to make. Most pressingly, where she wants to go to college and what that means for her relationship with Peter. She watched her sister Margot go through these growing pains. Now Lara Jean's the one who'll be graduating high school and leaving for college and leaving her family—and possibly the boy she loves—behind.
When your heart and your head are saying two different things, which one should you listen to?
And We're Off by Dana Schwartz: Seventeen-year-old Nora Holmes is an artist, a painter from the moment she could hold a brush. She inherited the skill from her grandfather, Robert, who's always nurtured Nora's talent and encouraged her to follow her passion. Still, Nora is shocked and elated when Robert offers her a gift: an all-expenses-paid summer trip to Europe to immerse herself in the craft and to study history's most famous artists. The only catch? Nora has to create an original piece of artwork at every stop and send it back to her grandfather. It's a no-brainer: Nora is in!
Unfortunately, Nora's mother, Alice, is less than thrilled about the trip. She worries about what the future holds for her young, idealistic daughter and her opinions haven't gone unnoticed. Nora couldn't feel more unsupported by her mother, and in the weeks leading up to the trip, the women are as disconnected as they've ever been. But seconds after saying goodbye to Alice at the airport terminal, Nora hears a voice call out: "Wait! Stop! I'm coming with you!"
*Avenged by Amy Tintera: Emelina Flores has come home to Ruina. After rescuing her sister Olivia from imprisonment in rival kingdom Lera, Em and Olivia together vow to rebuild Ruina to its former glory.
But their fight has only begun. Olivia is determined to destroy everyone who acts against Ruina, but Em isn't as sure. Ever since Em posed as Prince Casimir's betrothed in Lera, she's started to see another side to this war. And now that Cas has taken the throne, Em believes a truce is within reach. But Olivia suspects that Em's romantic feelings for Cas are just coloring her judgement.
Em is determined to bring peace to her home. But when winning the war could mean betraying her family, Em faces an impossible choice between loyalty and love. Em must stay one step ahead of her enemies—and her blood—before she's the next victim in this battle for sovereignty.
*The Battlemage by Taran Matharu: After the thrilling cliffhanger at the end of book two, we rejoin Fletcher and his friends in the ether, where they must undertake a mortally dangerous quest, all the while avoiding capture by enemies and facing foes more terrifying than anything they have yet encountered.
But this is nothing compared to what truly lies ahead for Fletcher, as his nemesis, albino orc Khan, is on a mission to destroy Hominum and everything and everyone that Fletcher loves.
*Count All Her Bones by April Henry: Six months ago, Griffin Sawyer meant to steal a car, but he never meant to steal the girl asleep in the backseat. Panicked, he took her home. His father, Roy, decided to hold Cheyenne―who is blind―for ransom. Griffin helped her escape, and now Roy is awaiting trial. As they prepare to testify, Griffin and Cheyenne reconnect and make plans to meet. But the plan goes wrong and Cheyenne gets captured by Roy's henchmen―this time for the kill. Can Cheyenne free herself? And is Griffin a pawn or a player in this deadly chase?
*A Court of Wings and Ruin by Sarah J. Maas: Feyre has returned to the Spring Court, determined to gather information on Tamlin's maneuverings and the invading king threatening to bring Prythian to its knees. But to do so she must play a deadly game of deceit-and one slip may spell doom not only for Feyre, but for her world as well.
As war bears down upon them all, Feyre must decide who to trust amongst the dazzling and lethal High Lords-and hunt for allies in unexpected places.
*Dreamfall by Amy Plum: Cata Cordova suffers from such debilitating insomnia that she agreed to take part in an experimental new procedure. She thought things couldn't get any worse…but she was terribly wrong.
Soon after the experiment begins, there's a malfunction with the lab equipment, and Cata and six other teen patients are plunged into a shared dreamworld with no memory of how they got there. Even worse, they come to the chilling realization that they are trapped in a place where their worst nightmares have come to life. Hunted by creatures from their darkest imaginations and tormented by secrets they'd rather keep buried, Cata and the others will be forced to band together to face their biggest fears. And if they can't find a way to defeat their dreams, they will never wake up.
Four Weeks, Five People by Jennifer Yu: Obsessive-compulsive teen Clarissa wants to get better, if only so her mother will stop asking her if she's okay.
Andrew wants to overcome his eating disorder so he can get back to his band and their dreams of becoming famous.
Film aficionado Ben would rather live in the movies than in reality.
Gorgeous and overly confident Mason thinks everyone is an idiot.
And Stella just doesn't want to be back for her second summer of wilderness therapy.
As the five teens get to know one another and work to overcome the various disorders that have affected their lives, they find themselves forming bonds they never thought they would, discovering new truths about themselves and actually looking forward to the future.
Girl Out of Water by Laura Silverman: Anise Sawyer plans to spend every minute of summer with her friends: surfing, chowing down on fish tacos drizzled with wasabi balsamic vinegar, and throwing bonfires that blaze until dawn. But when a serious car wreck leaves her aunt, a single mother of three, with two broken legs, it forces Anise to say goodbye for the first time to Santa Cruz, the waves, her friends, and even a kindling romance, and fly with her dad to Nebraska for the entire summer. Living in Nebraska isn't easy. Anise spends her days caring for her three younger cousins in the childhood home of her runaway mom, a wild figure who's been flickering in and out of her life since birth, appearing for weeks at a time and then disappearing again for months, or even years, without a word.
Complicating matters is Lincoln, a one-armed, charismatic skater who pushes Anise to trade her surfboard for a skateboard. As Anise draws closer to Lincoln and takes on the full burden and joy of her cousins, she loses touch with her friends back home – leading her to one terrifying question: will she turn out just like her mom and spend her life leaving behind the ones she loves.
*Just Dreaming by Kerstin Gier, Anthea Bell: The course of dream travel never did run smooth—at least, not in Liv Silver's experience. Able to visit other people's dreams (whether they want her to or not), Liv has solved mysteries, unearthed difficult truths, fought madmen, and escaped life-threatening peril, all from the comfort of her own bed. But Liv's troubles are just beginning.
A rocky romance, a malicious blogger with a hidden identity, a wedding, and a classmate (or two) dead-set on revenge all await Liv in this action-packed conclusion to the Silver trilogy.
Kill All Happies by Rachel Cohn: This is it. Graduation. And Vic Navarro is throwing the most epic party Rancho Soldado has ever seen. She's going to pull off the most memorable good-bye ever for her best friends, give Happies—the kitschy restaurant that is her desert town's claim to fame—a proper send-off into bankruptcy, and oh yes, hook up with her delicious crush, Jake Zavala-Kim. She only needs to keep the whole thing a secret so that her archnemesis, Miss Ann Thrope, Rancho Soldado's nightmare Town Councilwoman and high school Economics teacher, doesn't get Vic tossed in jail.
With the music thumping, alcohol flowing, bodies mashing, and Thrope nowhere to be seen, Vic's party is a raging success. That is, until Happies fans start arriving in droves to say good-bye, and storm the deserted theme park behind the restaurant. Suddenly what was a small graduation bash is more like Coachella on steroids with a side of RASmatazz pie. The night is so not going as planned. And maybe that's the best plan of all.
Noteworthy by Riley Redgate: It's the start of Jordan Sun's junior year at the Kensington-Blaine Boarding School for the Performing Arts. Unfortunately, she's an Alto 2, which—in the musical theatre world—is sort of like being a vulture in the wild: She has a spot in the ecosystem, but nobody's falling over themselves to express their appreciation. So it's no surprise when she gets shut out of the fall musical for the third year straight.
Then the school gets a mass email: A spot has opened up in the Sharpshooters, Kensington's elite a cappella octet. Worshiped … revered … all male. Desperate to prove herself, Jordan auditions in her most convincing drag, and it turns out that Jordan Sun, Tenor 1, is exactly what the Sharps are looking for.
The One Memory of Flora Banks by Emily Barr: Seventeen-year-old Flora Banks has no short-term memory. Her mind resets itself several times a day, and has since the age of ten, when the tumor that was removed from Flora's brain took with it her ability to make new memories. That is, until she kisses Drake, her best friend's boyfriend, the night before he leaves town. Miraculously, this one memory breaks through Flora's fractured mind, and sticks. Flora is convinced that Drake is responsible for restoring her memory and making her whole again. So when an encouraging email from Drake suggests she meet him on the other side of the world, Flora knows with certainty that this is the first step toward reclaiming her life.
With little more than the words "be brave" inked into her skin, and written reminders of who she is and why her memory is so limited, Flora sets off on an impossible journey to Svalbard, Norway, the land of the midnight sun, determined to find Drake. But from the moment she arrives in the arctic, nothing is quite as it seems, and Flora must "be brave" if she is ever to learn the truth about herself, and to make it safely home.
*The Pearl Thief by Elizabeth Wein: When fifteen-year-old Julia Beaufort-Stuart wakes up in the hospital, she knows the lazy summer break she'd imagined won't be exactly like she anticipated. And once she returns to her grandfather's estate, a bit banged up but alive, she begins to realize that her injury might not have been an accident. One of her family's employees is missing, and he disappeared on the very same day she landed in the hospital.
Desperate to figure out what happened, she befriends Euan McEwen, the Scots Traveller boy who found her when she was injured, and his standoffish sister Ellen. As Julie grows closer to this family, she experiences some of the prejudices they've grown used to firsthand, a stark contrast to her own upbringing, and finds herself exploring thrilling new experiences that have nothing to do with a missing-person investigation.
Her memory of that day returns to her in pieces, and when a body is discovered, her new friends are caught in the crosshairs of long-held biases about Travellers. Julie must get to the bottom of the mystery in order to keep them from being framed for the crime.
Say No To The Bro by Kat Helgeson: Ava's plan for surviving senior year at her new school is simple: fly under the radar until graduation. No boys. No attachments. No drama. But all that goes out the window when she gets drafted into the Prom Bowl—a long-standing tradition where senior girls compete in challenges and are auctioned off as prom dates to the highest bidder.
Ava joins forces with star quarterback Mark Palmer to try and get herself out of the competition, but their best laid schemes lead to self-sabotage more than anything else. And to make matters worse, they both begin to realize that the Prom Bowl isn't all fun and games. When one event spirals dangerously out of control, Ava and Mark must decide whether shutting down the Prom Bowl once and for all is worth the price of sacrificing their futures.
*The Scattering by Kimberly McCreight: Wylie may have escaped the camp in Maine, but she is far from safe. The best way for her to protect herself is to understand her ability, fast. But after spending a lifetime trying to ignore her own feelings, giving in to her ability to read other peoples' emotions is as difficult as it is dangerous.
And Wylie isn't the only one at risk. Ever since they returned home, Jasper has been spiraling, wracked with guilt over what happened to Cassie. After all they've been through together, Wylie and Jasper would do anything for each other, but she doesn't know if their bond is strong enough to overcome demons from the past.
It is amid this uncertainty and fear that Wylie finds herself confronted with a choice. She was willing to do whatever it took to help Cassie, but is she prepared to go to the same extremes to help complete strangers . . . even if they are just like her?
Star Wars: Rebel Rising by Beth Revis: When Jyn Erso was five years old, her mother was murdered and her father taken from her to serve the Empire. But despite the loss of her parents she is not completely alone—Saw Gerrera, a man willing to go to any extremes necessary in order to resist Imperial tyranny, takes her in as his own, and gives her not only a home but all the abilities and resources she needs to become a rebel herself.
Jyn dedicates herself to the cause—and the man. But fighting alongside Saw and his people brings with it danger and the question of just how far Jyn is willing to go as one of Saw's soldiers. When she faces an unthinkable betrayal that shatters her world, Jyn will have to pull the pieces of herself back together and figure out what she truly believes in…and who she can really trust.
Windfall by Jennifer E. Smith: Alice doesn't believe in luck—at least, not the good kind. But she does believe in love, and for some time now, she's been pining for her best friend, Teddy. On his eighteenth birthday—just when it seems they might be on the brink of something—she buys him a lottery ticket on a lark. To their astonishment, he wins $140 million, and in an instant, everything changes.
At first, it seems like a dream come true, especially since the two of them are no strangers to misfortune. As a kid, Alice won the worst kind of lottery possible when her parents died just over a year apart from each other. And Teddy's father abandoned his family not long after that, leaving them to grapple with his gambling debts. Through it all, Teddy and Alice have leaned on each other. But now, as they negotiate the ripple effects of Teddy's newfound wealth, a gulf opens between them. And soon, the money starts to feel like more of a curse than a windfall.
As they try to find their way back to each other, Alice learns more about herself than she ever could have imagined . . . and about the unexpected ways in which luck and love sometimes intersect.
9
Brave New Girl by Rachel Vincent: We have brown hair. Brown eyes. Fair skin.
We are healthy and strong and smart.
But only one of us has ever had a secret.
Dahlia 16 sees her face in every crowd. She's nothing special—just one of five thousand girls created from a single genome to work for the greater good of the city.
Meeting Trigger 17 changes everything. He thinks she's interesting. Beautiful. Unique. Which means he must be flawed. When Dahlia can't stop thinking about him—when she can't resist looking for him, even though that means breaking the rules—she realizes she's flawed, too. But if she's flawed, then so are all her identicals. And any genome found to be flawed will be recalled.
Destroyed.
Getting caught with Trigger would seal not only Dahlia's fate, but that of all five thousand girls who share her face. But what if Trigger is right? What if Dahlia is different?
Suddenly the girl who always follows the rules is breaking them, one by one by one.
Deacon Locke Went To Prom by Brian Katcher: Promposals are taking over Deacon Locke's high school and there is no place left to hide. But even with graduation looming, shy and unusually tall Deacon doesn't think he can get up the nerve to ask anyone to the dance. Especially given all the theatrics.
It isn't until Deacon confides in his witty and outgoing best friend Jean that he realizes should could be a great person to take. Only problem is Jean isn't your typical prom date. She's older. A lot older. And she's Deacon's grandmother.
But when Deacon meets Soraya—a girl unlike any other he's ever met—he fears he has totally squandered his chances of having a prom he'll never forget. Deacon couldn't be more wrong. About everything.
Dear Reader by Mary O'Connell: For seventeen-year-old Flannery Fields, the only respite from the plaid-skirted mean girls at Sacred Heart High School at is her beloved teacher Miss Sweeney's AP English class. But when Miss Sweeney doesn't show up to teach Flannery's favorite book, Wuthering Heights, leaving behind her purse, Flannery knows something is wrong.
The police are called, and Flannery gives them everything—except Miss Sweeney's copy of Wuthering Heights. This she holds onto. And good thing she does, because when she opens it, it has somehow transformed into Miss Sweeney's real-time diary. It seems Miss Sweeney is in New York City—and she's in trouble.
So Flannery does something very unFlannery-like: she skips school and sets out for Manhattan, with the book as her guide. But as soon as she arrives, she meets a boy named Heath. Heath is British, on a gap year, incredibly smart—yet he's never heard of Albert Einstein or Anne Frank. In fact, Flannery can't help thinking that he seems to have stepped from the pages of Brontë's novel. Could it be?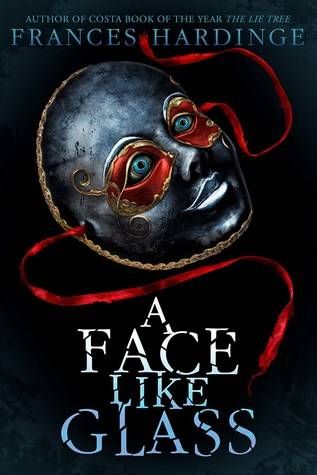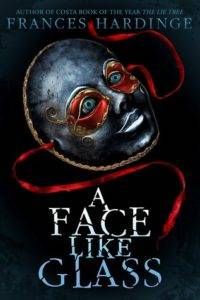 A Face Like Glass by Frances Hardinge: In the underground city of Caverna, the world's most skilled craftsmen toil in the darkness to create delicacies beyond compare—wines that remove memories, cheeses that make you hallucinate, and perfumes that convince you to trust the wearer, even as they slit your throat. On the surface, the people of Caverna seem ordinary, except for one thing: their faces are as blank as untouched snow. Expressions must be learned, and only the famous Facesmiths can teach a person to express (or fake) joy, despair, or fear—at a steep price. Into this dark and distrustful world comes Neverfell, a girl with no memory of her past and a face so terrifying to those around her that she must wear a mask at all times. Neverfell's expressions are as varied and dynamic as those of the most skilled Facesmiths, except hers are entirely genuine. And that makes her very dangerous indeed.
*The Foretelling of Georgie Spider by Ambelin Kwaymullina: A storm was stretching out across futures to swallow everything in nothing, and it was growing larger, which meant it was getting nearer… Georgie Spider has foretold the end of the world, and the only one who can stop it is Ashala Wolf. But Georgie has also foreseen Ashala's death. As the world shifts around the Tribe, Ashala fights to protect those she loves from old enemies and new threats. And Georgie fights to save Ashala. Georgie Spider can see the future. But can she change it?
The Go-Between by Veronica Chambers: She is the envy of every teenage girl in Mexico City. Her mother is a glamorous telenovela actress. Her father is the go-to voice-over talent for blockbuster films. Hers is a world of private planes, chauffeurs, paparazzi and gossip columnists. Meet Camilla del Valle Cammi to those who know her best.
When Cammi s mom gets cast in an American television show and the family moves to LA, things change, and quickly. Her mom s first role is playing a not-so-glamorous maid in a sitcom. Her dad tries to find work but dreams about returning to Mexico. And at the posh, private Polestar Academy, Cammi s new friends assume she s a scholarship kid, the daughter of a domestic.
At first Cammi thinks playing along with the stereotypes will be her way of teaching her new friends a lesson. But the more she lies, the more she wonders: Is she only fooling herself?
It's Not Like It's A Secret by Misa Sugiura: Sixteen-year-old Sana Kiyohara has too many secrets. Some are small, like how it bothers her when her friends don't invite her to parties. Some are big, like that fact that her father may be having an affair. And then there's the one that she can barely even admit to herself—the one about how she might have a crush on her best friend.
When Sana and her family move to California she begins to wonder if it's finally time for some honesty, especially after she meets Jamie Ramirez. Jamie is beautiful and smart and unlike anyone Sana's ever known. There are just a few problems: Sana's new friends don't trust Jamie's crowd; Jamie's friends clearly don't want her around anyway; and a sweet guy named Caleb seems to have more-than-friendly feelings for her. Meanwhile, her dad's affair is becoming too obvious to ignore anymore.
Sana always figured that the hardest thing would be to tell people that she wants to date a girl, but as she quickly learns, telling the truth is easy… what comes after it, though, is a whole lot more complicated.
Juan Pablo and The Butterflies by JJ Flowers: After facing problems with a local drug cartel in Mexico, a man and his best friend must flee to California for their freedom and a chance for survival.
In the small town of El Rosario, Mexico's butterfly sanctuary, drug traffickers begin to take over and disrupt the life of the community. As Juan Pablo's grandmother, the medicine woman of the town, lies on her deathbed, she tells her grandson that he must follow the migration of butterflies to Pacific Grove, California—to another butterfly sanctuary—where someone will be waiting for him. When Juan Pablo uses one of his grandmother's poisons on members of the cartel, he and his best friend Rocio must leave for California as soon as they can and follow the butterflies. But is he following the wings of freedom? Or death?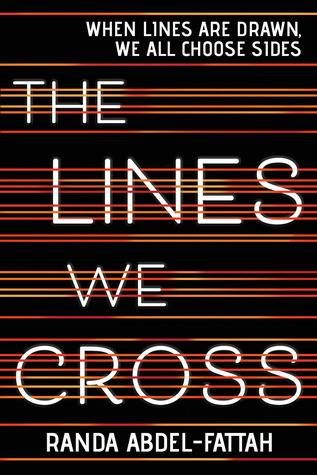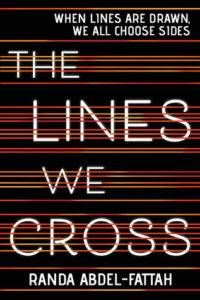 The Lines We Cross by Randa Abdel-Fattah: Michael likes to hang out with his friends and play with the latest graphic design software. His parents drag him to rallies held by their anti-immigrant group, which rails against the tide of refugees flooding the country. And it all makes sense to Michael.
Until Mina, a beautiful girl from the other side of the protest lines, shows up at his school, and turns out to be funny, smart — and a Muslim refugee from Afghanistan. Suddenly, his parents' politics seem much more complicated.
Mina has had a long and dangerous journey fleeing her besieged home in Afghanistan, and now faces a frigid reception at her new prep school, where she is on scholarship. As tensions rise, lines are drawn. Michael has to decide where he stands. Mina has to protect herself and her family. Both have to choose what they want their world to look like.
Ramona Blue by Julie Murphy: Ramona was only five years old when Hurricane Katrina changed her life forever.
Since then, it's been Ramona and her family against the world. Standing over six feet tall with unmistakable blue hair, Ramona is sure of three things: she likes girls, she's fiercely devoted to her family, and she knows she's destined for something bigger than the trailer she calls home in Eulogy, Mississippi. But juggling multiple jobs, her flaky mom, and her well-meaning but ineffectual dad forces her to be the adult of the family. Now, with her sister, Hattie, pregnant, responsibility weighs more heavily than ever.
The return of her childhood friend Freddie brings a welcome distraction. Ramona's friendship with the former competitive swimmer picks up exactly where it left off, and soon he's talked her into joining him for laps at the pool. But as Ramona falls in love with swimming, her feelings for Freddie begin to shift too, which is the last thing she expected. With her growing affection for Freddie making her question her sexual identity, Ramona begins to wonder if perhaps she likes girls and guys or if this new attraction is just a fluke. Either way, Ramona will discover that, for her, life and love are more fluid than they seem.
Someone Else's Summer by Rachel Bateman: Anna's always idolized her older sister, Storm. So when Storm dies in a tragic car accident on the night of her high school graduation, Anna is completely lost and her family is torn apart. That is, until she finds Storm's summer bucket list and decides to honor her sister by having the best summer ever—which includes taking an epic road trip to the coast from her sleepy Iowa town. Setting out to do everything on Storm's list along with her sisters best friend Cameron—the boy next door—who knew that Storm's dream summer would eventually lead to Anna's own self-discovery?
That Thing We Call A Heart by Sheba Karim: Shabnam Qureshi is a funny, imaginative Pakistani-American teen attending a tiny private school in suburban New Jersey. When her feisty best friend, Farah, starts wearing the headscarf without even consulting her, it begins to unravel their friendship. After hooking up with the most racist boy in school and telling a huge lie about a tragedy that happened to her family during the Partition of India in 1947, Shabnam is ready for high school to end. She faces a summer of boredom and regret, but she has a plan: Get through the summer. Get to college. Don't look back. Begin anew.
Everything changes when she meets Jamie, who scores her a job at his aunt's pie shack, and meets her there every afternoon. Shabnam begins to see Jamie and herself like the rose and the nightingale of classic Urdu poetry, which, according to her father, is the ultimate language of desire. Jamie finds Shabnam fascinating—her curls, her culture, her awkwardness. Shabnam finds herself falling in love, but Farah finds Jamie worrying.
With Farah's help, Shabnam uncovers the truth about Jamie, about herself, and what really happened during Partition. As she rebuilds her friendship with Farah and grows closer to her parents, Shabnam learns powerful lessons about the importance of love, in all of its forms.
*The Traitor's Kiss by Erin Beaty: With a sharp tongue and an unruly temper, Sage Fowler is not what they'd call a lady―which is perfectly fine with her. Deemed unfit for marriage, Sage is apprenticed to a matchmaker and tasked with wrangling other young ladies to be married off for political alliances. She spies on the girls―and on the soldiers escorting them.
As the girls' military escort senses a political uprising, Sage is recruited by a handsome soldier to infiltrate the enemy ranks. The more she discovers as a spy, the less certain she becomes about whom to trust―and Sage becomes caught in a dangerous balancing act that will determine the fate of her kingdom.
*Umberland by Wendy Spinale: Gwen, Pete, and the others have escaped from Everland. But the safe haven they hoped to find at Alnwick Castle doesn't exist. With the Queen of England on her deathbed, Duchess Alyssa has stepped in to lead, but things have gotten worse as the cure Doc created for the Horologia virus has mutated, accelerating the disease. The only possible solution he can think of is to go back to the virus's origin: an extinct poisonous apple.
Legend has it a tree bearing the apple might be found at the center of a deadly labyrinth hidden deep within Germany. A place that no one in their right mind enters. Leaving Pete in charge of the survivors, Alyssa sets out with only her sword, her wits, and the help of Maddox Hadder, a wild boy who oversees the castle gardens. To get to the center of the maze, she'll be forced to battle monsters more terrifying than her darkest nightmares.
But can anyone truly survive the madness of the maze? And what if there's no apple to be found there?
16
Antisocial by Jillian Blake: Senior spring at Alexandria Prep was supposed to be for sleeping through class and partying with friends. But for Anna Soler, it's going to be a lonely road. She's just been dumped by her gorgeous basketball star boyfriend—with no explanation. Anna's closest friends, the real ones she abandoned while dating him, are ignoring her. The endearing boy she's always had a complicated friendship with is almost too sympathetic.
But suddenly Anna isn't the only one whose life has been upended. Someone is determined to knock the kings and queens of the school off their thrones: one by one, their phones get hacked and their personal messages and photos are leaked. At first it's funny—people love watching the dirty private lives of those they envy become all too public.
Then the hacks escalate. Dark secrets are exposed, and lives are shattered. Chaos erupts at school. As Anna tries to save those she cares about most and to protect her own secrets, she begins to understand the reality of our always-connected lives:
Sometimes we share too much.
*Arrow of Lightning by Joseph Bruchac: Months after she has been healed from the Enemy Sickness that afflicted her in Trail of the Dead, Lozen and her family have gathered a community around them in Valley Where First Light Paints the Cliffs and have begun to rebuild. Lozen knows danger still stalks them and she intends to be ready to defend her people, but she hopes to avoid killing another human being–though gemod monsters are not off the table. Miles away, the remaining Ones plot Lozen's demise, and a threat Lozen thought she'd eliminated comes closer. And a newfound power will complicate everything for Lozen.
*The Crown's Fate by Evelyn Skye: Russia is on the brink of great change. Pasha's coronation approaches, and Vika is now the Imperial Enchanter, but the role she once coveted may be more difficult—and dangerous—than she ever expected.
Pasha is grappling with his own problems—his legitimacy is in doubt, the girl he loves loathes him, and he believes his best friend is dead. When a challenger to the throne emerges—and with the magic in Russia growing rapidly—Pasha must do whatever it takes to keep his position and protect his kingdom.
For Nikolai, the ending of the Crown's Game stung deeply. Although he just managed to escape death, Nikolai remains alone, a shadow hidden in a not-quite-real world of his own creation. But when he's given a second chance at life—tied to a dark price—Nikolai must decide just how far he's willing to go to return to the world.
With revolution on the rise, dangerous new magic rearing up, and a tsardom up for the taking, Vika, Nikolai, and Pasha must fight—or face the destruction of not only their world but also themselves.
The Crying Rocks by Janet Taylor Lisle: Joelle's height and dark skin set her apart from everyone in Marshfield. It's no secret that she's adopted, but where is she from? Aunt Mary Louise says she came from Chicago on a freight train, but the story doesn't sit right with Joelle. There's something more. She feels it.
Carlos, the quiet boy in Joelle's Spanish class, sees it. When he tells her that she looks like a girl in the town library's old mural of Narragansett Indians, Joelle can't help sneaking a look. She's surprised by a flicker of recognition. And when Carlos tells her about the Crying Rocks, where the ghosts of Narragansett children are said to cry for their lost mothers, Joelle knows she must visit them.
When they finally set out through the forest, neither she nor Carlos anticipates the power of the ancient place, or the revelations to be found there—about the pasts they've both buried, and the discovery of a rare kind of courage that runs deep in Joelle's family.
*Dove Alight by Karen Bao: Shy, introverted Phaet Theta has gone from being a top student to an interplanetary fugitive to the reluctant but fierce leader of a revolution. With the Earthbound on their side, she and her friends finally have a chance at toppling the evil leaders who've held the Moon captive for decades. But as the death tolls rise, the cost of the war weighs heavily on Phaet, even as she's forced to lead her siblings and Wes, the love of her life, into terrible danger.
Phaet started this war because she lost someone she loved. Will she have to lose another to end it?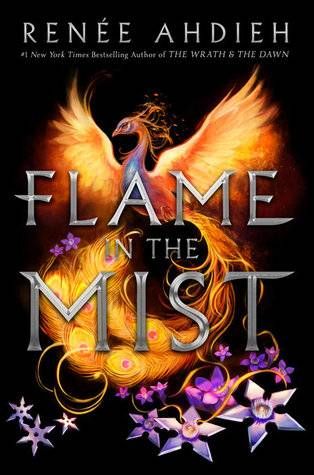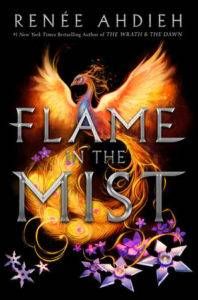 *Flame In The Mist by Renée Ahdieh: The daughter of a prominent samurai, Mariko has long known her place—she may be an accomplished alchemist, whose cunning rivals that of her brother Kenshin, but because she is not a boy, her future has always been out of her hands. At just seventeen years old, Mariko is promised to Minamoto Raiden, the son of the emperor's favorite consort—a political marriage that will elevate her family's standing. But en route to the imperial city of Inako, Mariko narrowly escapes a bloody ambush by a dangerous gang of bandits known as the Black Clan, who she learns has been hired to kill her before she reaches the palace.
Dressed as a peasant boy, Mariko sets out to infiltrate the ranks of the Black Clan, determined to track down the person responsible for the target on her back. But she's quickly captured and taken to the Black Clan's secret hideout, where she meets their leader, the rebel ronin Takeda Ranmaru, and his second-in-command, his best friend Okami. Still believing her to be a boy, Ranmaru and Okami eventually warm to Mariko, impressed by her intellect and ingenuity. As Mariko gets closer to the Black Clan, she uncovers a dark history of secrets, of betrayal and murder, which will force her to question everything she's ever known.
Grace and the Fever by Zan Romanoff: In middle school, everyone was a Fever Dream fan. Now, a few weeks after her high school graduation, Grace Thomas sometimes feels like the only one who never moved on. She can t imagine what she d do without the community of online fans that share her obsession. Or what her IRL friends would say if they ever found out about it.
Then, one summer night, the unthinkable happens: Grace meets her idol, Jes. What starts out as an elusive glimpse of Fever Dream s world turns into an unlikely romance, and leads her to confront dark, complex truths about herself and the realities of stardom.
Grit by Gillian French: Seventeen-year-old Darcy Prentiss has long held the title of "town slut." She knows how to have a good time, sure, but she isn't doing anything all the guys haven't done. But when you're a girl with a reputation, every little thing that happens seems to keep people whispering—especially when your ex-best friend goes missing.
But if anyone were to look closer at Darcy, they'd realize there's a lot more going on beneath the surface. Staying out late, hooking up, and telling lies is what Darcy does to forget. Forget about the mysterious disappearance of her friend. Forget about the dark secret she and her cousin Nell share. Forget about that hazy Fourth of July night. So when someone in town anonymously nominates Darcy to be in the running for Bay Festival Princess—a cruel act only someone with a score to settle would make—all of the things that Darcy wants to keep hidden threaten to erupt in ways she wasn't prepared to handle…and isn't sure if she can.
The Love Interest by Cale Dietrich: There is a secret organization that cultivates teenage spies. The agents are called Love Interests because getting close to people destined for great power means getting valuable secrets.
Caden is a Nice: The boy next door, sculpted to physical perfection. Dylan is a Bad: The brooding, dark-souled guy, and dangerously handsome. The girl they are competing for is important to the organization, and each boy will pursue her. Will she choose a Nice or the Bad?
Both Caden and Dylan are living in the outside world for the first time. They are well-trained and at the top of their games. They have to be – whoever the girl doesn't choose will die.
What the boys don't expect are feelings that are outside of their training. Feelings that could kill them both.
A Million Junes by Emily Henry: In their hometown of Five Fingers, Michigan, the O'Donnells and the Angerts have mythic legacies. But for all the tall tales they weave, both founding families are tight-lipped about what caused the century-old rift between them, except to say it began with a cherry tree.
Eighteen-year-old Jack "June" O'Donnell doesn't need a better reason than that. She's an O'Donnell to her core, just like her late father was, and O'Donnells stay away from Angerts. Period.
But when Saul Angert, the son of June's father's mortal enemy, returns to town after three mysterious years away, June can't seem to avoid him. Soon the unthinkable happens: She finds she doesn't exactly hate the gruff, sarcastic boy she was born to loathe.
Saul's arrival sparks a chain reaction, and as the magic, ghosts, and coywolves of Five Fingers conspire to reveal the truth about the dark moment that started the feud, June must question everything she knows about her family and the father she adored. And she must decide whether it's finally time for her—and all of the O'Donnells before her—to let go.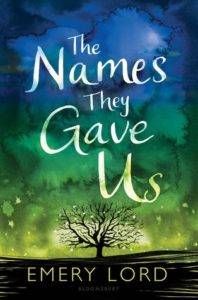 The Names They Gave Us by Emery Lord: Lucy Hansson was ready for a perfect summer with her boyfriend, working at her childhood Bible camp on the lake. But when her mom's cancer reappears, Lucy falters—in faith, in love, and in her ability to cope. When her boyfriend "pauses" their relationship and her summer job switches to a different camp—one for troubled kids—Lucy isn't sure how much more she can handle. Attempting to accept a new normal, Lucy slowly regains footing among her vibrant, diverse coworkers, Sundays with her mom, and a crush on a fellow counselor. But when long-hidden family secrets emerge, can Lucy set aside her problems and discover what grace really means?
No Second Chances by Kate Evangelista: Natasha was DEVASTATED when Jackson, her first love, disappeared without a word only to pop up months later as a famous DJ. But now she's over it―over him!―and ready to move on with her life! Isn't she?
Jackson thought he was leaving Dodge Cove behind forever when he set off to LA to start his career as a DJ. But the one thing he had never been able to leave behind was the memory of his first love, Natasha, and now that he's proven his success, he's coming home to win her back…
*Seeker by Veronica Rossi: When Daryn claimed she was seeing visions during her sophomore year of high school, no one believed the truth. She wasn't losing her mind, she was gaining the Sight the ability to see the future. If she just paid attention to the visions, they'd provide her with clues and show her how she could help people. Really help them. Daryn embraced her role as a Seeker. The work she did was important. She saved lives.
Until Sebastian.
Sebastian was her first and worst mistake.
Since the moment she inadvertently sealed him in a dark dimension with Samrael the last surviving demon in the Kindred guilt has plagued her. Daryn knows Sebastian is alive and waiting for help. It's up to her to rescue him. But now that she needs the Sight more than ever to guide her, the visions have stopped.
Daryn must rely on her instincts, her intelligence, and on blind faith to lead the riders who are counting on her in search of Sebastian. As they delve into a shadowy realm where nothing is as it seems and where Samrael is steadily amassing power, Daryn faces the ultimate test. Will she have to become evil to destroy evil? The very fate of humankind rests in the answer.
*Thick As Thieves by Megan Whalen Turner: Kamet, a secretary and slave to his Mede master, has the ambition and the means to become one of the most powerful people in the Empire. But with a whispered warning the future he envisioned is wrenched away, and he is forced onto a very different path.
*The Best Kind Of Magic by Crystal Cestari: Amber Sand is not a witch. The Sand family Wicca gene somehow leapfrogged over her. But she did get one highly specific magical talent: she can see true love. As a matchmaker, Amber's pretty far down the sorcery food chain (even birthday party magicians rank higher), but after five seconds of eye contact, she can envision anyone's soul mate.
Amber works at her mother's magic shop–Windy City Magic–in downtown Chicago, and she's confident she's seen every kind of happy ending there is: except for one–her own. (The Fates are tricky jerks that way.) So when Charlie Blitzman, the mayor's son and most-desired boy in school, comes to her for help finding his father's missing girlfriend, she's distressed to find herself falling for him. Because while she can't see her own match, she can see his–and it's not Amber. How can she, an honest peddler of true love, pursue a boy she knows full well isn't her match?
23
The Fashion Committee by Susan Juby: Charlie Dean is a style-obsessed girl who eats, sleeps, and breathes fashion. John Thomas-Smith is a boy who forges metal sculptures in his garage and couldn't care less about clothes. Both are gunning for a scholarship to the private art high school that could make all their dreams come true. Whoever wins the fashion competition will win the scholarship–and only one can win.
*The Gauntlet by Megan Shepherd: Cora and her friends have escaped the Kindred station and landed at Armstrong—a supposed safe haven on a small moon—where they plan to regroup and figure out how to win the Gauntlet, the challenging competition to prove humanity's intelligence and set them free. But Armstrong is no paradise; ruled by a power-hungry sheriff, it's a violent world where the teens are enslaved and put to work in mines. As Nok's due date grows closer, and Mali and Leon journey across space to rescue Cassian, the former inhabitants of the cage are up against impossible odds.
With the whole universe at stake, Cora will do whatever it takes, including pushing her body and mind to the breaking point, to escape Armstrong and run the Gauntlet. But it isn't just a deranged sheriff she has to overcome: the other intelligent species—the Axion, Kindred, Gatherers, and Mosca—all have their own reasons to stop her. Not knowing who to trust, Cora must rely on her own instincts to win the competition, which could change the world—though it might destroy her in the process.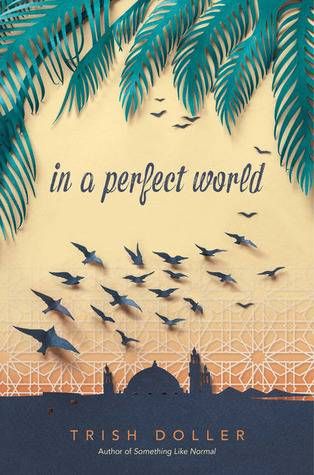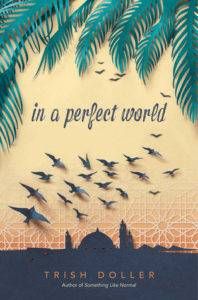 In A Perfect World by Trish Doller: Caroline Kelly is excited to be spending her summer vacation working at the local amusement park with her best friend, exploring weird Ohio with her boyfriend, and attending soccer camp with the hope she'll be her team's captain in the fall.
But when Caroline's mother is hired to open an eye clinic in Cairo, Egypt, Caroline's plans are upended. Caroline is now expected to spend her summer andher senior year in a foreign country, away from her friends, her home, and everything she's ever known.
With this move, Caroline predicts she'll spend her time navigating crowded streets, eating unfamiliar food, and having terrible bouts of homesickness. But when she finds instead is a culture that surprises her, a city that astounds her, and a charming, unpredictable boy who challenges everything she thought she knew about life, love, and privilege.
*Lord of Shadows by Cassandra Clare: Emma Carstairs has finally avenged her parents. She thought she'd be at peace. But she is anything but calm. Torn between her desire for her parabatai Julian and her desire to protect him from the brutal consequences of parabatai relationships, she has begun dating his brother, Mark. But Mark has spent the past five years trapped in Faerie; can he ever truly be a Shadowhunter again?
And the faerie courts are not silent. The Unseelie King is tired of the Cold Peace, and will no longer concede to the Shadowhunters' demands. Caught between the demands of faerie and the laws of the Clave, Emma, Julian, and Mark must find a way to come together to defend everything they hold dear—before it's too late.
*Refuge for Masterminds by Kathleen Baldwin: Lady Jane Moore has a secret. A secret that must be kept buried. For if anyone discovered the truth, her life at Stranje House would crumble. And with Napoleon Bonaparte's invasion of England underway, everyone at Stranje House is already in danger. Mortal danger.
Jane knows it. She may not be like Tess, who has the advantage of prophetic dreams. Nor is she like Sera, who notices every detail no matter how miniscule and draws conclusions based on the smallest thread of evidence. She doesn't possess Maya's ability to soothe the tempers around her with a few well-spoken words. Neither is she a brilliant scientist like Georgie. According to Miss Stranje, Lady Jane Moore is a mastermind.
Nonsense!
Jane doesn't consider herself a mastermind. Quite the contrary, she believes herself to be an ordinary young lady. It's just that she has a rather excessive bent toward the practical. She tends to grasp the facts of a situation quickly, and by so doing, she's able to devise and implement a sensible course of action. But that's all there is to it. Well, there is the fact that she also organizes the players in her plans with quiet efficiency. So much so, that occasionally Lady Jane's friends tease her for being a bit managing.
Do they expect her to sit back and do nothing when trouble is brewing? Not likely. Not when the people she cares about are at risk. Call it being a mastermind if you must, it is a trait that comes in rather handy in a world full of spies, sabotage, and double-dealing. Especially now that Lady Jane and Sera have rooted out the truth: There is a traitor at Stranje House.
Someone is sneaking information to Lady Daneska and Ghost, Napoleon's spies. Jane is determined to find out who it is before the bonds of friendship at Stranje House are ripped apart by suspicions. Her desperate hunt for the traitor ensnares Robert Fulton's nephew, Alexander Sinclair, a brash American inventor, in an ambush that puts his life in danger. Sinclair may well be the most maddening man in all of Christendom, a wicked-tongued rascal with boorish manners, but for some reason, Lady Jane cannot bear the thought of the golden-haired genius being harmed.
Is Jane enough of a mastermind to save Alexander, her friends at Stranje House, and possibly England itself?
30
Crossing Ebenezer Creek by Tonya Bolden: When Mariah and her young brother Zeke are suddenly freed from slavery, they set out on Sherman's long march through Georgia during the Civil War. Mariah wants to believe that the brutalities of slavery are behind them forever and that freedom lies ahead. When she meets Caleb, an enigmatic young black man also on the march, Mariah soon finds herself dreaming not only of a new life, but of true love as well. But even hope comes at a cost, and as the treacherous march continues toward the churning waters of Ebenezer Creek, Mariah's dreams are as vulnerable as ever.
*Dark Breaks The Dawn by Sara B. Larson: On her eighteenth birthday, Princess Evelayn of Eadrolan, the Light Kingdom, can finally access the full range of her magical powers. The light looks brighter, the air is sharper, and the energy she can draw when fighting feels almost limitless.
But while her mother, the queen, remains busy at the war front, in the Dark Kingdom of Dorjhalon, the corrupt king is plotting. King Bain wants control of both kingdoms, and his plan will fling Evelayn onto the throne much sooner than she expected.
In order to defeat Bain and his sons, Evelayn will quickly have to come into her ability to shapeshift, and rely on the alluring Lord Tanvir. But not everyone is what they seem, and the balance between the Light and Dark comes at a steep price.
Eliza And Her Monsters by Francesca Zappia: In the real world, Eliza Mirk is shy, weird, and friendless. Online, Eliza is LadyConstellation, anonymous creator of the wildly popular webcomic Monstrous Sea. Eliza can't imagine enjoying the real world as much as she loves her digital community, and has no desire to try.
Then Wallace Warland, Monstrous Sea's biggest fanfiction writer, transfers to her school. Wallace thinks Eliza is just another fan, and Eliza begins to wonder if a life offline might be worthwhile. But when Eliza's secret is accidentally shared with the world, everything she's built—her story, her relationship with Wallace, and even her sanity—begins to fall apart.
*House of Furies by Madeleine Roux: After escaping a harsh school where punishment was the lesson of the day, seventeen-year-old Louisa Ditton is thrilled to find employment as a maid at a boarding house. But soon after her arrival at Coldthistle House, Louisa begins to realize that the house's mysterious owner, Mr. Morningside, is providing much more than lodging for his guests. Far from a place of rest, the house is a place of judgment, and Mr. Morningside and his unusual staff are meant to execute their own justice on those who are past being saved.
Louisa begins to fear for a young man named Lee who is not like the other guests. He is charismatic and kind, and Louisa knows that it may be up to her to save him from an untimely judgment. But in this house of distortions and lies, how can Louisa be sure whom to trust?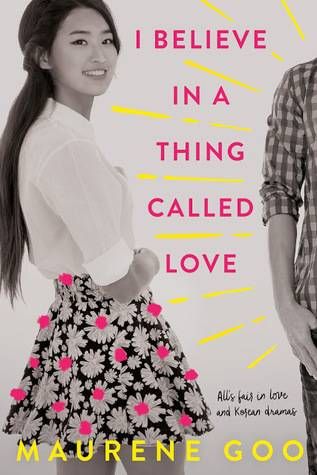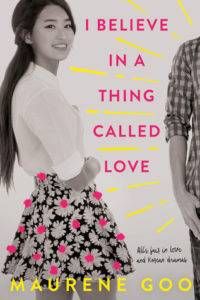 I Believe In A Thing Called Love by Maurene Goo: Desi Lee knows how carburetors work. She learned CPR at the age of five. As a high school senior, she has never missed a day of school and has never had a B in her entire life. She's for sure going to Stanford. But—she's never had a boyfriend. In fact, she's a disaster in romance, a clumsy, stammering humiliation-magnet whose botched attempts at flirting have become legendary with her friends. So when the hottest human specimen to have ever lived walks into her life one day, Desi decides to tackle her flirting failures with the same zest she's applied to everything else in her life. She finds her answer in the Korean dramas her father has been obsessively watching for years—where the hapless heroine always seems to end up in the arms of her true love by episode ten. It's a simple formula, and Desi is a quick study. Armed with her "K Drama Rules for True Love," Desi goes after the moody, elusive artist Luca Drakos—and boat rescues, love triangles, and fake car crashes ensue. But when the fun and games turn to true feels, Desi finds out that real love is about way more than just drama.
Juniper Lemon's Happiness Index by Julie Israel: It's been sixty-five days since the accident that killed Juniper's sister, and ripped Juniper's world apart.
Then she finds the love letter: written by Camilla on the day of the accident, addressed mysteriously to "You," but never sent. Desperate to learn You's identity and deliver the message, Juniper starts to investigate.
Until she loses something. A card from her Happiness Index: a ritual started by sunny Camie for logging positives each day. It's what's been holding Juniper together since her death – but a lost card only widens the hole she left behind. And this particular card contains Juniper's own dark secret: a memory she can't let anyone else find out.
The search for You and her card take Juniper to even less expected places, and as she connects with those whose secrets she upturns in the effort, she may just find the means to make peace with her own.
*Monstrous by Thomas E. Sniegoski: The horrors that began in Savage continue in Boston as Sydney and her friends work to protect the city from the newly crazed rampage of animals and try to figure out the origin of the storm and its power.
No Good Deed by Goldy Moldavsky: He's not asking for much. All Gregor Maravilla wants to do is feed all of the starving children on the planet. So when he's selected to join Camp Save the World, a special summer program for teenage activists from all over the country to champion their cause, Gregor's sure he's on the path to becoming Someone Great.
But then a prize is announced. It will be awarded at the end of summer to the activist who shows the most promise in their campaign. Gregor's sure he has the prize in the bag, especially compared to some of the other campers' campaigns. Like Eat Dirt, a preposterous campaign started by Ashley Woodstone, a famous young actor who most likely doesn't even deserve to be at the camp. Everywhere Gregor goes, Ashley seems to show up ready to ruin things. Plus, the prize has an unforeseen side effect, turning a quiet summer into cutthroat warfare where campers stop focusing on their own campaigns and start sabotaging everyone else's.
One of Us Is Lying by Karen M. McManus: Pay close attention and you might solve this.
On Monday afternoon, five students at Bayview High walk into detention.
Bronwyn, the brain, is Yale-bound and never breaks a rule.
Addy, the beauty, is the picture-perfect homecoming princess.
Nate, the criminal, is already on probation for dealing.
Cooper, the athlete, is the all-star baseball pitcher.
And Simon, the outcast, is the creator of Bayview High's notorious gossip app.
Only, Simon never makes it out of that classroom. Before the end of detention Simon's dead. And according to investigators, his death wasn't an accident. On Monday, he died. But on Tuesday, he'd planned to post juicy reveals about all four of his high-profile classmates, which makes all four of them suspects in his murder. Or are they the perfect patsies for a killer who's still on the loose?
Everyone has secrets, right? What really matters is how far you would go to protect them.
Romancing The Throne by Nadine Jolie Courtney: For the first time ever, the Weston sisters are at the same boarding school. After an administration scandal at Libby's all-girls school threatens her chances at a top university, she decides to join Charlotte at posh and picturesque Sussex Park. Social-climbing Charlotte considers it her sisterly duty to bring Libby into her circle: Britain's young elites, glamorous teens who vacation in Hong Kong and the South of France and are just as comfortable at a polo match as they are at a party.
It's a social circle that just so happens to include handsome seventeen-year-old Prince Edward, heir to Britain's throne.
If there are any rules of sisterhood, "Don't fall for the same guy" should be one of them. But sometimes chemistry—even love—grows where you least expect it. In the end, there may be a price to pay for romancing the throne…and more than one path to happily ever after.
Royal Bastards by Andrew Shvarts: Being a bastard blows. Tilla would know. Her father, Lord Kent of the Western Province, loved her as a child, but cast her aside as soon as he had trueborn children.
At sixteen, Tilla spends her days exploring long-forgotten tunnels beneath the castle with her stablehand half brother, Jax, and her nights drinking with the servants, passing out on Jax's floor while her castle bedroom collects dust. Tilla secretly longs to sit by her father's side, resplendent in a sparkling gown, enjoying feasts with the rest of the family. Instead, she sits with the other bastards, like Miles of House Hampstedt, an awkward scholar who's been in love with Tilla since they were children.
Then, at a feast honoring the visiting princess Lyriana, the royal shocks everyone by choosing to sit at the Bastards' Table. Before she knows it, Tilla is leading the sheltered princess on a late-night escapade. Along with Jax, Miles, and fellow bastard Zell, a Zitochi warrior from the north, they stumble upon a crime they were never meant to witness.
Rebellion is brewing in the west, and a brutal coup leaves Lyriana's uncle, the Royal Archmagus, dead—with Lyriana next on the list. The group flees for their lives, relentlessly pursued by murderous mercenaries; their own parents have put a price on their heads to prevent the king and his powerful Royal Mages from discovering their treachery.
The bastards band together, realizing they alone have the power to prevent a civil war that will tear their kingdom apart—if they can warn the king in time. And if they can survive the journey.
Washed Ashore by Kerr Thomson: On a wild Scottish island, a tragedy washes up on the storm-beaten shore: the bodies of a whale and a man. Fraser, desperate for adventure, and Hayley, visiting from Texas, become tangled in the mystery.
But Fraser's younger brother Dunny is distraught by the discovery. He hasn't spoken in years, and lately he's been acting more strangely than ever.
Together, the three meet a man living in the abandoned caves nearby. They start to wonder if he might lie at the center of something darker than they had previously thought. For the whispering sea conceals a terrible secret, and to discover the truth, one of them must learn to listen.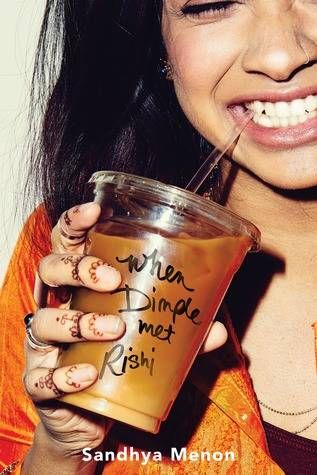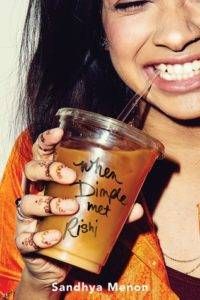 When Dimple Met Rishi by Sandhya Menon: Dimple Shah has it all figured out. With graduation behind her, she's more than ready for a break from her family, from Mamma's inexplicable obsession with her finding the "Ideal Indian Husband." Ugh. Dimple knows they must respect her principles on some level, though. If they truly believed she needed a husband right now, they wouldn't have paid for her to attend a summer program for aspiring web developers…right?
Rishi Patel is a hopeless romantic. So when his parents tell him that his future wife will be attending the same summer program as him—wherein he'll have to woo her—he's totally on board. Because as silly as it sounds to most people in his life, Rishi wants to be arranged, believes in the power of tradition, stability, and being a part of something much bigger than himself.
The Shahs and Patels didn't mean to start turning the wheels on this "suggested arrangement" so early in their children's lives, but when they noticed them both gravitate toward the same summer program, they figured, Why not?
Dimple and Rishi may think they have each other figured out. But when opposites clash, love works hard to prove itself in the most unexpected ways.
When It's Real by Erin Watt: Meet Oakley Ford-teen celebrity, renowned pop star, child of famous movie stars, hottie with millions of fangirls… and restless troublemaker. On the surface he has it all, but with his home life disintegrating, his music well suddenly running dry, and the tabloids having a field day over his outrageous exploits, Oakley's team decides it's time for an intervention. The result: an image overhaul, complete with a fake girlfriend meant to show the world he's settled down.
Enter seventeen-year-old Vaughn Bennett-devoted sister, part-time waitress, the definition of "normal." Under ordinary circumstances she'd never have taken this gig, but with her family strapped for cash, she doesn't have much of a choice. And for the money Oakley's team is paying her, she figures she can put up with outlandish Hollywood parties and a team of publicists watching her every move. So what if she thinks Oakley's a shallow, self-centered jerk? It's not like they're going to fall for each other in real life…right?
June
6
And Then There Were Four by Nancy Werlin: Let's not die today. Not even to make things easier for our parents.
When a building collapses around five teenagers–and they just barely escape–they know something strange is going on. Little by little, the group pieces together a theory: Their parents are working together to kill them all. Is it true? And if so, how did their parents come together–and why? And, most importantly, how can the five of them work together to save themselves? With an unlikely group of heroes, sky-high stakes, and two budding romances, this gripping murder mystery will keep readers guessing until the last page.
Be True To Me by Adele Griffin: It's the summer of 1976 on Fire Island, where feathered hair and the Bicentennial celebration reign. Jean, a sometimes cruel, often insecure, and always envious rich girl, is accustomed to living in her glamorous older sister's shadow. So when Gil Burke, a handsome newcomer with uncertain ties to one of the most powerful families in the exclusive enclave of Sunken Haven, notices Jean—not her sister—Jean is smitten. Then Fritz, a girl from outside the gilded gates who humiliated Jean in the Island's tennis championship last year, falls for Gil herself. Soon the girls are competing for much more than a tennis trophy, with higher stakes than either of them can imagine.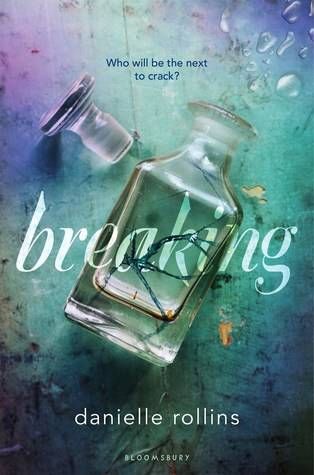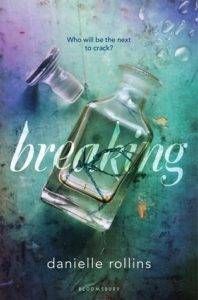 Breaking by Danielle Rollins: Charlotte has always been content in the shadow of her two best friends at the prestigious Underhill Preparatory Institute. Ariel is daring and mysterious. Devon is beautiful and brilliant. Although Charlotte never lived up to the standards of the school—or her demanding mother—her two best friends became the family she never had. When Ariel and Devon suddenly commit suicide within a month of each other, Charlotte refuses to accept it as a coincidence. But as the clues point to a dangerous secret about Underhill Prep, Charlotte is suddenly in over her head. There's a reason the students of Underhill are so exceptional, and the people responsible are willing to kill to protect the truth…
Boy by Blake Nelson: Every school has them: the cool kids. The insiders. Gavin Meeks is one of them. He lives an easy life of parties, girls, snowboarding adventures and whatever else comes his way.
But when dark, dramatic Antoinette crash-lands at Evergreen High, the entire school feels the impact. Antoinette has seen things, been places, experienced deep tragedy first-hand. She's not just a rebel, she's a force of nature. Gavin, for one, is captivated and is soon pursuing interests he never knew he had. With a camera in hand, he finds a way to express his own truth, including his feelings for his favorite subject: Antoinette.
Dividing Eden by Joelle Charbonneau: Twins Carys and Andreus were never destined to rule Eden. With their older brother next in line to inherit the throne, the future of the kingdom was secure.
But appearances—and rivals—can be deceiving. When Eden's king and crown prince are killed by assassins, Eden desperately needs a monarch, but the line of succession is no longer clear. With a ruling council scheming to gain power, Carys and Andreus are faced with only one option—to take part in a Trial of Succession that will determine which one of them is worthy of ruling the kingdom.
As sister and brother, Carys and Andreus have always kept each other safe—from their secrets, from the court, and from the monsters lurking in the mountains beyond the kingdom's wall. But the Trial of Succession will test the bonds of trust and family.
With their country and their hearts divided, Carys and Andreus will discover exactly what each will do to win the crown. How long before suspicion takes hold and the thirst for power leads to the ultimate betrayal?
Felix YZ by Lisa Bunker: When Felix Yz was three years old, a hyperintelligent fourth-dimensional being became fused inside him after one of his father's science experiments went terribly wrong. The creature is friendly, but Felix—now thirteen—won't be able to grow to adulthood while they're still melded together. So a risky Procedure is planned to separate them . . . but it may end up killing them both instead.
This book is Felix's secret blog, a chronicle of the days leading up to the Procedure. Some days it's business as usual—time with his close-knit family, run-ins with a bully at school, anxiety about his crush. But life becomes more out of the ordinary with the arrival of an Estonian chess Grandmaster, the revelation of family secrets, and a train-hopping journey. When it all might be over in a few days, what matters most?
*Firebrand by A. J. Hartley: Once a steeplejack, Anglet Sutonga is used to scaling the heights of Bar-Selehm. Nowadays she assists politician Josiah Willinghouse behind the scenes of Parliament. The latest threat to the city-state: Government plans for a secret weapon are stolen and feared to be sold to the rival nation of Grappoli. The investigation leads right to the doorsteps of Elitus, one of the most exclusive social clubs in the city. In order to catch the thief, Ang must pretend to be a foreign princess and infiltrate Elitus. But Ang is far from royal material, so Willinghouse enlists help from the exacting Madam Nahreem.
Yet Ang has other things on her mind. Refugees are trickling into the city, fleeing Grappoli-fueled conflicts in the north. A demagogue in Parliament is proposing extreme measures to get rid of them, and she soon discovers that one theft could spark a conflagration of conspiracy that threatens the most vulnerable of Bar-Selehm. Unless she can stop it.
Follow Me Back by A.V. Geiger: Tessa Hart's world feels very small. Confined to her bedroom with agoraphobia, her one escape is the online fandom for pop sensation Eric Thorn. When he tweets to his fans, it's like his speaking directly to her…
Eric Thorn is frightened by his obsessive fans. They take their devotion way too far. It doesn't help that his PR team keeps posting to encourage their fantasies.
When a fellow pop star is murdered at the hands of a fan, Eric knows he has to do something to shatter his online image fast—like take down one of his top Twitter followers. But Eric's plan to troll @TessaHeartsEric unexpectedly evolves into an online relationship deeper than either could have imagined. And when the two arrange to meet IRL, what should have made for the world's best episode of Catfish takes a deadly turn.
Here Lies Daniel Tate by Cristin Terrill: When ten-year-old Daniel Tate went missing from one of California's most elite communities, he left no trace. He simply vanished.
Six years later, when he resurfaces on a snowy street in Vancouver, he's no longer the same boy. His sandy hair is darker, the freckles are gone, and he's initially too traumatized to speak, but he's alive. His overjoyed family brings him home to a world of luxury and comfort he can barely remember. In time, they assure him, he'll recover his memories; all that matters now is they're together again.
It's perfect. A miracle. Except for one thing.
He isn't Daniel Tate.
He's a petty con artist who accidentally stumbled into the scam of a lifetime, and he soon learns he's not the only one in the Tate household with something to hide. The family has as many secrets as they have millions in the bank, and one of them might be ready to kill to keep the worst one buried.
Internet Famous by Danika Stone: High school senior and internet sensation Madison Nakama seems to have it all: a happy family, good grades, and a massive online following for her pop-culture blog. But when her mother suddenly abandons the family, Madi finds herself struggling to keep up with all of her commitments.
Fandom to the rescue! As her online fans band together to help, an online/offline flirtation sparks with Laurent, a French exchange student. Their internet romance—played out in the comments section of her MadLibs blog—attracts the attention of an internet troll who threatens the separation of Madi's real and online personas. With her carefully constructed life unraveling, Madi must uncover the hacker's identity before he can do any more damage, or risk losing the people she loves the most… Laurent included.
Liberty: The Spy Who (Kind Of) Liked Me by Andrea Portes: What is a hero? Paige Nolan knows.
Edward Raynes, the young man who exposed America's unconstitutional spying techniques, is a hero, even if half the dum-dums in the country think he's a traitor. Or her parents, journalists who were captured by terrorists while telling stories of the endangered and oppressed. They were heroes, too. Were. . . or are—no one has ever told Paige if they're still alive, or dead.
Not heroes? Anyone in the government who abandoned her parents, letting them rot somewhere halfway across the world. And certainly not Paige herself, who despite her fluency in five languages and mastery of several obscure martial arts (thanks, Mom!) could do nothing to save them.
Couldn't, that is, until she's approached by Madden Carter, an undercover operative who gives her a mission—fly to Russia, find Raynes, and discover what other government secrets he's stockpiled. In exchange, he'll reopen the case on her missing parents. She's given a code name and a cover as a foreign exchange student.
Who is a hero? Not Paige Nolan, but maybe, just maybe, Liberty is.
Once And For All by Sarah Dessen: Louna, daughter of famed wedding planner Natalie Barrett, has seen every sort of wedding: on the beach, at historic mansions, in fancy hotels and clubs. Perhaps that's why she's cynical about happily-ever-after endings, especially since her own first love ended tragically. When Louna meets charming, happy-go-lucky serial dater Ambrose, she holds him at arm's length. But Ambrose isn't about to be discouraged, now that he's met the one girl he really wants.
Perfect Ten by L. Philips: It's been two years since Sam broke up with the only other eligible gay guy in his high school, so to say he's been going through a romantic drought is the understatement of the decade. But when Meg, his ex-Catholic-turned-Wiccan best friend, suggests performing a love spell, Sam is just desperate enough to try. He crafts a list of ten traits he wants in a boyfriend and burns it in a cemetery at midnight on Friday the 13th.
Enter three seemingly perfect guys, all in pursuit of Sam. There's Gus, the suave French exchange student; Jamie, the sweet and shy artist; and Travis, the guitar-playing tattooed enigma. Even Sam's ex-boyfriend Landon might want another chance.
But does a Perfect Ten even exist?
The Possible by Tara Altebrando: What if…no one knows the truth about you?
It's been thirteen years since Kaylee's infamous birth mother, Crystal, received a life sentence for killing Kaylee's little brother in a fit of rage. Once the center of a cult-following for her apparent telekinetic powers, nowadays nobody's heard of Crystal. Until now, when a reporter shows up at Kaylee's house and turns her life upside down, offering Kaylee the chance to be part of a high-profile podcast investigating claims that Crystal truly did have supernatural mind powers. But these questions lead to disturbing answers as Kaylee is forced to examine her own increasingly strange life, and make sense of certain dark and troubling coincidences…
*Romeo, Juliet, & Jim by Larry Schwarz, Iva-Marie Palmer: In this contemporary romantic thriller with homages to Shakespeare and Truffaut, the star-crossed teen lovers are heirs to rival Parisian fashion houses, carrying on a clandestine relationship – until Jim, a mysterious and charismatic American, creates a triangle of interests.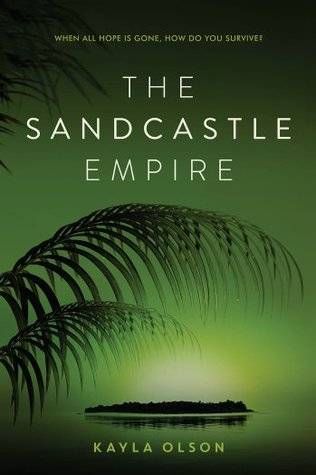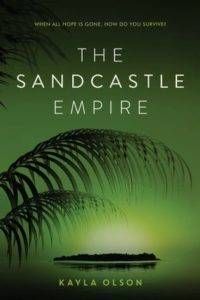 The Sandcastle Empire by Kayla Olson: Before the war, Eden's life was easy—air conditioning, ice cream, long days at the beach. Then the revolution happened, and everything changed.
Now a powerful group called the Wolfpack controls the earth and its resources. Eden has lost everything to them. They killed her family and her friends, destroyed her home, and imprisoned her. But Eden refuses to die by their hands. She knows the coordinates to the only neutral ground left in the world, a place called Sanctuary Island, and she is desperate to escape to its shores.
Eden finally reaches the island and meets others resistant to the Wolves—but the solace is short-lived when one of Eden's new friends goes missing. Braving the jungle in search of their lost ally, they quickly discover Sanctuary is filled with lethal traps and an enemy they never expected.
This island might be deadlier than the world Eden left behind, but surviving it is the only thing that stands between her and freedom.
Song Of The Current by Sarah Tolcser: Caroline Oresteia is destined for the river. For generations, her family has been called by the river god, who has guided their wherries on countless voyages throughout the Riverlands. At seventeen, Caro has spent years listening to the water, ready to meet her fate. But the river god hasn't spoken her name yet—and if he hasn't by now, there's a chance he never will.
Caro decides to take her future into her own hands when her father is arrested for refusing to transport a mysterious crate. By agreeing to deliver it in exchange for his release, Caro finds herself caught in a web of politics and lies, with dangerous pirates after the cargo—an arrogant courier with a secret—and without the river god to help her. With so much at stake, Caro must choose between the life she always wanted and the one she never could have imagined for herself.
Tash Hearts Tolstoy by Kathryn Ormsbee: After a shout-out from one of the Internet's superstar vloggers, Natasha "Tash" Zelenka finds herself and her obscure, amateur web series, Unhappy Families, thrust into the limelight: She's gone viral.
Her show is a modern adaptation of Anna Karenina—written by Tash's literary love Count Lev Nikolayevich "Leo" Tolstoy. Tash is a fan of the forty thousand new subscribers, their gushing tweets, and flashy Tumblr GIFs. Not so much the pressure to deliver the best web series ever.
And when Unhappy Families is nominated for a Golden Tuba award, Tash's cyber-flirtation with Thom Causer, a fellow award nominee, suddenly has the potential to become something IRL—if she can figure out how to tell said crush that she's romantic asexual.
Tash wants to enjoy her newfound fame, but will she lose her friends in her rise to the top? What would Tolstoy do?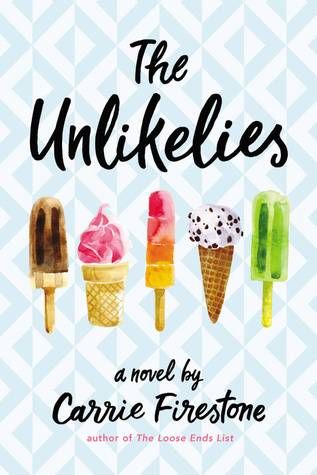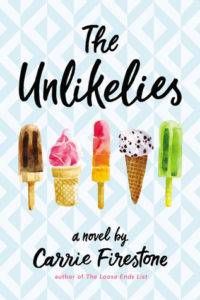 The Unlikelies by Carrie Firestone: Rising high school senior Sadie is bracing herself for a long, lonely, and boring summer. But things take an unexpected turn when she steps in to help rescue a baby in distress and a video of her good deed goes viral.
Suddenly internet-famous, Sadie's summer changes for the better when she's introduced to other "hometown heroes." These five very different teens form an unlikely alliance to secretly right local wrongs, but when they try to help a heroin-using friend, they get in over their heads and discover that there might be truth in the saying "no good deed goes unpunished." Can Sadie and her new friends make it through the summer with their friendships–and anonymity–intact?
What I Lost by Alexandra Ballard: What sixteen-year-old Elizabeth has lost so far: forty pounds, four jean sizes, a boyfriend, and her peace of mind. As a result, she's finally a size zero. She's also the newest resident at Wallingfield, a treatment center for girls like her—girls with eating disorders. Elizabeth is determined to endure the program so she can go back home, where she plans to start restricting her food intake again.She's pretty sure her mom, who has her own size-zero obsession, needs treatment as much as she does. Maybe even more. Then Elizabeth begins receiving mysterious packages. Are they from her ex-boyfriend, a secret admirer, or someone playing a cruel trick?
Wildman by J. C. Geiger: Lance Hendricks is homeward bound, four hundred highway miles from the best night of his life. There's an epic graduation party brewing, his girlfriend will be there, and they've got a private bedroom with their names on it. When his '93 Buick breaks down in the middle of nowhere, Lance is sure he'll be back on the road in no time. After all, he's the high school valedictorian. First chair trumpet player. Scholarship winner. Nothing can stop Lance Hendricks.
But afternoon turns to night, and Lance ends up stranded at the Trainsong Motel. The place feels ominous, even before there's a terrible car wreck outside his room. When Lance rushes out to help, the townies take notice. They call him Wildman, and an intriguing local girl asks him to join in their nighttime adventures. He begins to live up to his new name. As one day blurs into the next, Lance finds himself in a bar fight, jumping a train, avoiding the police. Drifting farther from home and closer to a girl who makes him feel a way he's never felt before—like himself.
Words in Deep Blue by Cath Crowley: Years ago, Rachel had a crush on Henry Jones. The day before she moved away, she tucked a love letter into his favorite book in his family's bookshop. She waited. But Henry never came.
Now Rachel has returned to the city—and to the bookshop—to work alongside the boy she'd rather not see, if at all possible, for the rest of her life. But Rachel needs the distraction. Her brother drowned months ago, and she can't feel anything anymore.
As Henry and Rachel work side by side—surrounded by books, watching love stories unfold, exchanging letters between the pages—they find hope in each other. Because life may be uncontrollable, even unbearable sometimes. But it's possible that words, and love, and second chances are enough.
13
Bad Romance by Heather Demetrios: Grace wants out. Out of her house, where her stepfather wields fear like a weapon and her mother makes her scrub imaginary dirt off the floors. Out of her California town, too small to contain her big city dreams. Out of her life, and into the role of Parisian artist, New York director—anything but scared and alone.
Enter Gavin: charming, talented, adored. Controlling. Dangerous. When Grace and Gavin fall in love, Grace is sure it's too good to be true. She has no idea their relationship will become a prison she's unable to escape.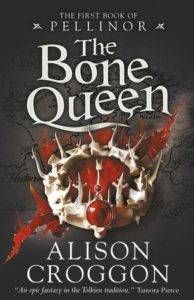 *The Bone Queen by Alison Croggon: Cadvan of Lirigon, one of the most powerful Bards of his time, has been exiled from the School of Lirigon for a grievous crime that unleashed the power of the Bone Queen. Isolated and guilt-ridden, he is burdened by memories of his dealings with the Dark. Meanwhile, across Edil-Amarandh, a number of disturbing events suggest that the Bone Queen may not have been successfully banished, as was previously believed. The Light is under threat, but does Cadvan have the strength to face the Bone Queen again?
*The Fallen Kingdom by Elizabeth May: The long-awaited final book in the Falconer trilogy is an imaginative tour-de-force that will thrill fans of the series. Aileana Kameron, resurrected by ancient fae magic, returns to the world she once knew with no memory of her past and with dangerous powers she struggles to control. Desperate to break the curse that pits two factions of the fae against each other in a struggle that will decide the fate of the human and fae worlds, her only hope is hidden in an ancient book guarded by the legendary Morrigan, a faery of immense power and cruelty. To save the world and the people she loves, Aileana must learn to harness her dark new powers even as they are slowly destroying her.
The Girl In Between by Sarah Carroll: In an old, abandoned mill, a girl and her ma take shelter from their memories of life on the streets, and watch the busy world go by. The girl calls it the Castle because it's the biggest place they've ever stayed, a home of her own like no other. The windows are boarded up and the floorboards are falling in, but for her neither of those things matter.
Then developers show up, and it's clear that that their lives are about to change forever. Desperate to save their refuge from the Authorities and her mother from her own personal demons, the girl seeks out the ghosts of the mill. And with only Caretaker the old man who's slept outside the mill for decades around to answer her questions, she begins to wonder what kind of ghosts are haunting both the mill and her mother.
Hell and High Water by Tanya Landman: Caleb has spent his life roaming southern England with his Pa, little to their names but his father s signet ring and a puppet theater for popular, raunchy Punch and Judy shows until the day Pa is convicted of a theft he didn t commit and sentenced to transportation to the colonies in America. From prison, Caleb s father sends him to the coast to find an aunt Caleb never knew he had. His aunt welcomes him into her home, but her neighbors see only Caleb s dark skin. Still, Caleb slowly falls into a strange rhythm in his new life . . . until one morning he finds a body washed up on the shore. The face is unrecognizable after its time at sea, but the signet ring is unmistakable: it can only be Caleb s father. Mystery piles on mystery as both church and state deny what Caleb knows.
*Julia Defiant by Catherine Egan: Julia and a mismatched band of revolutionaries, scholars, and thieves have crossed the world searching for a witch. But for all the miles traveled, they are no closer to finding Ko Dan. No closer to undoing the terrible spell he cast that bound an ancient magic to the life of a small child. Casimir wants that magic will happily kill Theo to extract it and every moment they hunt for Ko Dan, Casimir s assassins are hunting them.
Julia can deal with danger. The thing that truly scares her lies within. Her strange ability to vanish to a place just out of sight has grown: she can now disappear so completely that it s like stepping into another world. It s a fiery, hellish world, filled with creatures who seem to recognize her and count her as one of their own.
So . . . is Julia a girl with a monster lurking inside her? Or a monster wearing the disguise of a girl?
If she can use her monstrous power to save Theo, does it matter?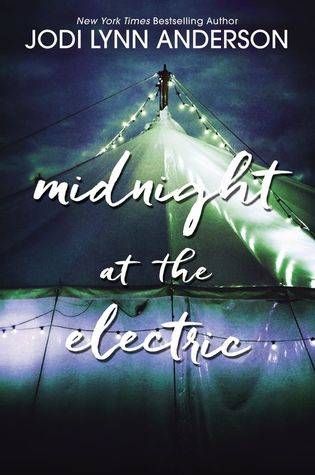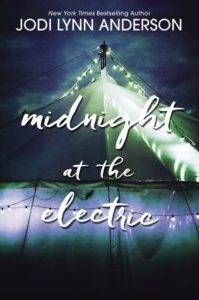 Midnight At The Electric by Jodi Lynn Anderson: Kansas, 2065 Adri has been handpicked to live on Mars. But weeks before Launch, she discovers the journal of a girl who lived in her house over a hundred years ago, and is immediately drawn into the mystery surrounding her fate. While Adri knows she must focus on the mission ahead, she becomes captivated by a life that's been lost in time…and how it might be inextricably tied to her own.
Oklahoma, 1934 Amidst the fear and uncertainty of the Dust Bowl, Catherine longs for the immortality promised by a professor at a traveling show called The Electric. But as her family's situation becomes more dire — and the suffocating dust threatens her sister's life — Catherine must find the courage to sacrifice everything she loves in order to save the one person she loves most.
England, 1919 In the recovery following World War One, Lenore tries to come to terms with her grief for her brother, a fallen British soldier, and plans to sail to America in pursuit of a childhood friend. But even if she makes it that far, will her friend be the person she remembers, and the one who can bring her back to herself?
While their stories spans thousands of miles and multiple generations, Lenore, Catherine, and Adri's fates are entwined in ways both heartbreaking and hopeful.
More of Me by Kathryn Evans: Teva's life seems normal: school, friends, boyfriend. But at home she hides an impossible secret. Eleven other Tevas.
Because once a year, Teva separates into two, leaving a younger version of herself stuck at the same age, in the same house… watching the new Teva live the life that she'd been living. But as her seventeenth birthday rolls around, Teva is determined not to let it happen again. She's going to fight for her future. Even if that means fighting herself.
*Murder Among The Stars by Adam Shankman, Laura L. Sullivan: After being framed for attempted murder, Lulu Kelly has earned a rest. Unfortunately, there is no rest in Hollywood for a rising starlet. Lulu and her boyfriend Freddie are invited to posh Hearst Castle, where Lulu will be competing against other young actresses for the role of a lifetime. But what's a house party without a little murder?
After a rival actress is found dead under the dining room table, Lulu makes it her mission to solve the mystery. But illusion is this town's number one export, and it's hard to tell the ambitious from the truly evil. As the clues pile up, Lulu and Freddie race to find the killer, even as Lulu becomes the next target.
*Obsidian and Stars by Julie Eshbaugh: After surviving the chaotic battle that erupted after Lo and the Bosha clan attacked, now Mya is looking ahead to her future with Kol. All the things that once felt so uncertain are finally falling into place. But the same night as Kol and Mya's betrothal announcement, Mya's brother Chev reveals his plan to marry his youngest sister Lees to his friend Morsk. The only way to avoid this terrible turn of events, Morsk informs Mya when he corners her later, is for Mya to take Lees' place and marry him herself.
Refusing to marry anyone other than her beloved, and in an effort to protect her sister, Mya runs away to a secret island with Lees. And though it seems like the safest place to hide until things back home blow over, Mya soon realizes she's been followed. Lurking deep in the recesses of this dangerous place are rivals from Mya's past whose thirst for revenge exceeds all reason.
With the lives of her loved ones on the line, Mya must make a move before the enemies of her past become the undoing of her future.
*Our Dark Duet by Victoria Schwab: Kate Harker is a girl who isn't afraid of the dark. She's a girl who hunts monsters. And she's good at it. August Flynn is a monster who can never be human, no matter how much he once yearned for it. He's a monster with a part to play. And he will play it, no matter the cost.
Nearly six months after Kate and August were first thrown together, the war between the monsters and the humans is terrifying reality. In Verity, August has become the leader he never wished to be, and in Prosperity, Kate has become the ruthless hunter she knew she could be. When a new monster emerges from the shadows—one who feeds on chaos and brings out its victim's inner demons—it lures Kate home, where she finds more than she bargained for. She'll face a monster she thought she killed, a boy she thought she knew, and a demon all her own.
*Roar by Cora Carmack: In a land ruled and shaped by violent magical storms, power lies with those who control them.
Aurora Pavan comes from one of the oldest Stormling families in existence. Long ago, the ungifted pledged fealty and service to her family in exchange for safe haven, and a kingdom was carved out from the wildlands and sustained by magic capable of repelling the world's deadliest foes. As the sole heir of Pavan, Aurora's been groomed to be the perfect queen. She's intelligent and brave and honorable. But she's yet to show any trace of the magic she'll need to protect her people.
To keep her secret and save her crown, Aurora's mother arranges for her to marry a dark and brooding Stormling prince from another kingdom. At first, the prince seems like the perfect solution to all her problems. He'll guarantee her spot as the next queen and be the champion her people need to remain safe. But the more secrets Aurora uncovers about him, the more a future with him frightens her. When she dons a disguise and sneaks out of the palace one night to spy on him, she stumbles upon a black market dealing in the very thing she lacks—storm magic. And the people selling it? They're not Stormlings. They're storm hunters.
Legend says that her ancestors first gained their magic by facing a storm and stealing part of its essence. And when a handsome young storm hunter reveals he was born without magic, but possesses it now, Aurora realizes there's a third option for her future besides ruin or marriage.
She might not have magic now, but she can steal it if she's brave enough.
Challenge a tempest. Survive it. And you become its master.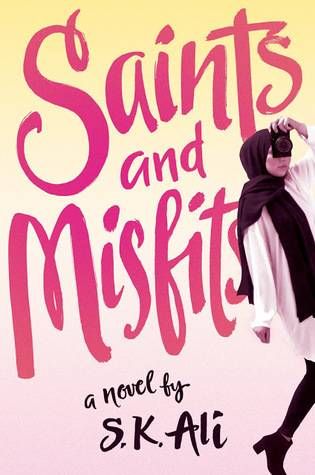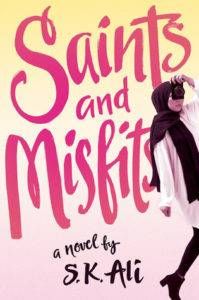 Saints & Misfits by S. K. Ali: How much can you tell about a person just by looking at them?
Janna Yusuf knows a lot of people can't figure out what to make of her…an Arab Indian-American hijabi teenager who is a Flannery O'Connor obsessed book nerd, aspiring photographer, and sometime graphic novelist is not exactly easy to put into a box.
And Janna suddenly finds herself caring what people think. Or at least what a certain boy named Jeremy thinks. Not that she would ever date him—Muslim girls don't date. Or they shouldn't date. Or won't? Janna is still working all this out.
While her heart might be leading her in one direction, her mind is spinning in others. She is trying to decide what kind of person she wants to be, and what it means to be a saint, a misfit, or a monster. Except she knows a monster…one who happens to be parading around as a saint…Will she be the one to call him out on it? What will people in her tightknit Muslim community think of her then?
Soldier Boy by Keely Hutton: Soldier Boy begins with the story of Ricky Richard Anywar, abducted at age fourteen in 1989 to fight with Joseph Kony's rebel army in Uganda's decades-long civil war. Ricky is trained, armed, and forced to fight government soldiers alongside his brutal kidnappers, but never stops dreaming of escape.
The story continues twenty years later, with a fictionalized character named Samuel, representative of the thousands of child soldiers Ricky eventually helped rehabilitate as founder of the internationally acclaimed charity Friends of Orphans.
Working closely with Ricky himself, debut author Keely Hutton has written an eye-opening book about a boy's unbreakable spirit and indomitable courage in the face of unimaginable horror.
The Suffering Tree by Elle Cosimano: Tori Burns and her family left D.C. for claustrophobic Chaptico, Maryland, after suddenly inheriting a house under mysterious circumstances. That inheritance puts her at odds with the entire town, especially Jesse Slaughter and his family—it's their generations-old land the Burns have "stolen." But none of that seems to matter after Tori witnesses a young man claw his way out of a grave under the gnarled oak in her new backyard.
Nathaniel Bishop may not understand what brought him back, but it's clear to Tori that he hates the Slaughters for what they did to him centuries ago. Wary yet drawn to him by a shared sense of loss, she gives him shelter. But in the wake of his arrival comes a string of troubling events—including the disappearance of Jesse Slaughter's cousin—that seem to point back to Nathaniel.
As Tori digs for the truth—and slowly begins to fall for Nathaniel—she uncovers something much darker in the tangled branches of the Slaughter family tree. In order to break the centuries-old curse that binds Nathaniel there and discover the true nature of her inheritance, Tori must unravel the Slaughter family's oldest and most guarded secrets. But the Slaughters want to keep them buried… at any cost.
Summer Unscripted by Jen Klein: irl looks for a sign. Enter: boy.
Rainie doesn't have a "passion" like her friends do. She's more of a dabbler—quick to give up and move on. But as graduation approaches, she wishes she had more direction. So when gorgeous Tuck gives a monologue that literally puts into words exactly how she's been feeling lately, it's a sign! Tuck is her passion. How could she not have seen it before?
Girl follows boy. Enter: second boy.
Rainie convinces her ex-BFF to let her work at the same summer job as Tuck. She's got a foolproof plan to date him. But when she arrives, Rainie discovers things aren't that simple. And she meets Milo, a super-cute boy who also works with her. A boy with a complicated past.
Girl needs to figure stuff out. Enter: drama.
*Thief's Cunning by Sarah Ahiers: Allegra has always had to look over her shoulder. As the niece of the infamous assassin Lea Saldana, Allegra is used to hiding from people who want her dead. Once the strongest clipper family in the Kingdom of Lovero, the Saldanas—or what's left of them—are now the most hunted. Their number one enemy is the Da Vias, whose thirst for retaliation is almost two decades in the making.
But lately Allegra's getting fed up with everything being kept from her—including her parents' identity. When she finally learns the truth about her family, though—that she's a Da Via—her world crumbles. Feeling betrayed by the people she trusted the most, Allegra turns to Nev, a Traveler boy whose presence makes her feel alive in ways she's only dreamed of. But getting caught up in Nev's world has consequences Allegra never saw coming.
This Impossible Light by Lily Myers: Sixteen-year-old Ivy's world is in flux. Her dad has moved out, her mother is withdrawn, her brother is off at college, and her best friend, Anna, has grown distant. Worst of all, Ivy's body won t stop expanding. She's getting taller and curvier, with no end in sight. Even her beloved math class offers no clear solution to the imbalanced equation that has become Ivy s life.
Everything feels off-kilter until a skipped meal leads to a boost in confidence and reminds Ivy that her life is her own. If Ivy can just limit what she eats the way her mother seems to she can stop herself from growing, focus on the upcoming math competition, and reclaim control of her life. But when her disordered eating leads to missed opportunities and a devastating health scare, Ivy realizes that she must weigh her mother's issues against her own, and discover what it means to be a part of and apart from her family.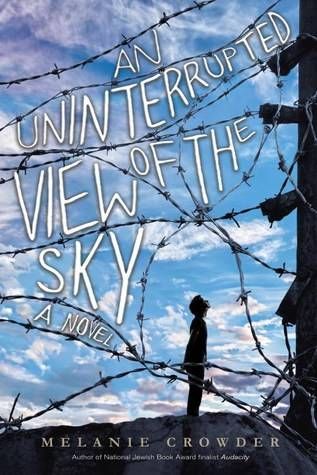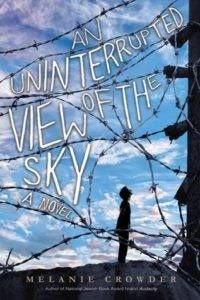 An Uninterrupted View of the Sky by Melanie Crowder: It's 1999 in Bolivia and Francisco's life consists of school, soccer, and trying to find space for himself in his family's cramped yet boisterous home. But when his father is arrested on false charges and sent to prison by a corrupt system that targets the uneducated, the poor, and the indigenous majority, Francisco's mother abandons hope and her family. Francisco and his sister are left with no choice: They must move into the prison with their father. There, they find a world unlike anything they've ever known, where everything—a door, a mattress, protection from other inmates—has its price.
Prison life is dirty, dire, and dehumanizing. With their lives upended, Francisco faces an impossible decision: Break up the family and take his sister to their grandparents in the Andean highlands, fleeing the city and the future that was just within his grasp, or remain together in the increasingly dangerous prison. Pulled between two equally undesirable options, Francisco must confront everything he once believed about the world around him and his place within it.
Want by Cindy Pon: Jason Zhou survives in a divided society where the elite use their wealth to buy longer lives. The rich wear special suits, protecting them from the pollution and viruses that plague the city, while those without suffer illness and early deaths. Frustrated by his city's corruption and still grieving the loss of his mother who died as a result of it, Zhou is determined to change things, no matter the cost.
With the help of his friends, Zhou infiltrates the lives of the wealthy in hopes of destroying the international Jin Corporation from within. Jin Corp not only manufactures the special suits the rich rely on, but they may also be manufacturing the pollution that makes them necessary.
Yet the deeper Zhou delves into this new world of excess and wealth, the more muddled his plans become. And against his better judgment, Zhou finds himself falling for Daiyu, the daughter of Jin Corp's CEO. Can Zhou save his city without compromising who he is, or destroying his own heart?
We Come Apart by Sarah Crossan, Brian Conaghan: Nicu has emigrated from Romania and is struggling to find his place in his new home. Meanwhile, Jess's home life is overshadowed by violence. When Nicu and Jess meet, what starts out as friendship grows into romance as the two bond over their painful pasts and hopeful futures. But will they be able to save each other, let alone themselves?
20
Such A Good Girl by Amanda K. Morgan: Riley Stone is just about perfect. (Ask anyone.)
She has a crush on her French teacher, Alex Belrose. (And she suspects he likes her, too.)
Riley has her entire life planned out. (The plan is nonnegotiable.)
She's never had a secret she couldn't keep. (Not ever.)
Riley is sure that her life is on the right track. (And nothing will change that.)
She's nothing like a regular teenager. (But she doesn't have any problem admitting that.)
Riley doesn't usually play games. (But when she does, she always wins.)
She thinks a game is about to start…
But Riley always has a plan…
And she always wins.
Trusting You and Other Lies by Nicole Williams: Phoenix can't imagine anything worse than being shipped off to family summer camp. Her parents have been fighting for the past two years–do they seriously think being crammed in a cabin with Phoenix and her little brother, Harry, will make things better?
On top of that, Phoenix is stuck training with Callum–the head counselor who is seriously cute but a complete know-it-all. His hot-cold attitude means he's impossible to figure out–and even harder to rely on. But despite her better judgment, Phoenix is attracted to Callum. And he's promising Phoenix a summer she'll never forget. Can she trust him? Or is this just another lie?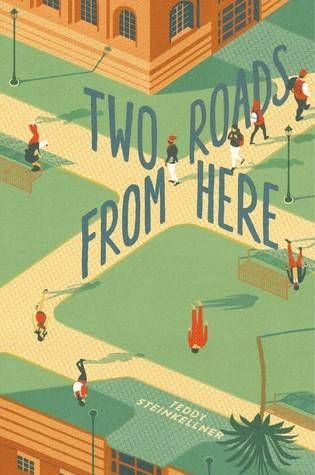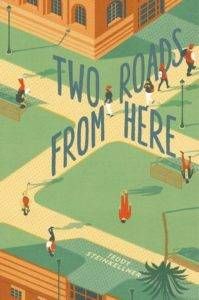 Two Roads From Here by Teddy Steinkellner: Five high school seniors. Two different roads. One life-changing decision. For fans of Tommy Wallach and Patrick Ness comes a thoughtful, funny novel that explores what happens to five teens when they choose the road…and the road not taken.
Should Brian play in Friday's football game, even though his head really hurts?
Should Allegra commit to college now that her mother's illness has returned?
Should Cole cheat on the SATs for a chance to get into his dream school?
Should Nikki go all the way with her boyfriend?
Should Wiley tell his best friend that he loves her and risk losing her completely?
These five seniors are about to have an opportunity people only dream about: to experience two potential outcomes of a life-altering decision. When it's all over, will they still recognize their futures?
27
Aftercare Instructions by Bonnie Pipkin: "Troubled." That's seventeen-year-old Genesis according to her small New Jersey town. She finds refuge and stability in her relationship with her boyfriend, Peter—until he abandons her at a Planned Parenthood clinic during their appointment to terminate an unwanted pregnancy. The betrayal causes Gen to question everything.
As Gen pushes herself forward to find her new identity without Peter, she must also confront her most painful memories. Through the lens of an ongoing four act play within the novel, the fantasy of their undying love unravels line by line, scene by scene. Digging deeper into her past while exploring the underground theater world of New York City, she rediscovers a long-forgotten dream. But it's when Gen lets go of her history, the one she thinks she knows, that she's finally able to embrace the complicated, chaotic true story of her life, and take center stage.
The Beautiful Lost by Luanne Rice: Here are three things to know about Maia:
1. Ever since her mother left, Maia's struggled with depression — which once got so bad, she had to go to an institution for a while. She doesn't want to go back.
2. Maia's sure that if she finds her mother, if the two of them can talk about whale songs and constellations, then everything will be okay again.
3. She's in love with Billy, the handsome, brooding boy who lives in the group home in town. He doesn't seem to know that Maia exists… until now.
When Maia sets off on a road trip in search of her mom, Billy unexpectedly comes along. They drive up the East Coast, stopping along the way for lobster rolls and lighthouses. Maia learns that Billy has dark secrets of his own — and wants to outrun his past, too. But what will the future hold if they reach their destination?
*Generation One by Pittacus Lore: It has been over a year since the invasion of Earth was thwarted in Pittacus Lore's United as One. But in order to win, our alien allies known as the Garde unleashed their Loric energy that spread throughout the globe. Now human teenagers have begun to develop incredible powers of their own, known as Legacies.
To help these incredible and potentially dangerous individuals—and put the world at ease—the Garde have created an academy where they can train this new generation to control their powers and hopefully one day help mankind. But not everyone thinks that's the best use of their talents. And the teens may need to use their Legacies sooner than they ever imagined.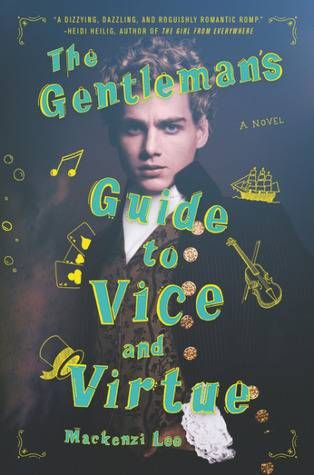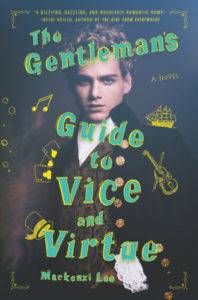 The Gentleman's Guide to Vice and Virtue by Mackenzi Lee: Henry "Monty" Montague was born and bred to be a gentleman, but he was never one to be tamed. The finest boarding schools in England and the constant disapproval of his father haven't been able to curb any of his roguish passions—not for gambling halls, late nights spent with a bottle of spirits, or waking up in the arms of women or men.
But as Monty embarks on his grand tour of Europe, his quest for a life filled with pleasure and vice is in danger of coming to an end. Not only does his father expect him to take over the family's estate upon his return, but Monty is also nursing an impossible crush on his best friend and traveling companion, Percy.
Still it isn't in Monty's nature to give up. Even with his younger sister, Felicity, in tow, he vows to make this yearlong escapade one last hedonistic hurrah and flirt with Percy from Paris to Rome. But when one of Monty's reckless decisions turns their trip abroad into a harrowing manhunt that spans across Europe, it calls into question everything he knows, including his relationship with the boy he adores.
If Birds Fly Back by Carlie Sorosiak: Linny has been fascinated by disappearances, ever since her sister Grace ran away in the middle of the night without saying goodbye.
Sebastian can tell you how many galaxies there are, and knows how much plutonium weighs. But the one thing he can't figure out is the identity of his birth father.
They've never met, but Linny and Sebastian have one thing in common: an obsession with famous novelist and filmmaker Alvaro Herrera, who went missing three years ago and has just reappeared. As they learn more about the mystery of Alvaro, Linny and Sebastian uncover the answers they've been searching for.
The Impossible Vastness of Us by Samantha Young: India Maxwell hasn't just moved across the country—she's plummeted to the bottom rung of the social ladder. It's taken years to cover the mess of her home life with a veneer of popularity. Now she's living in one of Boston's wealthiest neighborhoods with her mom's fiancé and his daughter, Eloise. Thanks to her soon-to-be stepsister's clique of friends, including Eloise's gorgeous, arrogant boyfriend Finn, India feels like the one thing she hoped never to be seen as again: trash.
But India's not alone in struggling to control the secrets of her past. Eloise and Finn, the school's golden couple, aren't all they seem to be. In fact, everyone's life is infinitely more complex than it first appears. And as India grows closer to Finn and befriends Eloise, threatening the facades that hold them together, what's left are truths that are brutal, beautiful, and big enough to change them forever…
Into The Hurricane by Neil Connelly: Eli and Max both have good reasons to go to the lighthouse on Shackles Island. For Max, it's an old vacation spot, the rare location where she has only good memories — so it's the right place to scatter her dad's ashes. For Eli, it's the highest point near his Louisiana home, with the clearest view of the rocks where his sister died — so it's the right place to end his own life as well.
A STORM WITHOUT LIMITS
But neither of them expected the other, nor the storm. Because Hurricane Celeste is roaring toward Shackles Island, and its power will break bridges, slash electric lines, and stir up deadly wildlife — some of it human. When the ruthless Odenkirk family steals Max's Jeep with her most precious possession inside, she and Eli begin a desperate quest to get it back and get off the island … until they realize they must go into the hurricane.
Little Wrecks by Meredith Miller: Ruth, Magda, and Isabel are different from everyone else. They can see beneath the seemingly perfect, cookie-cutter exterior of their small town of Highbone, Long Island. They know that below the surface, each house is filled with secrets, indifference, and violence.
These girls refuse to become willing participants of these fake lives. Instead, they are determined to fight every condescending comment, every unwelcome touch, and every lie they've been told.
When the opportunity to commit the perfect crime appears, the girls finally start to see their way out of Highbone. But for the first time, Ruth, Magda, and Isabel are keeping secrets from each other. As they drift apart, the weight of reality starts to set in. These girls can't save each other. They might not even be able to save themselves.
*Midnight Jewel by Richelle Mead: A refugee of war, Mira was cast out of her home country and thrust into another, where the conditions were inhospitable at best. In a life-altering twist of fate, she is given the chance to escape once more, and she takes it, joining the Glittering Court.
Both a school and a business venture, the Glittering Court is designed to transform impoverished girls into upper-class ladies who appear destined for powerful and wealthy marriages in the New World. There, Mira finds herself subjected to persecution, not only from her fellow Glittering Court jewels, but from her suitors, as well—men she would potentially be expected to give her life to.
By day, she goes through the motions, learning the etiquette and customs that will help to earn her anonymity, even making a couple true friends in the process, the forthright ladies' maid Adelaide and the ambitious laundress Tamsin. But by night, Mira hatches a different plan entirely—one that, if exposed, could get her hanged in the highest court of Adoria.
*Now I Rise by Kiersten White: Lada Dracul has no allies. No throne. All she has is what she's always had: herself. After failing to secure the Wallachian throne, Lada is out to punish anyone who dares to cross her blood-strewn path. Filled with a white-hot rage, she storms the countryside with her men, accompanied by her childhood friend Bogdan, terrorizing the land. But brute force isn't getting Lada what she wants. And thinking of Mehmed brings little comfort to her thorny heart. There's no time to wonder whether he still thinks about her, even loves her. She left him before he could leave her.
What Lada needs is her younger brother Radu's subtlety and skill. But Mehmed has sent him to Constantinople—and it's no diplomatic mission. Mehmed wants control of the city, and Radu has earned an unwanted place as a double-crossing spy behind enemy lines. Radu longs for his sister's fierce confidence—but for the first time in his life, he rejects her unexpected plea for help. Torn between loyalties to faith, to the Ottomans, and to Mehmed, he knows he owes Lada nothing. If she dies, he could never forgive himself—but if he fails in Constantinople, will Mehmed ever forgive him?
As nations fall around them, the Dracul siblings must decide: what will they sacrifice to fulfill their destinies? Empires will topple, thrones will be won . . . and souls will be lost.
Prisoner of War by Michael P. Spradlin: Survive the war. Outlast the enemy. Stay alive.
That's what Henry Forrest has to do. When he lies about his age to join the Marines, Henry never imagines he'll face anything worse than his own father's cruelty. But his unit is shipped off to the Philippines, where the heat is unbearable, the conditions are brutal, and Henry's dreams of careless adventuring are completely dashed.
Then the Japanese invade the islands, and US forces there surrender. As a prisoner of war, Henry faces one horror after another. Yet among his fellow captives, he finds kindness, respect, even brotherhood. A glimmer of light in the darkness. And he'll need to hold tight to the hope they offer if he wants to win the fight for his country, his freedom . . . and his life.
*The Reign of Serpents by Eleanor Herman: In REIGN OF SERPENTS, the ancient power of Snake Blood threatens the known world. While Prince Alexander struggles with a very deadly inner demon, his betrothed, Zofia, is on her way to him, to unite their kingdoms…even as she begins to realize where her true allegiance lies. The fierce Cynane meets her match-not in her future husband, the deranged king of Illyria, but in her great-great-grandfather, Talus, possessor of Smoke Blood, who will teach her the true meaning of betrayal. And marooned together on an island in the Mediterranean, romantic tension blooms between Katerina and Hephaestion as they learn of lost civilizations and discover a device that could help them do the impossible: kill the last living god.